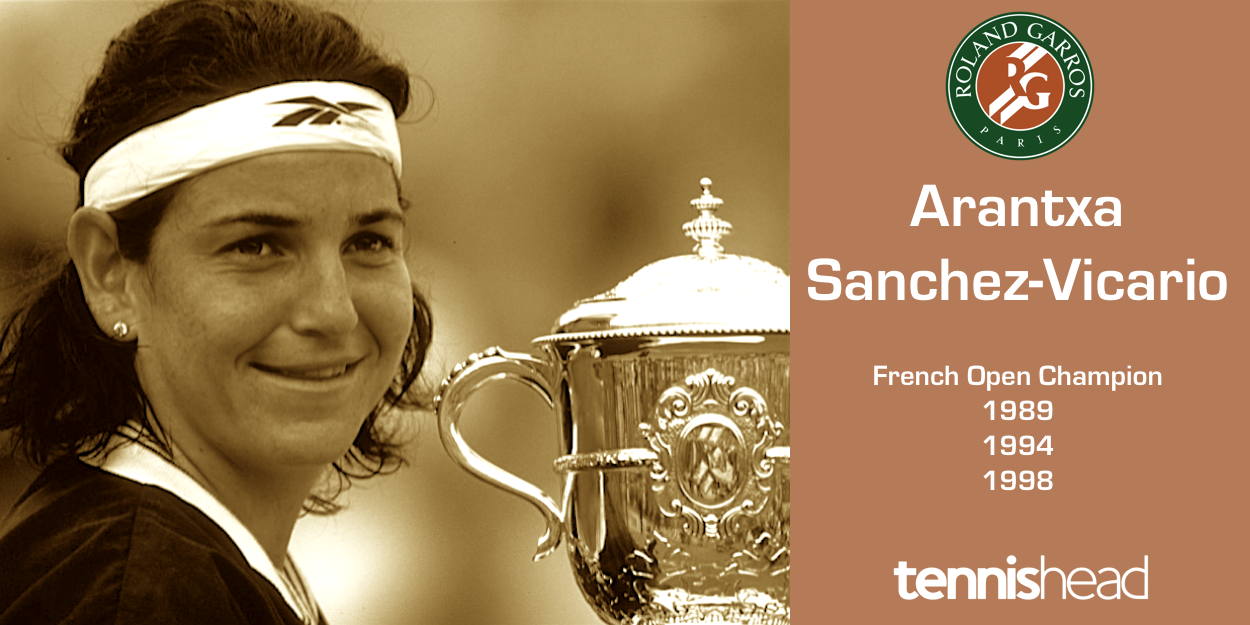 Roland Garros Royalty: Arantxa Sanchez Vicario, three-time French Open champion
A prolific clay-court specialist and former world No. 1, Arantxa Sanchez Vicario reaped great rewards at the French Open.
The Spaniard, who was hugely successful in doubles as well as singles, won 19 of her 29 career singles titles on clay, including three triumphs of the highest order at the French Open.
As well as being a Spanish Olympic icon, Sanchez Vicario's French Open victories cement her place in our 'Tennishead Roland Garros Royalty' roster.
A 17-year-old derails the Graf freight train in 1989
Despite being just 17, this was in fact Sanchez Vicario's third French Open appearance, having made the quarter-finals in 1987 and 1988 at just 15 and 16 respectively.
The Spaniard reached the final without much trouble, dropping just one set on her way. But she would face her toughest challenge in the final, in the form of world No. 1 Steffi Graf.
Graf had won the last five Slams consecutively, stretching back to the 1988 Australian Open, and was defending her 1987 and 1988 French Open titles.
The opening set was a truly tight affair, as the pair came to 5-6 on the Sanchez Vicario serve. Graf had multiple set point chances, at 30-40 and 40-Adv, but passed up.
The ensuing tiebreak did not let up on pressure. Sanchez Vicario got the first set point of the tiebreak at 5-6 on Graf's serve, but the German rescued it with a forehand pass down the line.
The Spaniard put away a short lob to go up 7-6 on her serve, converting to secure the first set. Could she de-throne the best in the world?
Graf did not lie down though, surging back to level the match with a 6-3 second set. Heading into the decider, surely the odds were in favour of the German.
Graf surged to a 5-3 lead in the set for a chance to serve for a third consecutive Roland Garros title. But the Spaniard broke to love before holding her own serve to tie it up at 5-5.
Sanchez Vicario then broke again before Graf sprinted off-court, seemingly to take a bathroom break. When she returned her opponent held her nerve to serve out the championship. Sanchez Vicario had won 7-6 (8-6), 3-6, 7-5.
Falling to the ground, rising again covered in clay and with tears in her eyes, the Spanish champion embraced Graf at the net.
1994 – Raining on the French parade
Since 1989, Sanchez Vicario had reached one more French Open final, losing to Monica Seles 6-3, 6-4 in the 1991 championship match.
She then reached the semi-finals in 1992 and 1993, before securing a final berth once more in 1994.
She faced French-favourite Mary Pierce, who had reached the final having lost just 10 games en route there, including a 6-2, 6-2 semi-final win over Steffi Graf.
The final was supposed to take place on the Saturday of the final weekend, but after starting the match and with Pierce up 2-1 with a break point chance, rain suspended play and was not resumed until the next day.
The match continued in blustery conditions, as Pierce failed to convert before Sanchez Vicario secured the first break and went on to take the set 6-4.
Sanchez Vicario did not let up on the 19-year-old, breaking again in the second set and serving out for her second Grand Slam title, overall and on the red dirt.
1998 – It ends how it started
By the time 1998 rolled around, Arantxa Sanchez Vicario had been world No.1, reached the final at every Slam, won a maiden US Open and won 9 Grand Slams in doubles (6) and mixed doubles (3), to hold a Slam title in some form or another at every event.
Sanchez Vicario had also won the Tour Finals in 1993 and Olympic medals at Barcelona 1992 (silver in doubles and bronze in singles) and Atlanta 1996 (silver in singles and bronze in doubles) to become and remain Spain's most decorated Olympian with four medals.
However, the Spaniard had not won a Grand Slam for nearly four years, since the 1994 US Open a few months after her last French Open title.
She had been runner-up in Paris two more times, twice losing to Steffi Graf in the final, both over three sets and with the 1996 final going to the German 6-3, 6-7 (4-7), 10-8 in the longest French Open women's final ever by games played (40).
Sanchez Vicario dropped just one set en route to the final, against a 16-year-old Serena Williams in the fourth round no less.
She faced Monica Seles in the final, the same woman she had lost to in the 1991 final seven years prior, when Seles was just 17.
A close-fought opening set culminated in a tiebreak, with the Spanish two-time champion clinching it 7-5. Seles came back with a vengeance, tearing her opponent apart to dominate the second set to love. A decider was needed.
Sanchez Vicario was down 15-40 in her opening service game of the final set, but held out to secure the first game 1-0. She immediately broke Seles to gain the upper hand at 2-0, before holding again for 3-0.
Sanchze Vicario eventually secured the title by breaking Seles' serve at 2-5 for her third and final French Open title and final Grand Slam singles title outright.