French Open 2021: What's new for this year's Grand Slam?
As the French Open edges closer, it can hardly feel more different from the 2020 staging. Here's what's changed for the tournament in 2021.
The French Open is back to being the second rather than the third Grand Slam of the tour calendar as this year's postponement is minor compared to that of 2021. Here, Tennishead points you towards a number of changes for this year's Roland Garros
Dates
The most obvious change is one that is a welcome return to normalcy. The 2020 French Open was held just two weeks after the US Open, in September and October.
The tournament will this year return to its May-June scheduling, starting 30th May and ending 13th June.
Prize money 
During the pandemic, reduced revenue and uncertainty mean that prize pools have been massively affected by Covid, and the French Open is no exception.
The total prize pool for Roland Garros is down 9.56% from 2020 to 2021 (€ 38,000,000 to € 34,367,215), and down 19.44% from 2019 (€42,661,000)
Below is a breakdown of changes in prize money as compared with 2020 and 2019: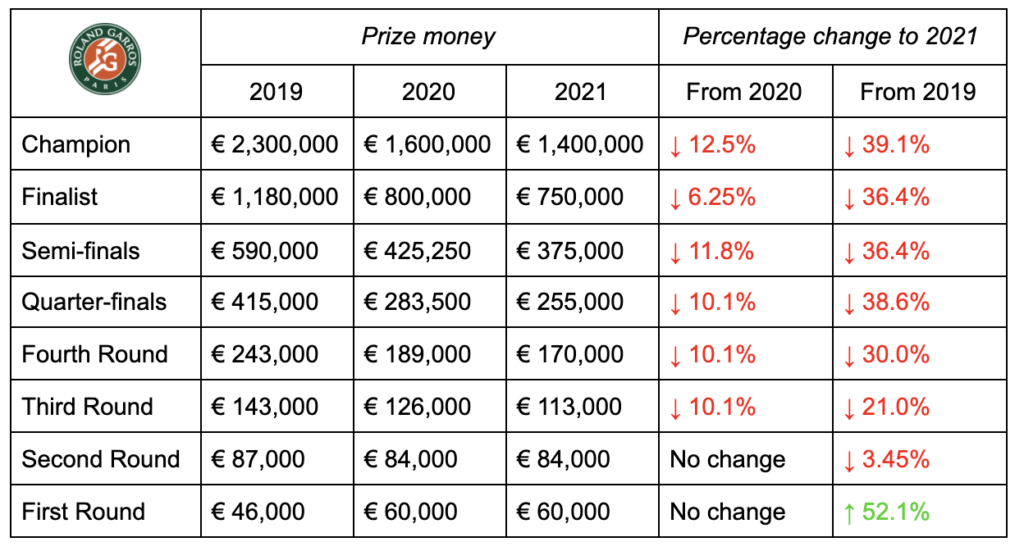 Night matches
For the first time ever, the French Open will now have dedicated night sessions, similar to the US Open and Australian Open.
Each day, three daytime matches will be scheduled on Court Philippe-Chatrier, with the fourth 'headliner' to take place starting at 9pm local time. There will be ten such night session, beginning from Monday of the first week through to the quarter-finals on the Wednesday of the second week.
Like in 2020, Court Philippe-Chatrier has a retractable roof for play in unfavourable weather.
Spectators and fan access
Like the 2020 French Open, attendance at this year's event has been greatly impacted by the Covid-19 pandemic and its effects in Paris. While main draw matches were limited to 1,000 fans on each stadium court in 2020, with no spectators elsewhere, the maximum threshold for the 2021 French Open is considerably higher, though still limited.
From 30th May until 8th June, the tournament will welcome up to 5,388 spectators, including a maximum of 1,000 on each stadium court. As restrictions in France ease from 9th June, capacity will rise to 13,146, including 5,000 on each stadium court.
Unfortunately due to curfew measures, no spectators will be present past 9pm up until and including 8th June, meaning fans will not be allowed to attend the first nine of ten night sessions, which themselves start at 9pm each day.
When the curfew is pushed back to 11pm on 9th June, fans may attend the final night session that evening.
Finally, fans will be required to provide proof that they are Covid-negative, as the French Tennis Federation (FFT) announced.
Acceptable forms of proof include "a negative PCR or antigen test of less than 48 hours…a certificate of vaccination, or a certificate of remission, that is to say a production of a positive test result from more that two weeks [ago] and less than six months [ago]."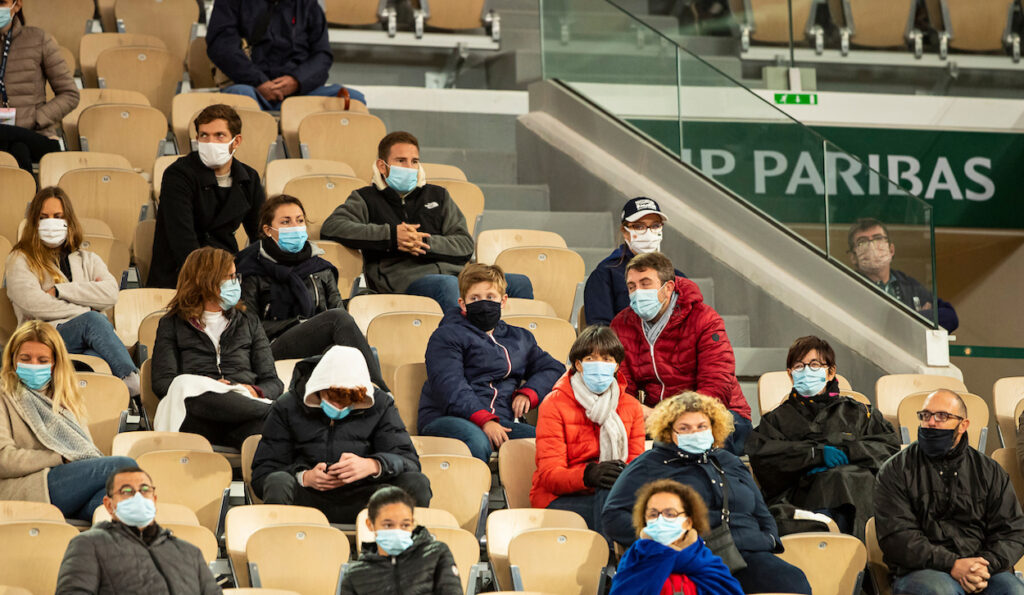 Weather conditions
Lastly, again due to the timing of the event on the calendar, the conditions for the French Open 2021 are set to be far more mild and hospitable for the players than the autumn Slam of 2020.
Fans and competitors alike can look forward to a Parisian spring. Though rain is certainly still possible and likely, temperatures should be consistently higher than at the tournament last year, where many players were seen wearing top and/or bottom base layers and training jackets during match play.