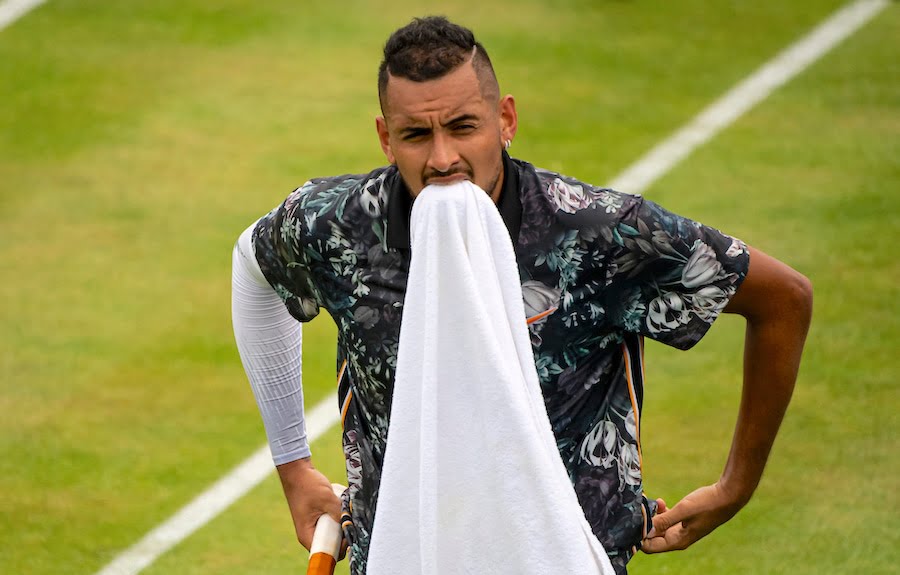 Fellow 'bad boy' Klein says Nick Kyrgios behaviour is because he's "just homesick"
Talented Australian Nick Kyrgios has been in the news for all the wrong reasons recently but an Australian player now says that Kyrgios "needs to find a way of travelling and enjoying it" because "he doesn't like the grind of the tour"
It's not the fist time these sort of comments have been made about the wild boy of tennis, Nick Kyrgios, but Brydan Klein is speaking from experience which may well encourage Kyrgios to listen to his advice. Klein has often been in trouble with the authorities, in very much the same way as Kyrgios, including a £3,500 fine for unsportsmanlike conduct in 2017 similar to Kyrgios who received a fine at Queens Club last week.
Klein was speaking to the Daily Mail newspaper when he said of Kyrgios, "Kyro is one of the most talented players of the last decade. When he cocks up and does something stupid, I know he regrets it. Same as I did when I was young. When you are hot headed, late at night you stay awake really wishing you could change the day around. I think Nick gets homesick and doesn't like the grind of the tour week-in, week-out. He has to find a way of travelling and enjoying it. He likes the buzz of playing big matches, if he can find something outside the tournaments to like, you'll see his talent more consistently."
Klien believes that a steady personal life will also help Kyrgios to mature and enjoy his tennis on a more regular basis rather than the up and down temperamental performances that have come to signify his recent matches. Klein said, "If Nick has a stable girlfriend he can travel and share experiences with, it will help a great deal. He is playing in all these great cities, New York, Rome, Paris. Share the experience with someone who cares about you and can take his mind away from the tennis. A lot of people have their partners travel on tour for that reason and you don't want to let them down on court." Kyrgios is seemingly currently dating fellow Australian tennis player Ajla Tomljanovic.
Kyrgios is resting this week after losing to Felix Auger-Aliassime at Queen's Club in controversial circumstances. His ranking has today dropped down to No. 43 in the World which means he won't be seeded for Wimbledon next week and therefore could be drawn against one of the top seeds in the first round.
Now you can look ahead to Wimbledon with our exclusive, 164 page, 'Guide to Wimbledon 2019'
To find out how to get tickets for Wimbledon this year read our 9 point guide here
For all the latest Wimbledon news before, during and after the tournament make sure you bookmark our 'Wimbledon News' section here
If you can't visit the tournament then do the next best thing and read our guide on how to watch Wimbledon on television
To read more amazing articles like this you can explore Tennishead magazine here or you can subscribe for free to our email newsletter here