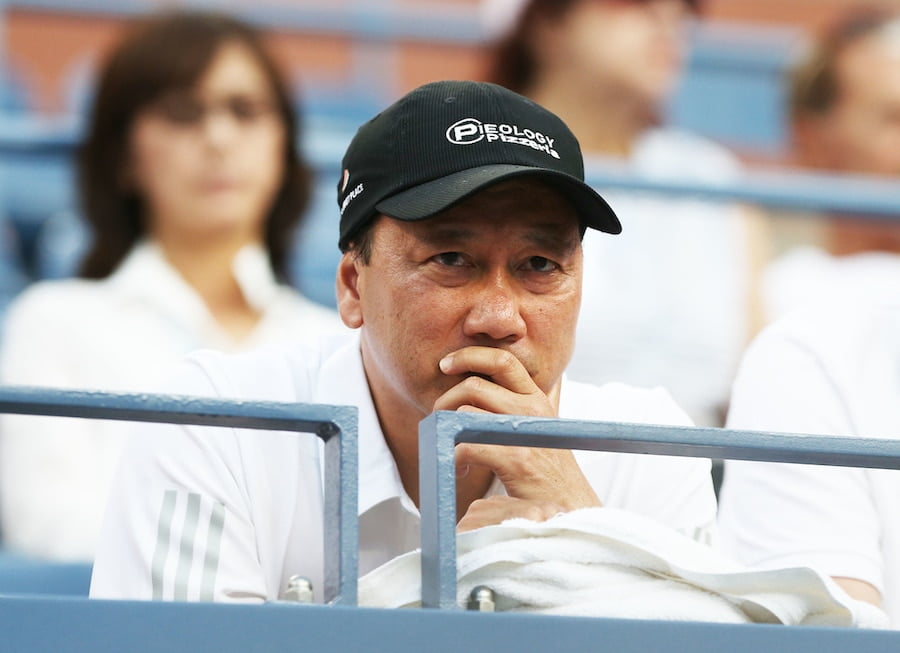 Exclusive interview with Kei Nishikori's coach and former French Open champion Michael Chang
Thirty years after beating Ivan Lendl in one of the French Open's most remarkable matches, Michael Chang recalls a victory that helped him become the youngest male Grand Slam singles champion in history. Tennishead's Paul Newman caught up with Michael for this exclusive interview
Michael Chang and Ivan Lendl always enjoy each other's company, but when they meet these days there are some things that are perhaps best left unsaid. "I chat with Ivan whenever I see him, whether it's about kids, whether it's about golf – and sometimes it's about tennis," Chang told tennishead. "But I've never talked to Ivan about the French Open. And he's never asked me about it."
It is 30 years since Chang, now coach to World no. 7 Kei Nishikori, beat Lendl in one of the most remarkable matches in Roland Garros history. From the loser's point of view, any desire not to recall the events of Monday June 5 1989 might be understandable. Having played in four of the previous five French Open finals and won three of them, Lendl was a hot favourite to win his fourth-round meeting with Chang, a slightly built 17-year-old ranked No 19 in the world with just one minor title to his name and, apparently, no major weapons with which to threaten the world No 1. However, a match of nerve-shredding drama ended with Chang fighting back to win 4-6 4-6 6-3 6-3 6-3.
By the time the tournament was over, Chang had enjoyed one of the most extraordinary triumphs in French Open history. After beating Lendl he still needed to win three more matches to take the title, but the 1989 tournament will forever be remembered for Chang's fourth-round victory rather than the subsequent wins over Ronald Agenor, Andrei Chesnokov and Stefan Edberg that secured his place in history as the youngest man – at 17 years and 110 days – to win a Grand Slam singles title.
It would be hard to overstate Lendl's supremacy going into Roland Garros that year. At 29 he was at the peak of his powers, having won seven Grand Slam titles in the previous five years. He was the reigning Australian Open champion and had won five of the seven tournaments he had played so far that year, including two on clay.
Chang, who made up for his lack of power with his speed around the court, had been a successful junior but was just setting out on his senior career. Like most Americans he had had limited experience of clay, but his coach, Jose Higueras, opened his eyes to the mysteries of the surface.
"My game was actually suited very well to play on clay – I just didn't know how to play on it," Chang recalled. "Once I understood the court movement, the footing, the ball's reaction to the court, what shots may be more effective on clay versus a hard court or grass, it was a whole new ball game.
"I started to realise: 'Wow, it's a lot easier to cover shots on clay than on any other surface.' As long as I understood the footing, with the balls being a little bit slower, I had a bit more time. It was really a perfect surface for me."
Chang had trained for the French Open with Pete Sampras, as he had the previous year. The two Americans had first met at the age of eight and found themselves facing each other in the second round in Paris. Chang won 6-1 6-1 6-1.
"I knew that Pete was still not comfortable on the clay," Chang said. "Of all the places, they ended up putting us on centre court, which I think was a little bit intimidating for him. Within an hour and a half it was over. I felt bad. I'd known Pete for so long and we'd had such a lot of great matches in the juniors."
Another straight-sets victory, over Francisco Roig, took Chang into his fourth-round meeting with Lendl, who had yet to drop a set.
At the same time as the French Open was progressing, extraordinary events were unfolding on the other side of the world. On the eve of Chang's match with Lendl, the Chinese government sent troops into Tiananmen Square and killed hundreds – perhaps thousands – of students who had been occupying Beijing's best known open space, demanding democracy and freedom of speech. On the following day an unidentified man famously stood in front of a column of tanks, blocking their path.
Chang, whose parents had emigrated to the United States from Taiwan, watched the events on television with his mother in their Paris hotel room. "I think in many ways it was kind of inspirational," Chang recalled. "You're thinking to yourself: 'Wow, here I am fighting for matches, but in comparison with what was going on in Tiananmen Square, it was nothing'."
When Lendl took the first two sets against Chang it seemed like business as usual, but the American dug deep and turned the match into a war of attrition, fighting for every point and chasing the ball into all corners.
By the time he had levelled the match at two sets apiece, the underdog was suffering physically against one of the game's great strong men. Chang, a devout Christian, was cramping badly when he led 2-1 in the fifth set and was walking towards the umpire with the intention of retiring when he had what he called "an incredible conviction of heart" telling him not to quit.
Chang explained: "I t was almost like God was saying: 'You can't quit now. If you quit now, every time you're under the situation, you're going to quit again.' After that it wasn't really so much a case of going out there and trying to win the match but going out there and trying to finish the match if I possibly could. And lo and behold, God gave me the match."
However, the drama was far from over. Chang, who was still cramping, drank as much water as possible, ate bananas and did not sit down at changeovers.
"I was afraid that if I sat down I wouldn't be able to get up again," he said. "I was trying my best to stay hydrated. It was a long match. We'd had a lot of long, tough points. Because it's on clay the French Open is always going to be the most physically demanding tournament of the year."
In the final set Chang unsettled Lendl with some surprise tactics. He hit a number of "moon balls", charged into the net unexpectedly and went for big winners. Serving at 4-2 and 15-30, he opted for an even more outrageous ploy when he hit an underarm serve. A surprised Lendl, coming into the net behind a weak approach, was beaten by a passing shot. "It was spur of the moment," Chang insists. "You don't plan something like that."
When Lendl served at 3-5 and 15-40 Chang had one more trick up his sleeve as he moved forward to just behind the service line. "I had two match points to play," Chang said. "So I felt like: 'Hey, this is an opportunity, second serve coming, I'm going to take a whack at one of them. If it goes in, great, if it doesn't go in, I've got one more coming."
Lendl, however, promptly double-faulted to give Chang his astonishing victory after four hours and 37 minutes. The American fell on his back and wept tears of joy.
Six days later, after four-set victories over Agenor and Chesnokov, Chang had to produce another battling comeback to beat Edberg 6-1 3-6 4-6 6-4 6-2 in the final. His win paved the way for an era of American success led by Sampras, Andre Agassi and Jim Courier, but it was to be Chang's only Grand Slam triumph.
To follow the action at the French Open check out our guide to the tournament or keep visiting our news section for daily updates on all the action at the 2019 French Open. If you want to watch the French Open on TV then follow our advice here