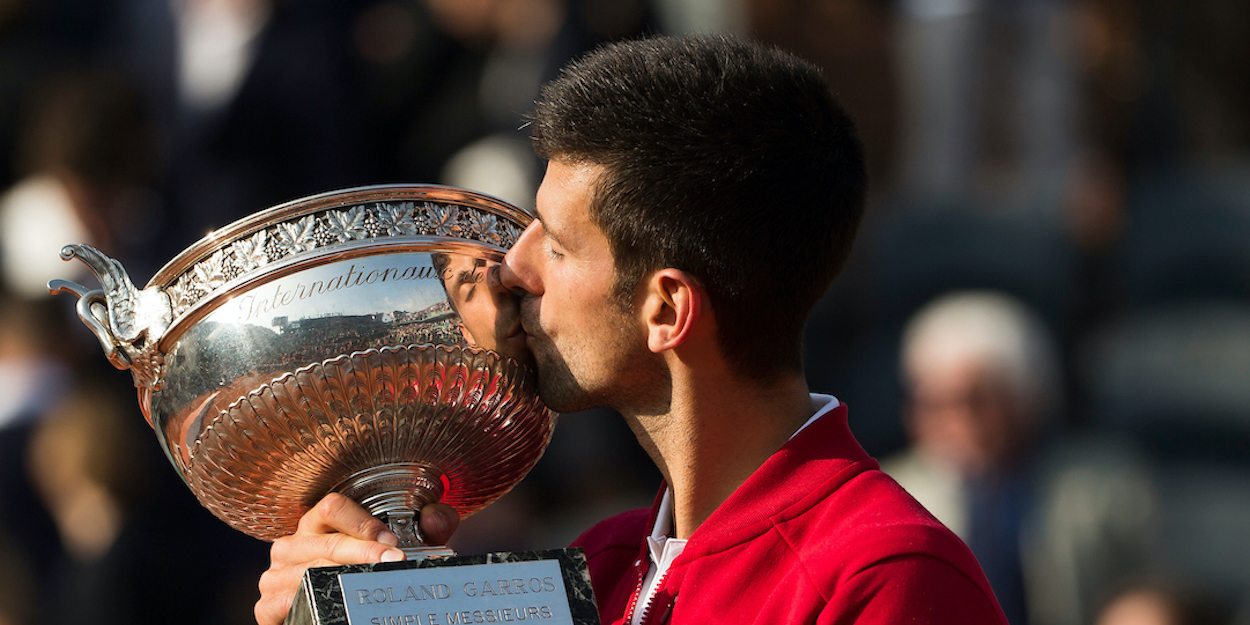 'I'm very proud and thrilled,' when Djokovic secured the Nole Slam
Novak Djokovic turns 34 on 22nd May. Here's a look back at possibly the man of the hour's greatest career achievement.
Novak Djokovic has certainly cemented his place as one of the greatest players of all time, and he doesn't look like stopping any time soon. Let's take a look at one of Djokovic's greatest career milestones, securing his first French Open title to complete the Career Grand Slam and the so-called 'Nole Slam'.
The Match
5th June, 2016. Novak Djokovic faces Andy Murray in the French Open final. Djokovic had been this far three times before, including the past two years, but had fallen to Nadal and Wawrinka those times.
The two best players in the world battled it out in the first set, as Djokovic broke to love in the first game to take command.
But then, the Serb faltered as Murray broke back and broke again to lead 4-1, eventually taking the set 6-3. Djokovic couldn't be denied for a fourth time, could he?
Djokovic held off an opening break in the second set, before breaking himself for a 2-0 lead, which he consolidated with a second break before levelling the match with a 6-1 second set.
Djokovic broke early again to take a 2-1 lead on-serve in the third, breaking again at 3-1. Murray forced the Serb to serve out the set, Djokovic doing so for 6-2. One set away from history.
Again, Djokovic broke immediately in the fourth set, and again at 4-2 for a chance to serve for the championship. Murray held Djokovic off though, breaking to 5-3 and holding for 5-4 to Djokovic.
In a tense service game, Djokovic passed up multiple championships points, including a double fault at 40-15. Djokovic finally made it after a gruelling 20 shot rally that ended with a shot into the net from Murray.
Djokovic fell to the ground, he had done it. He became only the eighth man ever to complete the Career Grand Slam, and the fourth in the Open Era after Agassi, Federer and Nadal.
Djokovic had also completed what the media dubbed the 'Nole Slam', as he then held all four Major titles at once (Wimbledon 2015, US Open 2015, Australian Open 2016, French Open 2016).
The last player to achieve the feat was Serena Williams in 2014-15 when she secured her 6th Wimbledon title at the 2015 Championships.
The last man to achieve the feat was Rod Laver, all the way back in 1969, when he won the Calendar Year Grand Slam.
"It's a thrilling moment," Djokovic asserted after the win. "One of the most beautiful I have had in my career.
"It's incredibly flattering to know that Rod Laver is the last one that managed to do that. There are not many words that can describe it. It's one of the ultimate challenges that you have as a tennis player.
"I'm very proud and very thrilled. It's hard for me to reflect on what has happened before and what's going to happen after.
"I'm just so overwhelmed with having this trophy next to me that I'm just trying to enjoy this moment."
A moment Novak Djokovic will surely never forget.