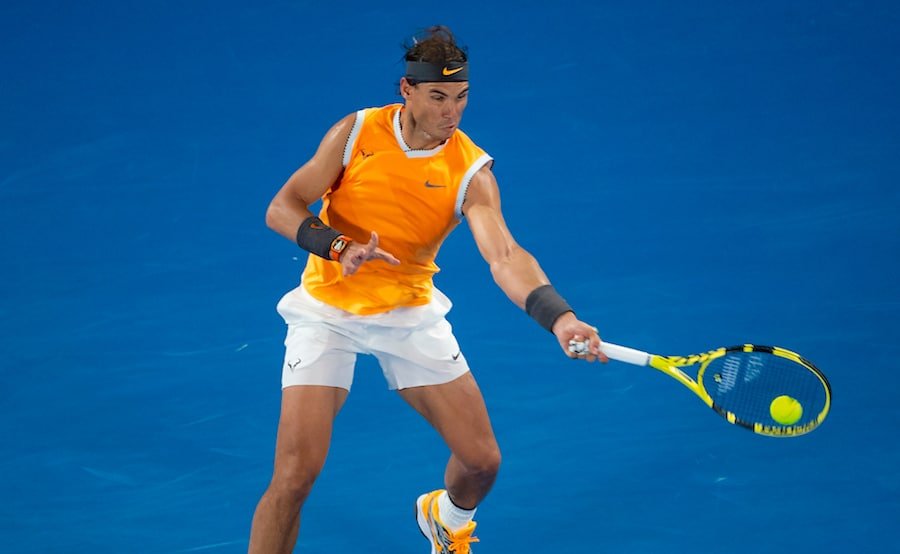 Coaching analysis from the experts: First four shots are the key
Only 30 per cent of rallies go to five or more shots, yet players spend most of their practice sessions grinding out forehands and backhands. Craig O'Shannessy says the balance is all wrong
Your practice court is broken. Not just a little crack. Not just a slight dent. It's broken in half…broken.
Consider this analogy. You have a triathlon coming up in a month and you need to train for it. The triathlon involves swimming, running and cycling, but you decide only to swim for the next four weeks to prepare. Doesn't seem right does it?
It gets worse. This is a special kind of triathlon you are preparing for. Around 70 per cent of the time will be on the bike, 20 per cent will be running and just 10 per cent will be swimming. However, you decide to swim for 90 per cent of your training and leave just 10 per cent of the time for the rest. That's just plain crazy.
Players all over the world typically spend around 90 per cent of their time on the practice court grinding forehands and backhands into oblivion, thinking this style of practice is tailor-made to win matches.
It's not. We put shot tolerance and consistency on a pedestal – like a Greek god – and dutifully pay homage by hitting as many rally balls from the back of the court in practice as possible. More shots, more sweat, a hundred more balls cross-court…
Here's what you are missing. The match court looks nothing like this. The match court is filled with short rallies dominated by serves and returns – two specific elements that get very little love on a practice court.
If the reality of a triathlon is run, bike, swim, then you need to practise them all. If the reality of a tennis match is dictated by a vast majority of short rallies where the serve and return reign supreme, you'd better develop/improve/focus on the first four shots of the point a whole lot more than you are at the moment.
Here's where new analytics in our sport explode old myths.
2015 Australian Open men: percentage of points played at each rally length
0-4 shots: 70 per cent

5-8 shots: 20 per cent

9+ shots: 10 per cent
Why would you practise something 90 per cent of the time (long rallies), when they occur only 10 per cent of the time? It makes no sense at all.
You may be wondering what a rally length of zero is, so that needs a little explaining. Rally length in tennis is calculated by balls landing in – not shots hit. So a double fault represents a rally length of zero because no ball went in the court.
The next thing that is very important to understand is what specific shots are hit in the 0-4 rally length:
Serve

Return

Serve +1

Return +1
The first forehand or backhand hit right after the serve is called Serve +1. It's a groundstroke unlike any other, with the best players in the world desperate to hit a forehand over a backhand.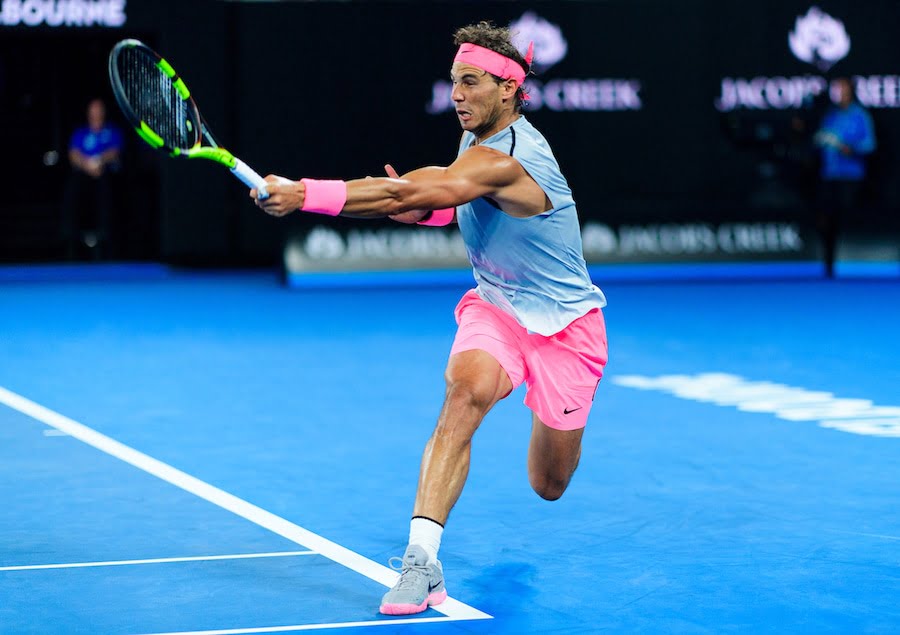 For example, Rafael Nadal won the 2018 Rogers Cup Masters 1000, defeating Stefanos Tsitsipas in the final 6-2 7-6(4). Up until the final, a remarkable 87 per cent of Nadal's first shots after his first serve had been forehands. Behind second serves he had hit 77 per cent forehands.
In the final against Tsitsipas, Nadal hit an astonishing 41 Serve +1 forehands (95 per cent) and just two (five per cent) Serve +1 backhands. Nadal won 18 of 20 (90 per cent) Serve +1 forehands behind his first serve and 14 of 21 (67 per cent) Serve +1 forehands behind his second serve. Tsitsipas was also heavily reliant on his Serve +1 forehand, hitting it 86 per cent of the time (36 out of 42) behind all serves in the match.
Why do the best in the game thirst for a Serve +1 forehand? The answer focuses on this particular forehand enjoying the "halo effect" of a dominant serve, providing the server with more time and improved court position to immediately end the point before the returner can defuse the rally into a neutral battle.
The following breakdown from the final shows that 83 per cent (19 out of 23) of forehand winners hit for the match were Serve +1 forehands.
Nadal forehand winners
Serve +1 forehands: 11
All other forehands: 4
Tsitsipas forehand winners
Serve +1 forehands: 8
All other forehands: 0
When you go to practise, don't hit serves in isolation, like firing an arrow from a bow at a target. Practise the serve and the first shot after the serve as ONE UNIT. Combine these two shots together, as a "one-two" punch, to begin the point.
Same goes for the Return +1 groundstroke. Hit the return and then work on making the very next shot, which quite often will be a defensive backhand.
The new analytics that are coming into our sport shatter a lot of old myths and help define a new way of understanding the game. An "old school" view of consistency would be to make 20 balls in a row and do it four times. This "new school" approach suggests two players should make a total of just four balls in a rally and do it 20 times.
I have a question for you. What is the most common rally length in tennis? Is it six shots, or eight shots, or even higher? Absolutely not.
The most common rally length in tennis is ONE shot in the court, which happens around 30 per cent of the time. The serve went in and the return did not come back in play. Even in under-12s tennis it's still in the 26 to 28 per cent range, even though the serves are not yet developed into powerful weapons.
This new data clearly suggests we need to work more on the return of serve, of which there are basically two variations.
The first is a defensive return against a first serve. It does not matter if you float the ball high and slow, as long you get it in. Elite players such as Novak Djokovic and Roger Federer will regularly slice returns against first serves to give themselves the highest chance of making the return back in play.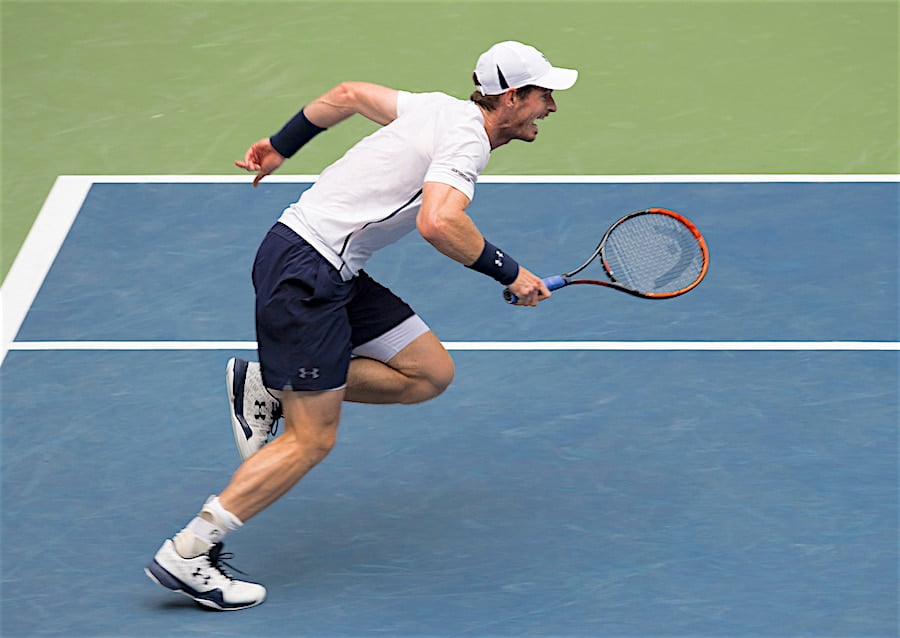 The second type is an offensive return against a second serve. Again, the primary target is right down the middle of the court at the server. Returning down the middle gives the server no angle to hurt you with. If you can get the return deep with power, you will force a lot of errors.
It's very important to know that more errors occur in the first four shots than in rallies that extend past that.
At the 2016 US Open Kei Nishikori won a scintillating quarter-final against Andy Murray 1-6 6-4 4-6 6-1 7-5. Of all points that ended in the first four shots, 80 per cent of them were errors, which was considerably higher than the 66 per cent average in the men's draw for the entire tournament.
It's also a good yard-stick to think of all points in tennis ending around 70 per cent of the time with an error and 30 per cent of the time with a winner. Combine that with more errors occurring in the first four shots than anywhere else and it draws us to the crucible concept of winning tennis matches.
It's OK to miss the fifth shot you hit in a rally – or the eighth or the 14th – but not one of the first two shots. The first two times you touch a ball in a point, DON'T MISS. These first two touches are golden and constitute the majority of your errors.
Would it be a good idea on the practice court to just hit four shots in a rally (two shots for each player), then catch the ball and develop those shots again? Absolutely! I do it all the time….
About the expert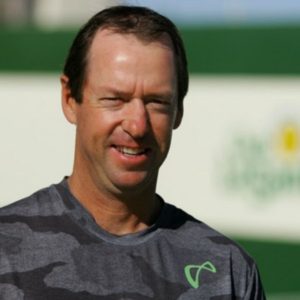 Craig O'Shannessy is the strategy analyst for the ATP World tour, Wimbledon, the Australian Open and the New York Times.
Look ahead to 2019 with our guide to every tournament on the ATP Tour, the WTA Tour and the ITF Tour
If you can't visit the tournaments you love then do the next best thing and read our guide on how to watch all the ATP Tour matches on television in 2019
To read more amazing articles like this you can explore Tennishead magazine here or you can subscribe for free to our email newsletter here