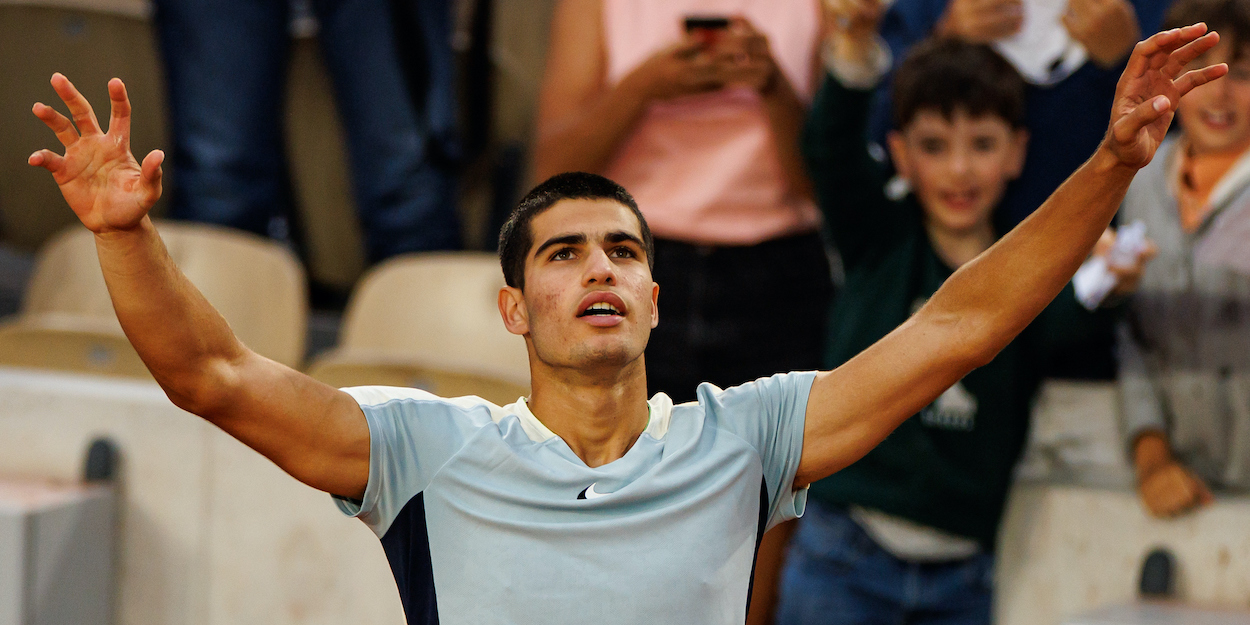 Carlos Alcaraz: How Covid has kept a lid on this mercurial talent
Roger Federer, Rafael Nadal and Novak Djokovic; the 'Big Three'.
Between them, these players have dominated the consciousness of men's tennis for the last two decades, winning 62 Grand Slam titles (Majors) combined.
While former world number one Andy Murray and three-time Grand Slam champion Stan Wawrinka have put in their stints as serious challengers, fans have been yearning for a new superstar in recent years.
Come 2022, many feel that such a generational figure has come to the fore in 19-year-old Carlos Alcaraz.
Fans, analysts and fellow pros alike are all backing the Spaniard to become world number one and win multiple Slams, possibly even in the double figures, and potentially more than compatriot Nadal's current men's record of 22.
As Alcaraz's results become ever more impressive, his ranking has skyrocketed.
Astoundingly, he has done so during, and in the wake of, major disruptions to the ATP Tour as a result of the Covid pandemic.
First, here is a look at Alcaraz's progress so far in his career up until week commencing 27th June 2022. 
(NB Carlos Alcaraz did not have an ATP ranking between 24th December 2018 and 8th April 2019)
Alcaraz Image Credit: "Alcaraz", by Volodymyr Tutko, licensed under (CC BY-SA 4.0)
Alcaraz recorded his first ATP ranking on 26th February 2018, a little over 226 weeks, or four years and four months, ago.
After breaking into the top 10 of the rankings for the first time on 25th April 2022, it had taken the teenager just 217 weeks, in real time, from his first ever ranking.
However, within that span the ATP Tour froze the entirety of the rankings from 16th March to 24th August 2020 as the tennis circuit ground to a halt with the rise of the Covid pandemic.
As such, Alcaraz actually broke the top 10 after 184 weeks, less than four years on tour.
In comparing Alcaraz's early progression to that of the 'Big Three', we can actually see that the young Spaniard took the least time to break into the top 10.
In this case we are measuring from each player's first recorded ATP ranking, as well as accounting for the frozen ranking hiatus experienced by Alcaraz during his rise to the top 10.
(NB Carlos Alcaraz did not have an ATP ranking between 24th December 2018 and 8th April 2019)
What makes this point even more astounding is that Covid did not just disrupt the tennis circuit.
The pandemic fundamentally changed how the ATP determined its rankings, something that is still having an effect two years on.
There were various adjustments to the ATP ranking system, but the most significant was the 'best of' system.
Normally, after ranking points have been on a player's profile for a year, they automatically drop from their tally.
With the advent of Covid, tournaments that happened in 2019 were outright cancelled in 2020, not allowing players to defend their ranking points from those events.
In addition, once the tour did resume, travelling internationally at the height of the pandemic was risky and difficult, and the tour did not want to put that pressure on the players.
As such, they introduced the 'best of' ranking system that allowed players to pick and choose what points remained on their tally.
Essentially, if an event was played in 2019, cancelled in 2020 and played again in 2021, a player could choose to either hold onto all their points from the 2021 event or half of their points from the 2019 event, whichever was highest.
As an example, American pro Sam Querrey reached the quarter-finals of Wimbledon in 2019, for which he earned 360 ranking points.
He then reached the second round in 2021, earning 45 ranking points there.
So, entering Wimbledon 2022, just under three years on from the 2019 event, he still had 180 ranking points on his tally from the 2019 event, half of what he earned that year, but still a total greater than what he earned in 2021.
What this has meant for players like Alcaraz is that those ranked above him have been able to hold onto more ranking points than they would otherwise have, keeping somewhat of a ceiling on players coming through without that backlog of ranking points.
The calculations to determine where Alcaraz would be had it not been for the readjusted rankings are too complex for the scope of this article.
Nonetheless, it is clear to see for someone with a sharp eye on the sport that Alcaraz is playing at a level above his ranking.
ATP writer and editor Sam Jacot is one such person, tracking the tour all year round.
He said: "Alcaraz has been playing top three tennis since February."
That is, since just after the Australian Open.
"In terms of level, Nadal would be first this year, Alcaraz would be second and Djokovic would be third.
"In terms of where his ranking would officially be without the Covid adjustments, right now he would probably be about fourth."
At time of writing, Nadal has won both Grand Slam titles in 2022: the Australian Open and the French Open.
However, Alcaraz is the only player to have won multiple titles just below that level, tournaments known as Masters 1000 events.
He won in Miami on hard courts and later in Madrid on clay, showing versatility to win at such a high level on multiple surfaces.
Despite this, you may be wondering if rankings really matter in the grand scheme of the sport.
What players and fans care most about is titles, and Alcaraz has the 'Big Three' beaten in terms of time taken to claim a first ATP Tour title too.
He pipped his idol Nadal at the post by a week, claiming his maiden title on the clay of Umag, Croatia 150 weeks on from his first ranking in late July 2021.
Nadal claimed his first career tour title on clay as well, in Sopot, Poland, 151 weeks on from his first ATP ranking. 
(NB Carlos Alcaraz did not have an ATP ranking between 24th December 2018 and 8th April 2019)
More so than just titles, people care about the biggest titles, specifically the four biggest trophies in the sport, the Grand Slams.
"Alcaraz needs to do it at a Slam," explained Jacot. "He needs to get to the final of a Slam for the wider public to really take notice of him."
Seeded fifth at Wimbledon 2022, Alcaraz was the only top eight seed never to have reached a Slam semi-final before. Losing in the fourth round there, that wait goes on.
"He needs to get to the final of Slam, he hasn't got past the quarter-finals before," Jacot added.
"I'm being incredibly harsh on him. But it's because his level is so high, he's already done so much in the game.
"The expectations obviously go up with that."