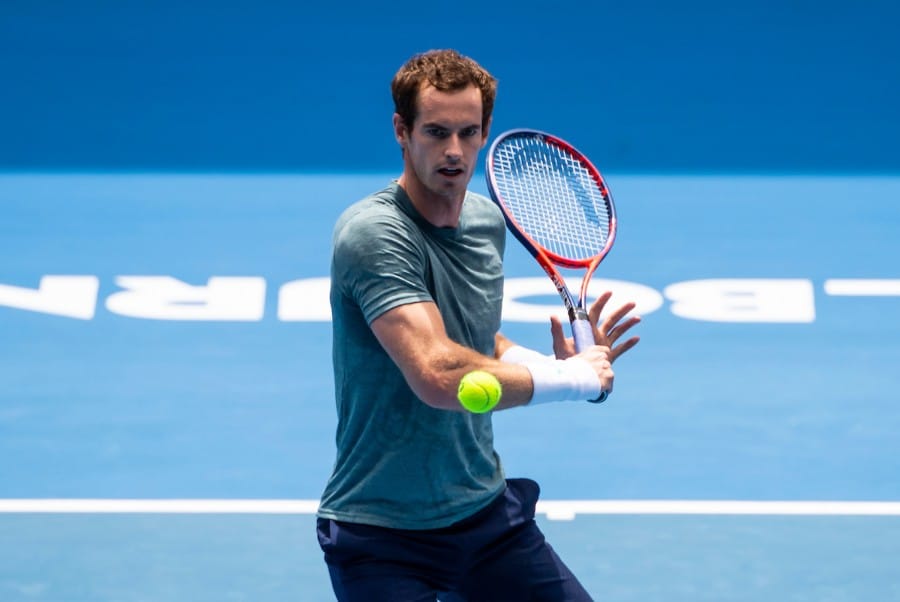 Big guns cruise through at the Australian Open 2019: Men's singles day 1 results & news
Day one of the Australian Open is always a fascinating day of tennis as it's the first real chance of the year to see the biggest players in action on the biggest stage, and day one of the 2019 Australian Open men's singles didn't let us down!
The biggest talking point will undoubtedly be the marathon match between Britain's Andy Murray and Spain's Roberto Bautista Agut. This could well have been Murray's last ever match so there was plenty of emotion flying around the court.
Not only did Murray manage to claw his way back from 2 sets down but he also received a standing ovation BEFORE his final service game. The crowd were amazing throughout the match but unfortunately Murray's problem right hip just wouldn't let him drag the rest of his body through this brutal encounter. Will we see Murray compete again in a Grand Slam event? We expect so but not for much longer.
The other other big matches in the Mens Singles first round featured Roger Federer and Rafael Nadal. Both players strolled through easily without losing a set which bodes well for the rest of the tournament.
The big shocks of day one were undoubtedly the loss of Number 9 seed John Isner and Number 13 seed Kyle Edmund. Isner was a big surprise but when you play as many tie breaks as 'Big John' you can't win them all. Isner lost to fellow giant American Reilly Opelka in 4 sets sets which all went to a tiebreak!
Kyle Edmund had one of the toughest first round draws possible against Thomas Berdych but was easily beaten in 3 straight sets. Edmund's having a tough run recently and losing in the first round after last year reaching the semi finals here will not be good news when the new ATP rankings are calculated.
In other men's singles first round match news Cilic, Anderson, Verdasco and Dimitrov all came through with victories as expected.
The battle of the qualifiers saw Britain's Dan Evans score an impressive win by 3 sets to 0 over Japan's Taro Ito.
The Australian contingent had a great day with De Minaur, Ebden, Thomson and Millman all making it to the second round.
America's number 31 seed Steve Johnson lost a tough match to the ultra experienced Italian Andrea Seppi.
Here are the full list of results from the matches played in the first round of the Australian Open men's singles on Day 1 of the 2019 Grand Slam:
1st Round – Rod Laver Arena
2:15 hrs
J. Duckworth (WC)
4 3 5
6 6 7
R. Nadal (2) 
1st Round – Rod Laver Arena
1:57 hrs
D. Istomin
3 4 4
6 6 6
R. Federer (3)
1st Round – Margaret Court Arena
2:03 hrs
M. Cilic (6)
6 6 7 (7)
2 4 6 (3)
B. Tomic
1st Round – Margaret Court Arena
1:58 hrs
A. de Minaur (27)
6 7 6
4 5 4
P. Sousa
1st Round – Melbourne Arena
2:53 hrs
K. Anderson (5)
6 5 6 6
3 7 2 1
A. Mannarino
1st Round – Melbourne Arena
1:42 hrs
K. Edmund (13)
3 0 5
6 6 7
T. Berdych
1st Round – Melbourne Arena
4:09 hrs
R. Bautista Agut (22)
6 6 6 (5) 6 (4) 6
4 4 7 (7) 7 (7) 2
A. Murray
1st Round – 1573 Arena
2:33 hrs
G. Dimitrov (20)
4 6 6 6
6 3 1 4
J. Tipsarevic
1st Round – 1573 Arena
2:22 hrs
M. Ebden
1 6 6 6
6 4 3 4
J. Struff
1st Round – Court 3
2:57 hrs
S. Tsitsipas (14)
6 (3) 6 6 7 (7)
7 (7) 4 3 6 (4)
M. Berrettini
1st Round – Court 3
1:52 hrs
F. Lopez
1 6 (0) 3
6 7 (7) 6
J. Thompson
1st Round – Court 5
2:42 hrs
C. Eubanks (Q)
4 6 6 (6) 3
6 4 7 (8) 6
N. Basilashvili (19)
1st Round – Court 7
2:31 hrs
P. Gojowczyk
6 3 4 3
3 6 6 6
K. Khachanov (10)
1st Round – Court 7
2:37 hrs
F. Delbonis
3 6 6 (3) 2
6 3 7 (7) 6
J. Millman
1st Round – Court 8
2:58 hrs
R. Opelka
7 (7) 7 (8) 6 (4) 7 (7)
6 (4) 6 (6) 7 (7) 6 (5)
J. Isner (9)
1st Round – Court 8
1:25 hrs
G. Monfils (30)
6 6 6
0 4 0
D. Dzumhur
1st Round – Court 10
2:55 hrs
M. Mmoh
6 3 4 2
3 6 6 6
R. Albot
1st Round – Court 10
2:30 hrs
A. Rublev
4 4 6 4
6 6 2 6
M. McDonald
1st Round – Court 12
2:43 hrs
M. Basic
4 6 (4) 6 3
6 7 (7) 4 6
H. Laaksonen (Q)
1st Round – Court 13
2:11 hrs
M. Kecmanovic (Q)
6 (5) 3 3
7 (7) 6 6
F. Verdasco (26)
1st Round – Court 13
3:04 hrs
J. Kubler (WC)
4 6 (1) 6 3
6 7 (7) 2 6
T. Fabbiano
1st Round – Court 14
2:15 hrs
G. Garcia-Lopez
5 4 5
7 6 7
R. Haase
1st Round – Court 14
3:03 hrs
M. Polmans (WC)
7 6 2 3 2
5 1 6 6 6
D. Kudla
1st Round – Court 14
2:04 hrs
C. Norrie
3 6 (6) 2
6 7 (8) 6
T. Fritz
1st Round – Court 15
1:52 hrs
F. Tiafoe
7 (9) 6 6
6 (7) 3 3
P. Gunneswaran (Q)
1st Round – Court 15
2:21 hrs
A. Seppi
6 4 6 6
4 6 4 3
S. Johnson (31)
1st Round – Court 19
2:35 hrs
T. Ito (Q)
5 1 6 (8)
7 6 7 (10)
D. Evans (Q)
1st Round – Court 19
3:12 hrs
Y. Nishioka
6 7 (7) 4 6
4 6 (5) 6 4
T. Sandgren
1st Round – Court 20
2:01 hrs
P. Cuevas
6 7 6
4 5 1
D. Lajovic
1st Round – Court 20
1:47 hrs
R. Molleker (Q)
1 3 6 0
6 6 4 6
D. Schwartzman (18)
1st Round – Court 22
2:44 hrs
S. Travaglia (Q)
6 (3) 6 6 6
7 (7) 2 3 2
G. Andreozzi
1st Round – Court 22
2:34 hrs
V. Troicki (Q)
6 1 2 6 6
1 6 6 1 4
R. Carballes Baena
Look ahead to the tennis year with our guide to every tournament on the ATP Tour, the WTA Tour and the ITF Tour
If you can't visit the tournaments you love then do the next best thing and read our guide on how to watch all the ATP Tour matches on television in 2019
To read more amazing articles like this you can explore Tennishead magazine here or you can subscribe for free to our email newsletter here