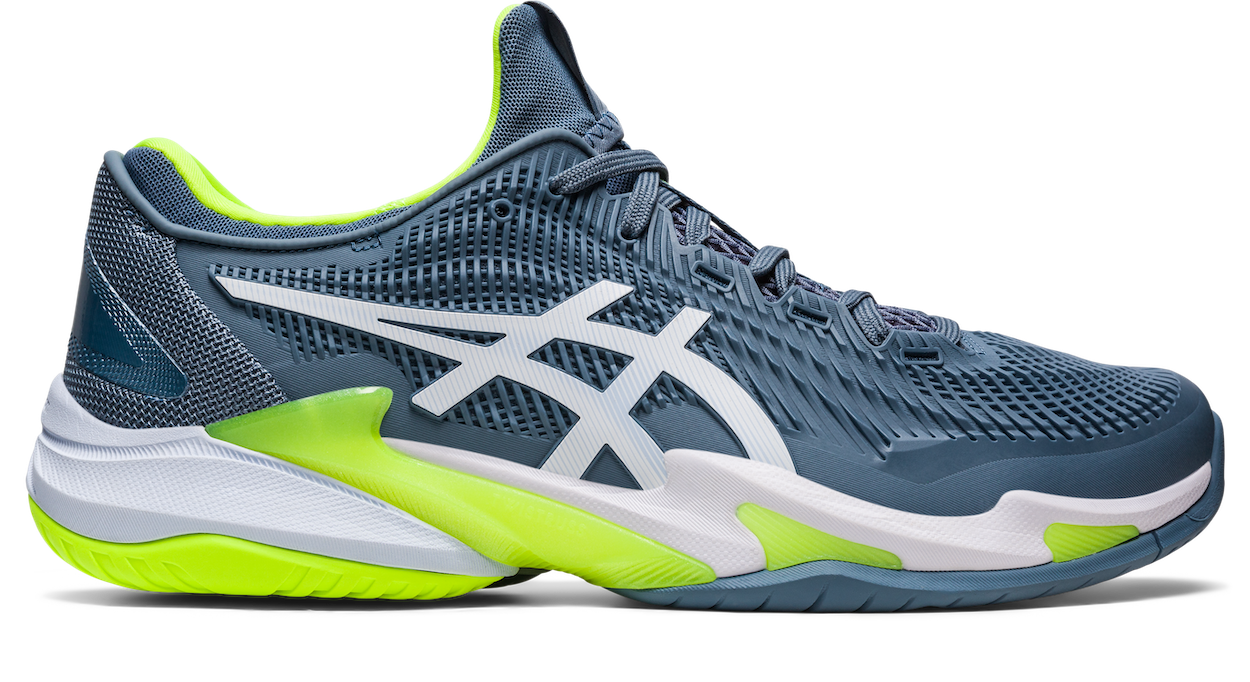 ASICS Court FF3 (2023) tennis shoe review
The latest version of the ASICS Court FF launched in early 2023 after two years of development and close collaboration with Novak Djokovic, so the Tennishead players were full of anticipation as they headed to the courts for a day of testing.
Amongst shoe brands, ASICS have built a reputation that exudes the attention to detail you'd expect from any Japanese sports brand, but over time it's their reliance on research to develop the technology in their tennis shoes that has resulted in their steady growth into the big leagues. Just take a look at the shoes the professionals are wearing and you'll be surprised at how many 'non-sponsored' players choose to buy their own ASICS tennis shoes.
ASICS have achieved various 'firsts' within the tennis shoe field, most notably being the first (and still only) brand to create different models of tennis shoe to suit different styles of play and movement. For example, their Gel-Resolution range is specifically designed for your baseline grinder providing them with added support and grip as they patrol the back of the court.
The Court FF model features elements that will suit that 'all-court' player who needs support when moving from side to side but is equally comfortable moving around all areas of the tennis court as they take an aggressive position at the net. This dynamic movement has been characterised by Novak Djokovic who used his athleticisim to take the sport to a new level and hence why he decided to partner with ASICS so that they could design a shoe specifically for the way he moves on a tennis court.
What's new in the Court FF3?
Tennishead readers can be sceptical when brands launch updated models, especailly in tennis rackets, with the notion that often it's just been a 'paint job' and a chance to create some exposure on social media, but after talking with the head designer at ASICS and listening to him interview Novak for over an hour, its apparent that the developments in this third version of the Court FF are substantial and extremely well researched.
For the first time in a tennis shoe, the outsole is split into three separate parts which aims to create "a more supportive underfoot feel even in the most dynamic movements". In other words, by allowing the sole of the shoe to flex and move it should create more grip and support no matter what movement you make. Tennis movement is unique because of it's range of directions and constant twisting and turning which is why a three piece sole has been created.
The Court FF3 also features a redesigned 'monosock' which is an in-built sock that wraps around the foot and ankle. As you'll see from the reaction of our testers, this element of the Court FF design is different from other shoes and certainly serves a purpose in terms of comfort and stability.
Watch as our experts try out the ASICS Court FF tennis shoes
The Court FF3 review
It's crucial for our credibility that when we take a product out onto court we simply let the players try it out and then we simply publish what they report. It's the only truly unbiased method of reviewing a product. This time we were joined by Michelle and Cheerag who are both professional tennis players plying their trade on the ITF circuits.
Michelle had never worn ASICS shoes before whilst Cheerag had recently moved to the ASICS Solution Speed model after years of wearing Nike Vapors, mainly because he had suffered recently with shin splints.
What shoe do you normally wear when playing a tournament?
Michelle: "I normally wear the Nike Vapors. They have always been comfy and I've never had an issue with them."
Cheerag: "I wear the ASICS Solution Speed."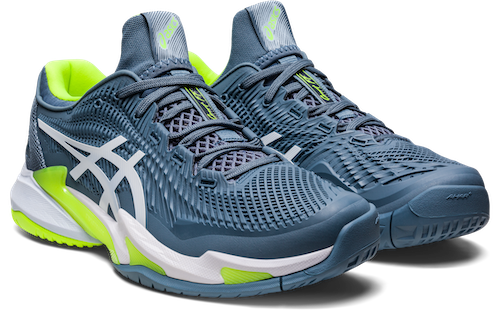 When you first took these Court FF's out of the box what were your thoughts on the colour and the design?
Michelle: "I really liked it. I love white shoes but when there is a little bit of colour it adds a nice bit of pop, so I thought they were really pretty."
Cheerag: "The styling I like quite a lot. The other ASICS I have worn have the tongue separate whereas this is all connected inwards and cushions the foot"
And then you tried them on. The Court FF has an in-built sock which often leads to players finding them snug when they first put them on. How did you find it when you first put them on?
Michelle: "Yeah I felt the same. When I was putting them on it was quite tight but when your foot was inside it felt like a cushion instead of just being very firm. I felt immediately very comfortable. They fitted around my foot perfectly."
Cheerag: "Comfort wise it was significantly better than the majority of other shoes that I have worn and it is one of those shoes that you feel like you have worn them for a few weeks already because they are just a lot more comfortable and malleable. I feel like the cushioning of these is just a tiny bit more, which suits me because of all the injury problems I have had."
In terms of sizing, you told us you are a 7. This pair you are trying today are also a 7. How did it feel? Do you think this is exactly true to size or do you think this is a bit smaller or bigger than you are used to?
Michelle: "For me, I think it was exactly a 7 so the size matching was spot on."
Then you had a warm up in the shoes. You started moving around the court, not playing tennis, just running around. What was your first impression of the shoe?
Michelle: "I feel like when you always try out new shoes they're going to be a little bit uncomfortable but this one picked up after five minutes of moving around and I thought my foot was not uncomfortable and already fitted. So it felt pretty good from the get-go."
Cheerag: "I felt a difference. I just felt the Nike Vapors were quite flat and then when I changed to these ASICS they have a lot more give and they were a lot more springy especially from the start."
In terms of the weight of the shoe, does it feel lighter or heavier than you are used to?
Michelle: "It feels a little heavier than my shoe, but I personally don't mind it."
Cheerag: "It's heavier than my normal Solution Speed's but I don't think it had an impact, I definitely noticed it but no, I don't think it had an impact. It is just something you get used to after a bit."
Then you started hitting balls, kicking off with groundstrokes. In terms of your movement side-to-side, what was your feedback on the shoe?
Michelle: "I actually really liked it because it kept my foot in place. Sometimes with my shoes I wish I had tightened them extra firm so that my foot doesn't move around because I have quite weak ankles. But this one felt very supported when I was moving side-to-side and changing direction."
Cheerag: "I felt that it was easier to stay on my toes. One of the reasons I had shin splints is because the arch in my foot is a bit fallen and my foot is a bit flatter, so in these shoes in particular it is easier to stay on your toes"
So with the support from the monosock, what would you say? Was it around the front of the foot, the ankle or all across?
Michelle: "For me it was more in the ankle which felt very supported. I don't know if that is because of the built-in sock."
ASICS tennis shoes include FlyteFoam which is a foam developed by ASICS and placed in the soul of the shoe that makes them feel extra cushioned. How did you feel in terms of bounce and cushioning?
Michelle: "Really good. When I was running for the shots it felt very lightweight. I didn't feel like my foot was getting a lot of impact, so it was really nice getting that support and it felt really gentle on my feet which is always a positive thing to have in a shoe."
When you were trying the more dynamic movements such as going out wide and trying to push back, and then going backwards and forwards, how was the flexibility of the shoe when you were changing direction?
Michelle: "It was really good. My ankle was really supported and not moving at all so I really felt comfortable running side-to-side and changing direction."
Cheerag: "I definitely felt that it was more stable especially when you are pushing off to come back to the middle. That is when I felt it the most."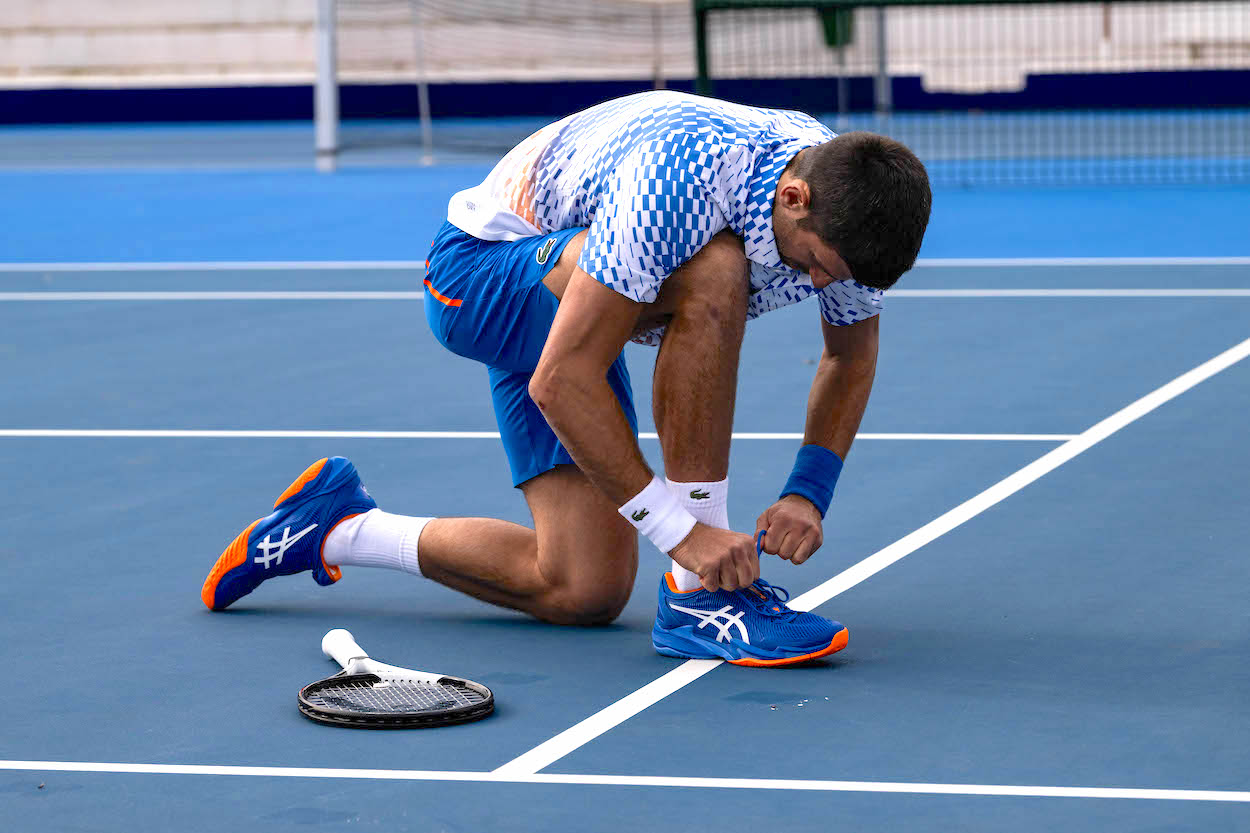 Djokovic worked very closely on these shoes. He tried out nine different prototypes and came to the conclusion that this model worked for him with the three-piece sole. When your foot is planted on the floor what sort of feeling did you get from the sole? Is it any different to what you have had before and did you notice the fact that it has got more flexibility around the sole?
Michelle: "Yes I think so. I think the Nike shoes are quite flat so I think that I am used to not a lot of support around there. So, this felt nice and I keep saying it, but I felt really supported and I don't know if that is because of these or the in-built socks, it all comes together really well."
Cheerag: "Obviously Novak knows what he is talking about, so it gives you a feeling that you are going to have a lot of stability in the shoe and you can trust it. That is the main thing. If you are a player that slides like Novak, which I also do a little bit, the shoe is a lot more stable and can take it."
If you were an amateur player who changed shoes every six months to a year then is the price of £180/$190 fair for these shoes?
Michelle: "Yes, for sure. I would definitely be getting a pair of these because I feel like they would last you a long time and they would give you that support, so if I didn't play at a pro level (and even at the pro level) I would really recommend these. I would buy these."
Cheerag: "Yes, I definitely think it is worth it. I mean at the end of the day you are trying to get the best performance on the court, so 100% these shoes are worth the price."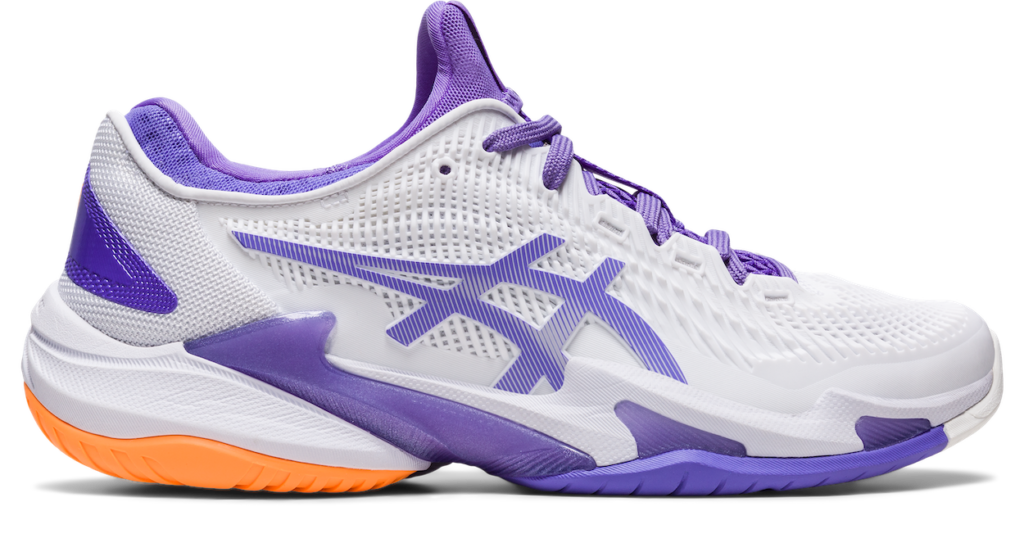 What's the conclusion about the new ASICS Court FF3
ASICS's premium tennis shoe needed to perform in the eyes of our testers to match the price tag, and in our testing it seems to have done well.
The stability the shoe provides during the types of dynamic movement you'll create on a tennis court certainly stood out to our testers. This helped both players to feel confident in their movement when wearing the shoe.
The immediate comfort when trying on this brand new shoe, that neither had even seen let alone worn before, was an impressive outcome from the review. For tennis players, finding a shoe that feels good when straight out of the box is an important element when choosing a new tennis shoe. (To be fair this is often the feedback when Tennishead players try any ASICS shoe fresh from the box)
The bounce and support of the foam in the shoe also came in for praise. For our two elite players they both felt that feeling 'springy' really helps their game and this shoe certainly delivered on that aspect.
Was price an issue? As professional players in the lower ranks of the game who are paying for their own equipment, the price tag may have seemed steep, however when putting themselves in the position of a club player who's looking for a quality, durable shoe that will last them for 6 months or more then both players didn't hesitate and agreed that the Court FF3 offered excellent value for such a high quality shoe.
Buy the ASICS Court FF3
Two options if you want to try this much heralded and talked about shoe:
Option 1 is to join the Tennishead CLUB and choose the Court FF from our list of membership benefits
Option 2 is to head over to our retail partner, All Things Tennis, and purchase the ASICS Court FF3 from a trusted independent tennis specialist