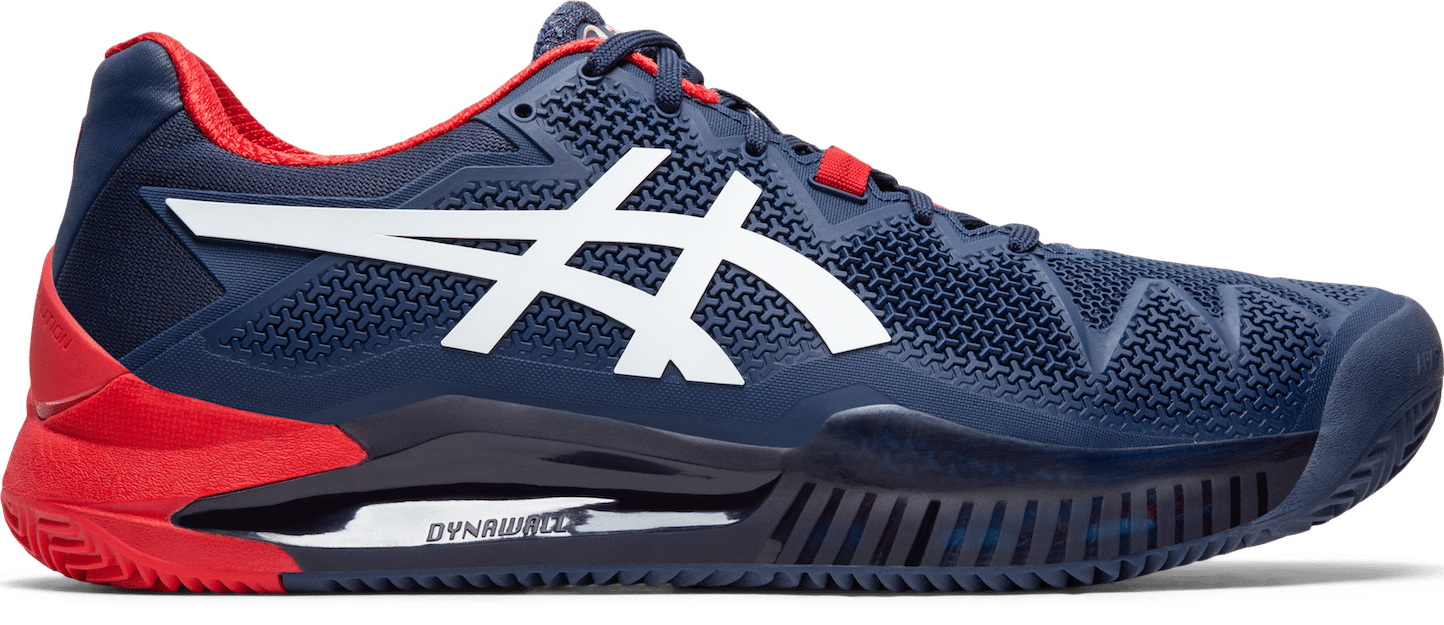 ASICS GEL-RESOLUTON 8 tennis shoe review
Tennis shoes have lagged behind rackets in terms of investment in technology from brands in recent years, but now ASICS, the famed Japanese sports trainer manufacturer, have ramped up their commitment to the sport. They contacted us about their new GEL-RESOLUTION 8 tennis shoe, so we grabbed a few pairs for our testers and hit the hard courts.
Maybe it was just luck, but our plan to play test and review the GEL-RESOLUTION 8 tennis shoe has coincided with Gael Monfils entering a quite stunning run of form which has culminated in two consecutive ATP tournament wins. It just so happens that Monfils is the figurehead for the new ASICS shoe and was heavily involved in their development. This only managed to increase our excitement about trying them out for ourselves. Any chance of being able to move around the court remotely like the athletic Frenchman would have us hooked forever!
---
WIN THE ASICS GEL-RESOLUTION 8 IN OUR EXCLUSIVE COMPETITION
We've teamed up with ASICS to give you the chance to win a pair of shoes and full tennis outfit
CLICK HERE FOR YOUR CHANCE TO WIN
---
The background
Back in 1977 ASICS founded their 'Technology Research Section' which later in 1985 became the 'ASICS Institute of Sport Science' when their 'Technology Research Section' and 'Shoe Development Centre' merged in Kobe, Japan.
The sheer volume and complexity of sports shoe technology that this research facility has developed in the subsequent years is quite astounding. Now it seems, ASICS are looking to provide tennis players with shoes that are on a par with their running shoes in terms of commitment to technology.
In fact this research structure comprises the 5 key elements of… human attribute research, materials research, structural design research, analytical evaluation method research and production technology research.
The technology
The GEL-RESOLUTION 8 tennis shoe aims to deliver a close-to-court feel mainly for defensive players that like to move side-to-side behind the baseline, in other words Monfils!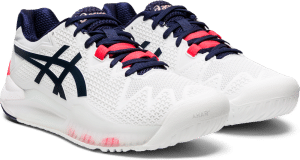 The shoe incorporates a FLEXION FIT upper which looks to provide form-fitting support with the integration of DYNAWALL technology that ASICS say offers added midfoot stability during lateral movements and corner-to-corner coverage.
The signature GEL technology in the heel and midfoot aims to reduce the impact of shock from abrupt stop and go movements on court. Additionally, the model also incorporates an AHAR compound in the outsole that works in conjunction with the PGUARD toe protector to increase traction on court, while reducing the overall level of wear.
The TORQUE CONTROL COUNTER in the heel looks to give advanced stability whilst the new full length outsole design aims to increase grip and help with braking, kicking off, and side-to-side movement.
With such a detailed analysis of the techniques that went into developing this shoe it would be interesting to find out how they performed.
Watch as the tennishead testers try out the shoes
The play test
Armed with their shoes (plus full ASICS tennis outfits) and immediately following an informative education session with Rene, the top product design man from ASICS, our four eager play testers, Liam, Austin, Helena and Finley, hit the courts.
We'd made sure that the testing would take place on a hard court and that our chosen testers were predominantly baseline players so that we could put the shoes through their paces in the exact conditions that ASICS had in mind when developing the GEL-RESOLUTION 8 tennis shoe.
Initial feedback on the design and colours of the shoe was very positive with Liam pointing out that the blue and red colour scheme will "match nicely with pretty much any kit" and Finley gushing with compliments saying they looked "better than anything he's taken out of a box before".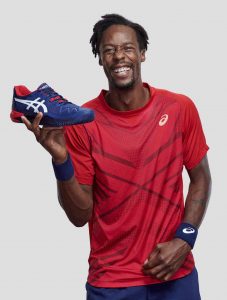 As the testers tried on their shoes we asked them for immediate feedback on the comfort and feel of the shoe. Helena was positive saying that there was a feeling of "immediate stability and comfort". Finley found them "snug but without being too restrictive" and called them "a dream shoe, so comfortable". Austin found the fit "a little bit long" and suggested that in the future he would go for a half size smaller when choosing these shoes.
As the players began their warm up Helena smiled and commented on the "support at the bottom of my foot" which she really liked. Liam found the shoe "comfortable straight away" while Finley said that they were "very sturdy".
We then asked the testers to start hitting groundstrokes from the back of the tennis court and to increase the speed and complexity of their movements. Helena commented on how "safe it felt and really easy to move from side to side". Liam pointed out that he likes to slide when he plays and the GEL-RESOLUTION 8 made that "sliding motion really easy" for him and "really simple to push off". Finley mentioned that a lot of tennis shoes caused his ankle to roll but these ASICS shoes felt like they were helping "keep my ankles in place". Austin felt "good moving from side to side and could slide" if he wanted to or "change direction quickly without sliding" which is good.
Next the testers moved up to the net to try out their volleys and smashes. Austin found this "easy" and he "felt comfortable hitting a variety of shots". Helena found "good support" when moving forwards and backwards. Finley found the shoes didn't rub or dig in when he was moving forward to volley and also felt they were "always there and really held my feet together".
We then asked all the testers to compare the ASICS GEL-RESOLUTION 8 to the normal tennis shoe they wore.
Finley, who currently wears Nike shoes, found the ASICS shoe he tested to be "much more comfortable" and "a lot more support around my feet" and when running he was able to "maintain a good position without falling over".
Helena currently wears the Nike Court Cages. She found the ASICS shoes "all around more comfy and cushioned at the bottom with more protection around the ankle so when going side to side there is no jolting of the ankle".
Liam  and Austin currently wear the ASICS GEL-RESOLUTION 7. Liam found the GEL-RESOLUTION 8 to be slightly better in terms of stability whilst Austin said they "lived up to my expectations as they've always been my go to shoe".
In conclusion
The amount of positive feedback from our play test points to the ability of the GEL-RESOLUTION 8 to provide a very stable footing for tennis players that like to make dynamic movements around the baseline when hitting their groundstrokes.
The high level of instant comfort this shoe delivers was also apparent with a recommendation to try the shoe on before purchasing as a half size smaller might be required for some players.
With it's easy on the eye colour scheme this shoe will no doubt become a staple for many tennis players in the near future even if we can't all do the same things in them that a certain Frenchman can!
To purchase your own pair of ASICS GEL-RESOLUTION 8 tennis shoes click here for men's and here for women's.