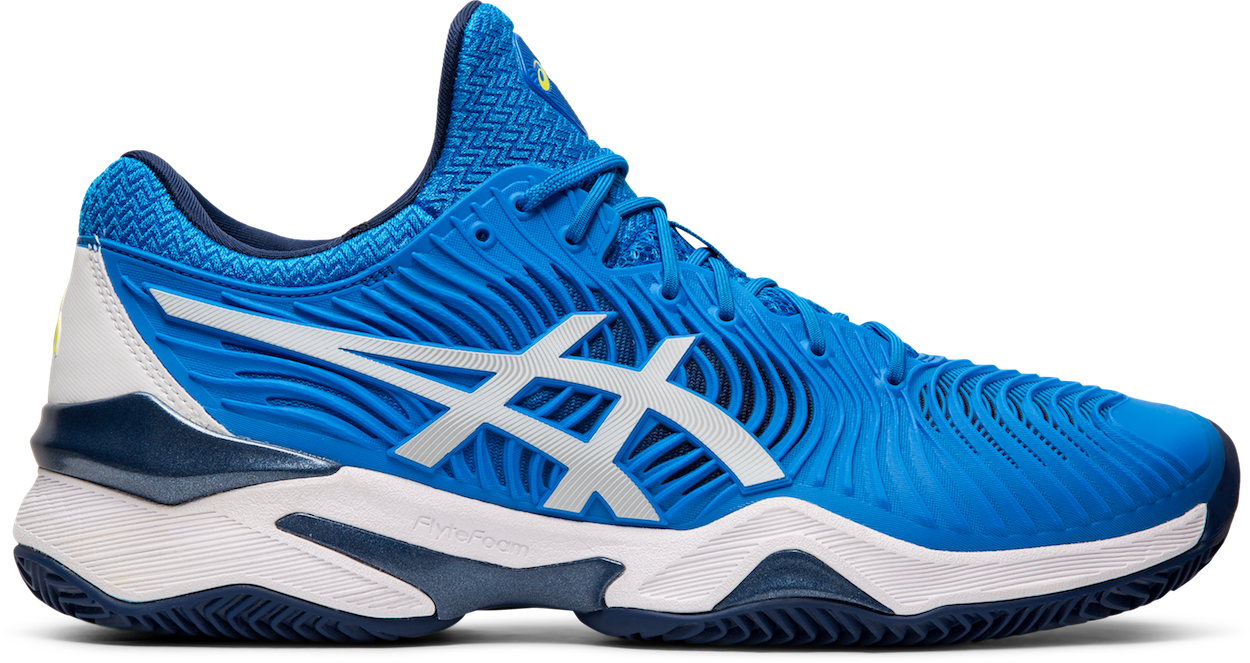 ASICS Court FF review
The ASICS Court FF shoe is the premium trainer in the ASICS tennis range and has been developed in close collaboration with Novak Djokovic. Tennishead set about giving the shoe an exhaustive play test and review.
ASICS call this their 'best of both playing styles' shoe which is a weighty claim as basically they are saying that this shoe should be ideal for every tennis player out there. However, this same shoe also has to suit the demands of World No.1 Novak Djokovic with his unique style of athleticism on the tennis court. We were eager to find out if the manufacturers claims could be substantiated when put under the microscope of an independent test and review.
---
WIN THE ASICS COURT FF NOVAK IN OUR EXCLUSIVE COMPETITION
We've teamed up with ASICS to give you the chance to win a pair
CLICK HERE FOR YOUR CHANCE TO WIN
---
The technology
According to Novak Djokovic, "Not just in tennis but probably in all sports, ASICS have the best shoe technology in the world. It feels comfortable knowing that there is a great team of experts at ASICS that are not only very passionate about tennis but also very knowledgable."
The MONOSOCK™ is probably the biggest difference between the Court FF and other ASICS shoes. In essence it's an in-built sock inside the shoe that aims to "provide increased comfort by holding the foot and ankle in place". This is unique for tennis shoes and goes a long way to explain Novak Djokovic's ability to slide so comfortably on all surfaces.
When we spoke to ASICS about the FLYTEFOAM™ technology used in the Court FF, they said it's "the lightest midsole material ASICS creates, specifically designed for tennis, providing more cushioning from start to finish of the game. The high rebound property of the foam means more speed for the all-court player compared to lower density midsole materials."
The shoe also features the TWISTRUSS™ System, which ASICS says helps with "extra flexibility while allowing the foot a full range of movement."
Watch as our experts try out the ASICS Court FF tennis shoes
Our Tennishead play testers for the ASICS Court FF review:
Sue: A 'baseline grinder' who's been running around a tennis court for 30 years and usually wears ASICS Solution Speed tennis trainers.
Liam: An 'energetic all-court player' who's been running around a tennis court for 10 years and normally wears Nike Court tennis shoes.
Austin: Who 'likes to win the point at the net', has been running around a tennis court for 15 years and who's current shoes are the ASICS Gel Resolution 8.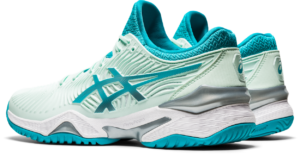 How did the shoe feel when you first tried it on out of the box?
Austin felt that "initially when I was putting the shoe on it felt like it might be a little bit tight because of the built in sock, but once my foot was in it felt really nice in the shoe with lots of room around the toe and very secure around the ankle". Liam said that his foot "slipped in quite well and didn't take much adjusting and it feels like there is lots of space in all areas of the shoe". Sue found that the built in sock meant that "it was quite a tight fit to get my feet in but once my foot was in it felt spacious".
Do you like the design and colour of these shoes?
Austin felt "they look really nice, almost futuristic, I haven't seen anything like it before. The sock and the colour look really great and it's a shoe that I would choose from the shelves". Liam pointed out that "the colourways are really nice especially with the Novak Djokovic logo on them". Sue, who likes a bright shoes, said "I really like the colour, nice and bright. I'm not keen on white shoes so I like the more modern colours on this".
How did the shoe feel during your warm up?
Sue found that the Court FF "Didn't feel as soft underfoot or bouncy as the new ASICS Gel-Resolution but I did feel there was a lot more room at the front of the foot than the Gel-Resolution, which made them a bit more comfortable out of the box". Austin found the Court FF shoes to be "really comfortable and quite flexible around the toe. I felt I had lots of room to move but at the same time they felt secure around the ankle which meant I could move where I liked without the fear of pain". Liam said that "it really didn't take long to settle into the shoe, they felt light on my feet and every step didn't feel much impact."
How did the shoe perform when hitting groundstrokes from the baseline?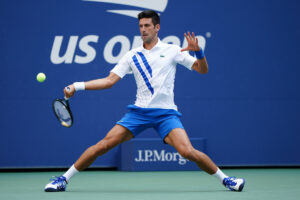 Austin found that he could "move side to side with good grip on the court at all times which meant I didn't feel I was going to fall over or hurt myself. They were really secure and I could slide if I wanted to which gave me everything I could want in a shoe at the baseline". And when Austin was pushed wider on his groundstrokes he said the shoes "performed really really well. The sock made me feel really secure around the ankle, I didn't feel like I was going to roll over which I previously have felt in my Nike Court shoes which are lower around the ankle so when you are pushed out wide you are doubting whether your ankle is going to go sometimes". Liam felt that he could "push off the ground really quickly" and when he was stretched wider on the court he said "I like to slide like Novak does which was really easy in these shoes". Sue commented that "to be honest I didn't notice the shoe on my foot which is actually a good thing! Nothing was causing me discomfort or pain. They didn't feel clumpy or heavy, they just felt party of me".
How did the ASICS Court FF feel when approaching the net and hitting volleys?
Liam felt that at the net he "likes to be light on my toes which was really easy, they didn't feel to clunky". Sue said "it was all good. They felt light and manoeuvrable and not clumpy in any way". Austin said "I felt the sock provided the stability all round my foot whether I was moving sideways or forward".
How does the Court FF compare to your current shoe?
Sue currently wears the ASICS Solution Speed and she found "the Court FF insole felt a little firmer. I had a little more room at the front of the foot and it felt light and comparable to the Solution Speed. It felt much lighter than the Gel-Resolution I sometimes wear and more comfortable when trying to move quickly on court".
Austin wears Nike Court tennis shoes and he found the Court FF shoe material was "much more flexible which made my foot more free to do what it likes. They almost felt like they weren't on my feet and so weren't hindering me in any way and around the ankle they were much more secure. With the Nike Court's the ankle is quite low which means they don't feel as secure".
Liam found it was "definitely the weight of the shoe" that was the difference between the Court FF and his current Gel-Resolution 8 shoes. "The Court FF was really light and easy to move around whereas my current shoe is a little heavier so with each step you can feel the weight of the shoes a bit more".
Do you think the shoes perform well for both baseline and net players?
Austin commented "Yes definitely because they are nice and light so you can move around easily, they've got the stability round the ankle so you can move forwards and backwards as well as side to side so I feel like it would suit and 'all court' player nicely".
Liam agreed that "the movement side side and up the court to the net was really easy".
Sue also agreed. "Yes definitely. It just feels comfortable wherever you are on the court and easy to move around in all directions'.
Does the 'twisstruss' technology help deliver good stability combined with flexibility?
Liam agreed that "I don't think I'd be able to roll my ankle which means the stability is good and then also being able to slide and with the shoe being so light means the flexibility is covered".
Sue wasn't sure she "noticed that in particular but I did notice being able to push back into the court where it felt very comfortable and manoeuvrable".
Austin also "couldn't feel the flexibility in the sole so much but I definitely felt the upper material was very flexible".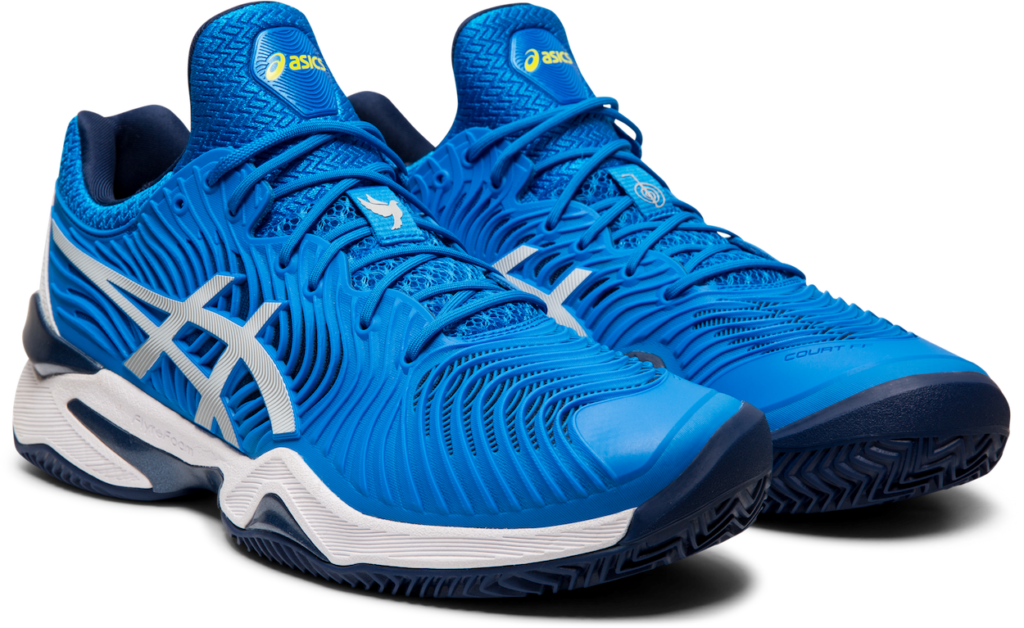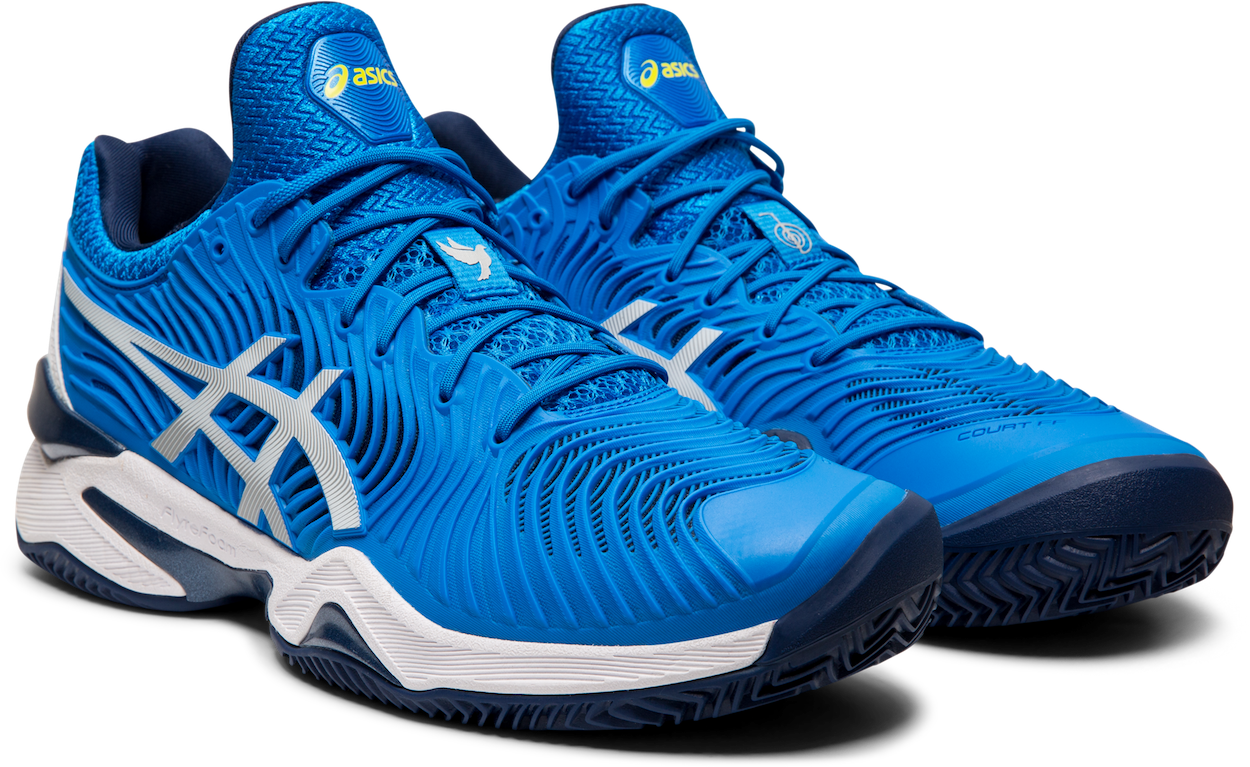 Does the 'mono-sock' provide movement security for both your ankle and foot?
Sue agreed but did say that "the front of the shoe feels a bit bigger so that part didn't feel like it was holding my foot as much as the back of the foot". Austin tended to agree with Sue that he "definitely felt it around my ankle which felt nice and secure but not so much around the foot as there was quite a lot of room around the toe, which I didn't dislike. This gave me room to breathe but not as much security as the ankle area". Liam could "definitely feel it but it just feels a little tight around my mid-foot area compared with my Gel-Resolution shoes, but it's a good addition especially if you are looking for that stability in the shoe".
Finally we asked our testers if they felt £155/$170/€180 is a fair price for the shoe?
Sue – "Yep that's normal on price for this type of shoe and I'd be very happy to buy these".
Austin – "Yeah it's a decent price. A little more than your average tennis shoe but you are paying for all the extra technology like the sock so I'd happily pay that price".
Liam – "Comparing to any tennis shoe these days, I think that's a good price".
In conclusion
It's apparent from our testers feedback that the 'monosock' woven into these shoes makes the Court FF different to anything else on the market. The snugness of your foot within the shoe might initially feel tight but then quickly the shoe becomes very comfortable with a large degree of added stability when moving around the court. Even sliding on a hard court felt natural which isn't always the case with other shoes.
The obvious lightness of the ASICS Court FF also stood out to our testers especially when compared to other shoes on the market. Therefore it seems fair to conclude that ASICS have hit the nail on the head with the two key requirements of stability and weight that a modern tennis player demands from their shoe.
Buy the ASICS Court FF tennis shoes
To purchase your own pair, click here for men's and here for women's.