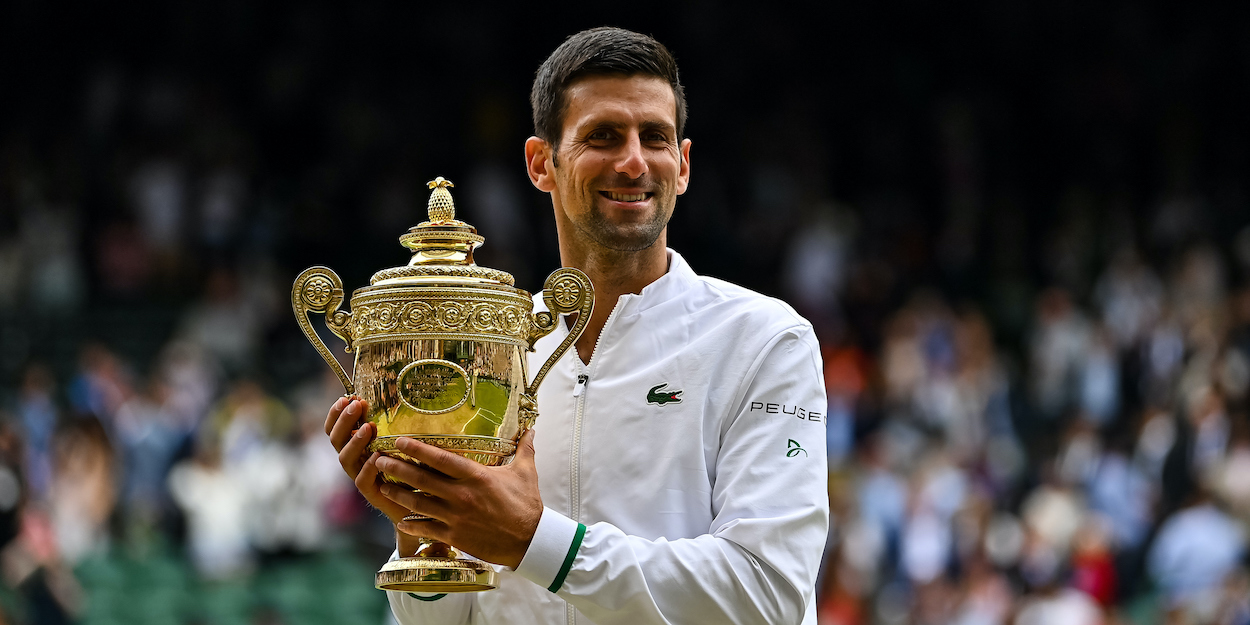 ANALYSIS: How has Novak Djokovic come to completely dominate Wimbledon?
Novak Djokovic has an incredible record at Wimbledon, and top tennis strategist Craig O'Shannessy has broken down how he established himself as the dominant force in SW19.
---
When Novak Djokovic arrived at Wimbledon in 2022, he triumphed in the tournament six times, including the last three on the trot. By the time he left, that was seven and four on the trot.
So, how has he triumphed in the past? Superior baseline play, or dominating with serve and returns? Maybe he's simply the best at finishing points at the net? These match summaries from the six Wimbledon finals before 2022 that he has won may provide a idea of just how he's so dominant in SW19.
2021 FINAL: NOVAK DJOKOVIC DEF. MATTEO BERRETTINI 6-7(4), 6-4, 6-3, 6-3
Matteo Berrettini would have been expecting Novak Djokovic to serve more to his comparatively weaker backhand wing. Not even close as Djokovic went all in on hitting first serves to Berrettini's forehand return and was almost perfect with his daring strategy.
In total, Djokovic made 35 first serves to Berrettini's forehand return and only lost a single point. He won 21/22 in the deuce court and 13/13 in the ad court. The wide slice in the deuce court forced Berrettini to defensively slice forehand returns, which immediately enabled Djokovic to step in and attack.
The Serb won 7/9 serve-and-volley points in the final. Sixty-eight per cent of total points in the final were in the 0-4 rally length, which Djokovic dominated. He won 104 points to Berrettini's 85.
Djokovic won 14 more points than Berrettini for the match and won 19 more points in the 0-4 rally length. Overall, Berrettini racked up substantially more winners (57-31) but errors flowed freely from his racket.
Berrettini committed 64 forehand errors – almost double Djokovic's total of 34. The Italian committed 45 backhand errors, which was more than Djokovic's 42. This final was all about weathering the storm of winners and extracting as many errors as possible.
2019 FINAL: NOVAK DJOKOVIC DEF. ROGER FEDERER 7-6(5), 1-6, 7-6(4), 4-6, 13-12(3)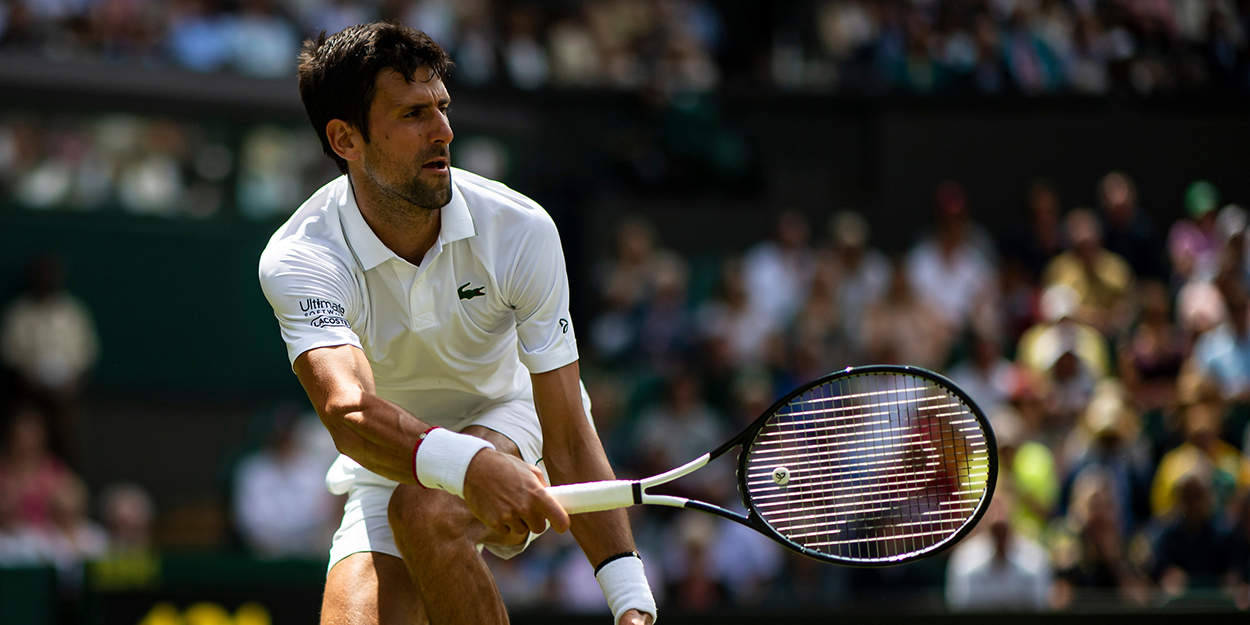 What occurred in the three tie-breaks was the polar opposite of what happened for the rest of the final. The match statistics were dominated by Roger Federer, who held two Championship points serving 8-7, 40-15 in the fifth set. But the last point of the match proved elusive.
Federer successfully attacked Djokovic for the duration of the final, except in the tie-breaks. For example, Federer won 13/15 points serving and volleying and 51/65 approaching from the baseline. He was killing it coming forward. But in the 33 total points in all three tie-breaks combined, he only won one solitary point at net from just two forays forward.
Amazingly, 20 of the 33 points contested in the three tie-breaks had both players standing at the baseline; Djokovic won 16, while Federer earned a mere four. Federer should have doubled down on going to the net in the big moments. Instead, he lost his way forward and lost the title.
2018 FINAL: NOVAK DJOKOVIC DEF. KEVIN ANDERSON 6-2, 6-2, 7-6(3)
Djokovic was a returning machine at SW19 in 2018, cultivating 100 break points for the tournament. That total was second only to Lleyton Hewitt in 2002, who won The Championships, creating 110.
The final against Anderson was only five points old and Djokovic was already converting his first break point. He would see just four break points against the big-serving South African in the match and would convert all of them.
Twice during the tournament he manufactured 19 break points in a match. One was in the semi-final against Rafael Nadal and the other was against Tennys Sandgren in the first round. Djokovic's break-point performance was impressive on two levels.
The tournament average for break points converted was 36 per cent; Djokovic was higher at 39. He saw 100 break points for the tournament, but only three other players generated more than 60. It was a prolific performance when the big points rolled around.
2015 FINAL: NOVAK DJOKOVIC DEF. ROGER FEDERER 7-6(1), 6-7(10), 6-4, 6-3
The first two sets were a coin flip but the more the match matured in the third set, the more Djokovic got to control his favourite part of the court: the baseline.
Federer averaged winning a respectable 52 per cent of baseline points going into the 2015 final, but that percentage was down to just 40 in the final, courtesy of Djokovic's superior groundstroke mastery.
It was a case of copy and paste for the Serb, as those were the same losing baseline numbers for Federer from their 2014 final. Djokovic won extended rallies of nine-plus shots 18-10 in the final. Federer's game plan was misfiring, playing that many long rallies, while Djokovic was relishing the opportunity to play 28 points against Federer with both players at the back of the court.
Federer served and volleyed 22 per cent (21/94) of his first-serve points and 25 per cent (11/44) when hitting second serves. Overall, he won 72 per cent (23/32), which begs the question: why didn't he do it more often when baseline play wasn't working?
2014 FINAL: NOVAK DJOKOVIC DEF. ROGER FEDERER 6-7(7), 6-4, 7-6(4), 5-7, 6-4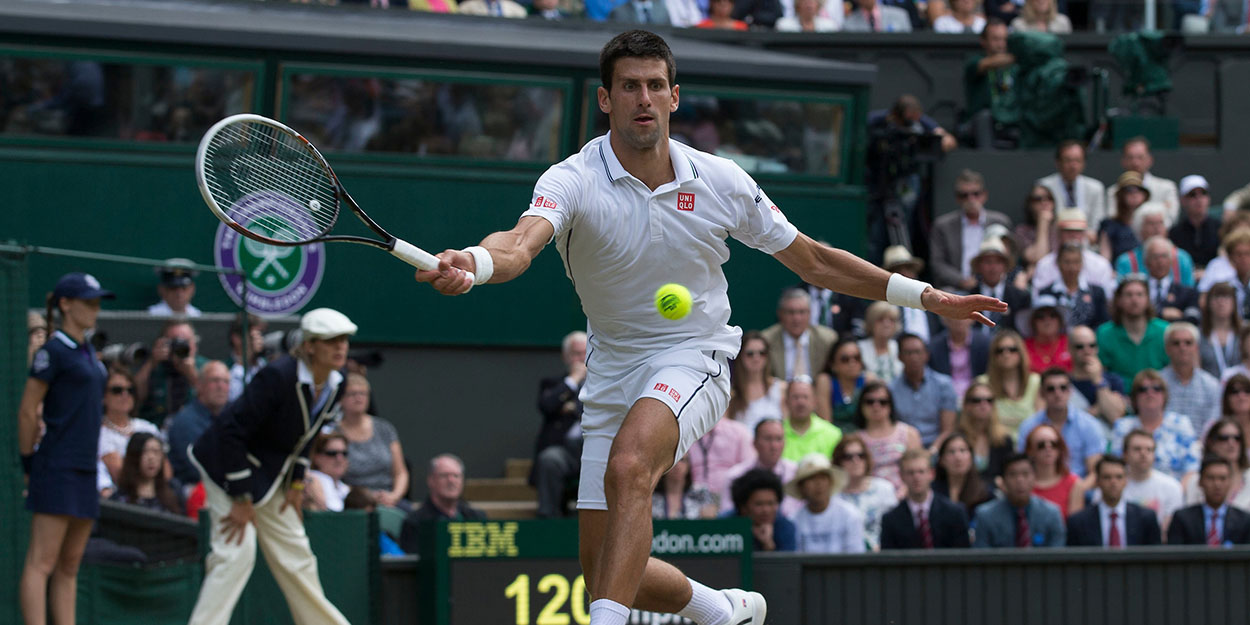 The most important point of the match for Djokovic came when serving at 3-3, 30-40 in the deciding fifth set. He was able to work the Federer backhand early in the point and pounce on a short ball, approaching to Federer's backhand wing.
Federer should have either belted the ball straight at him or come over it with heavy top spin to force Djokovic to volley below the height of the net. Instead, Federer went with a backhand-slice passing shot that never made it over the net. It was the only break point Djokovic faced in the fifth set and it proved pivotal to victory.
Federer attacked the net as much as possible against Djokovic to find an edge, winning 78 per cent (28/36) serving and volleying and 66 per cent (44/67) approaching. It was a smart strategy that got Federer back into the match after trailing 2-5 in the fourth set. Federer came to the net 16 times in the fourth set, which was second only to 17 in the opening set, which he also won.
2011 FINAL: NOVAK DJOKOVIC DEF. RAFAEL NADAL 6-4, 6-1, 1-6, 6-3
These two players were always going to match up very evenly from the baseline. Who was prepared to venture to the net more would find the advantage in the match. The stats below, on forehand and backhand winners and errors, reveal just how close this final was.
FOREHANDS
Djokovic: 10 winners / 32 errors
Nadal: 10 winners / 34 errors
BACKHANDS
Djokovic: 2 winners / 25 errors
Nadal: 4 winners / 32 errors
But when you look at baseline points won – which includes the opponent at the net and the baseline – you uncover where Djokovic created his separation. The Serb won 49.4 per cent (44/89) of baseline points, which includes Nadal at the baseline and net. Nadal only managed to win 43.4 per cent (46/106).
What helped Djokovic win the final was his hunger to get to the net to finish off a baseline rally. Djokovic won 19/26 at the net for the match, while Nadal only came in around one-third of that total, winning 6/9. Djokovic won 13 more points for the match (95-82) and won precisely 13 more points at net.
---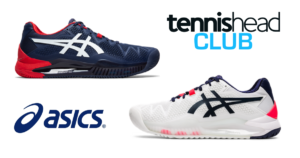 For free access to Craig O'Shannessy's complete courses on '25 Golden Rules of Singles' and '25 Golden Rules of Doubles', join thousands of other keen amateur tennis players and become a member of the Tennishead Club. Once you join we'll immediately send you ground breaking coaching advice, a welcome pack including a full ASICS head to toe outfit including shoes, plus loads more. And it costs as little as £65/$97 to join with membership benefits worth over £600/$700 per year!
---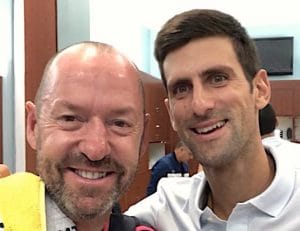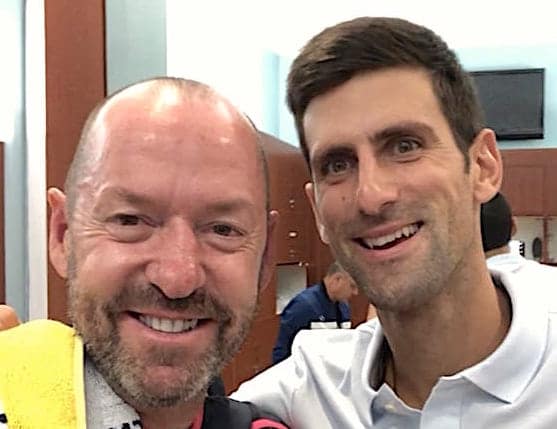 Craig O'Shannessy is the creator of Brain Game Tennis. For 20 years he's been involved in tennis as a coach to players like Kevin Anderson and even Dustin Brown when he famously beat Rafa Nadal at Wimbledon. More recently Craig's been working as a match analyst at Wimbledon and for the ATP Tour. He has also used the unique insights from his match analysis software dartfish to guide players such as Novak Djokovic with analysis of opponents and performances.
Visit BrainGameTennis.com to read the latest and best selling course 'Getting Tight' where Craig teams up with Jeff Greenwald to combine their specific skill sets to help you with the universal problem all players struggle with in matches.
🎾 Free >> Join our legendary newsletter
🎾 Join >> Receive $700/£600 of tennis gear from the Tennishead CLUB
🎾 Social >> Facebook, Twitter, Instagram & YouTube
🎾 Read >> World's best tennis magazine
🎾 Watch >> How to enjoy ATP/WTA/Slam tennis on TV
🎾 Shop >> Lowest price tennis gear from our trusted partner