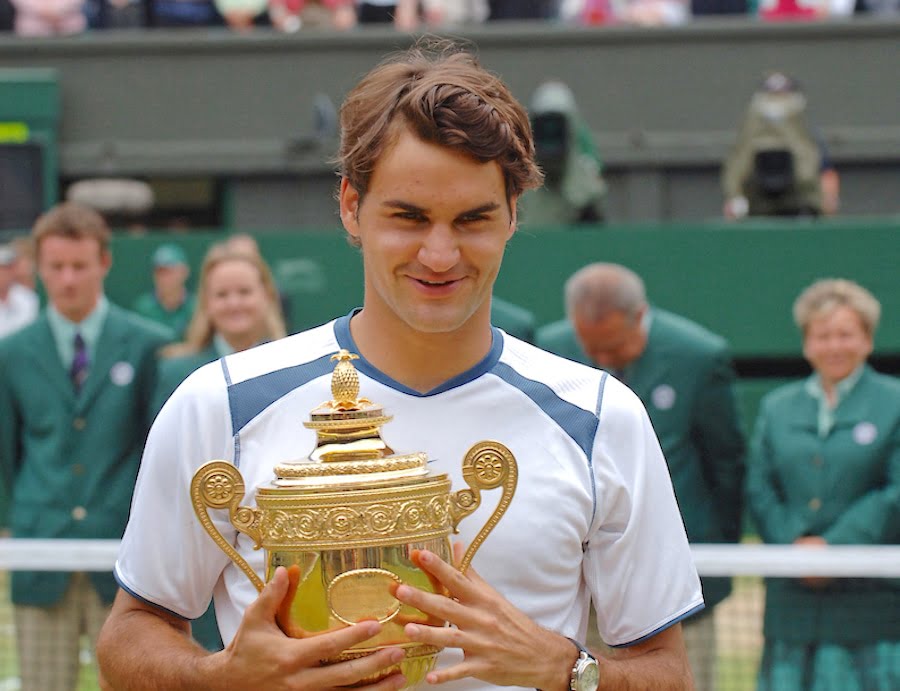 Age doesn't have to be a barrier to tennis success
The current success of the 'thirty-something' generation is by no means unique. Stephen Towers looks back at past champions who have shown that age does not have to be a barrier to success
Roger Federer's achievement in winning his record eighth Wimbledon title at the age of 35 last summer was one of the great all-time feats, but consider this. If the Swiss is to become the oldest men's singles champion in All England Club history, he will need to conquer Centre Court again in 2023, by which time he will be approaching his 42nd birthday.
The record is held by Arthur William Charles Wentworth Gore, who won the title in 1909 at the age of 41 years and 182 days. He was still competing in doubles 18 years later.
Although the recent successes of so many "thirty-somethings" is unparalleled in the modern era, there have been other times when age has appeared to be no barrier to glory. Jean Borotra played doubles at the All England Club in 1964 at the age of 65, Molla Bjurstedt Mallory won the 1926 US Nationals (which became the US Open) at 42, and before the First World War it was almost commonplace for mothers to win Wimbledon titles.
The years immediately before and after the Great War were a golden era for older players, particularly at Wimbledon. Gore, who won the singles title in 1901, 1908 and 1909, played in 35 of the 36 Wimbledons staged between his debut in 1888 and his final appearance in 1927. He played his last match in singles in 1922 at the age of 54 and won his last match in doubles at 58, partnering Roper Barrett to victory over Louis Greig and the Duke of York.
Gore might have been even more successful but for his busy life away from the court. George Hillyard, in his 1924 book, "Forty Years of Lawn Tennis", wrote: "Gore has always been a hard-working businessman and therefore unable to devote the amount of leisure to lawn tennis which many others more fortunately situated could bestow on the game."
One of Gore's contemporaries was the oldest player ever to compete in the men's singles at Wimbledon. Major Ritchie was 55 when he lost to 22-year-old Nigel Sharpe in four sets in the first round in 1926.
Bill Tilden won the last of his 10 Grand Slam singles titles in 1930 at 37 and might well have won more but for his decision to turn professional at the end of that year. Although acknowledged as one of the sport's all-time greats, the American's history as a homosexual paedophile has always meant that he did not receive the recognition that his tennis exploits might have deserved.
Tilden took fitness much more seriously than most of his contemporaries and was still giving the best professionals of the day a run for their money into his late forties. In 1939, at the age of 46, he beat 27-year-old Ellsworth Vines, the 1932 Wimbledon champion, at Wembley at the start of a professional tour. In 1941, at the age of 48, Tilden toured with 26-year-old Donald Budge, who three years earlier had become the first man to complete a pure calendar-year Grand Slam. Budge won 55 of their matches but Tilden was still good enough to win six times.
Borotra was one of the "Four Musketeers" who dominated tennis in the late 1920s and 1930s. He won 21 Grand Slam titles and was one of the great showmen of his day. He would sometimes jump into the crowd and kiss the hands of female spectators.
The "Bounding Basque" was still a fixture at Wimbledon long after he stopped playing singles. He played his last mixed doubles match at the All England Club at the age of 64 in 1963 and his last men's doubles match the following year, 42 years after his debut.
Gardnar Mulloy became Wimbledon's oldest men's doubles champion at the age of 43 in 1957, while Jaroslav Drobny, one of the great post-war figures in international tennis, won a mixed doubles match in 1971 at 49.
By that time Pancho Gonzales had become the most famous veteran of his day. Brought up in Los Angeles by Mexican immigrants, he was the first non-white American to win the US Nationals title. He turned professional in 1949 at the age of 21, which meant that he was barred from playing in Grand Slam tournaments until the sport went open in 1968.
Gonzales stood 6ft 3in tall and hit the ball with great power, but he also had a fine touch and extraordinary stamina. At 40 Gonzales was finally allowed to play at Wimbledon again. Arguably his finest hour came one year later, when he staged one of the most famous comeback victories in Wimbledon history to beat Charlie Pasarell 22-24, 1-6, 16-14, 6-3, 11-9 after five hours and 12 minutes. It remained the longest match at the All England Club until John Isner and Nicolas Mahut met in 2010.
Ken Rosewall, who also spent years in exile as a professional, holds the records as both the youngest and oldest men's champion of Australia. He first took his country's national championship (which became the Australian Open) in 1953 at 18 and won it for the fourth and last time in 1972 at 37. He remains the oldest winner of a Grand Slam men's singles title in the open era.
In 1975, 40-year-old Rosewall was still ranked No 2 in the world. He played in his last Grand Slam singles finals in 1974 at Wimbledon and the US Open at 39, losing to Jimmy Connors on both occasions.
Connors came close to matching Rosewall's longevity. The American made his last appearance in a Grand Slam final in 1984, but in 1991, at the age of 39, he made one of the most remarkable runs in US Open history. In the first round he beat Patrick McEnroe after trailing 4-6, 6-7, 0-3 and 0-40 and in the fourth he came back from 2-5 down in the final set to beat Aaron Krickstein. He eventually lost to Jim Courier in the semi-finals.
In the last 100 years fewer women than men have stayed at the top for as long, but before the First World War there were several female Wimbledon champions of remarkable vintage, including three who were mothers.
Blanche Hillyard (nee Bingley) won the women's singles four times as a mother (in 1894, 1897, 1899 and 1900). Charlotte "Chattie" Sterry (nee Cooper) won it as a mother in 1908, when she became the oldest ever winner at 37 years and 282 days. Dorothea Lambert Chambers (nee Douglass) triumphed as a mother in 1910, 1911, 1913 and 1914. Since then the only mother who has won the title was Evonne Cawley (nee Goolagong) in 1980.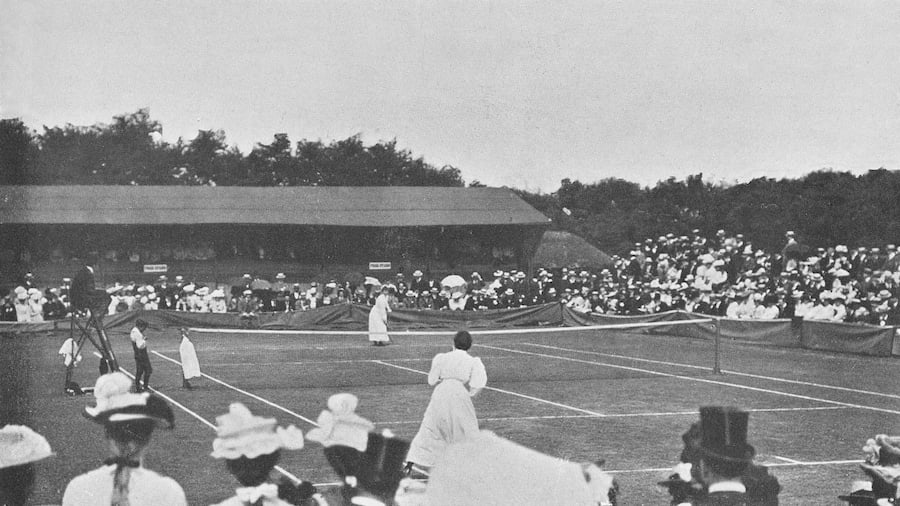 Sterry, who was completely deaf for most of her career after losing her hearing at 26, first played at Wimbledon in 1893 and made her last appearance in 1919 at 48. She appeared in eight successive finals from 1895, which remained a record until Martina Navratilova contested nine in a row from 1982.
Hillyard was 37 when she won the last of her six Wimbledon singles titles. She shares with Serena Williams the record (14 years) for the longest gap between Wimbledon women's singles titles, but nobody can match her record 13 appearances in finals. She was 48 when she reached the semi-finals in her penultimate Wimbledon appearance in 1912.
Lambert Chambers was 35 when she won her last Wimbledon title but would have become the only 40-year-old women's champion if she had taken either of her match points in the 1919 final against Suzanne Lenglen, who was half her age. Lenglen won 8-10, 6-4, 9-7, but struggled through the final set, during which she took sips of brandy to revive herself. Lenglen, who won six Wimbledon singles titles, repeated the victory 12 months later, when Lambert Chambers became the oldest ever finalist at the age of 41.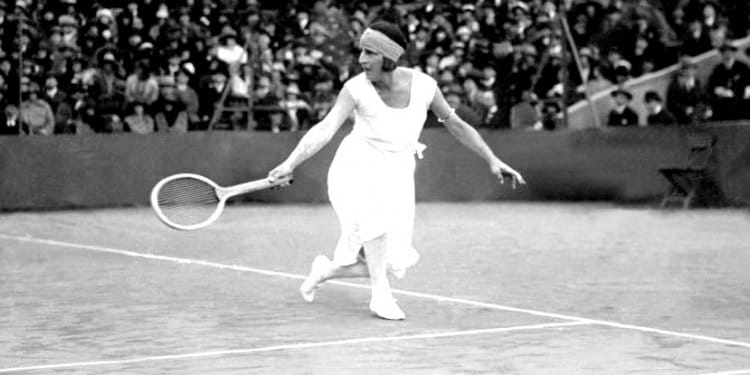 Bjurstedt Mallory lost the shortest Wimbledon final on record when Lenglen beat her in just 23 minutes in 1922, but four years later the Norwegian-born American became the oldest women's Grand Slam singles champion in history when she won the US Nationals at 42.
Madeline O'Neill holds the record as the oldest women's singles player at Wimbledon (aged 54 in 1922, when she won two rounds), while Agnes Tuckey (aged 54 in 1932) is the oldest women's doubles player. Elizabeth Ryan is the oldest player to have won the Wimbledon doubles title. She won it a record 12 times, the last occasion being in 1934, when she was 42. The American won 49 doubles matches in succession at the All England Club between 1914 and 1928.
Margaret Osborne duPont was another American doubles specialist, though she also won six Grand Slam singles titles to go alongside the 21 she won in doubles and 10 in mixed doubles. She won nine of them as a mother, the last of them in the mixed doubles at Wimbledon in 1962 when she was 44.
In 2003 46-year-old Navratilova replaced Osborne duPont as Wimbledon's oldest mixed doubles champion. Three years later Navratilova became the oldest player ever to win any Grand Slam title when she won the US Open mixed doubles a month before her 50th birthday. It was her 59th and last Grand Slam title.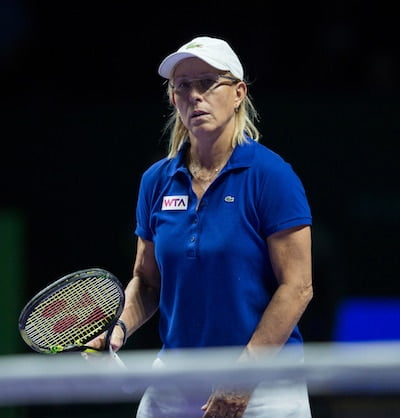 Compared with most multiple Grand Slam women's champions, Navratilova was a late developer. She won 15 of her 18 Grand Slam singles titles after her 25th birthday, the last of them at Wimbledon in 1990 when she was 33. In total she won 167 singles titles, 177 in doubles and 10 in mixed doubles.
Navratilova and Margaret Court are the only women with more Grand Slam titles than Billie Jean King, who won 39 between 1961 and 1980 (12 in singles, 16 in doubles and 11 in mixed doubles), including eight after she had turned 30. She won her last Grand Slam singles title at Wimbledon in 1975 at the age of 31 and her last of any kind in the 1980 US Open mixed doubles at 36.
Today's players frequently say that "age is just a number". As history shows, however, tennis longevity is not just a modern phenomenon.
Look ahead to 2019 with our guide to every tournament on the ATP Tour, the WTA Tour and the ITF Tour
If you can't visit the tournaments you love then do the next best thing and read our guide on how to watch all the ATP Tour matches on television in 2019
To read more amazing articles like this you can explore Tennishead magazine here or you can subscribe for free to our email newsletter here