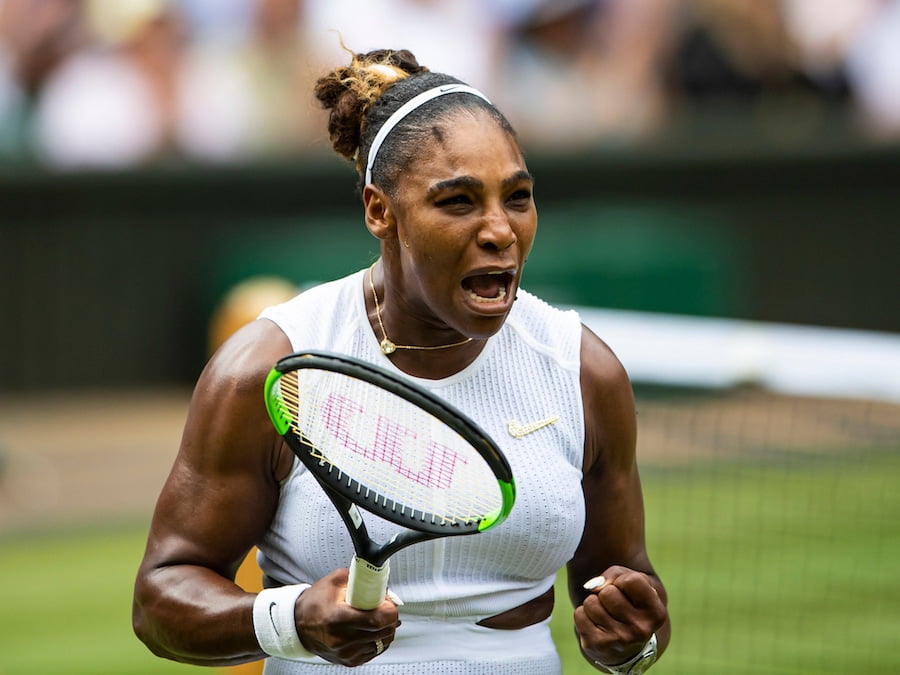 Would Serena Williams lose a point to an average man? She gives emphatic answer in hilarious demo
If a group of men who didn't regularly play tennis stepped onto court against the greatest female tennis player of all time, how many of them would win a single point? According to the men, 12% of them would be able to win just one point. Serena Williams has proved them wrong!
Prior to Wimbledon kicking off this year the polling experts YouGov posed a simple question to 1,732 males living in the UK and their answers revealed a lot about their confidence in their own ability and their understanding of how good at tennis Serena Williams actually is.
The pool question asked, "Do you think if you were playing your very best tennis, you could win a point off Serena Williams?" and after all the responses were collated, 12% of the men said that they thought they could win a single point. That's 1 in 8 of the men.
One in eight men (12%) say they could win a point in a game of tennis against 23 time grand slam winner Serena Williams https://t.co/q0eNBjn7Vu pic.twitter.com/3InBOWdYwh

— YouGov (@YouGov) July 12, 2019
To view the full results of the YouGov poll follow this link.
Now Serena Williams has been involved in a hilarious video to show those men how good she is at tennis and how difficult it would be for a non tennis playing man to even return her serve, let alone win a single point.
To all the non-tennis-playing men who think they can win a point against Serena, watch this… ???? pic.twitter.com/GEDQb76KHt

— EBC (@ItsBlackCulture) July 19, 2019
The video posted by Twitter feed 'ItsBlackCulture' shows Williams on a tennis court hitting what seem like very slow serves to a selection of men that have obviously not played much tennis before. The results are hilarious as the men failed to even connect with most of the serves or are hit in the body by the ball because they can't get out of the way.
Serena Williams made it to the final of Wimbledon 2019 before losing a one sided match to Simona Halep. Williams has now lost in her last 3 Grand Slam finals to Angelique Kerber, Naomi Osaka and Halep. If she can win one more Grand Slam singles title she will match Margaret Court in the list of all time most Grand Slam singles trophies.
Look ahead to the rest of 2019 with our guides to every tournament on the ATP Tour and the WTA Tour. If you can't visit the tournaments you love then do the next best thing and read our guide on how to watch all the ATP Tour matches on television in 2019. To read more amazing articles like this you can explore Tennishead magazine here or you can subscribe for free to our email newsletter here