Winning the mind game: Iga Swiatek proves that she has no limits
Iga Swiatek knew that she would feel stress when she played in the French Open final, but her work with a sports psychologist gave her the tools to handle it. As Paul Newman reports, the 19-year-old Pole believes there are 'no limits' to what she might achieve in the future
When Daria Abramowicz, Iga Swiatek's sports psychologist, sits down to discuss the future with the new French Open champion, one of her first pieces of advice might be to ignore what happened to another young woman who made a similarly stunning Grand Slam breakthrough in Paris three years ago. If Swiatek's experience is anything like that of Jelena Ostapenko, the coming months and years might not look as rosy for the 19-year-old Pole as her extraordinary exploits at Roland Garros this autumn would have suggested.
Swiatek went to Paris ranked No 54 in the world and without a tour-level title to her name, but left as the tournament's first teenage women's champion since Iva Majoli in 1997. She lost just 28 games in her seven matches – only Steffi Graf, with 20 in 1988, lost fewer – and was the first woman to triumph at Roland Garros without losing a set since Justine Henin in 2007. Her victims included Simona Halep, the 2018 champion, Marketa Vondrousova, the 2019 runner-up, and Sofia Kenin, winner of this year's Australian Open
The manner of Swiatek's victory suggested that it should be the first of many triumphs, but the same was said of Ostapenko when she won the same title in 2017, just two days after her 20th birthday, when ranked No 47 in the world. The Latvian has claimed only one minor title since and did not win another match at Roland Garros until she returned this year, when she was ranked just four places higher than on the day she had enjoyed her finest hour.
Ostapenko admitted later that she had not been mature enough to handle everything that came with her victory, so the question now will be whether Iga Swiatek has what it takes to deal with the pressures that will inevitably follow her remarkable ascent into the ranks of Grand Slam champions.
---
"I always wanted to work with a psychologist because I had this belief that it's a big part of the game"
---
Time will tell, but the signs are promising for a young woman who at the start of last year had never even played a match at a Grand Slam tournament, though she was Wimbledon junior champion in 2018. It will no doubt help that her father, Tomasz, who encouraged both Iga and her sister Agata to play sport, knows what it is like to compete at the highest level, having rowed for Poland in the Seoul Olympics in 1988. "He always taught me how to be professional and he always taught me that my whole life is influenced by how I play," Swiatek told the Tennis Now website earlier this year. "Basically the way I behave is because of how he raised us."
Tomasz, nevertheless, was not behind Swiatek's decision to work with a sports psychologist, which has clearly been a key factor in her ability to perform under pressure. "My parents weren't as open to that as I was," the teenager admitted, having worked with other psychologists before she turned to Abramowicz at the start of last year. "I always wanted to work with a psychologist because I had this belief that it's a big part of the game."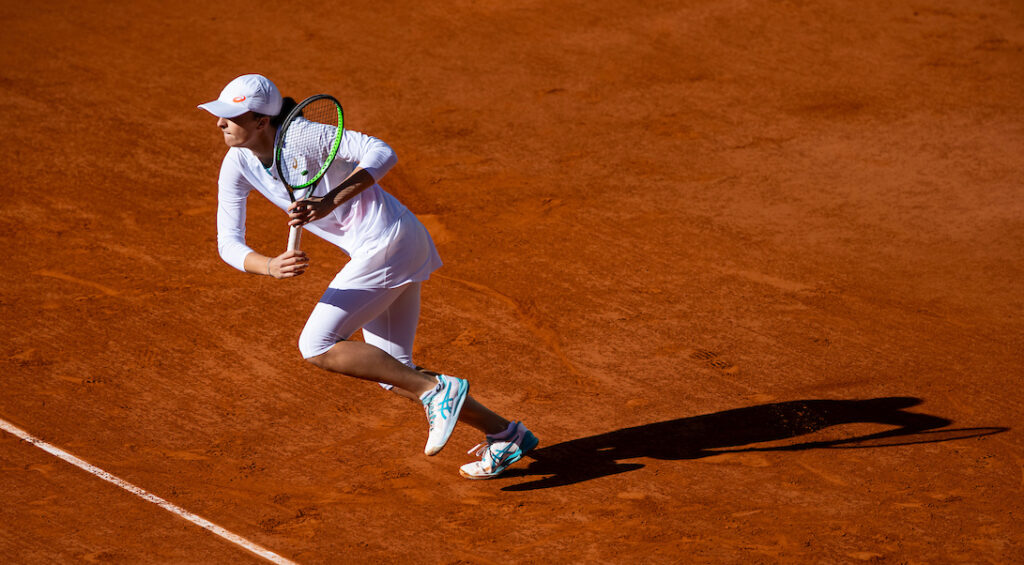 Abramowicz, who has also worked with Poland's national swimming and cycling teams, travels with Swiatek to tournaments. "I can see the difference when I'm mentally prepared and I'm ready to handle the stress, the pressure," Swiatek said. "I can see the difference when I can't. That's why I sometimes lose in the first round and sometimes I can win a tournament. My next goal is going to be more consistent and use the skills I have every time, because it's also tiring for your mind."
Like Bianca Andreescu, last year's US Open champion, Iga Swiatek believes that meditation and visualisation can help her. Before her Roland Garros triumph she had pictured herself winning a Grand Slam title. "I use visualisation and I meditate, especially during breaks during matches," she said. "Many people also meditate before they sleep. I also try to do that, but I'm not as consistent as I could be. One day I do it and the next day I forget. I wish I could be more consistent about it. But I use everything that my psychologist teaches me during a match."
Swiatek's ability to handle pressure was evident in the final against Kenin, who is only two years older but had gone into the match with the experience of a Grand Slam champion. Swiatek was on her game from the start, striking her topspin forehands with venom and throwing in killer drop shots when the opportunity arose.
"Everybody is stressed when they're playing Grand Slam finals," Swiatek said afterwards. "I just knew that Sofia may also be stressed, that she's not a machine. I was aware that we could both struggle and would probably not play our best tennis because it's hard with so much pressure, but I just did everything I had done in the previous rounds. I focused on technique and tactics. I tried to get rid of expectations, to just play one ball after another. I didn't really care if I was going to lose or win."
---
"Even though you're really young and you're an underdog, you can do a lot in a sport like tennis"
---
If playing in front of only 1,000 spectators in Court Philippe Chatrier because of coronavirus restrictions helped to dampen down the pressure, Swiatek believes she would also have coped in front of a full house. "I think I would handle it if there was an audience, because usually I get more adrenaline and it pumps me up," she said. "I'm not too stressed about it. I think it would be the same."
She also believes she will cope with all the attention that will inevitably be focused on her in the future. "I think I'm going to get used to that," she said. "It's not going to be a problem for me. I didn't have a problem with getting attention, with people surrounding me. I think it's going to be OK."
The last 15 Grand Slam singles titles have been won by 12 different women, with Halep and Naomi Osaka the only multiple champions in that period. Iga Swiatek believes she has plenty of room for improvement – "I feel like I can progress in most things because I'm only 19" – but knows that consistency has been the problem for most of those champions.
"I think this is what women's tennis is struggling with," she said. "That's why we have so many new Grand Slam winners, because we are not as consistent as Rafa, Roger and Novak. That's why my goal is going to be to be consistent. It's going to be really hard to achieve that."
Things could be different, too, when all the leading women are fit and playing their best. Andreescu, Osaka and Ashleigh Barty, the 2019 champion, were all missing from this year's field at Roland Garros, while Serena Williams pulled out with injury after her opening match and Garbine Muguruza, Karolina Pliskova and Victoria Azarenka all made early exits when much had been expected of them.
Swiatek, nevertheless, has clearly been inspired by the remarkable success of younger players in recent times. The average age of the last eight women's Grand Slam champions is just 21. "Even though you're really young and you're an underdog, you can do a lot in a sport like tennis," Swiatek said. "I know that there are no limits."
---