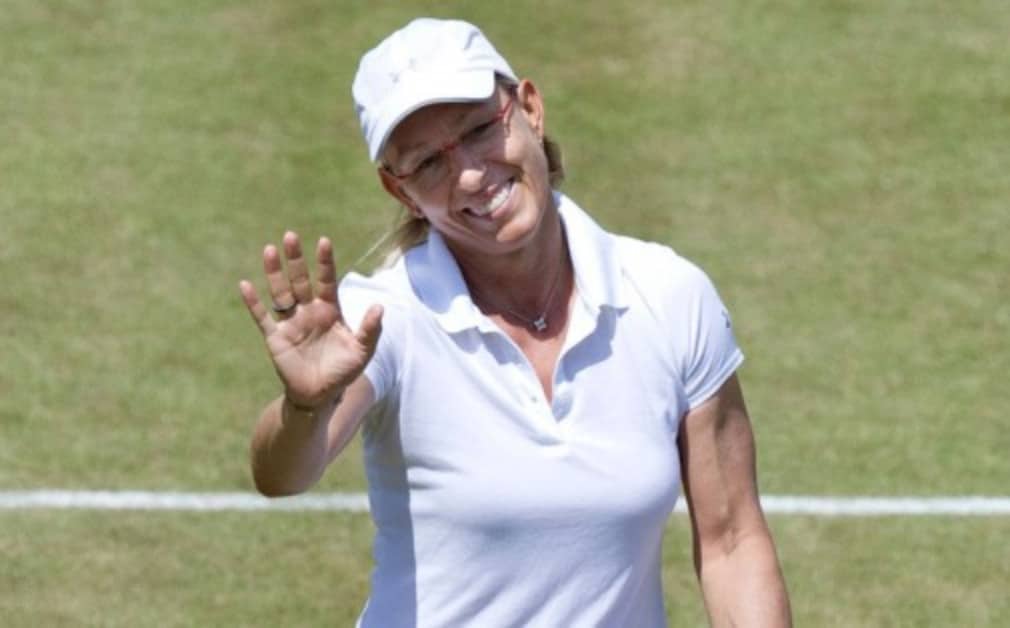 Wimbledon moments: Navratilova reclaims her crown
Originally published on 23/06/14
Arguably the greatest tennis player of all time, it was at Wimbledon where Martina Navratilova enjoyed her greatest successes. Of her 18 Grand Slam singles titles, nine came on the lawns of SW19, including six in a row from 1982-87 – a feat unmatched by any other player at a major event. She also won the doubles seven times at Wimbledon and the mixed doubles on four occasions. Her reign stretched from 1976, when she won her first doubles title at the age of 19, to 2003, when she lifted her final mixed doubles title, taking her to 20 overall and tying her with Billie Jean King for most Wimbledon titles.
It was in 1990 that she won her ninth and last singles title, beating Helen Wills Moody's record of eight and taking her win-loss record at Wimbledon to a remarkable 99-9. Two of those losses had come in the previous two finals against Steffi Graf. The German beat the six-time defending champion 5-7 6-2 6-1 in 1988 to win her first title at the All England Club and complete the third part of her Golden Slam.
Graf returned to SW19 a year later to beat Navratilova again in three sets in the final and was looking to make it a hat-trick of wins in 1990. Navratilova, though, had other ideas. "I knew I had one more Wimbledon title in me. Although I don`t know if too many other people believed I'd do it," she said.
The second seed had little trouble reaching the final for the ninth consecutive year as she dropped just 24 games in six matches. She swept aside Katerina Maleeva 6-1 6-1 and repeated the scoreline against Karin Kschwendt, who admitted afterwards: "It was so strange to see Martina live [rather than on TV]. My heart was booming. I was maybe too impressed."
The scorelines, though, were also an indication of how well Navratilova was playing, despite her earlier suggestion that she didn't care how she won her ninth title. "I didn't care if I scraped and scratched to get this. They don't put an asterisk next to your name saying you won but didn't play that well," she commented.
Navratilova's chances of reclaiming her Wimbledon crown rose significantly after Zina Garrison-Jackson upset Graf 6-3 3-6 6-4 in the semi-finals. "It was easier and harder playing Zina," said Navratilova, who had won 27 of their previous 28 matches. "I didn't have to play Steffi, but there would have been no pressure playing Steffi. I'd beaten Zina 27 times. God knows, I should do it again. She beat Graf and earned her place in the final."
Garrison-Jackson made a positive start in the final as she held to love in the opening game and then earned a break point in the second game. But Navratilova saved it with a volley into the corner, won the game after the third deuce and then immediately broke Garrison to go 2-1 ahead. She held her serve comfortably to take the set 6-4 and then broke Garrison in the third game of the second set to put her in complete control of the contest. "This was my match to win," she said. "There are always doubts, but I knew this may have been my best chance to do it. I had the chance, and I wanted to grab it."
After saving a break point in the next game there was no stopping Navratilova as she wrapped up victory in an hour and 15 minutes. "This tops it all," she said. "I've worked so hard for it. They say good things are worth waiting for, and I've sure been waiting for this."
Garrison, who along with Graf had also beaten Monica Seles to reach the final, conceded that Navratilova had simply been too good for her on the day. "A couple of times she was moving in one direction and she'd just lunge and make great shots," she said. "I hit a couple real soft and I thought I had her on the move, and she'd come up with an even better shot. She believes this is her court and no one can take it away from her."
Navratilova celebrated her victory by climbing up into her box and hugging coach Craig Kardon and also Billie Jean King, who had helped her in her quest to reclaim her crown. "Billie Jean worked on all aspects of my game, mainly the mental part," revealed Navratilova. "I'm a better player and a different player. I'm better than I was in '84. I think I would beat myself."
Navratilova would go on to reach one more Wimbledon final in 1994 but was beaten 6-4 3-6 6-3 by Conchita Martinez. She later said: "[1990] was a lovely way to finish the story, if you like. A golden day."