Wilson Pro Staff V14 review
It's possbile that tennis geeks like us sometimes overuse the word 'legendary' but surely no-one would question us when calling the Wilson Pro Staff a legendary racket, so when the new V14 dropped into the Tennishead office we were full of anticipation to see how this latest version played.
Roger Federer didn't do too badly using this frame for his whole career and before him it was Pete Sampras and Jim Courier who helped create a fanatical following for the Wilson Pro Staff, but Willson have always remained true to the origins of this frame as being one that's not for beginners and in fact requires a fair amount of strength and skill to get the most out of.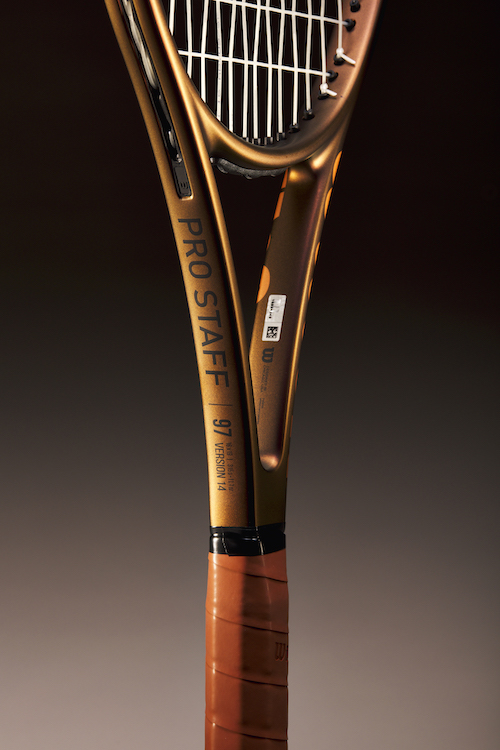 So would the latest 2023 version, the V14, have changed significantly in regards to who would find joy from playing with it? Or have Wilson focussed on improving what they've got rather than trying to entice a new style of player to use the Pro Staff?
What's new in the Pro Staff V14?
The old phrase of how do you polish a diamond seems apt for this racket, but Wilson have been seriously upping their game when it comes to investing in racket technology over the past few years and have even created a dedicated division called 'Wilson Lab's' to work on product development.
The V14 of the Pro Staff comes with "new 'Paradigm Bending' carbon-fiber construction that optimizes the flex between the hoop and the shaft, creating even more feel and precision". As fans of the Pro Staff will know, this has never been the 'softest' of feeling rackets so any efforts to increase the feel of the frame through contact should be well received.
Another change they've integrated is "braided 45 construction in key areas which increases dwell time and enhances feel, making accuracy easier from all corners of the court".
In terms of design, Wilson are following the same style as the recent design changes to their other frames on this new Pro Staff, which is a radical step away from the classic black of this racket.
Finally, with biodegradable bumpers, grommets and end-cap, Wilson are trying hard to make this an 'environmentally friendly' choice of tennis racket.
Watch as our experts try out the Wilson Pro Staff V14 tennis racket
---
Win the Wilson Pro Staff V14 (2023)
Enter our exclusive competition and you can win this amazing racket
---
The Wilson Pro Staff V14 review
It's crucial for our credibility that when we take a product out onto court we let the players try it out and then we simply publish what they report. It's the only truly unbiased method of reviewing a product. This time we were joined by Michelle and Cheerag who are both professional tennis players plying their trade on the ITF circuits.
For this test we let Michelle and Cheerag try both the 97 inch head and the 100 inch head versions of the new Wilson Pro Staff as we felt it would be the best way to get a fair and realistic review from them.
Michelle used to use the YONEX VCore 100 but is currently searching for a new racket to use for the long term whilst Cheerag currently uses the Wilson Blade 98.
First Impressions of the racket
Cheerag: "Just how stable it was, particularly through impact. Sometimes with other rackets you can get a tiny bit of movement whereas this was just completely still through impact which I personally really, really liked."
On whether the extra racket weight impacted timing, racket head speed and spin generation
Cheerag: "I think because of the way that it is balanced I actually didn't feel that I had a much heavier racket in my hand which is probably a good thing."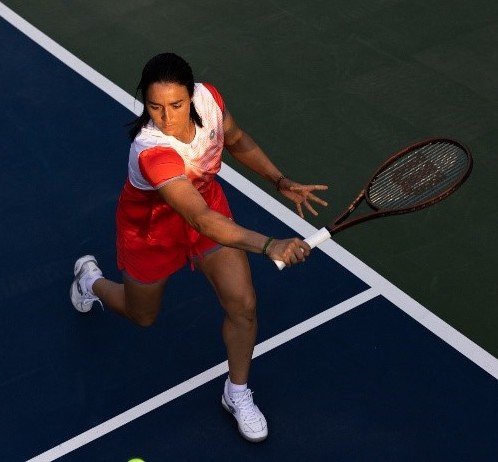 Comparing it to his current racket (Blade 98) when serving
Cheerag: "I think I prefer this in terms of the serve. I think I got a bit more pop and I hit some good serves. But I definitely preferred this on the serve that is for sure."
On whether the 100 sq in frame provided too much power?
Cheerag: "I felt that I just lost a bit of control when I was playing with the 100. I enjoyed hitting the slice with it. That's one shot that I think with the 100 square inch I felt a good feel on that, but as a majority I felt a tiny bit less control."
Michelle who also likes the Blade, compared it to this Pro Staff
"I thought this one was a lot more sturdy. With my Blade I feel it's a bit of a flexible racket, whereas this I found it quite stiff. But it had a lot of power as well, so I was having the same problem as Cheerag in that I found it hard to control the ball with this racket. Sometimes I would hit a really good shot with it and sometimes it would just fly out because it is just hard to get that middle ground I thought."
On playing points with the rackets
Michelle: "I talked about the acceleration of the racket and at first I thought I preferred the 97 (Wilson Pro Staff 97), because I had more control with it and thought the ball was coming off a bit slower than the 100 (Wilson Pro Staff). But then I started playing points with the 100 and I felt more comfortable with it. The power was a bit overwhelming at times, but I just felt overall that it suited my game which is a bit more aggressive."
On which head size of this racket they prefer
Cheerag: "I would say I prefer the 97 over the 100 just because, as I said before, I got a little bit more control and a little bit more stability with it and those are two things in my game that I am definitely looking for. I am definitely thinking about going to this racket completely over the Blade."
Michelle: "I think I would go for the 100 because I am really big on playing aggressive and finding that sweet spot on a racket and I thought that this one was easier to get that with."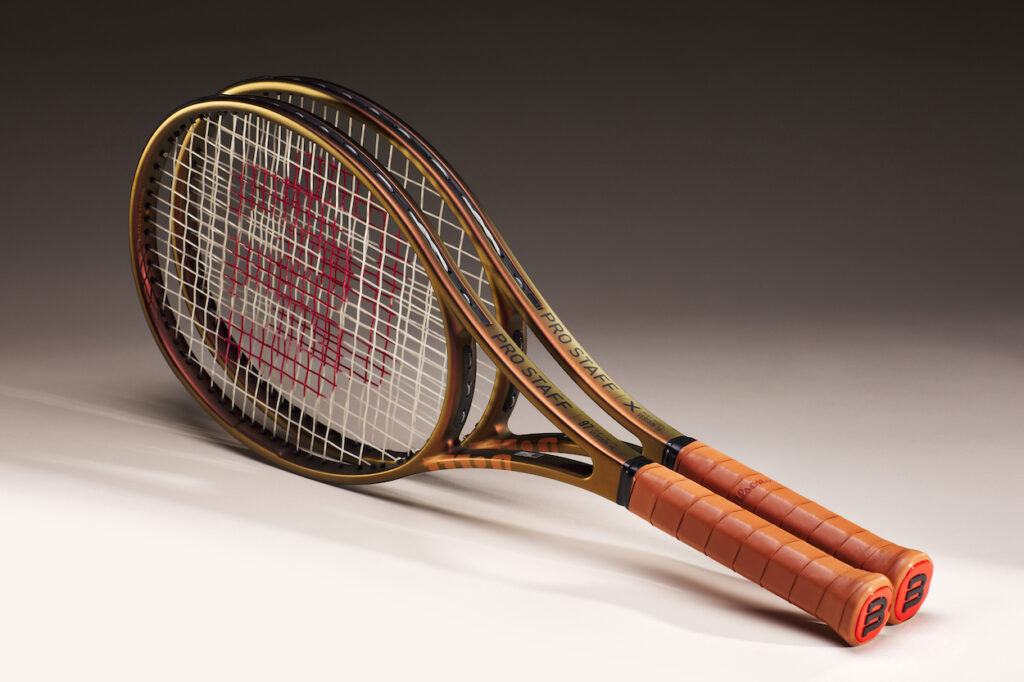 Tech specs
Weight Unstrung (+/- 5g): 315g

Head size: 97 sq in

Balance (+/- 5mm): 310mm

Beam width: 21.5mm

String pattern: 16×19

Material: Graphite
What's the conclusion about the new Wilson Pro Staff V14
A positive response from our advanced players. And the fact that they are advanced is important to highlight as this Pro Staff certainly isn't for the faint hearted amongst you. It's a powerful choice, especailly the 100 sq in version, that needs to be in the hands of an experienced player who can harness the power.
For those that can control the power, Wilson have seemingly done well to increase the 'feel' with this new version and noticeably there were very few comments from our testers about the frame's stiffness, which is encouraging.
A strong suggestion is to make sure to try the different head sizes on offer as it seems they do impact the performance of this racket significantly.
Buy the Wilson Pro Staff V14
Head over to Wilson.com to purchase this latest version of the Wilson Pro Staff