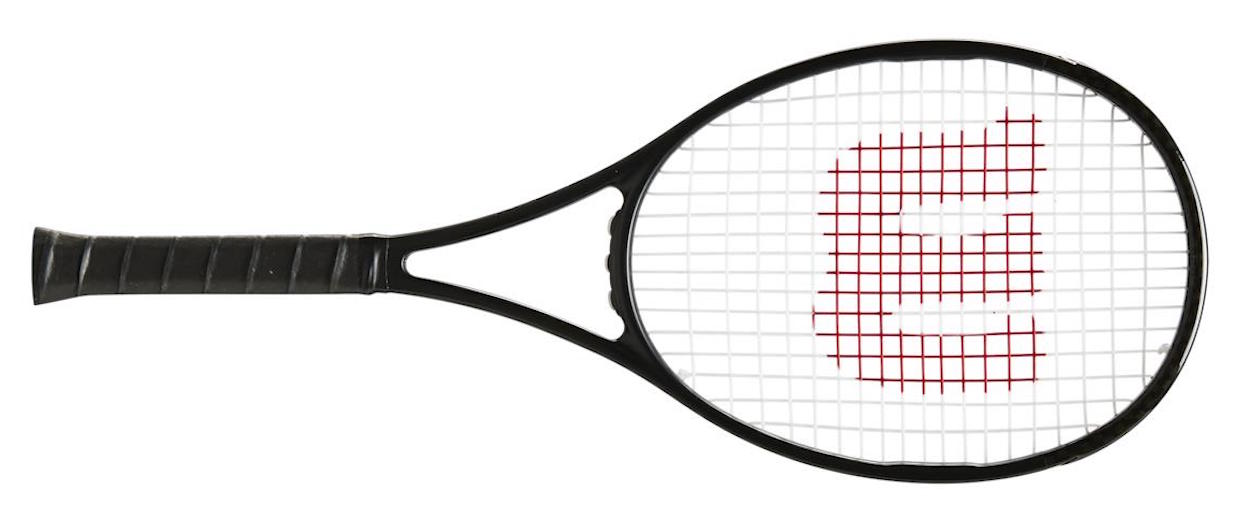 Wilson Pro Staff 97L v13 review
The Wilson Pro Staff is an 'iconic' tennis racket having been played with by many of the world's greatest players whilst winning multiple Grand Slams, which is why Tennishead jumped at the chance to review their latest version, the Wilson Pro Staff 97L v13
Background
Wilson are the most widely played rackets worldwide, in no small part thanks to their career long partnership with Roger Federer who has played with many different versions of the Wilson Pro Staff. Wilson are a huge American based brand who have achieved their number one position in the tennis racket market through a mixture of producing undoubtedly quality products and also by signing high profile endorsements with legendary players like Pete Sampras and Serena Williams.
Technology
The new Wilson Pro Staff 97L v13 was updated in late 2020 with the manufacturer announcing it as a 'lighter and more manoeuvrable Pro Staff' than previous versions.
The technology update includes a 'braid 45 construction that arranges the double braided fibers at 45 degree angles for enhanced pocketing feel alongside incredible stability'.  The 'braid' refers to the mix of materials that make up the frame of the racket with this new Pro Staff using a 'Graphite and Kevlar braid' that 'allows the braid to "breathe" more upon impact.'
The racket also features 'string mapping that provides a denser string bed for excellent precision and feel' and a 'new Ergonomic End Cap that yields improved comfort and playability'.
So does the reality of playing with this racket match the manufacturer's claims…
Watch as our testers try out the Wilson Pro Staff 97L v13
The play test
The perception of the Pro Staff is that it's a heavier racket aimed at big hitting, advanced players but we wanted to see what this lighter version was like.  We also wanted to see how the technology updates from 2020 have changed the playability of this frame, which has previously required consistent ball striking to get the most of out of it. Would this newer frame assist those club players that maybe aren't always going to find the sweet spot?
Our Tennishead play testers for the Wilson Pro Staff 97L v13 review:
Will: A player who likes to 'counter punch' and has been playing tennis for 16 years and currently uses the Babolat Pure Drive.
Austin: Who 'likes to win the point at the net', has been playing for 15 years and who's current racket is a Babolat Pure Drive 2020.
Will was first to hit with the Pro Staff 97L v13 and said "Yeah groundstrokes I found it a little bit difficult. I found it quite hard to time the ball. You had to hit right in the sweetspot for me to generate any pace which is a bit different from any other rackets, but if your timings good then I think this racket could be suited to you."
Austin tended to agree with Will. "Yeah, I struggled slightly from the back. I felt I had to work really hard on my groundstrokes to get a sweet connection. I felt like the sweetspot on the strings was quite small. If I was late or I didn't time it properly or I didn't hit it out the middle I didn't get the desired result. I thought it wasn't particularly forgiving and had to work hard to get the connection with it."
Will after hitting from the net said, "Yeah same with the volleys. If I'm moving early and catching it right the volleys sailed really well however there wasn't much leeway timing wise so I if I didn't hit it in the sweetspot I did tend to struggle with the volleys."
Austin felt that "it was a similar story with the volleys. When I got that really nice connection out the middle of the racket I hit a really nice volley but sometimes I wasn't hitting it out the centre and they were dropping slightly short and I was struggling to get my depth on the volleys, which I found a bit difficult."
Will found that his "first serve wasn't too bad actually. I generated quite a lot of power with it. The accuracy was still there so it was a good mix between the both."
Austin was also more impressed when hitting serves with this racket. "Yeah serves actually were quite nice. I felt I hit my serve quite well, I timed it nicely. It came out the racket and I got a really nice response from the racket. Same with the kick serve, I could really get up to my kick serves and get a nice connection with it, I still felt it was a little bit difficult, I had to hit it quite hard to get the power and focus on the connection but I found it a bit easier to do on the serve."
We then asked our testers if the Wilson Pro Staff 97L v13 suited their style of play?
Will, the counter puncher, said "I wouldn't say so myself, just a requirement of having to time it perfectly and hit it in the sweetspot to generate the pace that's required to counter-punch. I find it a little bit easier with a lighter racket and one I can generate a little bit more topspin on. "
Austin, who likes to attack the net, said "I think if I was hitting the ball nicely and timing it well it could be right for my game style but I feel like if I was slightly off my game I would struggle to hit the big shots and get my opponent off the court and then same with the volleys. If I was coming in hitting a duff volley short, I'm probably going to lose the point so potentially if I was playing well but if I wasn't it'd be tough."
Will commented "Yeah the designs really nice. The colour schemes lush. Really smart, really sleek, so I could imagine myself playing with this."
Austin also found the racket pleasing to the eye. "I think its really nice, really slick. A nice matt black finish looks unbelievable actually and something I really like."
The final question was on the price. Did our testers feel that $220/£220 is a fair price for the Wilson Pro Staff 97L v13?
Will – "Yeah I would say so. For me, a little bit too expensive in terms of it doesn't suit my game style but if this is more suited to an attacking player I don't think £220 is too bad"
Austin – "Yeah I think that's quite fair. If its something your after, you like a slightly stiffer racket it's a good price to pay."
The specifications
For a detailed explanation of each racket measurement criteria below have a read of our guide.
Wilson Pro Staff 97L v13
R.R.P. = $220/£220
Head size = 97 sq in
Weight = 290g
String pattern = 16/19
In conclusion
Testing new rackets is a very personal experience as most tennis players have been used to one type of racket with their game and swing having adapted to suit that racket. So when you read a racket tester saying things like "I found it difficult to find the sweetspot" don't immediately discount the racket as not being right for you.
The Wilson Pro Staff 97L v13 is undoubtedly a quality piece of engineering but it isn't the perfect racket for everyone (In fact there isn't such a thing as the perfect racket for everyone). You will be able to generate quality groundstrokes, serves and volleys with this racket if you have a swing and ability that combine well with the specifications found in this racket.
Our suggestion… If you are a reasonably experienced player with a solid, consistent swing and confidence in your own game then try it out. You'll very quickly realise if it's the racket for you.
Buy this racket…
Wilson sell all their rackets through Wilson.com and the Wilson Pro Staff 97L v13 we tested is available to purchase here: Buy the Wilson Pro Staff 97L v13