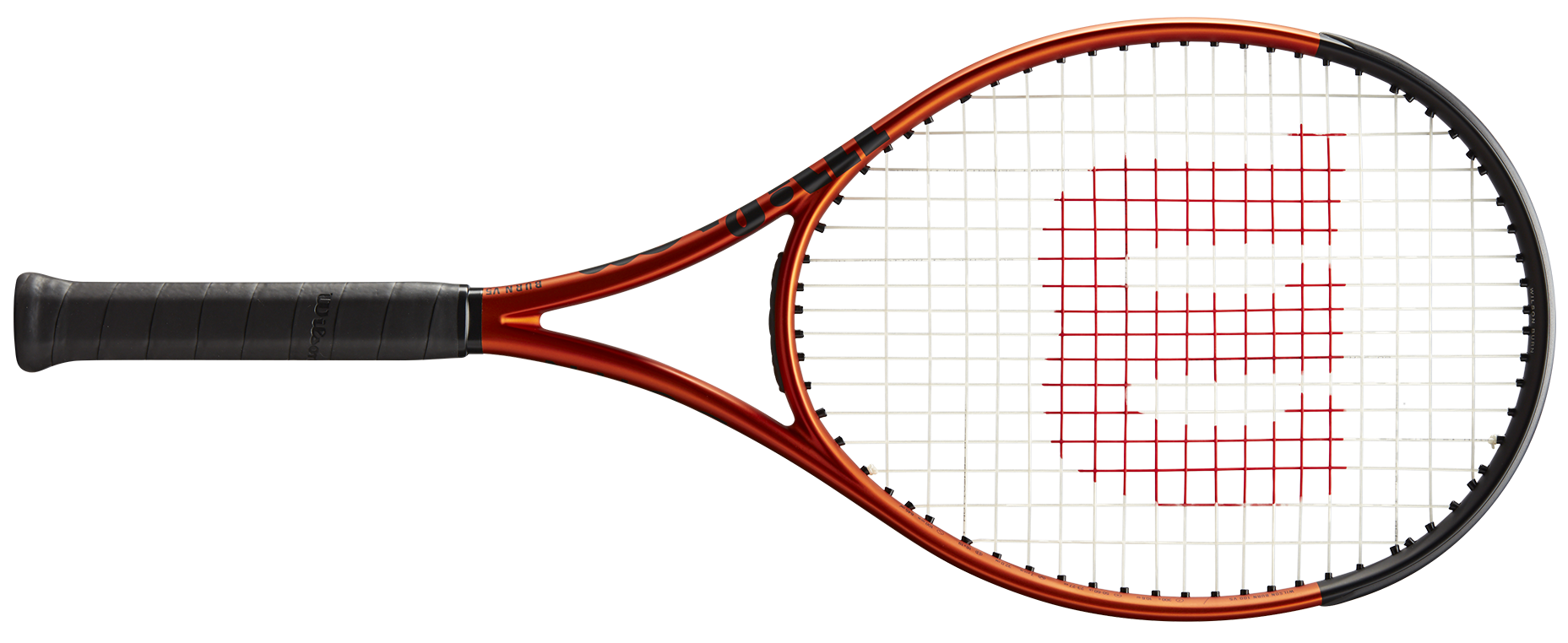 Wilson Burn 100 v5 review
Wilson are in the middle of a huge refresh of their entire tennis racket range which is why we were fascinated when one of their newest models, the Burn, dropped in at the Tennishead office and we wasted no time in putting it through it's paces on court.
The Wilson Burn 100 is unashamedly a club players racket. You won't spot pro's on TV using it because it's construction and specifications aren't designed to help Stefanos Tsitsipas nailing his 130mph serves and down the line, single-handed backhands. In fact if mere tennis mortals like you or us tried to play with exactly the same racket and spec that a pro uses we'd struggle as the weight and stiffness would be very difficult to handle.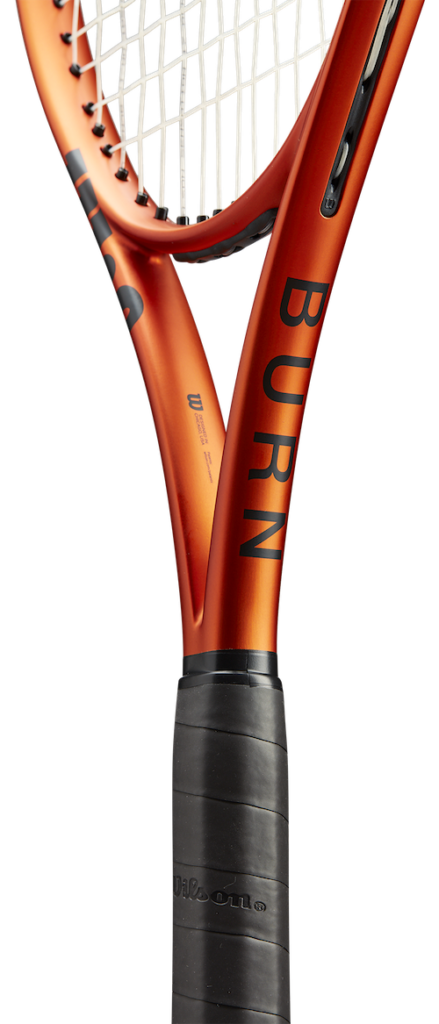 However, the Burn is nicely set up to facilitate keen amateur players who like to rally from the back and get their serves in more often than not, which lets face it, is most players objective when they walk on court.
What's new about the Burn 100 v5?
Wilson have focussed on creating a lightweight racket that is very easy to manoeuvre but still delivers explosive power from the baseline.
The Burn is 'crafted with high performance carbon fiber within a thicker dual taper beam construction for more explosive power'.
'Parallel Drilling' is a new grommet construction that according to Wilson 'provides a consistent, more forgiving string bed response while dramatically increasing the sweet spot.'
And the new colour scheme of 'burnt orange' stands out without being over the top.
The Wilson Burn 100 v5 review
It's crucial for our credibility that when we take a product out onto court we let the players try it out and then we simply publish what they report. It's the only truly unbiased method of reviewing a product. This time we were joined by Tom and James who are very keen amateur club players playing 2 to 3 times per week on average and they both enjoy competing in their club leagues alongside the odd coaching lesson to give them technical advice to improve their games.
Tom currently uses the new Wilson Pro Staff v14 as he likes the stiffness of the racket which suits his flat hitting style. James plays with a Babolat Pure Aero as he likes to mainly play from the baseline with plenty of spin on his groundstrokes and he aims to hit winners when he's in the right position.
Watch as our experienced racket tester takes the Wilson Burn 100 v5 onto court
First Impressions of the racket
Tom: "The racket felt comfortable from the first shot which was great as often new rackets don't feel nice when you first started hitting, but the Burn felt easy straight away".
---
Win the Wilson Burn 100 v5
Enter our exclusive competition and you can win this amazing racket
---
On whether the dual taper beam provided the extra power claimed by Wilson?
James: "On my groundstrokes I was able to really go for my shots with the Burn. I like to hit with lots of spin and this racket certainly suited my style. When hitting my flatter two handed backhand it felt a little light so maybe I'd choose a slightly heavier weight than this model of the Burn, which is 300g (unstrung)".
Tom: "The power capabilities were decent with this racket. Not too powerful that I couldn't control it but definitely enough speed off the strings to create the power I wanted"
Did the new grommet construction help with a bigger sweet spot and forgiving feel?
Tom: "I'd definitely be happy playing a lot of tennis with this racket as it was really comfortable and easy to hit with on all shots. I play quite a lot so having a nice big sweet spot is great as it's more forgiving and I felt the Burn does offer that."
On whether the 300g and lightweight feel was right for their style of play?
James: "I'm a reasonably strong, tall, physical player so I would say that this racket was on the light side for me but saying that I still felt within my comfort zone when using it so maybe just a small amount of lead tape would do the trick. But it's definitely an easily manoeuvrable frame especially at the net when I had to react quickly."
Tom: "I let me coach borrow the racket and he said he'd definitely be keen to try it when he's on court coaching as the lightness allowed him to create whatever type of spin and head speed he wanted. So that's a great endorsement!".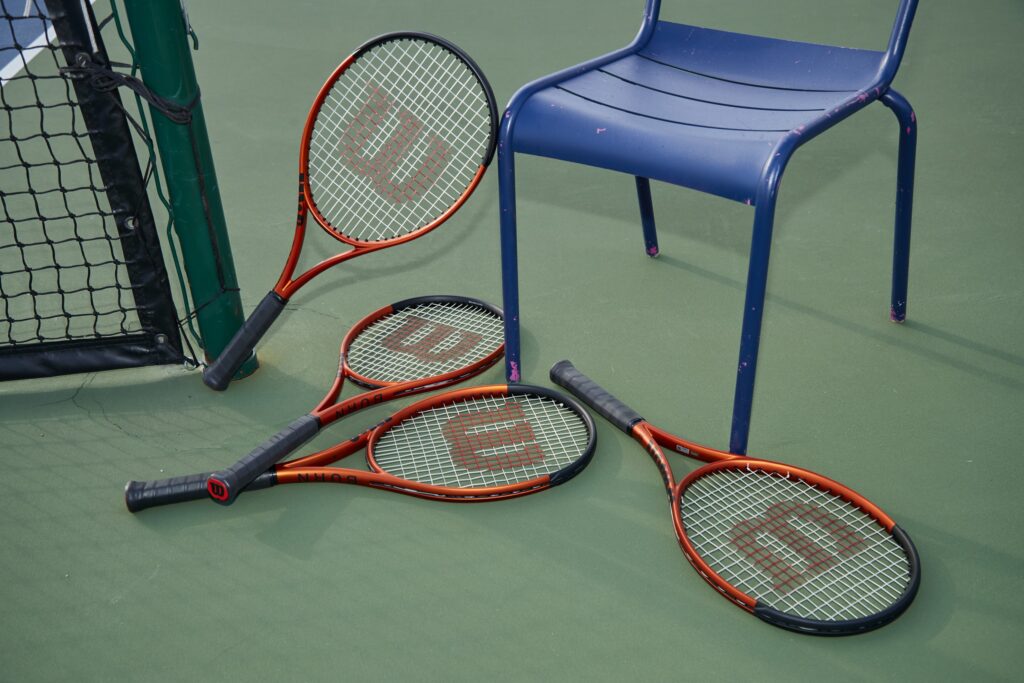 Was the 'burnt orange' colour scheme a winner in terms of look for this racket?
James: "It's a good look for this racket. It's modern but classy and you don't see other rackets in this colour so it will certainly stand out. I reckon that both men and women players will like the colour scheme of this Burn"
The Wilson Burn 100 retails for £180/$200. Is that a fair price?
Tom: "Really fair price as most other decent rackets cost more than £200 these days so to have a new Wilson frame for less than £200 is great news."
James: "I was surprised when you told me the price as I was expecting you to say £230!"
What type of player will the Wilson Burn be suite for in your option?
James: "I would say that all club players should try this but also for 'improver' level players who are still learning but want a racket that can stay with them as they advance towards club team standard. Basically there is nothing wrong with this racket and it should help most players do whatever they want with the ball".
Tech specs
Weight Unstrung: 300g

Head size: 100 sq in

Balance (+/- 5mm): 330mm

Lenght: 27 in

String pattern: 16×19

Material: Carbon fibre
What's the conclusion about the new Wilson Burn 100 v5
Wilson's ability to create rackets that appeal to a wide range of players has never been in doubt and the new Burn definitely matches up to that reputation.
Our testers agreed how easy it was to play with immediately they started hitting and the manoeuvrability on all shots was noticeable.
Wilson have obviously gone out of their way to keep the price very reasonable for the Burn and considering how pinched people's wallets are at the moment then this will no doubt be well received.
As always we do recommend trying out a racket first and if you can get it strung in your usual string style then even better.
Buy the Wilson Burn 100 v5
Head over to your local tennis retailer to purchase this latest version of the Wilson Burn 100 v5