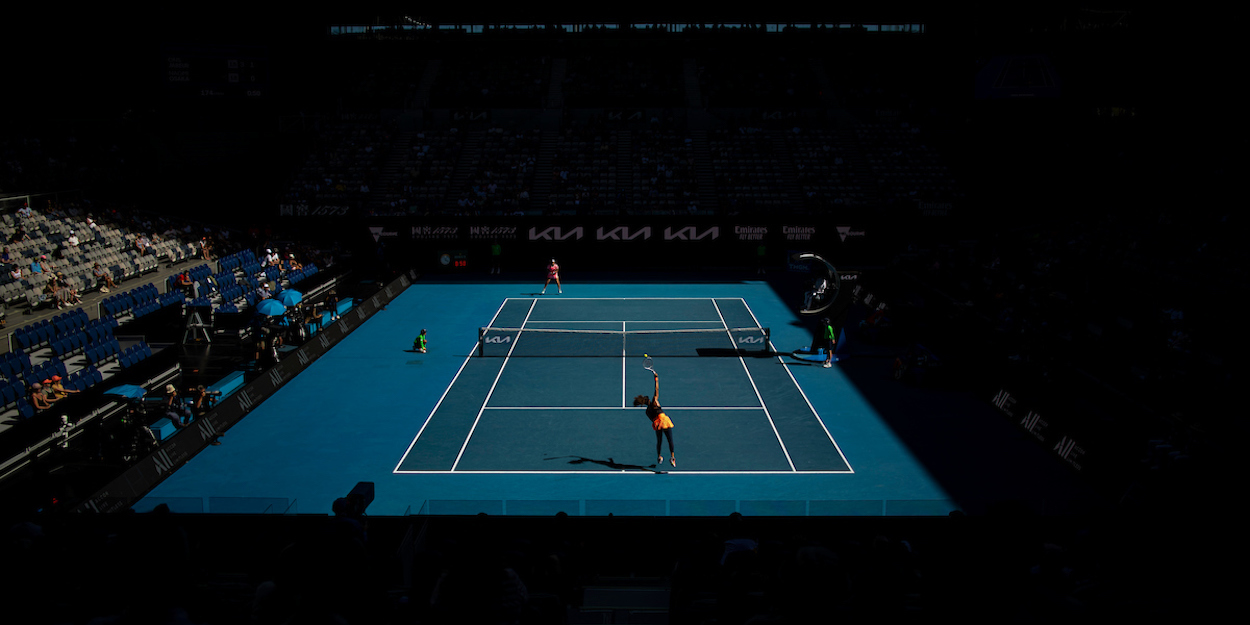 Which top player is showing the best Australian Open form?
Given the global pandemic we are living in, it took a great effort from Tennis Australia, the Victorian government, and many other individuals to make the 2021 Australian Open possible.
The two-week quarantine period was necessary, but it meant players were not able to optimally prepare for the first Grand Slam of the year. It also meant players had less opportunities to play warm-up events. It is therefore difficult to assess the form of players going into the first Grand Slam of the year, and who could be potential favourites for the event. Nevertheless, the ATP Cup did provide a strong field of players with a good opportunity to get some quality match practice.
Of the top 8 seeds of the Australian Open Men's Singles event, all participated in the ATP Cup, except for Rafael Nadal who was nursing a back injury. To assess form it is often quite useful to look at how effective players are being behind their serve. Here we keep it simple by looking at the percentage of points won on serve for the 7 of the top 8 seeds, as shown in the accompanying graphic.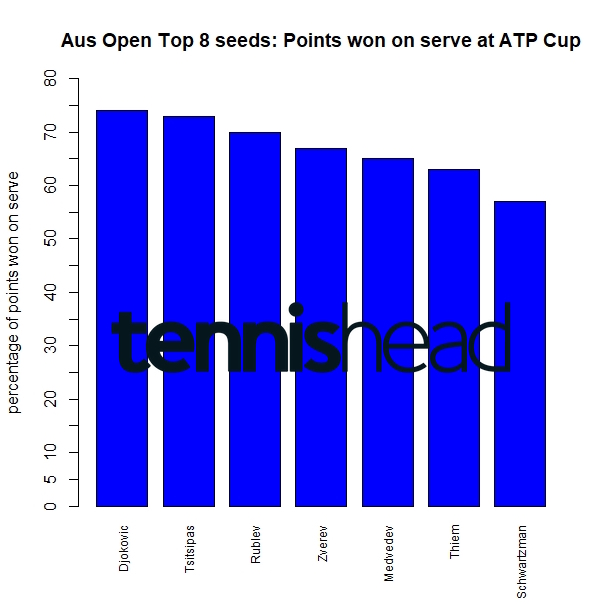 Djokovic and Tsitsipas won 74% and 73% of points on their serve respectively. These are fairly impressive numbers since they averaged 67% and 70% for the 2020 season. Rublev was also performing well on serve, winning 70% of points on his serve. Tsitsipas had the best second serve, winning 65% of points on second serves. The most effective first serve belonged to Rublev who won 84% of points behind his first serve. Schwartzman struggled and only managed to win 57% of points on serve, the lowest percentage of the 7 players.
From this we can take away that Djokovic, Tsitsipas and Rublev are all serving well leading into the Australian Open. They seem in good form and should all go deep into the second week of the Australian Open. Nadal's injury prior to the start of the Australian Open does cast doubts over whether he will be ready to mount a serious title challenge.
It is shaping up to be an interesting and exciting first Grand Slam of 2021. Given his current form and past record at Melbourne Park, it is hard to look past Djokovic lifting the Norman Brookes Challenge Cup for a record ninth time.
Luka Elliott has a B Com in Economics and Statistics from the University of Cape Town. His thesis was titled "Engineering Features for Tennis Match Outcome Prediction in a Statistical Learning Framework". He now writes for Tennishead focussing on how statistics effect the outcome of ATP matches