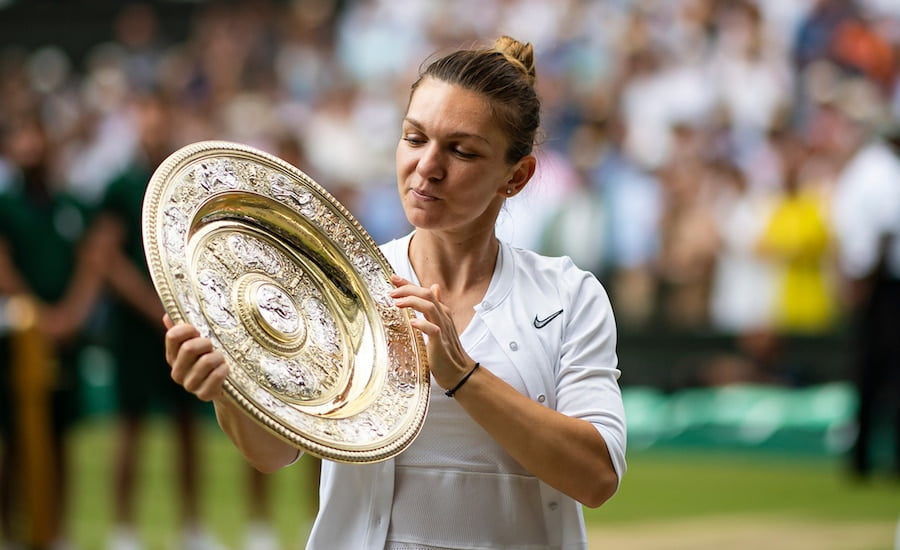 "We're just like a little family" Simona Halep gives an insiders view on the secret to her success
Simona Halep has never wanted to live anywhere other than her home country and won Wimbledon this summer with an entourage built around her fellow nationals.
In the multi-national, multi-cultural world of tennis, Simona Halep is an exception. Most players from smaller countries like Romania, particularly those with climates where the winters can be harsh, base themselves in warmer locations, a number of which are also tax havens. Their entourages, meanwhile, are drawn from tennis communities around the world, to the point where most of the game's leading players currently work with coaches from outside their home country.
Simona Halep, however, has never wanted to loosen the ties with her homeland. She has always been based in Romania and throughout her career has surrounded herself with her fellow countrymen and women. When she won Wimbledon this summer, her coach, fitness trainer, physiotherapist and agent were all Romanians.
"I'm from Romania, I was born there, and I see that as a positive thing," Halep said when asked about her love for her country. "I've been very successful in tennis without having a big system, which makes me feel stronger. With the atmosphere back home, I feel like I belong there. That's why it is always a pleasure to go back. Every time I need to recharge my batteries, I go home. I have my family. I have my relatives and friends. The people make the place better."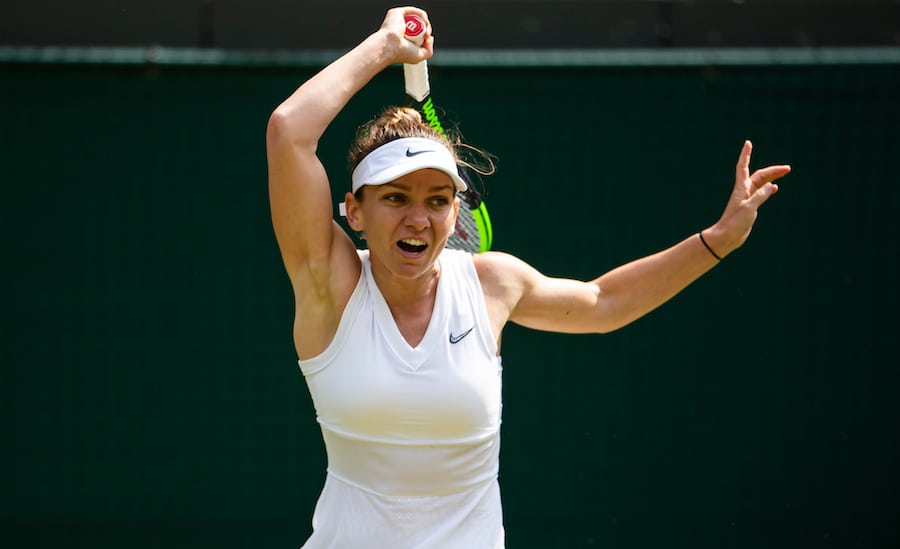 Although it took an Australian coach, Darren Cahill, to turn Simona Halep into a Grand Slam champion at last year's French Open, she was back with a Romanian by her side at Wimbledon this summer. With Cahill taking a break from coaching in order to spend more time with his family, Halep went back to Daniel Dobre, a Romanian she had worked with before.
Teo Cercel, Halep's trainer, has known her for 17 years, while her physio, Andrei Cristofor, has worked with her since 2014. Virginia Ruzici, who in 1978 became the first Romanian woman to win a Grand Slam title when she triumphed at Roland-Garros, has managed Halep's affairs for the last 11 years. Ion Tiriac, a former player and now a hugely successful businessman who is Romania's richest person, took Simona Halep under his wing five years ago and acts as her mentor.
Long-term team members like Cercel and Cristofor are key figures for Simona Halep. "I've known Teo since I was 10," she said. "He's a good guy. He's like a big brother to me. He's not just my trainer. In my team it's not like he's my physio and I'm 'the boss'. We're just like a little family. I try to share everything with them. I think they are very professional as well. We work hard every day. They understand me, so they don't just follow instructions from a book. They adjust what they do to meet my needs."
Halep was born and bred in Constanta, on Romania's Black Sea coast. She is proud of the fact that the city has produced a number of tennis players, including Horia Tecau, who is currently one of the world's top doubles specialists, and Andrei Pavel, a former world No 13 who went on to coach Halep. "All the champions come from Constanta – and I hope my niece too," Halep said with a smile. "The coaches are also great and we have a nice tennis school there."
So what is Constanta's secret? "I think just the air from the beach," Halep said. "We train a lot on the beach when we are kids. I did a lot of training on the sand and also in the sea water.
When she was growing up, Simona Halep looked up to Romanian sporting heroes. She describes Gheorghe Hagi, the former Real Madrid and Barcelona footballer, as her sporting role model, along with the gymnast, Nadia Comaneci, and two tennis players, Ilie Nastase and Ruzici. Hagi and Comaneci joined Halep's celebrations in Paris after she won her first Grand Slam title at Roland-Garros last year and Comaneci was there again this summer to watch her ultimately unsuccessful defence of her crown.
Halep, whose own father was a professional footballer for the Romanian club Sageata Stejaru, was taught tennis in Constanta from the age of four by Ioan Stan, a local coach. Cornelieu Idu, the owner of the main tennis club in the city, sponsored her as a teenager, but at 16 she moved to Bucharest in order to train with better players. She has lived in the Romanian capital ever since, though her family still live in Constanta, some 140 miles to the west.
Travelling around the world as a junior and on the Women's Tennis Association tour opened Halep's eyes to other coaching possibilities. She enjoyed success with the Belgian, Wim Fissette, who guided her to her first Grand Slam final at Roland-Garros in 2014, though Cahill has clearly been her most influential coach. Even at Wimbledon Halep admitted: "I feel his absence and I miss his person there in the box."
Tiriac's influence has also been important. "He has been by my side all the time over the last five years," Halep said. "There's a very special connection between us and I really get motivated when he comes to see my matches." Halep said that the former French Open doubles champion could be "very tough" in his advice to her but always encouraged her to play her natural game and not to think too much. He did so again on the morning of her Wimbledon final triumph over Serena Williams. "He told me that whether I won or lost, it wouldn't matter," she recalled. "He said it was my biggest day so I should go for it – and that's what I did. He also gave me a hug, which doesn't usually happen!"
Halep's home country has one of the world's largest diasporas, with around four million Romanians currently living elsewhere. As a result Halep is almost guaranteed loud support wherever she plays and says the Romanian fans give her "positive energy". During last year's French Open final the country's colours could be seen all around Court Philippe Chatrier while chants of "Simona! Simona!" rang around the stadium.
Halep has started her own foundation in Romania. "For sure I want to give back something because tennis has given me a lot over the years," she said. "I'm sure that I can help some kids. I did in the past. Now with the foundation I want to help kids to discover this sport and to be able to have the possibility to play tennis, because it's an expensive sport."
Representing her country has always been a source of pride and Halep was bitterly disappointed when France beat Romania 3-2 in the Fed Cup semi-finals in Rouen in April. Halep won both her singles rubbers but lost in the deciding doubles alongside Monica Niculescu to Caroline Garcia and Kristina Mladenovic. The International Tennis Federation subsequently revealed its plans to play the latter stages of the Fed Cup in a single venue from next year onwards, Halep having said she would not want to play in the competition if it did not involve home-and-away ties.
Thousands turned out to greet Halep when she returned home to Bucharest after winning Wimbledon. She was presented with Romania's Order of the Star, which is the country's highest honour, and was selected to be the national flagbearer at next summer's Olympic Games in Tokyo.
Winning an Olympic medal is her next big goal. "I said that at the beginning of this year and I still say it," she said. "It's a chance to play for my country – and I have always loved doing that."
Keep up to date with all the action at our tennis news section. Win amazing tennis prizes by entering our competitions. Learn more about your favourite players including Roger Federer, Rafa Nadal and Novak Djokovic. Check out the latest kit in our tennis gear reviews. Receive regular updates with our legendary newsletter or read in depth features with stunning photography in tennishead magazine. Can't visit the tournaments you love? Check out our guide on how to watch tennis on TV. Don't miss a thing with our Live Scores service. Follow tennishead on social media at Facebook, Twitter, Instagram & YouTube