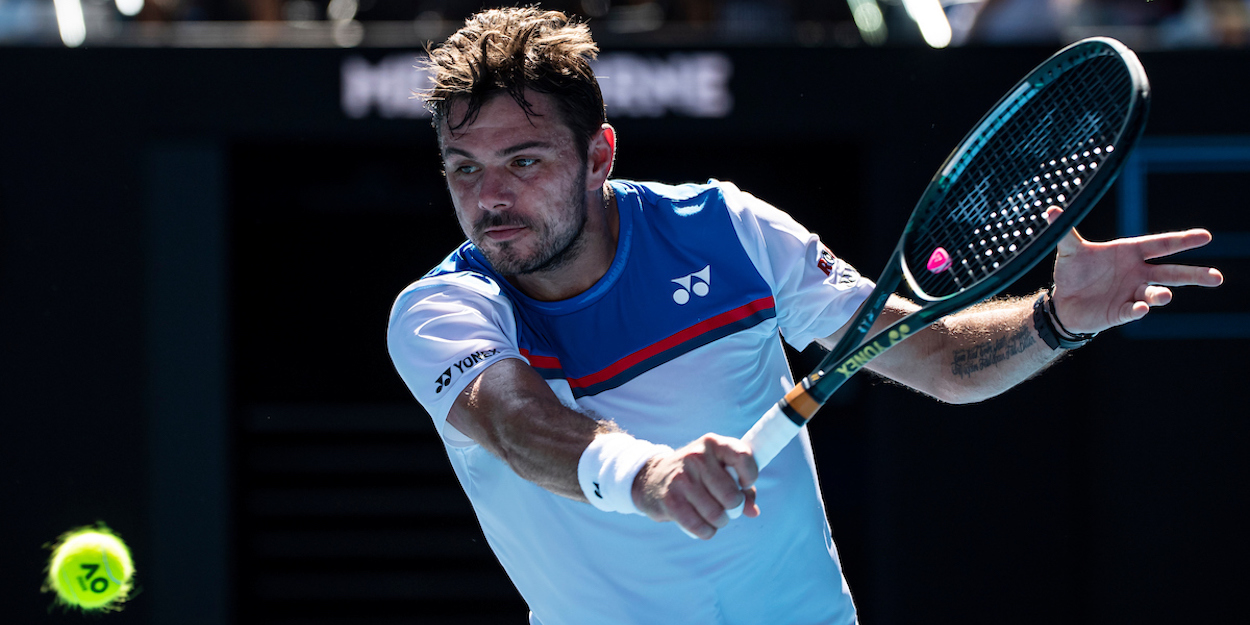 Wawrinka hoping to go big this year
Krajicek, who has been retired for 13 years, won Wimbledon in 1996, beating MaliVai Washington in the final after defeating defending champion Pete Sampras in the quarter-finals. The 6'5" Dutchman has the record of being the only player to beat Sampras at Wimbledon between 1993 and 2000, and has now turned to coaching Wawrinka.
"We've been talking a lot," Wawrinka said of Krajicek. "He brings his experience, a few things in the technique side. For me, it's really interesting to have someone like Richard.
"He had amazing memories here, winning here, that's for sure.  But also we had quite a lot of talk the way you can play on grass, many little things, the tactics, what's good to do on grass, how you need to be ready mentally and always tough."
Krajicek, who is also the tournament director at the ATP 500 event in Rotterdam, boasts one of the more unusual memories from Centre Court when a female streaker raced across the court before the start of the 1996 final.
Wawrinka says the idea to work with Krajicek, who won 17 career titles, but just one major, came from Norman.
"We were talking about that in French Open, about not to do it now, but maybe in the future," he said. "Then we decided that maybe the grass was a good time to do it, not only because of the surface, but because I'm here in London for three, four weeks in the same place.  You know you have time to practise and you know you can work on many things.  The things we wanted to work on with Magnus were the things that we thought that Richard could help a little bit.
"I think it's been going well so far," he added. "Richard has a lot of experience as a player.  He won here.  He used to be an amazing tennis player, really aggressive on the court. He played serve and volley a lot."
Wawrinka does not expect the appointment of Krajicek alone to have an effect on his grass court performances. The 2014 Australian Open and 2015 Roland Garros champion has never gone beyond the quarter-finals at Wimbledon.
"I think in the last few years, I have started to play my best tennis on grass," said the Swiss. "I know I can play my best game.  Hopefully I can do something big this year. I really enjoy playing on grass."
The whole Wimbledon experience is something to enjoy: "For sure, the grass season, it's only four weeks.  If you like it, you really enjoy it," he said. "I like the fact that also I'm staying in the house next to [the All England Club].  You feel a little bit at home."
If Wawrinka gets past his first opponent, the young American Taylor Fritz, he could face Argentinean Juan Martin Del Potro in the second round. The 2009 US Open champion, who is making a return to the Tour following surgery, is unseeded here, and using a protected ranking.
"I think it's great he's back on the tour. He's an amazing player," said Wawrinka. "I think it's really good for him and for the tennis that he's back on the tour."
With only a day to go before The Championships get underway the fourth seed who is in the bottom half of the draw said: "I feel quite good.  I have had a lot of time on the grass.  I am quite happy with the way I'm playing so far. I think I'm ready for the tournament."