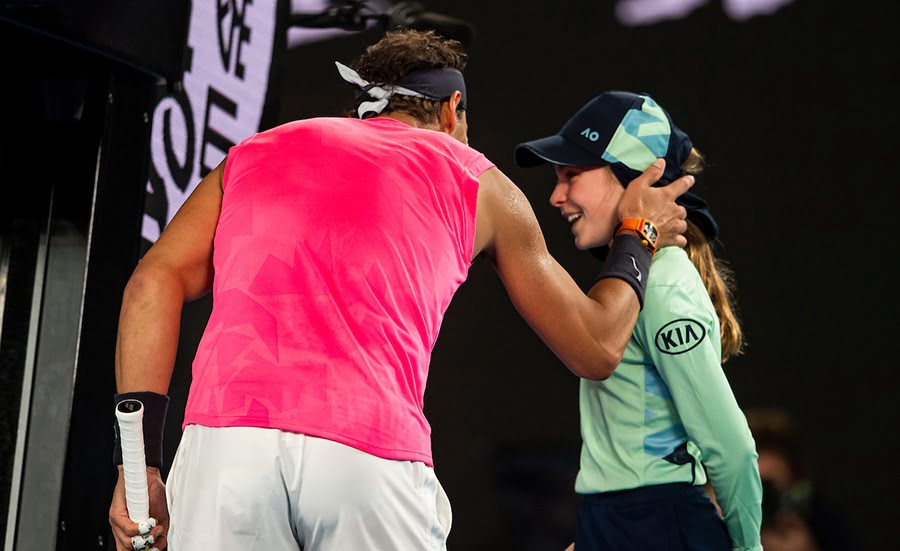 VIDEO: Rafael Nadal hits ballgirl on head with return in 'most scary moment of his career'
There was a heart-stopping moment at the Australian Open on Thursday – in more ways than one for one person – when Rafael Nadal hit a ballgirl in the head then kissed her to apologise.
The world number one was returning a serve in his second-round win over Federico Delbonis when is smacked the unsuspecting young lady on the side of her face.
However, always the gentleman, Nadal was quick to go to her to apologise!
Quelle classe … ??????? pic.twitter.com/g6jAO4vOkF

— Nadal_France 1️⃣9️⃣? (@Nadal_Fr) January 23, 2020
"For her probably was not a good moment,"Rafael Nadal told reporters after the match in Melbourne.
"I was so scared for her honestly. The ball was quick and straight onto her.
"She is a super brave girl.
"I am not worried at all. Probably after 15 years she doesn't care much.
"It was honestly one of the most scary moments I have on the tennis court and I have a scary memory from Wimbledon many years ago."
Keep up to date with all the action at our tennis news section. Win amazing tennis prizes by entering our competitions. Learn more about your favourite players including Roger Federer, Rafa Nadal and Novak Djokovic. Check out the latest kit in our tennis gear reviews. Receive regular updates with our legendary newsletter or read in depth features with stunning photography in tennishead magazine. Can't visit the tournaments you love? Check out our guide on how to watch tennis on TV. Don't miss a thing with our Live Scores service. Follow tennishead on social media at Facebook, Twitter, Instagram & YouTube