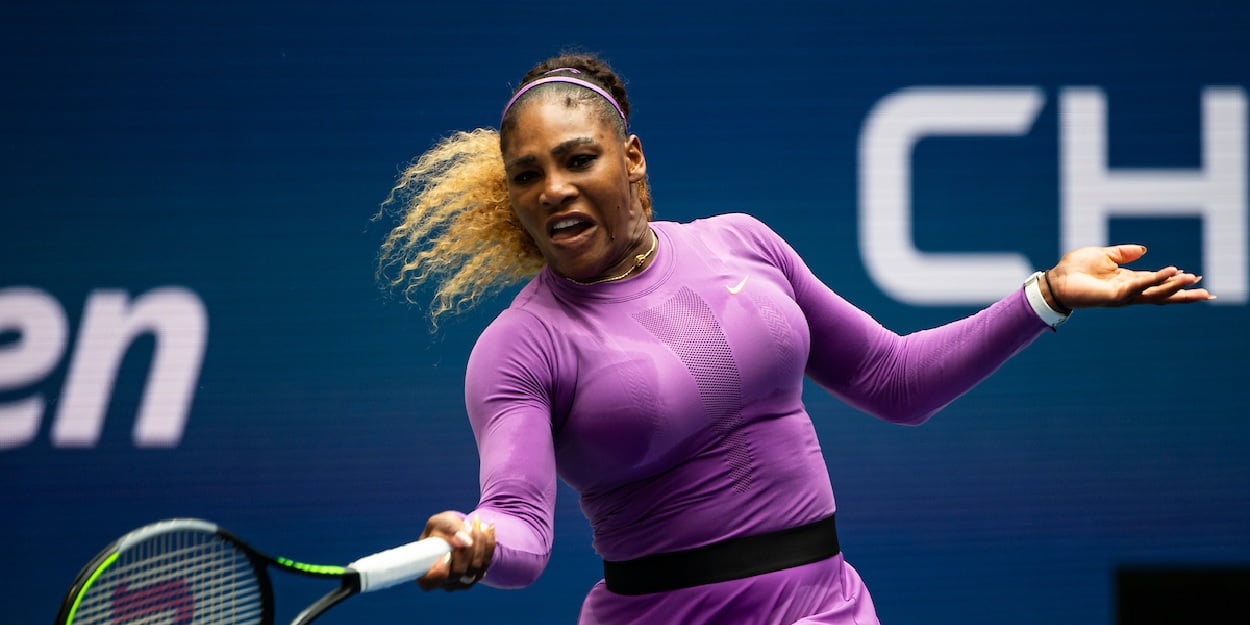 US Open live text commentary: Sakkari v S Williams, R16
Relive all of the action with our game-by-game updates from the fourth-round clash between Maria Sakkari and Serena Williams at Flushing Meadows.
**This page will not update automatically so please click here or refresh regularly to ensure you don't miss out on any of the action!**
---
Serena is clearly out of breath in her post-match interview but she's also in high spirits, very happy with today's result.
She'll play her 53rd career Grand Slam quarter-final on Wednesday.
---
19:42 Game, set, and match Williams
Sakkari 3-6 7-6(6) 3-6 Williams
A spectacular passing shot gets Sakkari on the board at 15-15 but she follows that up with a backhand error, followed by another to bring up double match point for Serena. A forehand winner saves the first but the Serena takes the second with powerfully played, unreturnable backhand and, after two and a half hours, Williams moves onto the quarter-finals where she;ll be a heavy favourite against the winner of Cornet v Pironkova.
---
19:36 Williams breaks
Sakkari 3-6 7-6(6) 3-5* Williams
Big forehand winner right on the line for Serena to take the early advantage and a forehand error from Sakkari brings up an ominous 0-30 scoreline. A massive backhand return winner brings up triple break point but Sakkari saves the first, and then the second with a solid volley. The third, however, is a tame forehand into the net and Serena Williams will serve for the match.
---
19:31
Sakkari 3-6 7-6(6) *3-4 Williams
A Williams error takes the game to 30-30 but she then, of course, hits an ace to make up for it. Sakkari hits a return long and we're still on serve, deep in the third.
---
19:26
Sakkari 3-6 7-6(6) 3-3* Williams
A welcome easy game for Sakkari as she holds to love with a serving masterclass.
---
19:23
Sakkari 3-6 7-6(6) *2-3 Williams
Sakkari has a chance to hit one of her trademark down the line backhand winners at 15-15 but sends it wide. Williams serves big for 40-15 but Sakkari wins a good rally for 40-30. Serena sees the game out and the momentum is back with her, but only marginally.
---
19:19 Williams breaks
Sakkari 3-6 7-6(6) 2-2* Williams
Serena producing incredible defence but Sakkari keeps battling through and reaches 30-15. Another double fault, however, levels the score and a first break point chance for Williams rears its head since the first set. Yet another net cord saves Sakkari's bacon. The Greek reaches game point but hits a forehand into the net after a lengthy rally. A deep return brings up another break point opportunity and this time she takes it with a perfectly placed passing shot. Back on serve.
---
19:12
Sakkari 3-6 7-6(6) *2-1 Williams
Sakkari has a great chance to apply pressure at 15-0 but hits long and Serena then pushes to 40-0. Sakkari wins one back, forcing Serena to run around all over the court and making her breathe heavily, but the American gets the hold in the end to stay alive.
---
19:09
Sakkari 3-6 7-6(6) 2-0* Williams
An unbelievable turnaround here. Williams takes the first point but Sakkari moves to 40-15 before gifting Serena a reprieve with a rare double fault. A poor return from Serena on a Sakkari second serve and she's 2-0 down in third.
---
19:06 Sakkari breaks
Sakkari 3-6 7-6(6) *1-0 Williams
Sakkari has now won her last eight tie-breaks and will no doubt be hoping this set goes the distance too. For Serena, this is the seventh of nine played since the restart to go to a third.
Sakkari hits long at 30-30 but Serena nets to take this game to deuce. An excellent forehand passing shot brings up break point. The Greek plays tentatively, not going for too much, and Serena hits long after Sakkari hits a fortunate net cord.
First break of the match since the first set. Could history repeat itself… ?
---
18:59 Second set Sakkari
Sakkari 3-6 7-6(6) 0-0* Williams
Sakkari has won her last seven breakers, Sam Smith reliably informs me, and takes a 3-0 lead here. A good serve helps her to 4-0 but a weak second serve allows Serena to hit a backhand down the line for 4-1. A timely first serve cuts the deficit to just two and a dreadful Sakkari forehand takes her lead down to just one.
Another excellent backhand winner puts Sakkari 5-3 up but the pressure from Serena gets things back on serve at 5-4. A backhand sent long gives Sakkari double set point, however, but Serena saves the first with a blistering forehand winner. Sakkari misses her first serve on her second break point and Serena jumps on the second serve, hitting a backhand winner of her own. She's faced with another second serve but this time hits wide and it's a third set point in this tie-break for Sakkari. This time she stays in the point and takes it after a Williams error. We're going to a third.
---
18:48
Sakkari 3-6 *6-6 Williams
Sakkari misses the simplest of volleys in the opening point. However, two more well played points see Sakkari move ahead 15-30. An over-hit forehand makes it 30-30 but a very lucky net cord brings up a set point for the Greek, to which Serena audibly makes clear her displeasure. She saves it, but another backhand error gives Sakkari another opportunity. A big first serve saves the day, and two more take us to the tie-break.
---
18:39
Sakkari 3-6 6-5* Williams
For the second service game running Sakkari drops the opening point. A poor smash at 15-15 allows Serena to take a 15-30 lead but Sakkair mixes things up with the serve to level the score. An beautiful down the line backhand brings up game point for the Greek and a Williams error means she'll be serving next to take us to a second set tie-break.
---
18:36
Sakkari 3-6 *5-5 Williams
Sakkari defend well in the first point but in the end Serena takes it with a powerful drive volley. Two big serves make it 40-0 but the love service game is not to be as Sakkari stays alive with a big cross court forehand winner. The comeback doesn't last for long, however, as Serena holds to 15.
---
18:33
Sakkari 3-6 5-4* Williams
And then I was hit by techincal troubles…
But Serena holds to 30 and then, after a shaky start to her game, Sakkari impresses by holding hers to force Serena to serve to stay in the set. No breaks in the second set so far. Inevitable tie-break?
---
18:23
Sakkari 3-6 4-3* Williams
Serena's body language suggesting she's getting mildly frustrated that she can't find the breakthrough in this set. Sakkari reaches 40-0 but Serena rallies back to deuce, capitalising on a weak drop shot attempt at 40-30. Sakkari keeps her composure, however, and like Serena in the last game, serves the game out without having to save a break point.
---
18:18
Sakkari 3-6 *3-3 Williams
A slight chink in the Williams armour as Sakkari reaches 15-30. A loose forehand levels things out and a big serve brings up game point. A rare Williams error takes us to deuce but two more big serves close the game out without facing a break point.
---
18:12
Sakkari 3-6 3-2* Williams
Comfortable holds are not exclusive to Serena, however. Sakkari's first serve percentage is not as high as Serena's but when it lands it causes damage. For what feels like the 100th time in a row we have another hold to 15. Serena the favourite but this match isn't over, not by a long shot if Sakkari can keep firing down aces.
---
18:09
Sakkari 3-6 *2-2 Williams
Serena yet to be troubled on serve since midway through the first. One of he most comfortable of all here as she holds to 15 without breaking a sweat.
---
18:05
Sakkari 3-6 2-1* Williams
Sakkari hits her 7th ace of the match for 40-15 but two netted forehands see the game go to deuce. Serena applying pressure by putting every ball back in play but the Greek just about holds on.
Meanwhile, on Armstrong, De Minaur leads Pospisil by two sets and a break in the third.
---
18:00
Sakkari 3-6 *1-1 Williams
The quality is improving from both players. Sakkari hits an excellent backhand for 30-30 but Serena stands firm, holding with another unreturnable serve.
---
17:57
Sakkari 3-6 1-0* Williams
How Sakkari must rue that chance to break when she was 0-40 on the Williams serve in the sixth game. But, she lost the first set against Serena at the Western & Southern Open and turned that around…
Williams is forcing Sakkari to hit winners if she wants the points, but the Greek is up to the challenge, reaching 40-15 thanks to some great hitting. Serena hits a fabulous winner of her own for 40-30 but another ace wins the game Sakkari.
---
17:50 First set Williams
Sakkari 3-6 *0-0 Williams
No sign of nerves as Serena serves for the set. She races to 40-0 and seals the deal with a second serve ace.
---
17:48
Sakkari 3-5* Williams
An impressive hold for Sakkari. Serena continues to apply the pressure but a couple of some big serves and some patient rallying sees the Greek hold to love.
---
17:45
Sakkari *2-5 Williams
Sakkair struggling to match Williams now and the six-time champ holds comfortably to 15. Sakkari will serve to stay in the set.
---
17:42 Williams breaks
Sakkari 2-4* Williams
Will there be a letdown for Sakkari having missed the chance to break from 0-40 in the last game? She reaches 40-15 with relative ease but a powerful backhand down the line from Serena makes it 40-30 and another good shot from the American forces the error to take the game to deuce. Williams takes the next point too but a clutch serve takes the game back to deuce. After a little more to-ing and fro-ing, however, and a fifth deuce, it is Williams who takes the game following a big crosscourt forehand that Sakkari cannot get back in play.
Serena has noticeably upped the intensity and Sakkari appears to be feeling it.
---
17:31
Sakkari *2-3 Williams
Sakkari jumps to 0-30 following a Williams backhand dumped into the net. Another netted ground stroke brings up triple break point and Sakkari forfeits the first with a forehand sent long. The second is lost to a forehand into the net and the third is saved with big first serve from Williams. Another big serve brings up advantage and a Sakkari error secures the hold.
---
17:26
Sakkari 2-2* Williams
And so it continues. A hold to 15 in a game defined by unreturnable serves.
---
17:22
Sakkari *1-2 Williams
The run of simple service holds continues as Williams takes the game to 15. Little to choose between them so far. Both serving powerfully and effectively.
---
17:19
Sakkari 1-1* Williams
Two huge serves quickly see Sakkari reach 30-0, a Williams error makes it 40-0, and yet another ace brings an end to a quickfire game.
---
17:16
Sakkari *0-1 Williams
Serena serves first and does so in bright sunshine. She falls to 15-30 but recovers with an ace down the T. A lengthy rally brings up game point and backhand sent long from Sakarri gives Williams the (very) early lead.
---
17:11
Sakkari 0-0 Williams
The women are warming up on court, not long to go now. Who's your money on? Hantuchova picks Williams and Rusedski backs Sakkari…
---
15:42
Good Afternoon!
Monday's day session on Arthur Ashe Stadium begins with a fourth round clash between Maria Sakkari and Serena Williams in a rematch from the Western & Southern Open. When the pair met just two weeks ago it was the Greek who came out on top, pulling off the upset from a set down and toppling the 23-time Grand Slam champion 5-7 7-6(5) 6-1. Can lightning strike twice?
Williams is, of course, still chasing that elusive all-time-record-equalling 24th major singles trophy, but her form since the restart has been patchy. She lost to Shelby Rogers in Lexington before being taken to a third set tie-breaker in her opener at the Western & Southern by Arantxa Rus. She survived that scare but then lost to Sakkari in the next round. At the US Open, she has been solid yet largely unspectacular. However,  she did play some of her best tennis in the last round when coming back from a set down to beat the 2017 champion, Sloane Stephens.
Sakkari, meanwhile, lost her quarter-final match at the Western & Southern Open to Johanna Konta, and then had a shaky start at the US Open with three set wins over Stefanie Voegele and Bernarda Pera. In her most recent match, however, she put on a convincing display to sweep past the 22nd seed, Amanda Anisimova, 6-3 6-1.
The head-to-head is 1-1 and Sakkari won just a fortnight ago but even so, Williams, with all of her Grand Slam experience, has to be considered the favourite. Her loss last week may even prove to be beneficial as there is no risk of her underestimating her opponent and she is likely to come out on court fully focused. The winner will go to face either Alize Cornet or Tsvetana Pironkova in the quarter-finals.