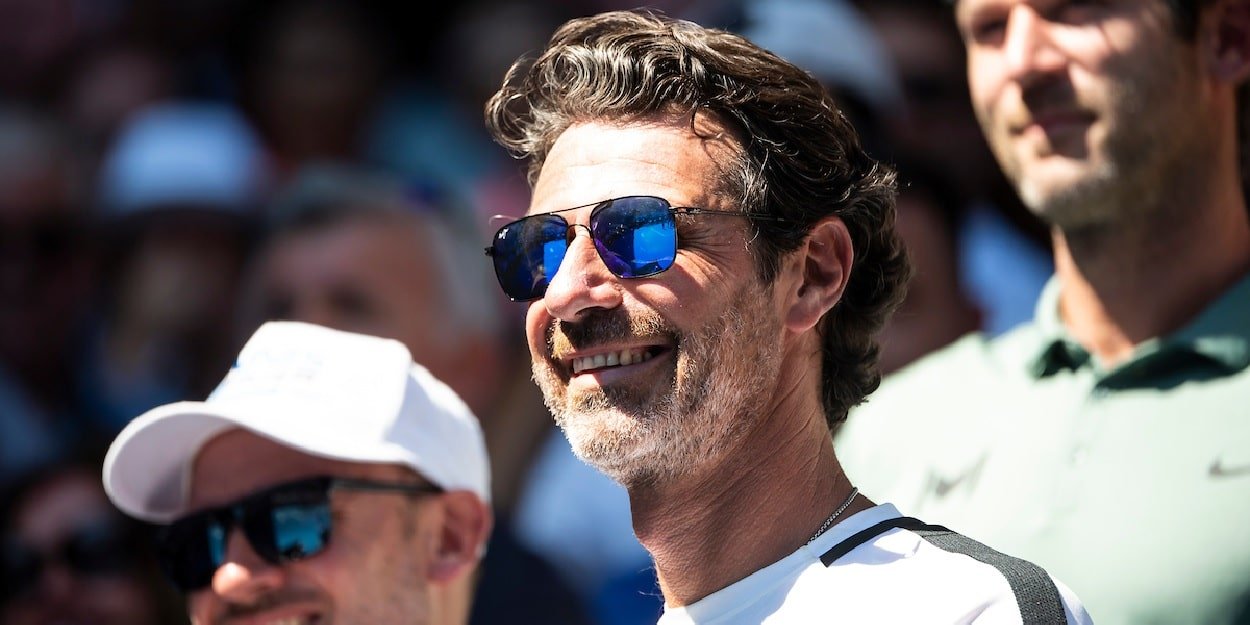 Ultimate Tennis Showdown – How it works and who is playing
Having been delayed 24 hours due to bad weather, Patrick Mouratoglou's Ultimate Tennis Showdown (UTS) kicked off with the first of 50 scheduled matches that will take place every weekend (weather permitting) at the Mouratoglou Academy in the South of France through until July 12th.
Get a 50% discount on your TV subscription to watch the Ultimate Tennis Showdown by using coupon code: UTSTENNISHEAD50 when you purchase at watch.utslive.tv
The tournament, which seeks to attract a younger audience, makes some radical changes from tennis as we know it. Each match is split into 10-minute quarters. During each of these, players serve twice alternately, much like a standard tie-breaker, but rather than stop after reaching seven with a two-point cushion, this continues for the full 10 minutes. The player with the most points when time runs out is the winner of that quarter, and a deciding point is played should there be a tie. If a match finishes at two quarters a piece, then a sudden death fifth set is played in which the first player to win two consecutive points takes the match. Should a player win the first three quarters in a row then the fourth is still played to aid the league table rankings.
The 10-man field, made up from some of the sport's biggest names, will play each other in a standard round-robin format. Once this is complete, the six players with the most wins qualify for the knockout stage, and should there be a tie in the table then set averages come into play. The top two players move immediately into the semi-finals whilst the four below them will face off against one another to move forward. There will be five matches each Saturday and Sunday (this week, Sunday and Monday, due to the rain), for five weekends, culminating with the finals on Sunday July 12th.
The players taking part are: Dominic Thiem, Stefanos Tsitsipas, Matteo Berrettini, David Goffin, Benoit Paire, Richard Gasquet, Feliciano Lopez (replacing Felix Auger-Aliassime due to injury), Lucas Pouille, Alexei Popyrin and fan-favourite Dustin Brown. Thiem is this weekend already committed to Novak Djokovic's Adria Tour event in Belgrade and so will be replaced by Frenchman Elliot Benchetrit until he is able to travel back to France.
Further to the changes in the scoring system, there are a number of other significant departures from tennis as it is played on the ATP tour. Players will be mic'd up so they can interact freely with the fans watching at home (the tournament, unlike the Adria Tour, will have no spectators on site), timeouts can be called, and mid-match interviews are expected. Players will also have the option to utilise 'UTS Cards', which act as power-ups of sorts. For example, a player can use their 'Winners Count x3' card and then if they hit a winner it will be worth triple the amount of points. There are seven different cards and each is valid for two consecutive service points. As stated on the UTS official twitter account, "Before each match, each player picks 2 cards, which can be used once in each quarter. Players can't use cards simultaneously with each other." In the spirit of interactivity, they also state that they are open to ideas from fans for cards that can be introduced in the coming weeks.
Mouratoglou says, "A lot of people are going to be against it, but that's OK. If you really love tennis, you want it to survive, to live, to develop. Loving tennis, in my opinion, is embracing change so that our sport doesn't fall behind the other sports."
The timed quarters mean that a stricter schedule can be implemented than is usually the case with tennis, and day one's order of play is as follows: