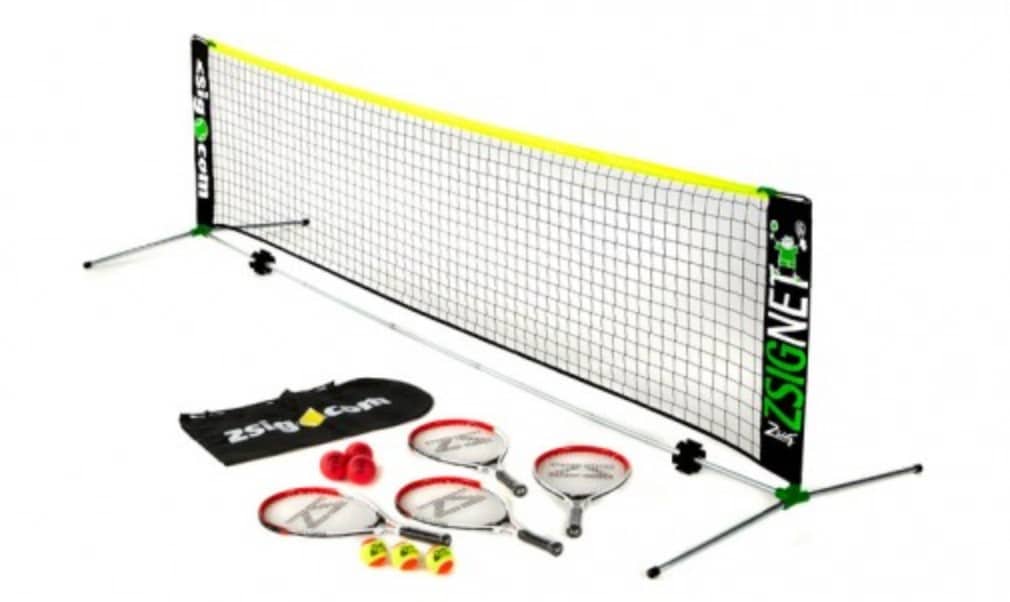 Turn tennis into a garden game
Originally published on 18/09/15
Sending your kids to tennis coaching every week is all well and good, but if they are going to be the next Andy Murray, they need to love playing the sport.
One of the main reasons given by children who quit organised sport by the age of 13 is that it is they no longer enjoy it. Encouraging children to play in the garden makes tennis fun, and not just another hour of lessons.
Learning to lose graciously is something that some adults never achieve, but teaching children to be gracious in both victory and defeat is easier in the low-pressure surroundings of your back garden with family or friends.
Click here for your chance to win a Zsig Mini Tennis Family Set
A recent survey by Marylebone Cricket Club and the Chance to Shine cricket charity found that 89.3% of parents of eight to 16 year olds believed it was "important" or "very important" for their children to taste victory or defeat in sport.
"Clearly, it makes a great deal of sense to have a Mini Tennis Set for home use if you're doing serious Mini Tennis practice with young children," says Zsig director Beverley Edwards. "But Zsig's family set is for everyone – teenagers and the fully-grown get loads out of it, too. As a game, Mini Tennis can be fast-paced and tactical without the skill level you need for full court tennis.
Zsig has been manufacturing portable Mini Tennis net systems in the UK for over 20 years.
"Our net systems are in a continuous process of redesign," says Edwards. "For example we have recently patented a new shoulder joint system (designed and made in the UK) and we'll be unveiling new product lines before the end of the year.
"We've supplied over 20,000 sets of Mini Tennis equipment to UK Primary and Secondary Schools for the LTA Tennis Foundation's Schools Project. Our net system is hardwearing, so can withstand a school environment as well as a back garden. And as we manufacture in the UK, we can offer a full repair and refurb service.
"It's a brilliant price for a professional, durable piece of equipment. And for holidays, it more than justifies the small space it will take in your car boot."
Mini Tennis Family Set
•1 3m Zsignet Mini Net System
•4 Mini Tennis Rackets (21 inch)
•3 SLOcoach Orange Mini Tennis Balls
•3 Protex Red Foam Mini Tennis Balls
•1 drawstring racket carry bag
•1 Zsignet carry bag
Or, for four sports in one, why not choose a Multisport set – you get tennis, badminton, volleyball and footy tennis to keep the family entertained for hours.