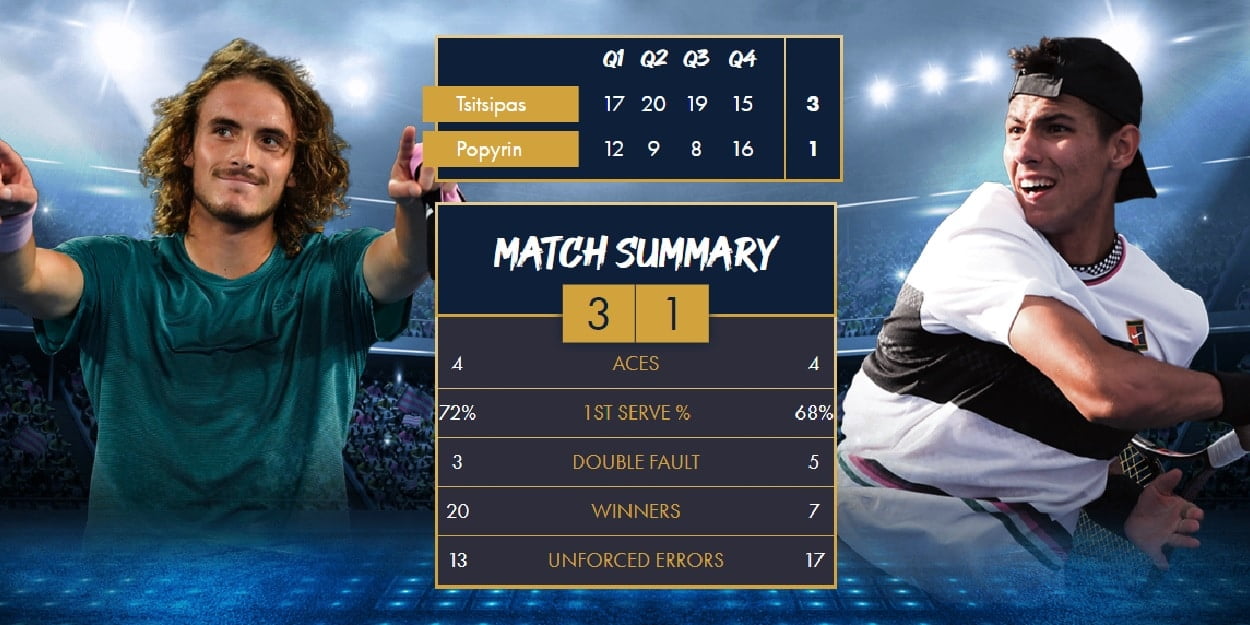 Tsitsipas cruises to comfortable win over Popyrin at UTS
The middle weekend of Ultimate Tennis Showdown concluded with a match between two of the ATP Tour's most promising young talents: 20-year-old Alexei Popyrin and 21-year-old Stefanos Tsitsipas. At the halfway stage of the tournament, both men were in the league's top four, but after this match either Tsitsipas would be the first man to reach five wins, or Popyrin would become the fourth man to hold a 4-2 record after six rounds, joining Berrettini, Gasquet, and Tsitsipas. It was the elder man who came out on top, winning comfortably 17-12 20-9 19-8 15-16.
It was Tsitsipas who took the early lead, racing ahead to 6-2, which improved further after a Popyrin double-fault, neutralised straight after by an ace. The quarter was plagued by errors from both players as they both appeared to struggle to find their rhythm but Tsitsipas found a huge forehand just in time to stay ahead and make it 11-9. Not long after, however, the young Australian found something special of his own and hit a backhand passing shot to level the score. Popyrin's '-1 Serve' card did not hamper Tsitsipas, who pushed on to 13-11, and a double-fault from the younger man with just seconds left on the clock handed "The Greek God" the quarter.
In the second, Tsitsipas again took a 6-2 lead and, having now found his groove, he led 10-4 at the halfway mark. At 13-6 down, Popyrin hit a double-fault and afterwards rocketed a ball into the stands. The frustration began to build as the quarter ran away from him and he started to hit his shots with increased with venom, albeit with mixed results. To add insult to injury, Tsitsipas hit an ace whilst his 'x3 Winner' card was active and he strolled to a comfortable 20-9 win.
Clearly in high spirits, Tsitsipas treated viewers to a rendition of 'Apologize' during the changeover and revealed his aspirations to represent Greece at Eurovision. Popyrin, meanwhile, was visibly downhearted.
For a third straight quarter, Tsitsipas took a 6-2 lead and Popyrin's body language continued to spiral. At 9-5 down the Australian chose to 'Steal Serve' but could only take one of the two, and afterwards his coach called a much-needed timeout. His coach asked for an increase in aggression and whilst Popyrin appeared to take this on board, Tsitsipas was playing too well and won the next four points. Popyrin's mood went downhill once more after a controversial line call meant another double-fault and Tsitsipas cruised to a 19-8 win and sealed his fifth tournament win from six matches.
History would not repeat it self as at 5-2 up, Tsitsipas stabbed a backhand into the net, but he did not have to wait much longer for the valuable four-point cushion as it came soon after at 7-3. Popyrin, thanks in part to a successful use of the '-1 Serve' card, fought back to 9-8 down, and had a chance to level but he netted a forehand that was headed down the line. Not long after, however, Popyrin did indeed claw his way back to level at 11-11 and he tried to capitalise on the momentum by using his 'Steal Serve' but split the next points to keep the score all square with just over two minutes to play.
The next two points, on the Tsitsipas serve, were also split, and Popyrin took a rare lead at 14-13, before immediately squandering it. At 15-15 the deciding point came on the Popyrin serve and after Tsitsipas, at full stretch, could not return a powerfully struck ball from his opponent, the quarter went to the Australian, denying Tsitsipas his first whitewash victory.
Tsitsipas improves to 5-1 and tops the league table, whilst Popyrin falls to 3-3 and drops from 4th to 7th in the overall standings. Earlier on Sunday:
Gasquet d. Moutet 3-1 (18-5 14-15 12-11 17-8)
Thiem d. Berrettini 3-1 (11-14 17-11 18-13 13-12)
Goffin d. Benchetrit 3-1 (14-16 20-12 14-10 20-8)
Lopez d. Paire 3-1 (15-17 22-11 9-7 24-14)
–