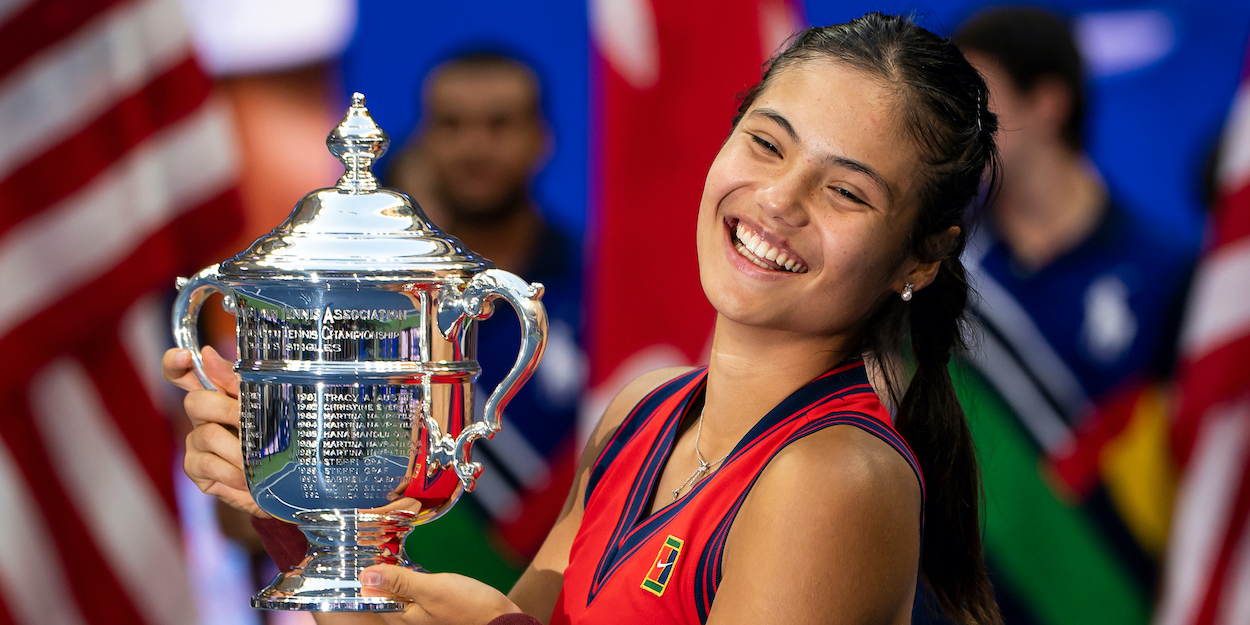 Top 5 youngest US Open women's champions
Join Tennishead for a look at the youngest women ever to lift the winners' trophy at the US Open.
The Open Era has seen a number of teenage champions across all four Majors. Here, let's take a look at the youngest women to win the US Open since 1968.
5. Svetlana Kuznetsova – 2004 – 19 years, 76 days
Kuznetsova came into the tournament ranked nine in the world. Fellow Russian teen Maria Sharapova had recently shocked Serena Williams to win Wimbledon at the age of just 17.
Kuznetsova breezed into the quarter-finals without dropping a set before defeating compatriot and 14th seed Nadia Petrova, again in straight sets.
She then faced fifth seed and 1998 US Open champion Lindsay Davenport, rallying from a set down to win 1-6, 6-2, 6-4.
An all-Russian final saw Kuznetsova take on Elena Dementieva. The teen dismissed Dementieva in straight sets to win her maiden Slam title.
4. Emma Raducanu – 2021 – 18 years, 302 days
After a magical run to the fourth round at her home Slam of Wimbledon, the British teen earned her place in the US Open main draw by coming through qualifying. Ranked at 150 in the world, no one could have expected what was to come from the sensational talent.
Raducanu eased past her first three opponents before facing Shelby Rogers, the woman who had just ousted world number one Ashleigh Barty in the previous round.
But the 18-year-old was unfazed, dispatching the American 6-2, 6-1 to reach her first Slam quarter-final. Next came a first seeded opponent in 11th seed and Tokyo 2020 Olympic gold medallist Belinda Bencic. Again the result came in straight sets.
Maria Sakkari was next, the 17th seed, and still Raducanu ran away with the win. The final saw Raducanu against Canadian 19-year-old Leylah Fernandez. Both unseeded, Raducanu ranked 150 and Fernandez 73, it was an amazing story.
Raducanu capped the tournament by winning in straight sets. She had come through three round of qualifying and seven main draw matches all without dropping a set.
She also became the first qualifier, man or woman, to win a Slam title. It was only her second ever Slam main draw appearance.
3. Serena Williams – 1999 – 17 years, 350 days
From a rising star to a bonafide legend. Despite her youth, Serena entered the US Open draw as the seventh seed, four behind sister Venus as the third seed.
After a smooth ride to the third round, Serena twice recovered from a set down against Kim Clijsters and Conchita Martinez in the third and fourth rounds to reach the quarter-finals.
Serena once again rallied from a set down to defeat fourth seed and nine-time Slam champion Monica Seles to book a showdown with fellow American Lindsay Davenport.
Davenport was the defending champion, but Serena was too much for the number two seed, claiming the victory 6-4, 1-6, 6-4 to reach her first ever Slam final.
Up against fellow teen and world number one Martina Hingis, Serena secured victory in straight sets, 6-3, 7-6 (7-4), the first of 23 Slam titles to date.
2. Martina Hingis – 1997 – 16 years, 341 days
Two years before suffering defeat at the hands of Serena Williams, Hingis had etched her own name into the history books with her first US Open title.
Hingis had actually already won the Australian Open and Wimbledon in 1997, and had reached the French Open final.
The Swiss star cruised to the quarter-finals without dropping a set and only once being pushed beyond 6-2 in a set.
From there Hingis defeated 10th seed Arantxa Sanchez Vicario and sixth seed Lindsay Davenport to reach the final.
She faced 17-year-old Venus Williams making her US Open debut. The two women had a combined age of just over 34 years old, making for the youngest Grand Slam final ever.
Williams was no match for Hingis, the 16-year-old sprinting to victory 6-0, 6-4 to win the event without dropping a set.
1. Tracy Austin – 1979 – 16 years, 270 days
Austin was seeded third at the 1979 US Open, and had twice reached the quarter-finals, including as a 14-year-old in 1977.
She reached the quarter-finals for the loss of a single set before facing Sylvia Hanika of (then) West Germany. Austin dismissed Hanika 6-1, 6-1 to set up a semi-final with second seed and two-time Wimbledon champion Martina Navratilova.
Austin overcame Navratilova 7-5, 7-5 to take on four-time defending champion Chris Evert, whom Austin had lost to in the quarter-finals the previous year.
This time around the 16-year-old was fierce, defeating Evert 6-4, 6-3 to win her first of two US Open titles, the youngest Slam champion in the Open Era.