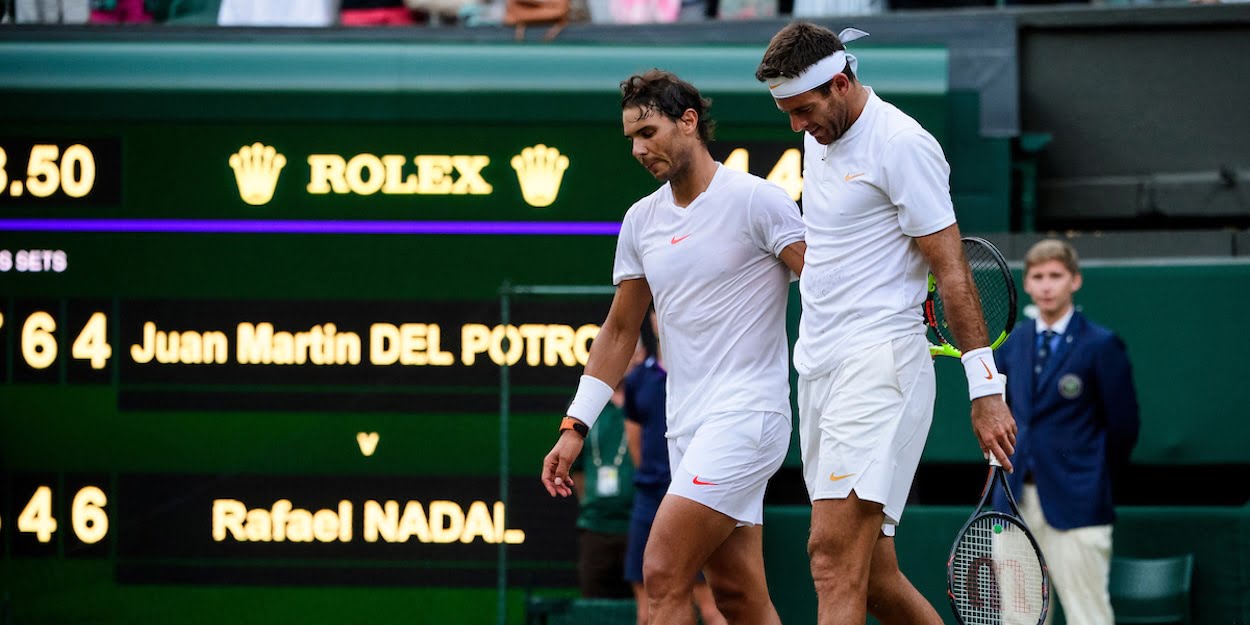 Top 20 Wimbledon Classics Since 2000: Rafa Nadal vs Juan Martin del Potro, quarterfinal, 2018
The All England Club has witnessed some tremendous battles during the Wimbledon fortnight, and with the dawn of a new decade, now seems like a good time to cast our gaze back over those familiar manicured lawns and review the best encounters in recent memory.
Here tennishead contributor Ronnie McCluskey helps to relive a classic men's Wimbledon match from the 21st century.
Rafa Nadal vs Juan Martin del Potro, quarterfinal, 2018
A fascinating contrast of styles occurred in the 2018 quarters, as thunderous hitter Del Potro squared off with indefatigable scrambler Nadal. The 2009 US Open champion served out of a tree that afternoon, with the Spaniard having to rely on all the tools in his arsenal to prevent an upset.
It was a match of unremitting quality, all the more special since few expected the injury-prone Argentine to challenge a Nadal hellbent on a third Wimbledon title. They might've thought otherwise if they knew he'd replicate his form from 2013, though. Actually, they need only have reviewed the pair's match at Wimbledon seven years earlier, one which Nadal won in four tight sets.
Every set on this day was fiercely contested, with the vision and athleticism of both confirming their credentials as title contenders. Nadal drew first blood after a series of long, grinding rallies, pouncing on the fifth seed's serve to go 7-5 up. The trench warfare continued, with Del Potro deploying his patented weapons – a feared serve and rifle-crack forehand – to good effect; he served for the second set at 5-4, only for Nadal to break with a gorgeous whipping forehand into the corner. The Spaniard then failed to convert three set points in the breaker, double faulting on one and eventually succumbing 9-7 as Del Potro forced an error with a walloped angled forehand.
Nadal's failure to seal a two-set lead had clearly bothered him, although both showed signs of weariness in the third. Del Potro was the one who surged ahead, courtesy of a blistering 100mph forehand Nadal had no hope of returning. Nadal then rediscovered his first serve, returned more aggressively and made his opponent play an extra shot: the elevation in intensity paid off with a 6-4 scoreline, the final stroke a delightful cross-court backhand winner. The Spaniard then won the decider by the same margin, deploying the forehand drop shot to great effect and dramatically salvaging five break points. In the fifth set alone Del Potro crunched 21 winners while landing 70% of first serves, making Nadal's victory all the more magnificent. After four hours, 47 minutes, the two-time champion readied himself for another classic-in-waiting. No-one would forget this 7-5, 6-7, 4-6, 6-4, 6-4 match in a hurry.
Watch their Wimbledon 2018 quarter-final again: