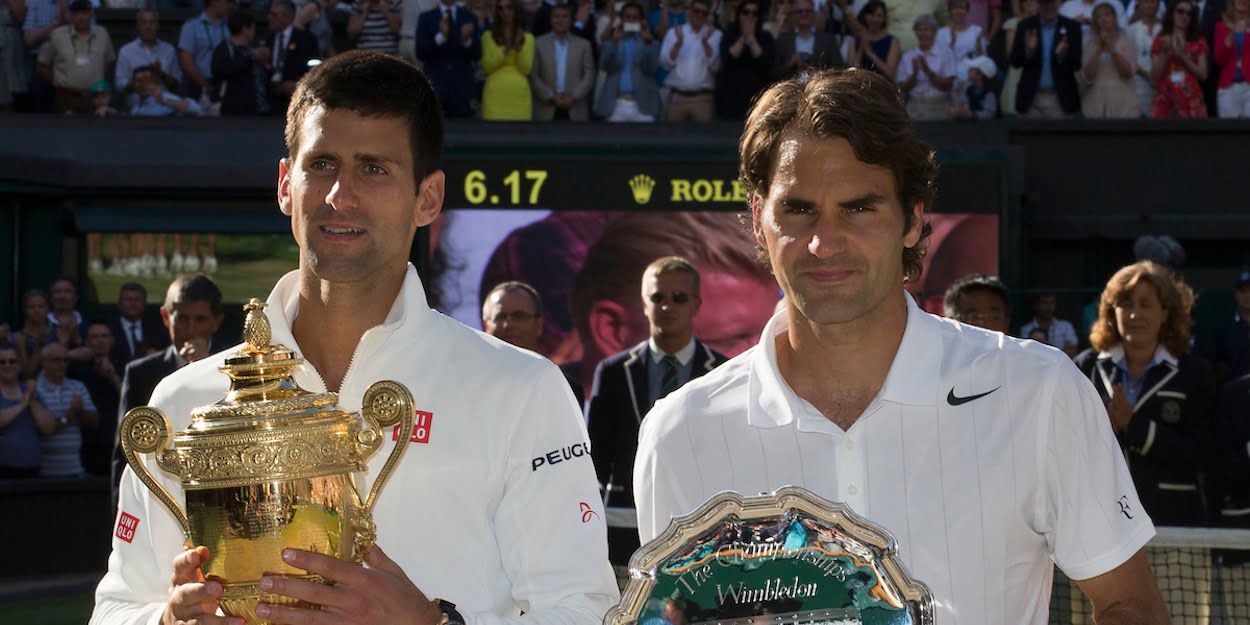 Top 20 Wimbledon Classics Since 2000: Novak Djokovic vs Roger Federer, final, 2014
The All England Club has witnessed some tremendous battles during the Wimbledon fortnight, and with the dawn of a new decade, now seems like a good time to cast our gaze back over those familiar manicured lawns and review the best encounters in recent memory.
Here tennishead contributor Ronnie McCluskey helps to relive a classic men's Wimbledon match from the 21st century.
Novak Djokovic vs Roger Federer, final, 2014
The denouement of the 128th Championships was the first five-set Wimbledon final since Federer-Roddick five years earlier. Perhaps more remarkably, it was only the second time these greats had contested a Grand Slam final, Federer having overcome a 20-year-old Novak in 2007's US Open showpiece.
Djokovic, seeking to end a run of 18 months without a major and reclaim the world no.1 ranking, met a Federer in imperious form. Nevertheless, each was the other's equal in the opener, neither bringing up a single break point as a tie break loomed. After racing to a 3-0 lead, Federer played beautifully to save set point at 5-6, then scorched the earth with two game-winning serves before prevailing 9-7.
The second stanza brought more high-quality exchanges, Djokovic dictating most of the long rallies and looking steadier on serve. After a break in the third game, he eased to a 6-4 advantage. In the third both raised their level, Federer banging down aces and unreturnable serves, Djokovic holding similarly firm on serve and hitting some brutish angled forehands. Another tie break beckoned, and a few overcooked forehands cost Federer the edge. This set was the apex of the match, the pair hitting a combined 42 winners and winning over 80% of points on first serve (Fed's first-serve percentage was a ridiculous 83%).
Could Djokovic wrap up the tie in four, as the Swiss had done against him two years before? It seemed probable as he raced to a 5-2 lead, aided by a Federer slump. Then frayed nerves and a resurgent Roger gnawed at the advantage, the seven-time champ discovering an aggressive rhythm and improbably surviving Championship point with an ace at 4-5. He eventually triumphed 7-5, delighting the 15,000-strong crowd in the process.
It had already surpassed expectations, and only a fifth set could crown the winner. As first serve percentages dropped, Federer created the first opening at 3-3, only to squander the initiative with a few loose points. Next it was Djokovic's turn to waste opportunities, Federer saving a second break point with an artful mid-court forehand; Djokovic then manufactured a third with a glorious backhand passing shot, only for Federer to serve-volley his way out of danger. Ultimately Djokovic's superior returning proved the difference though, as he created two more break points two games later, this time converting at the first time of asking for a heroic 6-7, 6-4, 7-6, 5-7, 6-4 victory after three hours, 56 minutes of breathtaking play.
Watch the Wimbledon 2014 mens' singles final again: