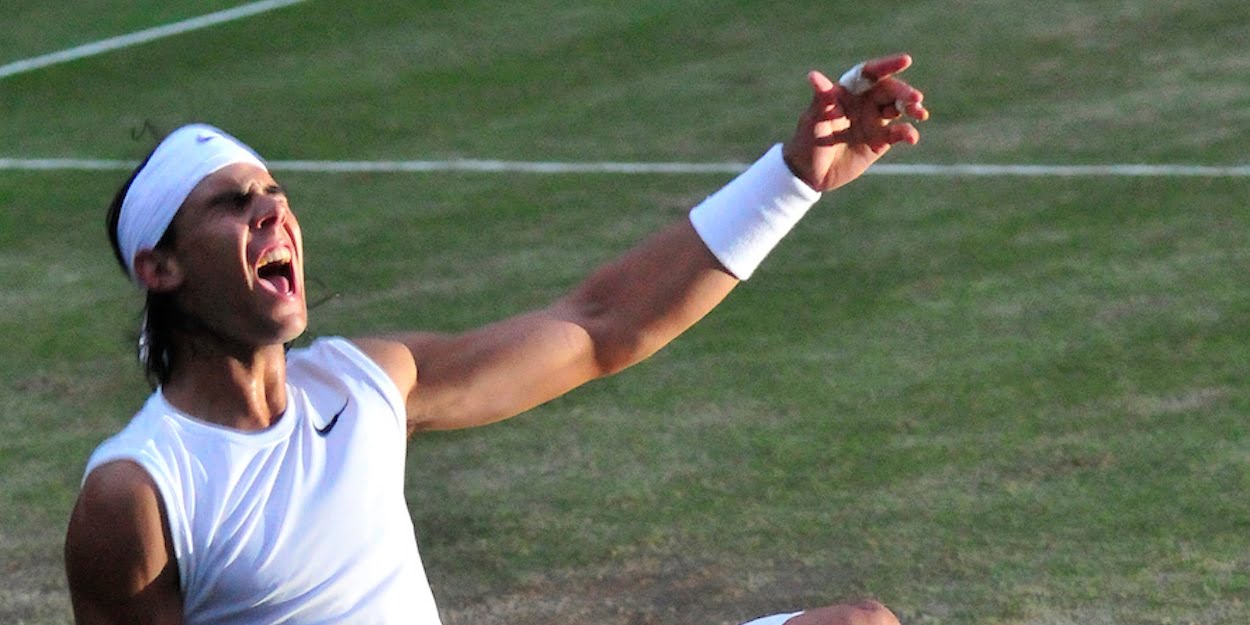 Top 20 Wimbledon Classics Since 2000: Nadal vs Federer, final, 2008
The All England Club has witnessed some tremendous battles during the Wimbledon fortnight, and with the dawn of a new decade, now seems like a good time to cast our gaze back over those familiar manicured lawns and review the best encounters in recent memory.
Here tennishead contributor Ronnie McCluskey helps to relive a classic men's Wimbledon match from the 21st century.
Rafa Nadal vs Roger Federer, final, 2008
It took Nadal four hours, 48 minutes of play to unshackle Federer's fingers from the Wimbledon trophy, in a spine-tingling match every tennis fan remembers and reveres. Having lost two straight SW19 finals to his great rival, the young King of Clay was finally poised to pocket the French Open-Wimbledon double, becoming the first man to do so since Björn Borg in 1980. In conquering Federer on his favourite court, he also snapped his rival's 65-match grass-court win streak and denied him a record-breaking sixth straight Wimbleton crown.
A remarkable match from start to finish, it nonetheless looked comparatively easy for Nadal after 1hr 34 minutes. After all, he was two sets to the good, playing a masterful combination of offensive and defensive tennis, and he could expect mental demons to assail Federer, a man he'd demolished in Paris weeks earlier and who'd watched a 4-1 second-set lead here go begging. Or could he?
No, as it turned out: proving his mettle while reiterated his brilliance, Federer clawed back from the brink, edging Nadal in consecutive tie breaks to take us into a fifth set for the second year running. Now the demons would turn their attention to Rafa, who'd twice held Championship points in a captivating fourth-set breaker.
The scintillating decider showed both men at the peak of their powers, each playing nerveless, artful tennis and striking the ball as cleanly as they ever had. There were moments of breathtaking inspiration and innovation as in the sets that had preceded it, as both refused to yield before the other's sorcery. Even a rhythm-threatening rain delay at 2-2 failed to sow doubt, as each resumed where he had left off after 30 minutes in the locker room. At 4-4, Federer carved out a break point but Nadal saved it with a rasping forehand then smash; at 5-5 it was the Spaniard's turn to create break points with a whirling forehand into the corner, but Federer's resolve held firm. It would take something magnificent to seal a decisive, match-winning break.
That magnificence came from Nadal at 7-7, his running two-handed backhand winner to bring up two break points perhaps the shot of the tournament. In dwindling light he then served for the match with new balls and, entrusting the principle of 'who dares wins', served and volleyed for the first time to great effect at 0-15. Despite first failing to convert Championship point at 40-30, the victim of a vintage Federer return, a few points later it was Rafa falling joyously onto his back as the Swiss shanked a forehand into the net.
Despite hitting more winners than his rival in every set, Federer could not wrest control. As well as his incredible return, the younger man's nerve was largely responsible, as he scrambled to save 12 of 13 break points brought against him; his general baseline superiority was also critical as he repeatedly triggered errors from Federer's strings. Interestingly, the iconic status of this match goes beyond what transpired on the grass: this was the last match played on Centre Court before the roof was installed. It might just be the best.
Watch the whole match: