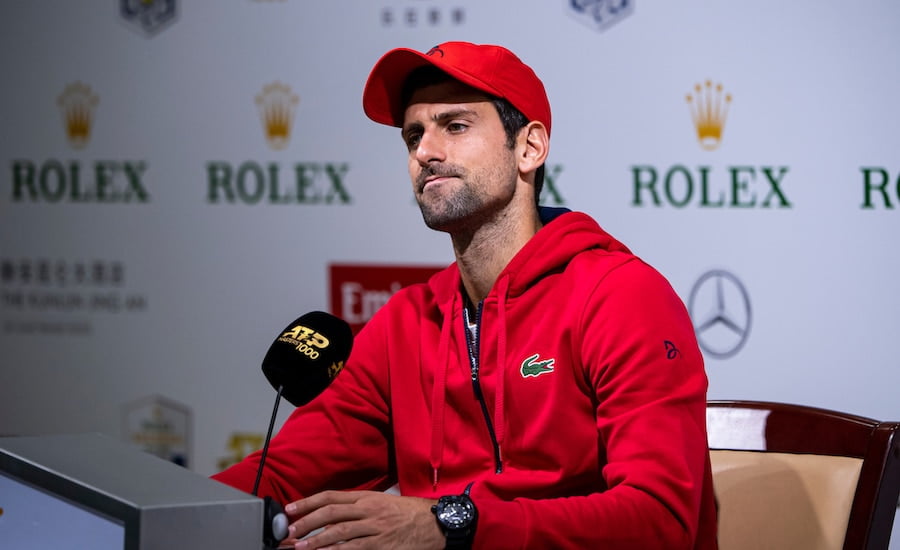 "They don't want to see the three of us dominating" Novak Djokovic comments on the 'Next Gen' lack of success in Grand Slams
Why do the 'Next Gen' players continue to fail to make their breakthrough when Novak Djokovic, Rafa Nadal and Roger Federer still dominate at Grand Slam level?
Of all the statistics that demonstrate the failure of younger men to make their breakthrough at the highest level, two are particularly telling. Firstly, there is no man currently under the age of 30 who has won a Grand Slam singles title. Secondly, 25-year-old Dominic Thiem, the runner-up at the French Open for the last two years, is the only current player under the age of 28 who has even played in a Grand Slam final.
It is a remarkable situation, unprecedented in the era of Open tennis, and one which has been showing little signs of changing. At Wimbledon this summer Roger Federer, Rafael Nadal, Novak Djokovic and Roberto Bautista Agut formed the oldest semi-final line-up in a Grand Slam tournament in the Open era, with an average of 33 years and six months. Meanwhile, every one of the seeded "Next Gen" players lost to lower-ranked opponents: Alexander Zverev, Stefanos Tsitsipas and Denis Shapovalov went out in the first round, Alex de Minaur in the second and Daniil Medvedev, Karen Khachanov and Felix Auger-Aliassime in the third.
Away from the Grand Slam tournaments, the younger men have had some success: Zverev won the Nitto ATP Finals at the end of last year and has claimed three Masters Series titles, Khachanov won last year's Paris Masters, Tsitsipas has played in two Masters Series finals and Borna Coric in one. At Grand Slam level, however, Tsitsipas is the only "Next Gen" player who has even made it to a semi-final.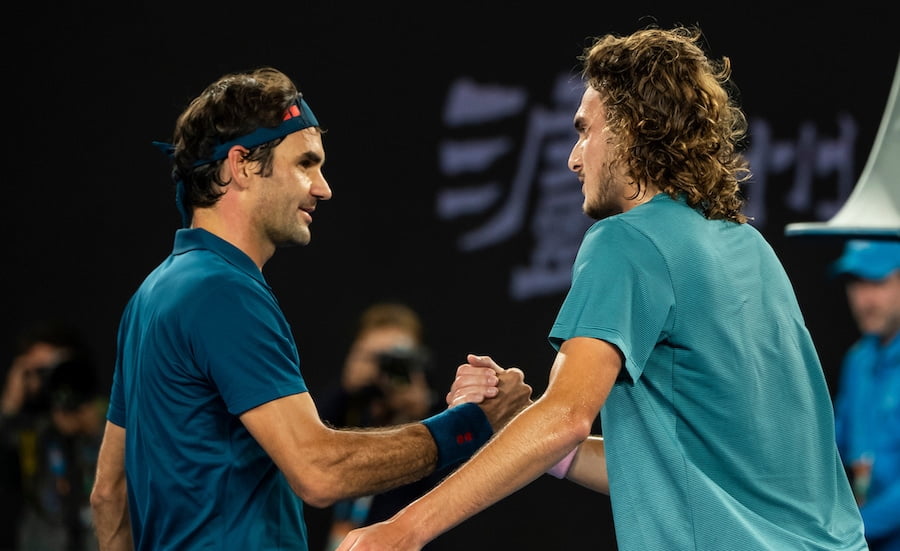 Boris Becker, who won his first Wimbledon title at the age of 17 and is the former coach to Novak Djokovic, believes there is no physical reason why teenagers should not be able to win Grand Slam titles today. "Mindset," Becker says when asked what the current crop of younger men lack. "There's a certain mentality that they don't have, that [Roger Federer, Rafa Nadal and Novak Djokovic] just have. It's not the forehands and backhands. It's not the fitness. It's a certain mentality, a mindset, an attitude that makes the difference between winning and losing."
The three-times Wimbledon champion refuses to accept that the "Big Three" are simply too good for everyone else. "It just doesn't make sense," Becker said. "As much as I respect Roger Federer, Rafa Nadal and Novak Djokovic – who else? Show up. Give me something I want to talk about. Eventually they will be too old, but you want to see the passing of the torch while they are still in their prime. You want to see Stefanos and Dominic beating them when they are still very, very good. That's what I'd like to see."
Becker points out that Rafa Nadal and Novak Djokovic won their first Grand Slam titles aged 19 and 20 respectively and that plenty of other sports still have teenaged champions. "For some reason in tennis, everybody takes a lot longer to be successful," he said. "I am convinced it will happen. It should happen. This would be the only sport where it didn't happen."
Thomas Johansson, a former world No 7 and Australian Open champion who now coaches David Goffin, believes that players like Tsitsipas, Zverev and Auger-Aliassime have great futures ahead of them, but thinks they have yet to understand fully the challenge of playing matches over the best of five sets and are sometimes guilty of going for too much on their shots.
"They might sometimes go for the wrong shot at the wrong time, but at the same time they're not scared," he told tennishead. "They are fearless on the court and that also makes them very dangerous. If you see Roger, Rafa and Novak, when it is a crucial point, they're very solid. Players like Tsitsipas and Auger-Aliassime are fearless. If the opportunity occurs they go for it – and that's what makes them dangerous. But for five sets? Tsitsipas made the semis in Melbourne this year, so I'm not going to say it's not going to happen, but maybe we have to wait a year or two more."
He added: "I'm really happy with what I see right now. For the moment we have Tsitsipas, Zverev, who has been there for a while, and Felix, who I believe in a lot. I would say that in five years' time he'll be top three in the world. We also have [Denis] Shapovalov, so there are a lot of young guys coming up. They are actually challenging the big guys – maybe not in the Grand Slams yet, but it will come."
Tommy Haas, a former world No 2 who is now tournament director at Indian Wells, does not go along with Johansson's best-of-five-sets theory. "When you're a good player and a good athlete, like the Next Gen players are, it should give you more of a chance to come back and win some of the matches," he said.
"I think the top players are showing us all the time how they stay focused and play the big points well and just never even drop a set when they don't have to. They're kind of going through to the quarters and semis in cruise control, like they've always done, which is phenomenal to see. It's so tough to stay that mentally tough and focused all the time. Even when you win the second set you know you have to win one more. Usually your opponent can go for it and has nothing to lose any more, but they just always seem to take that extra step and take your breath away.
"Maybe some of the young guys haven't figured that out yet. We've seen it again this year at Wimbledon. A lot of opportunities were taken like that. They have to find a way for those things not to happen, where maybe they're not focused the entire time."
While the likes of Zverev and Tsitsipas have time on their side, the Big Three of Federer, Nadal and Djokovic have seen off plenty of other challenges over the years. Juan Martin del Potro, Marin Cilic, Kei Nishikori, Milos Raonic and Grigor Dimitrov were all younger men who threatened to overthrow the old guard, yet have just two Grand Slam titles between them.
John McEnroe thinks the failure to usurp the Big Three is largely down to the sheer brilliance of the players concerned. "We have the three greatest players that have ever lived, playing at the same time," he said. "They're extremely hungry, which is an amazing quality at that age. I also believe they've psyched out opponents – and they're better. You add all those things together, and sure, you could say that we're disappointed with the fact that these guys in their mid to late twenties haven't been able to make a breakthrough, but these guys are all-time great players.
"They sense and understand that. I believe to some extent they've got into the heads of these guys. To me they've also done more to add some elements to their game than some of the other players, who have maybe tried but haven't been as successful."
McEnroe points out that because of the older players' consistency, the younger men know they will almost certainly have to beat at least two of them to succeed at Grand Slam tournaments. "If you look at Tsitsipas at the French Open, he had to play Wawrinka, who he lost a heart-breaker to, 8-6 in the fifth, to play Federer, to play Nadal, to play presumably Djokovic or Thiem," McEnroe said. "That's an incredibly difficult feat."
Novak Djokovic admits that he was surprised by some of the early defeats for the Next Gen players at Wimbledon but sympathises with the weight of expectations they have been carrying on their shoulders. "There is time," he said. "I understand that people want to see new winners of Grand Slams. They don't want to see the three of us dominating the Slam titles."
He added with a smile: "Eventually it's going to come – in about 25 years. Then we'll all be happy."
Look ahead to the rest of 2019 with our guides to every tournament on the ATP Tour and the WTA Tour. If you can't visit the tournaments you love then do the next best thing and read our guide on how to watch all the ATP Tour matches on television in 2019. To read more amazing articles like this you can explore Tennishead magazine here or you can subscribe for free to our email newsletter here