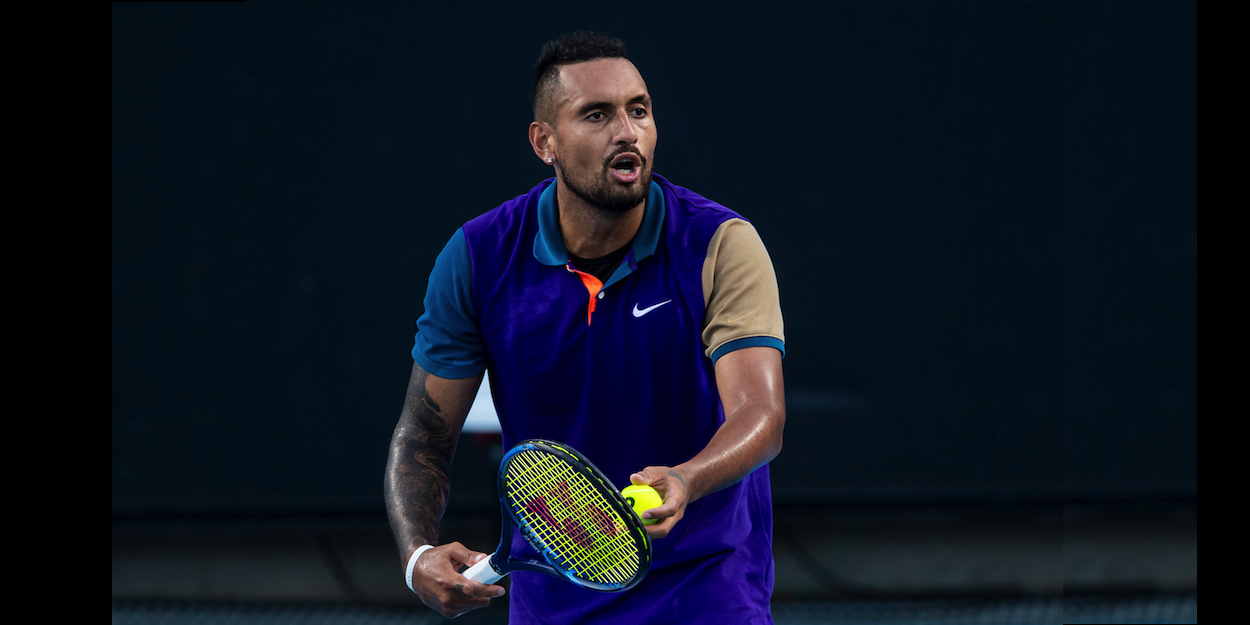 The underarm serve: So what happens next?
When Nick Kyrgios, Monica Niculescu or Alexander Bublik prepare to serve, opponents can never be sure what to expect. As Tennishead reports, the underarm serve has become an increasingly popular weapon for some modern-day players
Talking to Alexander Bublik can be as bewildering as facing him on a tennis court. In a match, you never quite know what he will do next. In a conversation about his use of underarm serves, it is hard to know when he is being serious. "I only do it to entertain myself," he tells tennishead when asked why he uses the tactic in matches. "I just try to make it a bit funnier because we have so many serious guys out there."
The underarm serve, which is being used more and more by players at the highest level, tends to appeal to mavericks like Bublik. Nick Kyrgios is another celebrated exponent, who was once aced on match point in an exhibition match by an underarm serve hit by his fellow Australian, Bernard Tomic. Kei Nishikori also tried the ploy against Kyrgios in an exhibition match, only to hit his serve into the net. Michael Llodra won a point with an underarm serve against Roger Federer in a match in Toronto, though the Frenchman also went match point down against Andy Murray at the US Open after an underarm serve failed to unsettle the Scot.
Monica Niculescu, whose sliced forehand regularly befuddles opponents, is one of very few female players to use the tactic, though Martina Hingis once used it in a French Open final and Sara Errani also resorted to it during her defeat to Kiki Bertens at Roland Garros this year. Struggling with her ball toss, Errani saved one match point after hitting an underarm serve, though on two other occasions she double-faulted when using it.
The underarm serve is by no means a recent phenomenon. Michael Chang famously hit a winning underarm serve, for the first and only time in his career, when he was suffering from cramp towards the end of his victory over Ivan Lendl in the French Open final in 1989. "I was up a break but ready to lose my serve again," he explained recently. "At 15-30 it just crossed my mind: 'Hey let's do something different, change it up.' And without thinking twice I just dropped the ball and hit an underhand serve. It was spur-of-the-moment, without much thought."
---
"When you're older you don't want to see some guy throwing out underarm served and just making fun of the other player"
---
Lendl can also recall using underarm serves. He told the Associated Press earlier this year that he had hit one against Eddie Dibbs in the final of a clay-court tournament at Forest Hills in 1982. "He was sitting on the back fence — and it was successful," Lendl said. "What is the difference between hitting a serve and then a drop shot or just a drop shot right away? I don't see a difference. I think it's a very good strategy. You take them out of their comfort zone."
The element of surprise is clearly crucial and it helps if the receiver is standing well behind the baseline. That will often be the case for a big server, which is perhaps one of the reasons why Kyrgios uses it. However, without the element of surprise an underarm serve can be pointless. Bublik, who says he regularly practises his underarm serves, hit one on his very first serve of his first match after this summer's resumption, in New York in August, only for Karen Khachanov to win the point. "Karen told me afterwards that he had been ready for it," Bublik said. "I literally had no choice because everybody was asking me to do it – so I did it."
Bublik says that against right-handers he hits underarm serves only into the advantage court, with sidespin, in the hope that the opponent will be forced to hit a backhand in reply. "In the deuce court it's incredibly tough," he said. "It's impossible to win the point because there's no sidespin and it's always going to the forehand. And if it goes to the forehand there's no chance of you winning it."
Does he ever use it on second serves? "No, that's crazy," he said. "To serve an underarm double fault? You'd quit." Using the tactic only on first serves also gives him "a chance to [regroup] and serve a full-power ace".
How many times in a match does Bublik use an underarm serve? "Maybe once. Maybe not even once. I'm not doing it too often. I do it when I want to mix things up, when I maybe feel a bit tight. Or on the other hand it might be when I'm feeling very relaxed."
Some think that using an underarm serve is a sign of disrespect towards your opponent. When Kyrgios beat Nadal in Acapulco last year, using an underarm serve in the process, Nadal said afterwards that the Australian lacked "respect for the public, the rival and towards himself".
---
"If you hit an underarm serve in order to disrespect the opponent, it's not a good thing,"
---
However, the Spaniard insisted at this year's French Open that he regards the underarm serve as a perfectly legitimate tactic, provided it is used simply in order to win a point. "If you do it to disrespect the opponent, it's not a good thing," he said. Nadal was speaking after Mackenzie McDonald had hit an underarm serve against him which Nadal killed with a thumping forehand winner. "For Mackenzie today it was not a good tactic," the Spaniard said.
Dominic Thiem, who has been on the receiving end of underarm serves from Bublik, also accepts that it is a legitimate tactic. "It's a good choice against players like us who are that far behind the baseline," he said. "There is nothing bad about it."
Federer agrees. "Underarm is definitely a tactic, I believe, epecially when guys are hugging the fence at the back," he said. "From that standpoint, you shouldn't be ashamed if you try it out. You just look silly if you miss it sometimes, but why not try it? The problem is that in practice you never really try it and when you come out on the big stage in front of a full crowd, it's tricky to pull off."
Bublik says that he uses underarm serves just because he like hitting them rather than as a tactical ploy. "I enjoy it because I'm bored out there sometimes," he says, insisting that he hopes it does not anger opponents. "If that is their reaction then it's their problem. I'm not doing it to throw them out. I'm just doing it because I like it."
Nevertheless, Bublik admitted that he uses the tactic more against the "most serious" players and "when the guy is so serious you can feel it". He said the underarm serve that he enjoyed the most was one he hit in Hamburg this year against Chile's Cristian Garin, who was clearly angered by it. "That was the best reaction I've ever had in my life," Bublik said.
Does Bublik himself think that hitting an underarm serve is disrespectful to the opponent? "Maybe it is in a certain way, but who cares?" he said. "We're not in 1982."
Does he use underarm serves because crowds like to see them? "If they're over 45 years old, probably not. Even my father sometimes says: 'Come on, stop doing that.' When I get to 45 I'll probably say the same. You change your mind because you grow older and you want to see some tennis. You don't want to see some guy throwing out underarm serves and just making fun of the other player when you've come to watch some serious guys playing when you've paid for a ticket or whatever."
So does his father sometimes object to the underarm serves because he thinks it is a bad tactic? "He says it because he's 52."