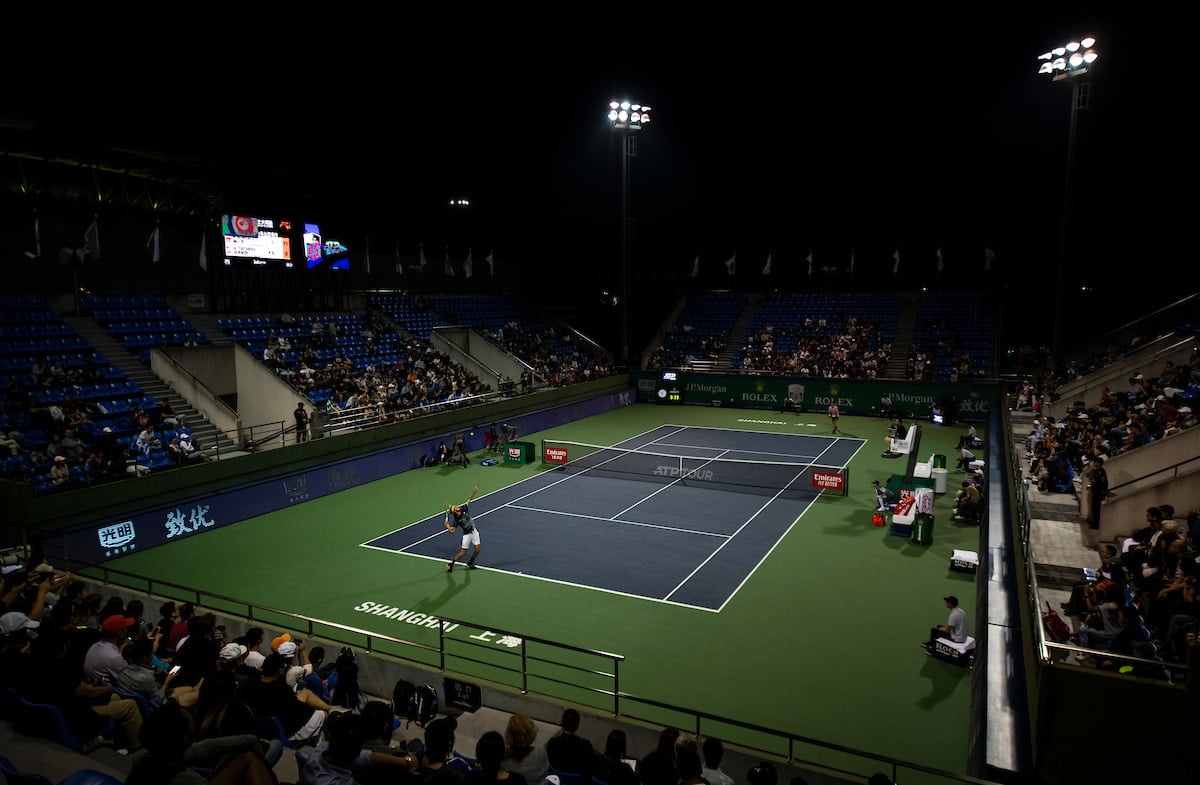 The shutdown quiz: Questions and answers
THE SHUTDOWN QUIZ
Have you been taking advantage of the break in play to brush up on your knowledge of the sport? Here are 60 questions to put your tennis brain to work.
HAVE YOU BEEN PAYING ATTENTION?
1 How many matches had Novak Djokovic lost in 2020 before competitive tennis was suspended?
2 Which is the only country with two women currently represented in the world's top 10?
3 Name the next player in this sequence: Martina Trevisan, Ann Li, Shuai Zhang, Cori Gauff, Ons Jabeur, Ashleigh Barty
4 What was the only tournament in which Rafael Nadal played doubles this year before the lockdown?
5 Which former Australian Open champion ended her career at this year's tournament?
6 Who reached his first Grand Slam singles semi-final at this year's Australian Open?
7 In which competition was Johanna Konta beaten by Tan France in March this year?
8 Who is the only man apart from Novak Djokovic, Cristian Garin and Gael Monfils to have won two tour-level titles this year?
9 Why did Dalila Jakupovic retire midway through her qualifying match against Switzerland's Stefanie Vogele at the Australian Open?
10 Which player currently ranked in the top 10 of the WTA rankings has yet to play a match this year?
LEGENDS
1 Who has won all 29 of the Davis Cup singles rubbers he has played since losing his first to Jiri Novak in 2004?
2 Who won more Grand Slam singles titles as a teenager than any other player?
3 At 20 years and nine months Lleyton Hewitt became the youngest player to do what in November 2001?
4 In the open era who is the only woman to have lost only one tour-level singles match in a calendar year, having played at least 50 matches in that year?
5 Who set an ATP record of 46 successive tour-level victories between July and October 1977?
6 Who won 125 tour-level matches in a row on clay between August 1973 and May 1979, dropping only eight sets along the way?
7 Between July 1974 and February 1983 only three players topped the men's singles world rankings. Who were they?
8 Who ended a 17-year wait for another Wimbledon title by winning two in the space of 24 hours in 2015?
9 Who won his first Grand Slam title at Wimbledon in 1992 and his last at the Australian Open in 2003?
10 Who has won the most mixed doubles Grand Slam titles?
WHO SAID IT?
1 "Where I grew up in the city of New York, it's got a lot of energy. My parents are Irish-American, so there was a bit of yelling going on in my house, but it seemed normal."
2 "I can cry like Roger. It's just a shame I can't play like him."
3 "I've seen other men call other umpires several things. I'm here fighting for women's rights and for women's equality and for all kinds of stuff. For me to say 'thief' and for him to take a game, it made me feel like it was a sexist remark."
4 "I think I only had about three bananas, but I had about 12 [energy] bars. Probably 30 to 40 [bottles] of water."
5 "I know what I'm capable of. Just depends. I'm a great tennis player, but I don't do the other stuff. I'm not the most professional guy. I won't train day in, day out. I won't show up every day."
6 "The dream comes true. I'm here in the draw and I'm playing tennis again. It was a difficult time for me, of course. It wasn't easy, but I'm happy that I've worked through this and I can play tennis and I can be in the draw. I know that my hand is not perfectly ready. It's still not 100 per cent ready, so we will see how everything goes."
7 "I didn't start a war. Nobody died. I only lost a tennis match, nothing more."
8 "I was expecting the best Venus, because I saw her and she was playing very good. I knew she was going to make me suffer and fight for it. When I had those set points against me, I'm like: 'Hey, it's normal. I'm playing Venus here.' So I just kept fighting. And I knew that if I was playing like I was playing during the two weeks, I was going to have eventually an opportunity."
9 "I could be the best-looking guy in the Duma [Russian parliament], but that's only because all the other guys are over 60."
10 "Pressure is a privilege. It only comes to those who earn it."
WHO AM I?
1 I became world No 1 in doubles for the first time in my career in July last year at the age of 34. In the same month I played in my first Grand Slam singles semi-final.
2 My father is from Haiti and my mother is from Japan. I won my first two matches against Serena Williams before my 21st birthday.
3 I was born in 1999 and reached my first tour-level final at the age of 18. My father is Uruguayan and my mother is Spanish but I play for another country in the Davis Cup.
4 I was born in New York in 1991. My grandfather played for the New York Knicks basketball team and my mother represented the United States in swimming and volleyball. I have played in the semi-finals at both the US and Australian Opens.
5 I was born in Zagreb in 1993 but switched nationality in 2014. I reached my highest position in the world rankings (No 39) in April last year. I've played in four tour-level finals but have yet to win a title.
6 I played in 48 consecutive Grand Slam tournaments between 2005 and 2016 before retiring at the age of 29. I won one Grand Slam title and spent 12 weeks at the top of the world rankings. I am the only woman from my country to have won a Grand Slam singles title.
7 My first tour-level singles final was at a Grand Slam tournament. I have since reached 29 more finals (winning 18 of them) but none have been at Grand Slam level. I won my most recent title last year at the age of 34.
8 I won my only Grand Slam singles title in 2015 at the age of 33 when ranked No 26 in the world. After winning it I played only four more tournaments before retiring.
9 I was born in Wiesbaden, Germany in 1959. I won seven Grand Slam singles titles, the last of them when I was 25 years old. I was world No 1 in both singles and doubles.
10 I set a WTA record in 2014 for the longest gap between titles when I won a tournament in Quebec 16 years and four months after winning in my home country of Croatia.
THIS AND THAT
1 How many British women have reached No 1 in the WTA world rankings?
2 Why was the Australian Open not held in 1986?
3 What did Pam Shriver do 79 times, Billie Jean King 22 times, Betty Stove 14 times and Chris Evert, Rosie Casals, Gigi Fernandez, Anne Smith and Svetlana Kuznetsova five times each?
4 Only two players have won at least one title every year on the ATP tour since 2001. Who are they?
5 What record did Vicki Nelson-Dunbar and Jean Hepner set in Richmond, Virginia in 1984?
6 Which Briton is the link between all these players: Jamie Baker, Dudi Sela, Andy Murray, Greg Rusedski, James Blake, Mahesh Bhupathi, Tim Henman, Max Mirnyi, Feliciano Lopez, Ken Skupski, Stan Wawrinka, Sergiy Stakhovsky, Marcelo Melo, Julien Benneteau, Jurgen Melzer, Eric Butorac, Colin Fleming, Dominic Inglot, John Peers, Bruno Soares, Joe Salisbury and Neal Skupski?
7 Who won his first career-meeting with Rafael Nadal (in 2014), his first with Roger Federer (in 2015) and his first with Novak Djokovic (in 2017)?
8 What distinction was shared by Tracy Austin at Portland in 1977, Mirjana Lucic at Bol in 1997 and Justine Henin at Antwerp in 1999?
9 Who is the last player to have won the men's singles and men's doubles titles at the same Grand Slam tournament in the same year?
10 Who is the next player in this sequence: Miloslav Mecir, Marc Rosset, Andre Agassi, Yevgeny Kafelnikov, Nicolas Massu, Rafael Nadal
ANSWERS:
NAME THAT TOURNAMENT
(answers to picture questions that featured in the current issue of tennishead magazine)
1 Shanghai Rolex Masters
2 Mutua Madrid Open
3 Fever-Tree Championships
4 Miami Open
5 French Open
6 Australian Open
7 Internazionali BNL d'Italia, Rome
8 Nitto ATP Finals, London
9 BNP Paribas Open, Indian Wells
10 US Open
HAVE YOU BEEN PAYING ATTENTION?
1 None (he won all three tournaments he played: the ATP Cup, Australian Open and Dubai)
2 United States (Sofia Kenin and Serena Williams)
3 Garbine Muguruza (players Sofia Kenin beat en route to the Australian Open title)
4 ATP Cup
5 Caroline Wozniacki
6 Alexander Zverev
7 Konta was runner-up to France, a fashion designer and TV personality, in the Stand Up To Cancer Celebrity British Bake Off
8 Andrey Rublev
9 Because she had a coughing fit, which she blamed on the air quality as a result of the local bushfires
10 Bianca Andreescu
LEGENDS
1 Rafael Nadal
2 Monica Seles (eight)
3 Hewitt became the youngest man to top the ATP world rankings (and still holds that record)
4 Martina Navratilova, who won 86 of her 87 matches in 1983
5 Guillermo Vilas
6 Chris Evert
7 Jimmy Connors, Bjorn Borg and John McEnroe
8 Martina Hingis, who won the women's and mixed doubles titles
9 Andre Agassi
10 Margaret Court (21)
WHO SAID IT?
1 John McEnroe
2 Andy Murray after losing to Roger Federer in the 2010 Australian Open final
3 Serena Williams after losing the 2018 US Open final to Naomi Osaka
4 John Isner after his 11-hour 2010 Wimbledon marathon against Nicolas Mahut
5 Nick Kyrgios after losing to Rafael Nadal at Wimbledon last summer
6 Petra Kvitova after returning to Grand Slam competition at the French Open in 2017 six months after suffering terrible hand injuries when attacked by a knifeman in her home in the Czech Republic
7 Boris Becker
8 Garbine Muguruza after beating Venus Williams in the 2017 Wimbledon final
9 Marat Safin
10 Billie Jean King
WHO AM I?
1 Barbora Strycova
2 Naomi Osaka
3 Alex de Minaur
4 Coco Vandeweghe
5 Ajla Tomljanovic
6 Ana Ivanovic
7 Jo-Wilfried Tsonga
8 Flavia Pennetta
9 John McEnroe
10 Mirjana Lucic-Baroni
THIS AND THAT
1 None
2 Because it moved in the calendar from December to January (the 1985 tournament was held in December 1985 and the 1987 tournament in January 1987)
3 They partnered Martina Navratilova to doubles titles
4 Bob and Mike Bryan
5 Vicki Nelson-Dunbar and Jean Hepner played the longest women's match in history. Nelson-Dunbar won 6-4 7-6(11) after six hours and 31 minutes. One point in the tie-break lasted 29 minutes and featured 643 strokes
6 Jamie Murray (they have all played doubles with him)
7 Nick Kyrgios
8 They all won titles on their debuts on the WTA tour
9 Yevgeny Kafelnikov (1996 French Open)
10 Andy Murray (list of men's singles Olympic champions)