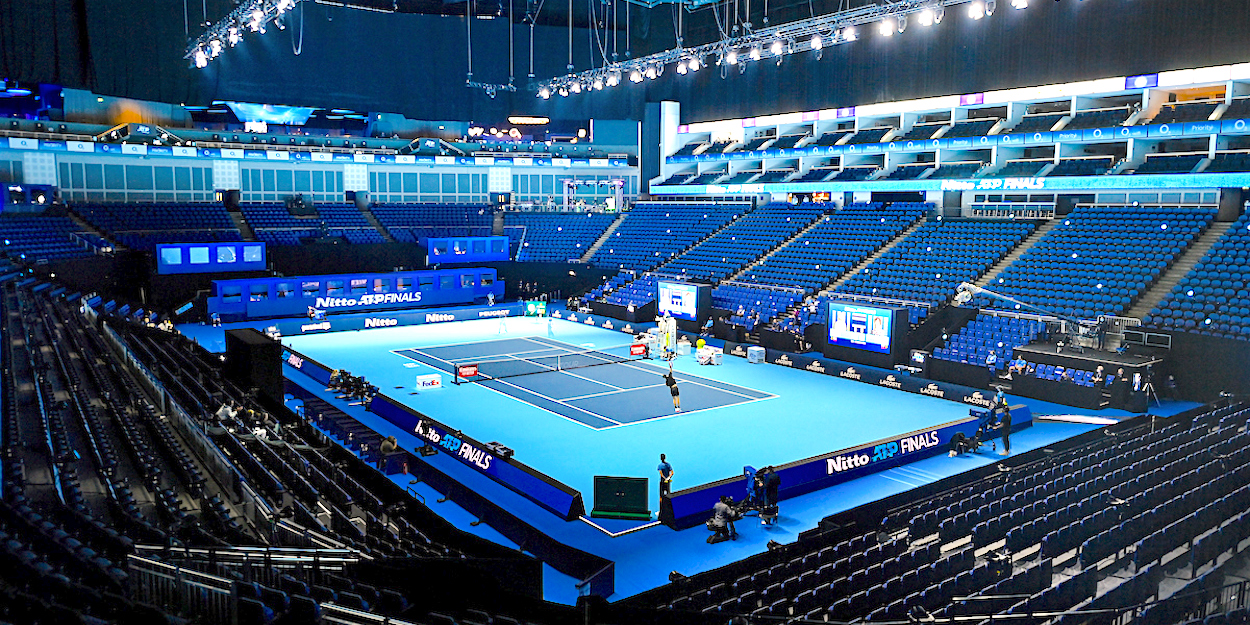 The O2 Arena's 6 most memorable ATP Finals matches featuring Nadal, Djokovic, Federer, Murray, Thiem & Tsitsipas
Sadly no longer a tennis venue, the O2 in London has been the host of the year ending ATP Finals for many years. Here Tennishead has chosen the 6 most enthralling matches from an epic period, including two from Nadal, two from Federer, one from Djokovic and three classic Andy Murray matches.
2010 semi-final, Murray vs Nadal
Nadal beat Murray 7-6(5) 3-6 7-6(6)
Andy Murray had often been criticised for being too cautious but pushed Rafael Nadal to the limit, hitting 22 aces and 53 winners as he attacked at every opportunity in a match of frequently changing fortunes. Nadal, who had won three of that year's Grand Slam titles, recovered from the loss of four successive games at the end of the second set and start of the third to lead 5-3 in the decider, only for Murray to fight back and lead 3-0 in the final tie-break. However, the Spaniard saved some of his best for last, winning seven of the last 10 points to secure victory after nearly three and a quarter hours.
---
2010 final, Federer vs Nadal
Federer beat Nadal 6-3 3-6 6-1
Roger Federer had lost six of his previous seven meetings with Rafael Nadal and was back in London for the first time since a Wimbledon defeat to Tomas Berdych had ended his record run of 23 Grand Slam semi-final appearances, but this confirmed that he was far from a spent force. Federer rounded off a superb European indoor campaign with a victory that saw him join Pete Sampras and Ivan Lendl as the only players to have won the title five times. Nadal said Federer was "unplayable" at the start, though the Spaniard went on to become the only player that week to take a set off him.
---
2014 semi-final, Federer vs Wawrinka
Federer beat Wawrinka 4-6 7-5 7-6(6)
Roger Federer beat Stan Wawrinka in a Saturday night thriller memorable both for its pulsating rallies and for a rare confrontation between the two friends. Wawrinka complained during the match that he was being heckled by someone in his opponent's entourage, with reports that Mirka, Federer's wife, had called him a "cry-baby". The two men then clashed on their way back to the locker rooms. Having hurt his back, Federer was unable to play in the following day's final against Novak Djokovic, but just one week later he joined forces with Wawrinka to secure Switzerland's first Davis Cup title.
---
2016 semi-final, Murray vs Raonic
Murray beat Raonic 5-7 7-6(5) 7-6(9)
Andy Murray had won the longest match ever played at the O2 Arena when he needed three hours and 21 minutes to beat Kei Nishikori four days earlier. He broke the record again here, beating Milos Raonic after three hours and 38 minutes of high drama. Raonic, hitting huge forehands, often had his opponent on the back foot as Murray's marathon season appeared to be taking its toll, but the Scot kept fighting back. Raonic, who had lost the Wimbledon final to Murray, had a match point at 9-8 in the final tie-break but Murray converted his fourth match point when the Canadian netted a forehand.
---
2016 final, Murray vs Djokovic
Murray beat Djokovic 6-3 6-4
Andy Murray's extraordinary season ended with victory over Novak Djokovic in a contest to decide which of them would finish the year as world No 1. In his last four matches Murray beat the players ranked Nos 2, 3, 4 and 5 in the world. Despite his previous day's marathon against Milos Raonic, Murray showed few signs of fatigue to outplay Djokovic, who had needed only 66 minutes to win his semi-final. It was Murray's 24th win in a row in his 78th match of the year (13 more than any other player on the men's tour). Murray reached the final of 12 of his last 13 tournaments in 2016, winning nine of them.
---
2019 final, Tsitsipas vs Thiem
Tsitsipas beat Thiem 6-7(6) 6-2 7-6(4)
Stefanos Tsitsipas became the youngest winner of the title for 18 years with a glorious display of attacking tennis to cement his reputation as the sport's most dynamic new talent. The 21-year-old Greek, making his tournament debut, enjoyed the support of most of the crowd, who were treated to the rare sight of two opponents with single-handed backhands. After a tight first set, Tsitsipas took the second in 26 minutes and led 3-1 in the third, only for Dominic Thiem to fight back. In the deciding tie-break the Austrian levelled at 4-4 from 1-4 down, but Tsitsipas claimed victory by winning the next three points.
---