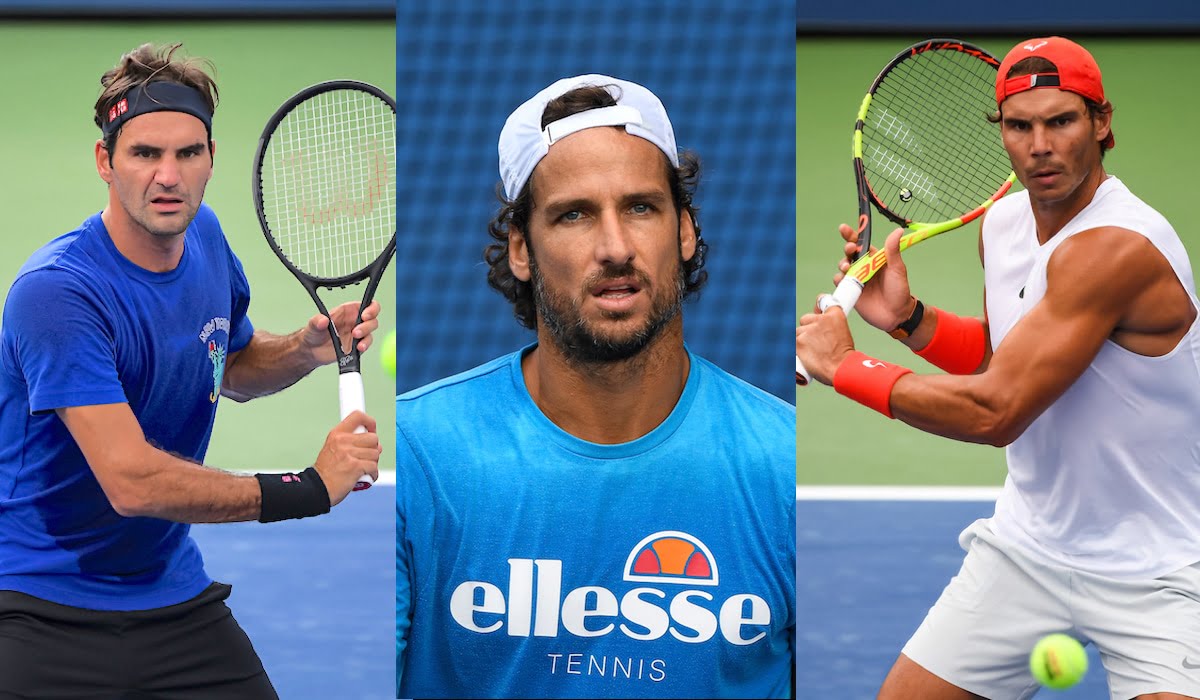 The numbers prove it: tennis players are getting older
Is an ageing worldwide population feeding through to the professional tennis tours? Are the advances in health, nutrition and medicine making an impact on the length that player's careers can last. Tennishead investigates with some astounding results…
Professional tennis players are getting older with every passing year. An exclusive study by tennishead reveals that the average age of the world's top 100 men and women has risen sharply in the last 10 years. Since the launch of the world rankings in the early 1970s the average age of the leading players has never been higher.
Thirty years ago the average ages of the world's top 100 men and women were 23.74 years and 22.56 years respectively. By the end of last year those figures had risen to 28.26 and 25.8 respectively. In the last 10 years alone the average ages have risen by 2.67 years among the men and by 2.14 years among the women.
Improved fitness regimes and advances in science and nutrition, combined with increases in prize money which have encouraged players to carry on competing, have fuelled a remarkable rise in the number of older players, particularly amongst the men. Twenty-five years ago there were only four "thirty-somethings" in the world's top, whereas there were 42 in last year's year-end rankings.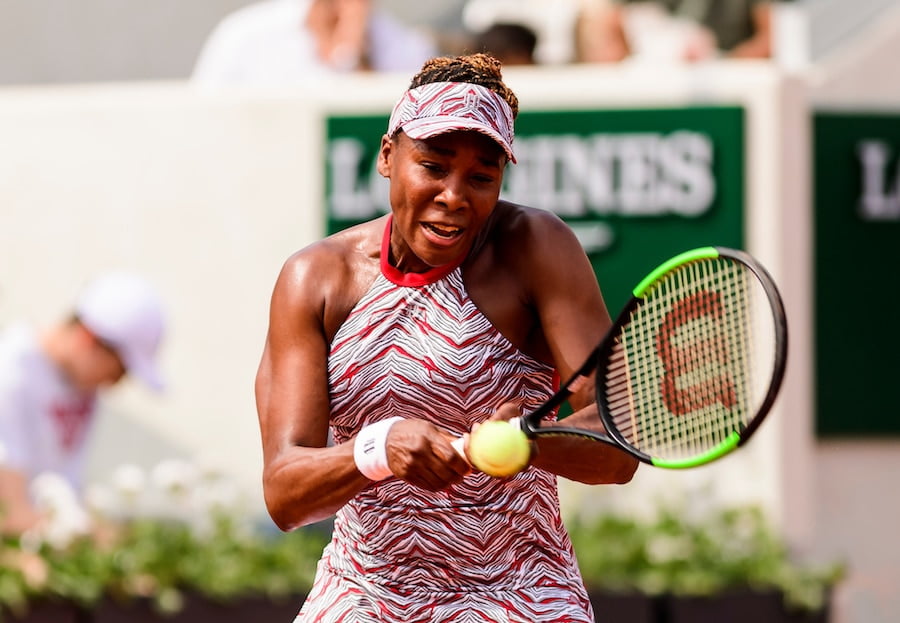 While the likes of Roger Federer, Rafael Nadal and Novak Djokovic have led the way for the golden oldies – their continued success means that the last eight men's Grand Slam singles titles have all been won by thirty-somethings – it is the longevity of some of the lesser-ranked players that is particularly striking.
Feliciano Lopez, aged 37, who holds the all-time record for consecutive appearances in Grand Slam tournaments (this year's US Open was his 67th in a row), has been a permanent member of the world's top 100 for 16 years, a run bettered only by Federer's 19 years. Philipp Kohlschreiber, meanwhile, has one quarter-final appearance to show from his 57 appearances in Grand Slam tournaments, yet the 35-year-old German has not been out of the world's top 100 since 2006.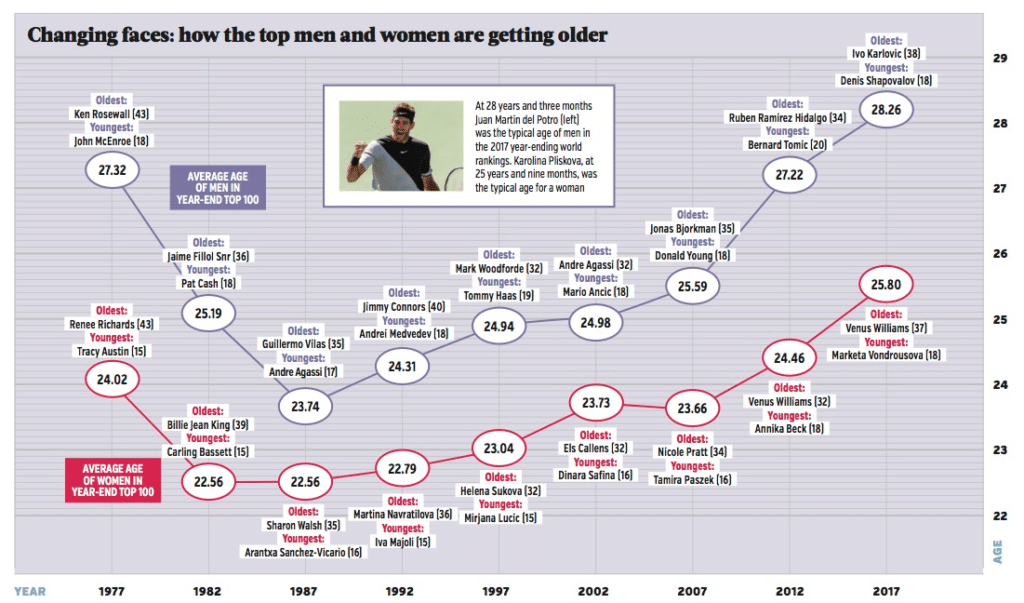 It is often claimed that it has become harder for teenagers to make an impact, but our study does not support that. The number of teenagers in the men's top 100 has not changed much in the last 25 years. In 1992 there were four (Andrei Medvedev, Thomas Enqvist, Kenneth Carlsen and Alex Corretja) and in 2017 there were three (Denis Shapovalov, Frances Tiafoe and Stefanos Tsitsipas).
The dearth of teenagers in the women's top 100 is perhaps more striking given the success of young female players in the past. There were only three teenagers (Catherine Bellis, Marketa Vondrousova and Aryna Sabalenka) In the top 100 at the end of 2017, but 19 women over the age of 30, led by Venus Williams and Francesca Schiavone.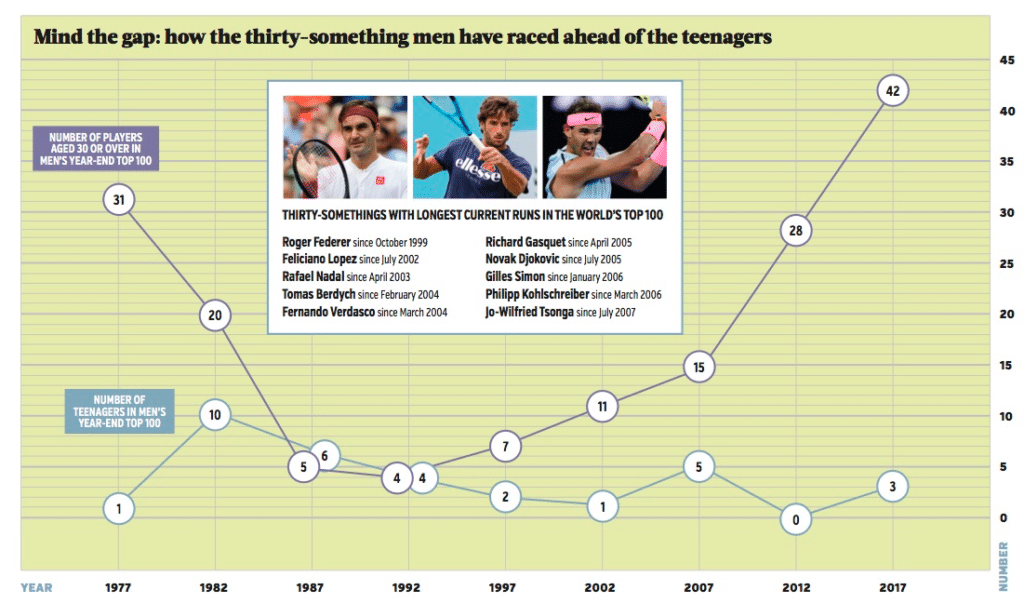 Ai Sugiyama holds the women's record for the most consecutive Grand Slam tournaments – she played in 62 in a row between 1994 and 2009 – while Alize Cornet (48 successive appearances) is the player with the longest current sequence.
THIRTY-SOMETHINGS WITH LONGEST CURRENT RUNS IN WORLD'S TOP 100
Roger Federer since October 1999
Feliciano Lopez since July 2002
Rafael Nadal since April 2003
Tomas Berdych since February 2004
Fernando Verdasco since March 2004
Richard Gasquet since April 2005
Novak Djokovic July 2005
Gilles Simon since January 2006
Philipp Kohlschreiber since March 2006
Jo-Wilfried Tsonga since July 2007
To read more amazing articles you can explore Tennishead magazine here or you can subscribe for free to our email newsletter here