The Manor House Hotel: The perfect destination for an affordable tennis break
Unwind with a trip to Devon to The Manor House Hotel and its sister site, The Ashbury Hotel
We've all spent far too long cooped up indoors over the past year. The prime tennis-playing summer months were lost and even tennis-watching was made impossible when Wimbledon was cancelled for the first time since 1945. Looking forward, we all want to make the most of 2021. An affordable break, in a gorgeous setting with world-class sports facilities, could be just what the doctor ordered, assuming that there are no pandemic restrictions in force at the time.
A trip to Devon to The Manor House Hotel and its sister site, The Ashbury Hotel, provide the perfect way to unwind. They can cater for anyone's needs, whether you're a couple, a family, a group of friends or colleagues, or even if you're flying solo.
There are dozens of activities available on site, but for those with a penchant for hitting fuzzy yellow balls over a net there are 12 tennis courts. Eight of them are indoors, meaning that there is no risk of having to fill your time by singing along with Cliff Richard as you wait for any unwelcome weather to pass by.
While you are, of course, free to make use of the courts for a leisurely (or competitive) hit, the Manor House also offers dedicated four-night tennis breaks that include 12 hours of coaching with an LTA senior performance coach to help hone your game. Sessions during one of these stays will cover everything from basic groundstrokes through to serving, volleying and more complex tactical and positional play. When you return to your home courts, your new-found skills will be sure to turn a few heads.
For those looking for a bit more variety, perhaps with a number of different family members to please, the Manor and Ashbury still have you covered. Boasting 99 holes of golf, the site is accredited as the ninth largest golf resort in the world. The scenic views of the Devon countryside also make it one of the most beautiful as well. Beyond that, there is also the option for archery, bowls, snooker, pool, ten-pin bowling and an incredible daily array of craft activities.
Although you may want your visit to Devon to be non-stop action, it does not need to be like that. Also available are state-of-the-art Hydro Spas, offering everything you could possibly need to feel refreshed and revitalised. There are the hydro pools, saunas and steam rooms, and a plethora of luxurious treatments ranging from mud facials to Hopi ear candles.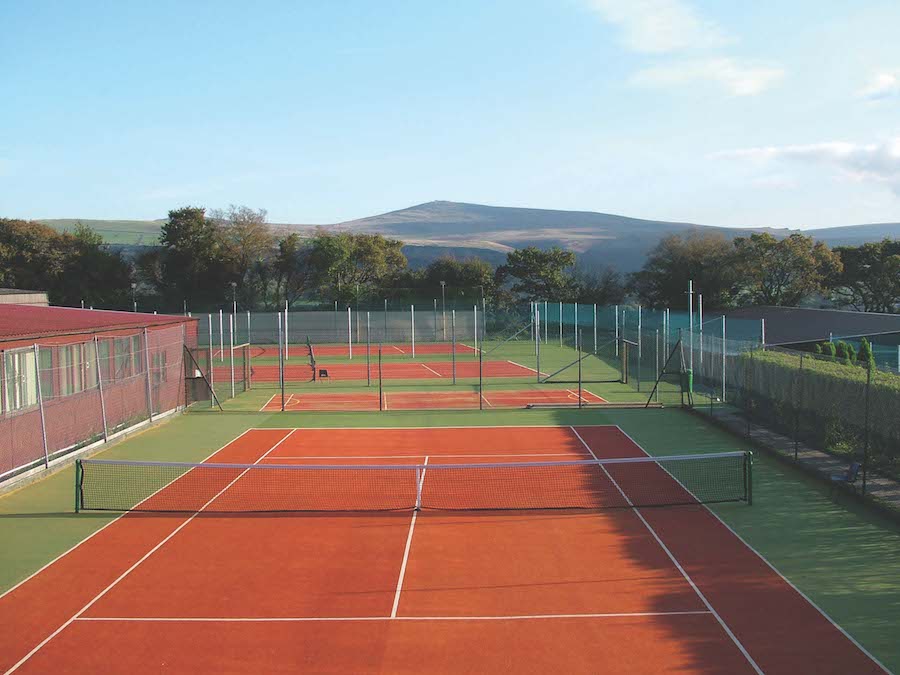 For younger members of your party who are perhaps too restless to appreciate a good Indian head massage, the Manor House and Ashbury offer a wide range of activities, including soft-play areas, pedal karts, communal video games consoles and, during school holidays, a kids club for 5-10 year olds, giving mum and dad all the time and freedom they need to explore everything else that is on offer.
With buffet meals served every day to suit a variety of tastes and with nightly entertainment from established performers all included in the price of your stay, the Manor House and Ashbury really do have everything covered. A trip down south could be the special treat that you've been longing for.
So, whether you're looking to give Novak Djokovic a run for his money at the top of the rankings or whether you just want a relaxing getaway with friends or family, the Manor House and Ashbury will take care of you.
Tennishead readers receive a 10 per cent discount when booking a tennis break. To receive the discount use code 'TENNIS10' when booking.
Call 0800 197 7553 or book online at www.manorhousehotel.co.uk today.
Tennis coaching holidays 2021
Available dates: 
Sunday 17 January for four nights: £269pp
Monday 8 February for four nights: £269pp
Monday 8 March for four nights: £326pp
Itinerary:
Arrival day:
3-5pm: Welcome and induction followed by drills
Day 1:
10.30am-12.30pm: Groundstrokes – forehand, backhand and spins
1.30pm-3.30pm: Serving
Day 2:
10.30am-12.30pm: Volleys
Free afternoon to enjoy hotel activities/workshops of your choice
Day 3:
10.30am-12.30pm: Tactics and positional play
1.30pm-3.30pm: Competitive play and tournament
Departure day:
Breakfast and check-out at 10am
Notes:
All breaks are full board, so include all meals from evening meal on arrival to breakfast on departure.
Guests are welcome to use all hotel facilities and activities outside of coaching time.
Rackets and balls can be hired from reception if needed