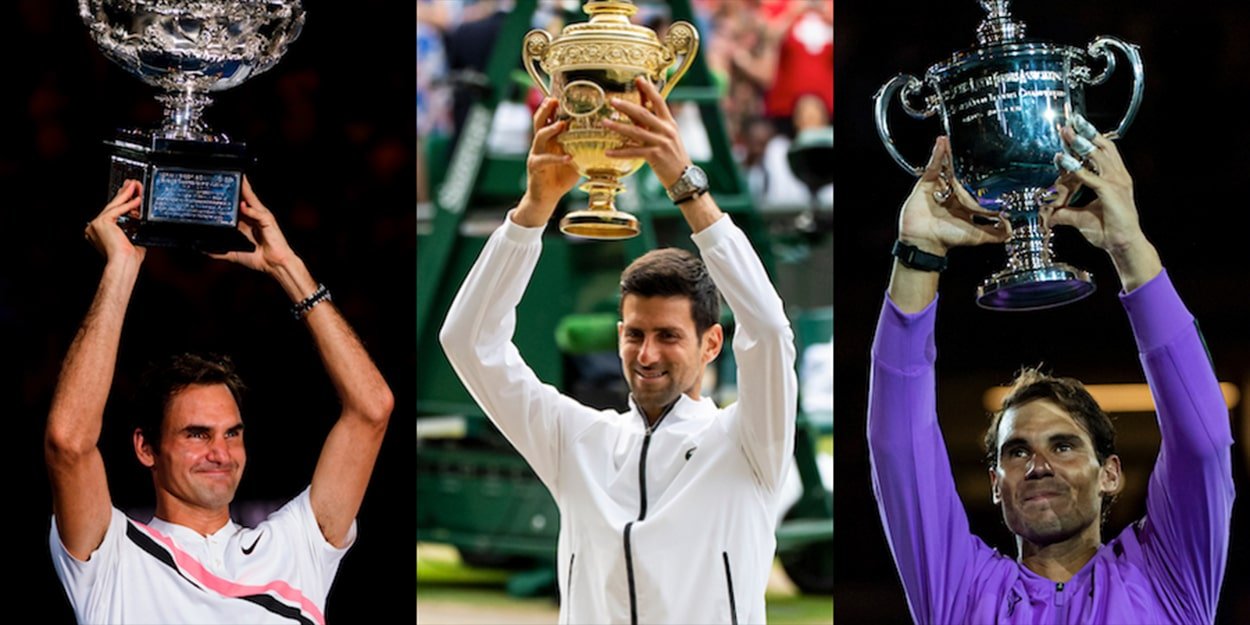 The 'GOAT' race – Comparing Federer, Nadal and Djokovic Slam triumphs
As Rafael Nadal looks to secure another French Open and break away from Roger Federer to own the men's Grand Slam tally record outright, here is a look at the race between Federer, Nadal and Djokovic so far.
The debate surrounding which of Roger Federer, Rafael Nadal and Novak Djokovic seems to be under discussion at all times in the tennis world. So often, the marker of number of Grand Slams claimed is pointed to as the simplest indicator.
Here, Tennishead looks at the history of how Federer, Nadal and Djokovic attained their 20, 20 and 18 Slams respectively.
2003 – The start of a dynasty
Heading into Wimbledon 2003, Roger Federer was 21 years old, ranked No. 5 in the world and seeded 4th in the tournament. While he had a slate of respectable Grand Slam runs, he had never progressed past the quarter-final stage, which he achieved at Roland Garros and Wimbledon both in 2001.
On the way to the semi-finals, Federer dropped just one set, against Mardy Fish in the third round, as well as beating fellow 21-year-old Feliciano Lopez in the fourth round.
In the last four, Federer came up against a man who would become a familiar foe on the courts of the All England Club, Andy Roddick. Roddick was ranked just one spot below the Swiss, but suffered at the hands of Federer 7-6 6-3 6-3.
The final pitted Federer against world No. 48 Australian Mark Philippoussis. Despite being pushed to two tiebreaks, Federer won in straight sets 7-6 (7-5), 6-2, 7-6 (7-3) to lift his maiden Grand Slam trophy, the first of an unprecedented 20 in total.
2005 – A challenger emerges
Following his Wimbledon 2003 triumph, Roger Federer went on to win 3 more Slams before the French Open in 2005, being the Australian Open, Wimbledon and US Open, all in 2004. Federer had also secured the world No. 1 spot for the first time on 2nd February 2004.
Entering the 2005 French Open, Federer had been unchallenged in the top spot since claiming the no. 1 ranking. An 18-year-old Spaniard by the name of Rafael Nadal was in the tournament also, making his debut on the Paris clay. Nadal was world No. 5 and seeded 4th in the tournament, just as Federer was at Wimbledon 2003.
Federer was untroubled en route to the semi-finals, reaching the final four without dropping a set. Nadal had a similarly simple run, dropping just one set to Sebastien Grosjean in the fourth round.
Despite his experience and no. 1 ranking, Federer fell to the teenage Nadal in four sets, with the Spaniard winning 6-3, 4-6, 6-4, 6-3, on his 19th birthday no less. Nadal went on to win the championship, winning the final against Argentine world No. 37 Mariano Puerta 6-7 (6-8), 6-3, 6-1, 7-5. This maiden Slam title for Nadal was the first of 13 French Open titles, including four consecutively up to 2008, and 20 overall to date.
2007 – Foreshadowing battles to come
At the 2007 US Open, Federer made it to the final while Nadal fell in the fourth round to compatriot David Ferrer. Instead, Federer faced 20-year-old Serbian Novak Djokovic for a chance to acquire his fourth consecutive US Open.
The pair had met on-court five times before, with Federer holding a 4-1 record against Djokovic, but with Djokovic having won their most recent meeting in the Canadian Masters final earlier in the year.
Like Philippoussis did to Federer in the 2003 Wimbledon final, so Djokovic did to Federer in forcing the Swiss into two tiebreaks. And again, Federer won out both times, overcoming the Serb in straight sets 7-6 (7-4), 7-6 (7-2), 6-4 for his fourth US Open title and 12th Slam title in total.
In doing so, Federer surpassed all-time greats Bjorn Borg and Rod Laver, both of whom achieved 11 Grand Slam titles, as well as equalling another Australian in Roy Emerson. The Swiss was now just two Slams away from equalling men's record tally holder Pete Sampras on 14.
2008 – A three horse race
Before the start of the 2008 Australian Open, Roger Federer and Rafael Nadal had been locked in a battle that dominated the men's game. Since the 2005 French Open, the two men had between them won every Grand Slam, 10 consecutively, including meeting in 4 finals (French Open 2006 & 2007, Wimbledon 2006 & 2007).
Federer now sat on 12 titles total, winning 8 since the 2005 French Open, while Nadal had 3 French Opens to his name. The two men also had had a duopoly on the top-2 since 25th July 2005, a run of 129 weeks.
Both men made it to the semi-finals, with Federer dropping two sets on his way while Nadal dropped none. However, both men fell in straight sets in their last-four encounters. Federer lost to third seed Novak Djokovic 7-5, 6-3, 7-6 (7-5), while Nadal succumbed to unseeded Frenchman Jo-Wilfried Tsonga 6-2, 6-3, 6-2.
The final between 20-year-old Djokovic and 22-year-old Tsonga went four sets, with the Serb securing his maiden Grand Slam title 4-6, 6-4, 6-3, 7-6 (7-2). Novak Djokovic has since gone on to lift 8 more Australian Open titles, and 18 Grand Slams overall. Though it would take three years before Djokovic would gain his next Slam championship, this was the start of something great between Federer, Nadal and Djokovic.
Later that same year, Nadal would go on to defeat Federer in the Wimbledon final to claim his first non-French Open Slam, before wresting the No. 1 spot from Federer in August 2008, breaking a 237-week streak at the top for the Swiss.
2011 – The race heats up
Since the 2008 Australian Open, Roger Federer had equalled and surpassed Pete Sampras' then record of 14 Slam titles, winning his 14th at Roland Garros 2009 and his 15th at the next Slam, being Wimbledon 2009.
By defeating Robin Soderling in the 2009 French Open final, Federer also secured the Career Grand Slam, becoming just the sixth man to do so and second in the Open Era, after Andre Agassi did so in 1999.
Nadal himself had added six more Slams to his tally, bringing his total to 9 overall, one more than Jimmy Connors and two more than John McEnroe. A little over a year after Federer completed the Career Grand Slam, Nadal did the same by winning his maiden US Open in 2010, defeating Djokovic 6-4, 5-7, 6-4., 6-2 in New York.
Hence, Nadal had become the seventh man and third in the Open Era to complete the Career Grand Slam (as well as the Career Golden Slam by winning the gold medal in singles at the 2008 Beijing Olympics, a feat shared only with Andre Agassi among men's players).
In Melbourne, Federer and Nadal were once again seeded No. 1 and No.2, with Djokovic seeded third. Federer dropped three sets en route to the semi-finals, while Nadal fell in straight sets to fellow countryman David Ferrer 6-4, 6-2, 6-3 in the quarter-finals.
Federer was then overcome 7-6 (7-3), 7-5, 6-4 by Djokovic in the semi-finals to set up a final meeting against British No. 5 seed Andy Murray. The pair had battled on-court seven times before, but never at a Slam, with Djokovic holding a 4-3 record over Murray, but with Murray having won their three most recent matches against each other.
Such a recent record did not hamper Djokovic though as he won the championship match in straight sets, 6-4, 6-2, 6-3, to take his second of nine Australian Open titles and second Slam overall.
From there, Djokovic kicked on to win his first Slams outside Melbourne. The Serb conquered Wimbledon and the US Open that year, defeating Nadal in the final both times, taking his tally to four Slams. Following the 2011 Wimbledon final, Djokovic achieved the world No. 1 ranking for the first time, usurping Rafael Nadal. Djokovic ended the 2011 season with 70-6 record, considered one of the greatest tennis seasons ever.
2016 – Djokovic achieves Career Grand Slam
From 2011-2016, Nadal and Djokovic in particular did not let up on the competition for who could grab as many Slams as possible. Djokovic won the 2012 Australian Open final in the longest Grand Slam final ever played by duration, defeating Nadal 5-7, 6-4, 6-2, 6-7 (5-7), 7-5 in 5 hours and 53 minutes.
From there, Nadal won the 2012 French Open, while Federer won Wimbledon for a record-equalling seventh time. This extended his tally to 17 Slams total, before he suffered a Grand Slam drought that would last until the 2017 Australian Open. Andy Murray then won his first Grand Slam at the 2012 US Open by defeating Djokovic in the final, so each Slam had a different champion in 2012.
Nadal won the French and US Opens in 2013, while Murray won Wimbledon and Djokovic won the Australian Open. in 2014, Stan Wawrinka won the Australian Open before Nadal won his 9th French Open and 14th Slam overall, equalling Pete Sampras for second on the Slam tally behind Federer.
Djokovic won Wimbledon for a second time, while Cilic one his first and only Slam to date at the 2014 US Open. So, in 2014, only two of the four Slams were won by a member of the 'Big Three'.
In 2015, Djokovic blew away the competition at the Slams, winning Melbourne, Wimbledon and the US Open, only losing in the French Open final to Stan Wawrinka.
In 2016, Djokovic gained a record sixth Australian Open title, before he achieved his greatest milestone up until that point at the 2016 French Open. With Nadal forced to withdraw prior to his third round match, Djokovic made the final, facing Andy Murray for the championship.
Having fallen at the final hurdle three times before, Djokovic finally earned his first Roland Garros title, defeating Murray 3-6, 6-1, 6-2, 6-4. In doing so, Djokovic took his Grand Slam tally to 12, equalling Roy Emerson and surpassing Bjorn Borg and Rod Laver. Finally, the feat meant that Djokovic became the eighth man ever, and fourth in the Open Era, to achieve the Career Grand Slam, joining Federer and Nadal six years after the latter.
2017 – present – Extending excellence and a Fedal renaissance
Following the 2016 French Open, Murray won Wimbledon 2016 before Wawrinka won the 2016 US Open, with each being a third Grand Slam victory for the men respectively.
After six months out with a back injury, Federer returned for the 2017 Australian Open to ignite a renaissance from both him and Rafael Nadal. After Novak Djokovic and Andy Murray fell in the second round and fourth round respectively, Federer and Nadal both made it to the championship match.
The final was a first meeting in a Grand Slam final between the two men since the 2011 French Open almost six years earlier. This along with the Williams sisters meeting in the women's final hearkened back to the 2000s and the dominance of these pairs of athletes.
Federer, seeded 17th, got the better of Nadal, seeded 9th, in a five-set match 6-4, 3-6, 6-1, 3-6, 6-3 to lift his 6th Australian Open (a joint record with Djokovic at the time) and 18th Slam overall at the age of 35.
Nadal went on to win the French Open for a 10th time, overtaking Sampras to 15 Slams, before Federer further extended his tally lead by winning Wimbledon to bring his total to 19. Nadal won the US Open to cap off a year where Federer and Nadal between them shared all four Slams for the first time since 2010 (Federer won the Australian while Nadal won the three other Slams).
Federer won his 20th and final Slam to date at the 2018 Australian Open, defeating Marin Cilic in the final as he did at Wimbledon 2017. Djokovic then won his first Slam for nearly two years by winning Wimbledon 2018 and then the 2018 US Open to bring his tally up to 14 overall, equalling Pete Sampras in doing so.
Djokovic continued his Grand Slam streak to make it three by winning the 2019 Australian Open, which took him beyond Sampras' tally of 14 Slams. This was inevitably followed by Nadal securing his 12th French Open title. Djokovic won Wimbledon before Nadal won his 19th Grand Slam title at the 2019 US Open, defeating Daniil Medvedev in the final.

Djokovic continued the alternating titles between himself and Nadal by winning his 8th Australian Open in 2020. Finally, after an extended delay due to the COVID pandemic, Nadal came to equal Federer's tally of 20 Grand Slam titles by winning his 13th French Open.
Djokovic was unable to respond immediately with a Slam win of his own, with Wimbledon 2020 cancelled and being defaulted at the US Open. The Serbian got his chance to respond soon enough though, by winning a record-extending 9th Australian Open title to bring his tally to date to 18.
Which brings us to today, mere weeks before Roland Garros 2021, and a chance for Nadal to finish a journey 16 years in the making that began with his first Slam as a 19-year-old at the 2005 French Open.
But is the race to be the 'Greatest of All Time' purely decided by the number of Grand Slams that one earns? Perhaps the debate will continue to be fought for a time to come…