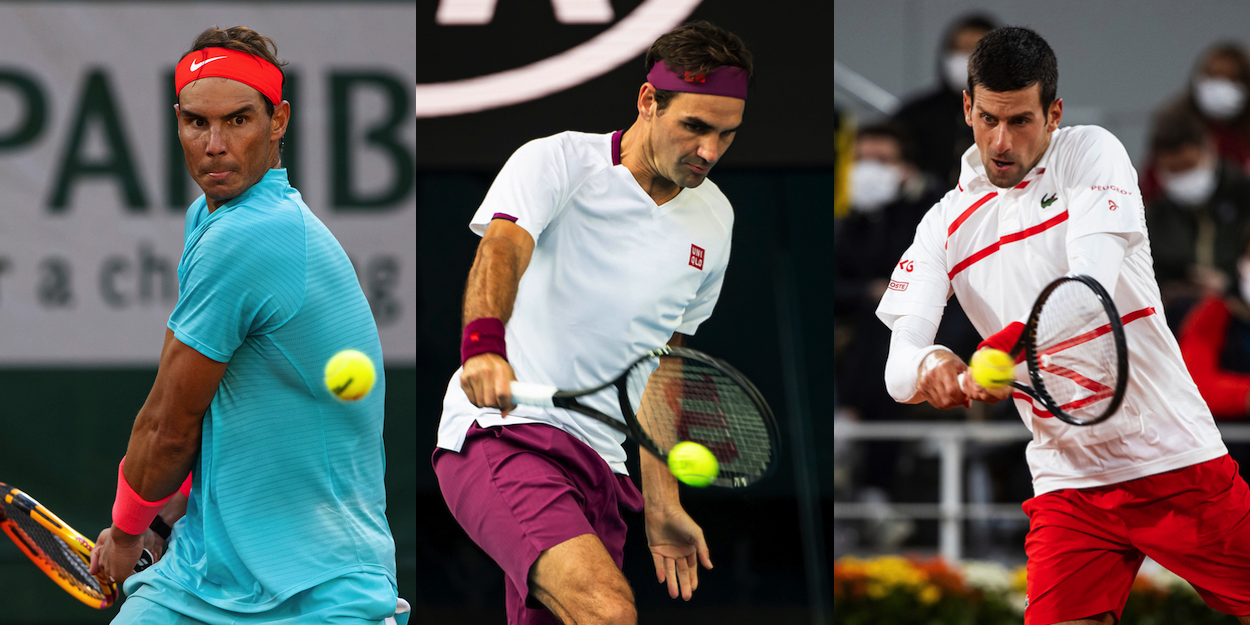 The ATP Masters 1000 streak: It's been 16 years since a Masters tournament DIDN'T feature any of the Big 3
This week's Miami Masters is the first since 2019, and it represents the end of an astounding ATP run. For the first time since Paris 2004, none of the 'Big Three' of Roger Federer, Rafael Nadal or Novak Djokovic will appear at an ATP Masters 1000 level tournament. 
The streak includes 138 consecutive events over 16 years where at least one of Federer, Nadal or Djokovic appeared in the main draw. It covers a period of dominance at the top of the game from the three men that has been lauded for years. Here we take a look at some of the statistics and streaks that have characterised the period.
2005-6: Federer-Nadal Duopoly
Heading into the 2005 season, Federer was the only member of the three who had captured a Masters 1000 title, having won 4 (Hamburg 2002, Indian Wells 2004, Hamburg 2004 and Toronto 2004).
That soon changed when a 19-year-old Rafael Nadal won his first Masters 1000 title at Monte Carlo 2005. In the 2005 and 2006 seasons, Federer and Nadal together won 14 out of 18 Masters 1000 tournaments, including sweeping the first eight tiles of the 2005 season before Tomas Berdych blocked them from completing the year. Over these two seasons, Tomas Berdych, Tommy Robredo, Andy Roddick and Nikolay Davydenko each won a single Masters 1000 trophy.
2007-9: The Omnipresent Three and Djokovic Emerges 
The 2007 ATP season marked the beginning of 25 consecutive Masters 1000 tournaments where all three of Federer, Nadal and Djokovic competed in every single event, being nine in all throughout the year.
The streak stretched from Indian Wells 2007 to Shanghai 2009, where Federer did not compete in the inaugural Chinese Masters 1000. In that time, The 'Big Three' won 17 of 25 events (68%). Of the remaining 8, Andy Murray won four, David Nalbandian won two, Nikolay Davydenko won one and Jo-Wilfried Tsonga won one.
Djokovic won his maiden Masters 1000 title at Miami 2007 when he was just 19-years-old, the first of a record 36 Masters 1000 titles.
2010-11: Ebbs and Flows 
2010 represents statistically the 'worst' combined season for the 'Big Three' in terms of Masters 1000 titles. 2010 is the only year since 2004 that Federer, Nadal and Djokovic have not, as a group, won the majority of the year's Masters 1000 titles (since there are normally nine Masters 1000 events each year, winning a majority would represent five titles). Nadal won three at Indian Wells, Monte Carlo and Rome, while Federer won Cincinnati, with no titles for Djokovic.
Ivan Ljubicic and Andy Roddick won Indian Wells and Miami respectively to start the year, while Andy Murray won in Canada and Shanghai, before Robin Soderling won the last Masters 1000 event of the year in Paris.
The following year the three were back to their best, winning all but two of the nine tournaments, with Andy Murray winning the other two in Cincinnati and Shanghai.
2012-13: Sustained Domination
In 2012 and 2013, Federer, Nadal and Djokovic won all but two of the 18 Masters 1000 events contested. In fact, when Djokovic won Shanghai in 2012, the three men between them were the holders of all nine titles, before David Ferrer won Paris 2012. Andy Murray was the only other player to win a Masters 1000 title in this period, at Miami 2013.
In both cases where none of the 'Big Three' won the title in Miami, only one of them contested the tournament, being Djokovic on both occasions. In addition, both times the eventual champion was not the one to knock Djokovic out of the tournament.
2014-15: Djokovic Pulls Away
After Novak Djokovic won Miami 2014, he and Nadal together held all nine Masters 1000 titles. Over the two years of the 2013 and 2014 season, Djokovic went on to win 10 of the 18 Masters 1000 titles contested, equating to him winning more than every second tournament.
Federer won three in this time, while Nadal won one, Andy Murray won two, and Jo-Wilfried Tsonga and Stan Wawrinka won one each. Between Paris 2014 and Rome 2015, Djokovic won five consecutive Masters 1000 titles, becoming the only man to do so in this 16-year period.
Finally, in the 2015 season, Djokovic won an unprecedented 6 out of the 9 available Masters 1000 titles, reaching the final in all eight of the events that he competed in (Djokovic did not play the 2015 Madrid Masters).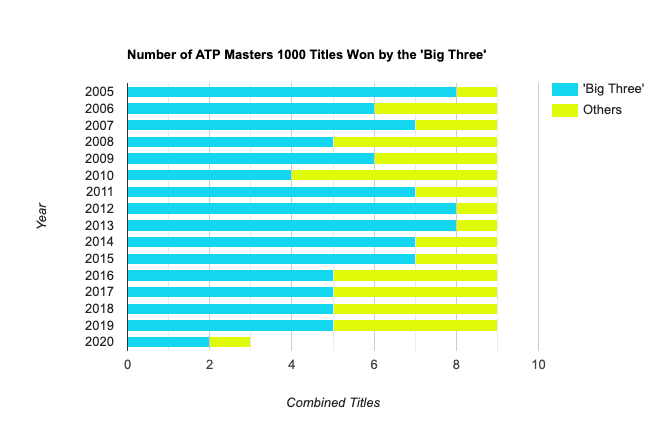 2016-18: Djokovic Dry Spell and the Three Loosen Their Stranglehold
After winning 4 Masters 1000 titles in a row from Shanghai 2015 to Miami 2016, and 6 of 8 between Shanghai 2015 and Toronto 2016, Djokovic did not win a Masters 1000 event for two years until Cincinnati 2018.
However, this 2018 title did represent the last piece of Djokovic's Masters 1000 puzzle, becoming the first and so far only man to win all nine Masters 1000 events at least once in his career (not including Hamburg, which lost 1000 status after the 2008 iteration).
During Djokovic's drought, 10 of the 18 events were won by players other than Federer, Nadal and Djokovic, with seven different champions as Marin Cilic, Alexander Zverev, Grigor Dimitrov, Jack Sock, Juan Martin del Potro and John Isner all winning maiden Masters 1000 titles. Andy Murray won two titles and Alexander Zverev three, with the remaining men each winning one title.
2018-2020: Djokovic Returns to the Top and Forges New Records
Djokovic marked his return to form by winning back-to-back Masters 1000 titles in Cincinnati and Shanghai 2018. Karen Khachanov won a maiden Masters 1000 at Paris 2018, followed by Dominic Thiem, Fabio Fognini and Daniil Medvedev all achieving the same feat in 2019 at Indian Wells, Monte Carlo and Cincinnati respectively.
Djokovic set two new Masters 1000 records when he won Cincinnati 2020, becoming the first player to win all nine Masters 1000 titles at least twice in his career, on top of pulling away from Nadal to stand alone on 36 Masters 1000 titles, the most wins ever.
Miscellaneous
The 'Big Three' have won 95 of the 138 tournaments played since not one of them appeared in a Masters 1000 tournament. That number represents 69% of all the events held in that time. In terms of how many events the three played, on 73 occasions all of Federer, Djokovic and Nadal were in the main draw, over half the time.
If one accounts for the gradual appearance of Djokovic moving into 2006, in the eight seasons from 2006-2013, the 'Big Three' appeared all together at 55 out of 72 Masters 1000 tournaments, a staggering 76% of the time.
In three instances, the three men came just short of capturing all nine Masters 1000 titles between them in the season, occurring in 2005, 2012 and 2013. Furthermore, in 2005 and 2013, the 8 titles were in fact only won by two of the three, Federer and Nadal in 2005 and Djokovic and Nadal in 2013.
Between 2011-15, Federer, Nadal and Djokovic won 37 of 45 Masters 1000 events, 82% of tournaments in that time.