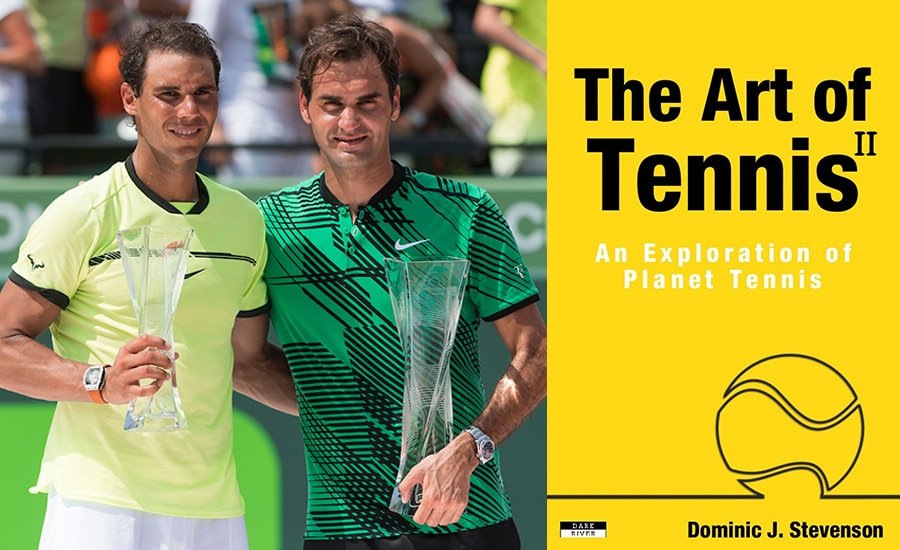 The Art of Tennis: Rafael Nadal and Roger Federer, not Novak Djokovic, is the most special rivalry in tennis
In the latest of a series of extracts from his book The Art of Tennis II, Dominic Stevenson explains why he believes Rafael Nadal and Roger Federer have the greatest rivalry in tennis, no matter how much Novak Djokovic might not like it.
"The grand old man of tennis – the elder statesman and player – was only truly rivalled, in his pomp, by Rafael Nadal; one chalk and the other cheese," writes Dominic Stevenson in The Art of Tennis II.
"Maybe the pairings of Federer-Djokovic and Nadal-Djokovic have contained some of the best tennis ever seen, and even been next level at times, but there was always something about Nadal v Federer encounters.
"Roger and Rafa – the two most loved male players ever (Djokovic doesn't get a look in, in that regard, much to his sometimes obvious disdain) – seemed synonymous with good and bad, depending on your stance (though everyone knew really that they were both brilliant, the rivalry made in heaven), and hearts were entirely poured into their meetings.
"Everyone was aware that history was once more being created, as each episode unravelled before mesmerised tennis fans' eyes.
"Roger's game is more graceful. Than anyone's. Ever. And he has an air of superiority that both he created and has had verbally heaped upon him.
"He isn't humble like 'rabbit-in-the-headlights' Rafa.
"As soon as matches are over, the Spaniard is quiet and unassuming, while his Swiss counterpart and on-court nemesis clearly basks in the glorious spotlight – craving the adoration, the adulation – as it catches him from every angle."
The Art of Tennis II: An Exploration of Planet Tennis, by Dominic J. Stevenson, is a collection of soulful and reflective tennis writing, providing 120 tennis narratives that deliver passionate insights, magical on-court moments, and a fresh perspective on the sport – starting at Wimbledon 2018, and following the women's and men's tours over the next 12 months. You can buy it from publishers Bannion Kearny by clicking here.
Keep up to date with all the action at our tennis news section. Win amazing tennis prizes by entering our competitions. Learn more about your favourite players including Roger Federer, Rafa Nadal and Novak Djokovic. Check out the latest kit in our tennis gear reviews. Receive regular updates with our legendary newsletter or read in depth features with stunning photography in tennishead magazine. Can't visit the tournaments you love? Check out our guide on how to watch tennis on TV. Don't miss a thing with our Live Scores service. Follow tennishead on social media at Facebook, Twitter, Instagram & YouTube