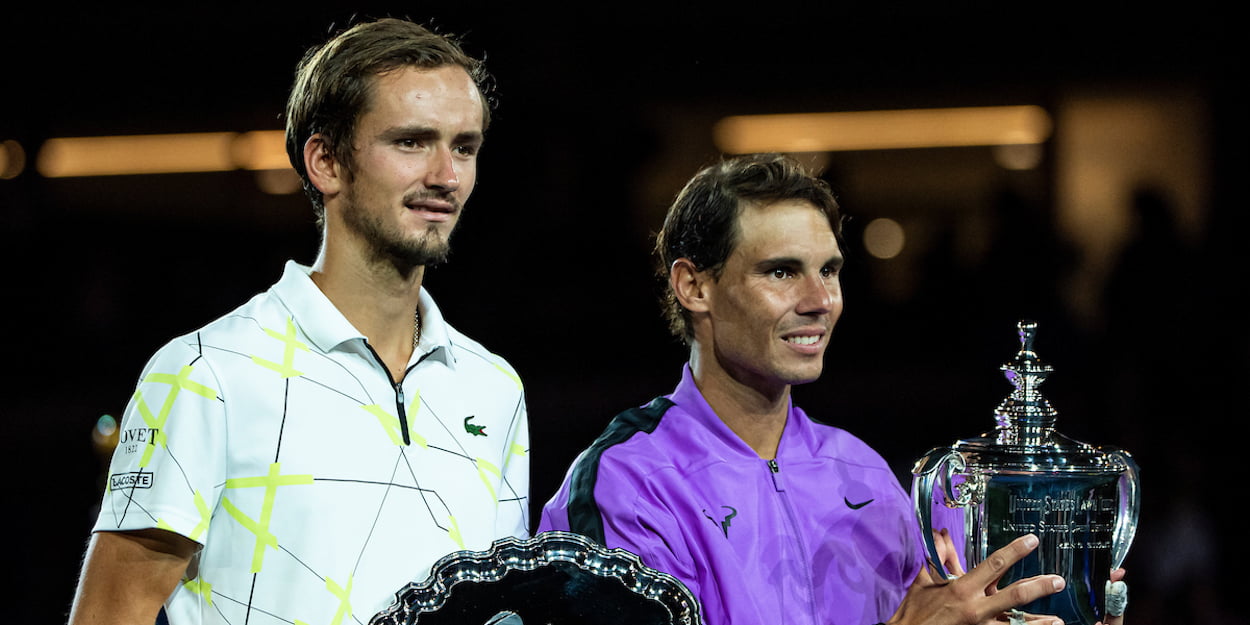 The 10 best U.S. Open men's matches this century: Nadal vs Medvedev, final, 2019
The U.S. Open has been the stage for some of the best men's singles matches ever seen, and with the dawn of a new decade, now seems like a good time to cast our gaze back and review the best encounters in recent memory.
Here tennishead relives a classic men's U.S. Open match from the 21st century.
Rafa Nadal vs Daniil Medvedev, final, 2019
Coming into the 2019 U.S. Open final, Daniil Medvedev had been one of the players of the year, having made six finals including three during the North American hard-court swing. In the most recent of those, the Cincinnati Masters, he'd even ousted Novak Djokovic in the semifinal. But the fact that he'd suffered a resounding 6-3, 6-0 defeat to Rafael Nadal in Montreal suggested the U.S. Open showpiece might become a procession. How wrong that notion turned out to be.
Nadal, who had dropped just one set en route to his fifth New York final, had to call upon all his battling qualities to fend off a miraculous fightback from the Grand Slam debutant, who had fallen behind 7-5, 6-3 due to the Spaniard's usual assortment of torqued topspin forehands and strong returns. Actually, Medvedev had made Nadal's job easier by returning from far behind the baseline and failing to exploit a faltering first serve that dipped below 50% in the first set. 
Despite going behind, the 23-year-old was playing at a high level, hitting more winners than Nadal in the opening two sets and exhibiting the sort of calmness and variety that belied his inexperience. If he were playing anyone but the Big Three, a comeback mightn't have seemed too improbable. But he was up against Nadal, a player who famously gathers momentum like a boulder rolling down a hill. 
And so sets three and four, which the fifth seed won simply by playing magnificently while mixing up drop shots, driving two-handed backhands, awkward slices, deft volleys and pinpoint forehands, stunned the Arthur Ashe crowd. Not least because Nadal had gone up a break in the third. The Russian, it seemed, had taken it upon himself to represent the maligned "Next Gen" of talented but inconsistent youngsters, and he was keen to usher in a new era.
Appropriately, the deciding set was as tight as they come: each man hitting 12 winners against 11 unforced errors and creating five break point opportunities. They were going shot for shot, alternately taking turns to sprint to the net and put away volleys or contesting marathon rallies that provoked breathless ovations. Nadal's serve-volley when down 1-0, 30-0 was a stroke of genius but no more than what was required. It was one of several break point opportunities he managed to snuff out during this game, and his presence of mind to select the right shot at the right time soon led to a 5-2 lead. 
Heroically, Medvedev then saved Championship points in the ninth game – but it was a matter of time. Nadal had the bit between his teeth and the depth on his groundstrokes. And when he won a punishing 17-shot rally with a blocked single-handed backhand that floated past an advancing Medvedev while up 5-4, it seemed like job done. Only here, too, the Russian had a glimmer of hope after creating a break point. But Nadal showed nerves of steel. And when a final Medvedev return went long, the Spaniard collapsed as much from exhaustion as relief.
At four hours, 50 minutes, the duo had contested a final that was just four minutes shorter than the longest ever U.S. Open showpiece. Reflecting on the topsy-turvy nature of the match, Nadal said, "It was the most emotional night in my tennis career. The nerves were so high. It was a crazy match." Medvedev, meanwhile, hailed his opponent's capture of a 19th Grand Slam title as "unbelievable, outrageous" and "amazing for our sport."