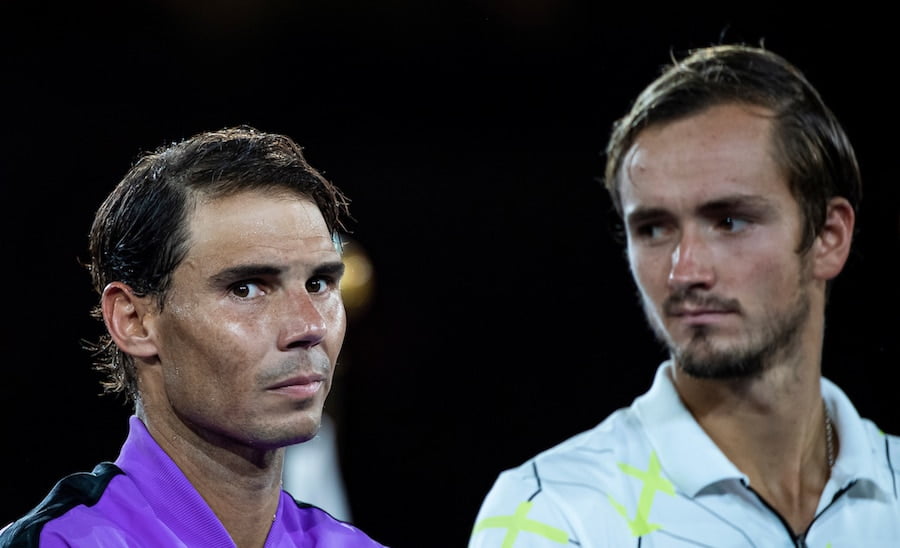 'That guy gets it' – Legend names player capable of breaking Rafael Nadal and Novak Djokovic dominance
Daniil Medvedev is the only current young player mentally capable of taking on Rafael Nadal and Novak Djokovic for the major titles, says John McEnroe.
Medvedev, the world number four, is still awaiting his first Grand Slam crown, but he took Nadal all the way to a fifth set in the final of the US Open last year.
And, speaking on Eurosport's Tennis Legends vodcast, McEnroe suggested the Russian is the only one who is strong enough to not be mentally overwhelmed by the prospect of facing the big three on the biggest stages.
"We don't want it to be the case that these new guys don't win anything until the likes of Nadal, Djokovic and Federer all stop," McEnroe said.
"It's crazy. You want to see [Dominic] Thiem beat Nadal on clay, you want to see [Stefanos] Tsitsipas go and win a major – right now he just looks totally overwhelmed mentally.
"Medvedev is the one for me, he's the guy that mentally gets it.
"He found another gear against Nadal [at the US Open] – he didn't win it, it would have been awesome had he have done as it would have shown his approach had paid off, but he's right there.
"I don't see any of the other guys that close at all – we need more of that mentality."
Much has been said about just what young players have to do to break the stranglehold of the top players on the Grand Slam titles.
McEnroe, though, says you need to match their sheer mental intensity before you even have a chance of finding a way to beat them technically.
"You look at a guy like Rafael Nadal, who's perhaps the modern-day Jimmy Connors, and the guy brings it every point," he added.
"I don't see those other players (the Next Gen) – every point – bringing it, and you have got to.
"The other problem is that these three players – Federer, Nadal Djokovic – are the three best players that have ever lived, they are better than these other guys. That is the part you cannot escape."
To see the Tennis Legends vodcast in full, click here, and watch the Australian Open live on Eurosport and Eurosport Player
Keep up to date with all the action at our tennis news section. Win amazing tennis prizes by entering our competitions. Learn more about your favourite players including Roger Federer, Rafa Nadal and Novak Djokovic. Check out the latest kit in our tennis gear reviews. Receive regular updates with our legendary newsletter or read in depth features with stunning photography in tennishead magazine. Can't visit the tournaments you love? Check out our guide on how to watch tennis on TV. Don't miss a thing with our Live Scores service. Follow tennishead on social media at Facebook, Twitter, Instagram & YouTube