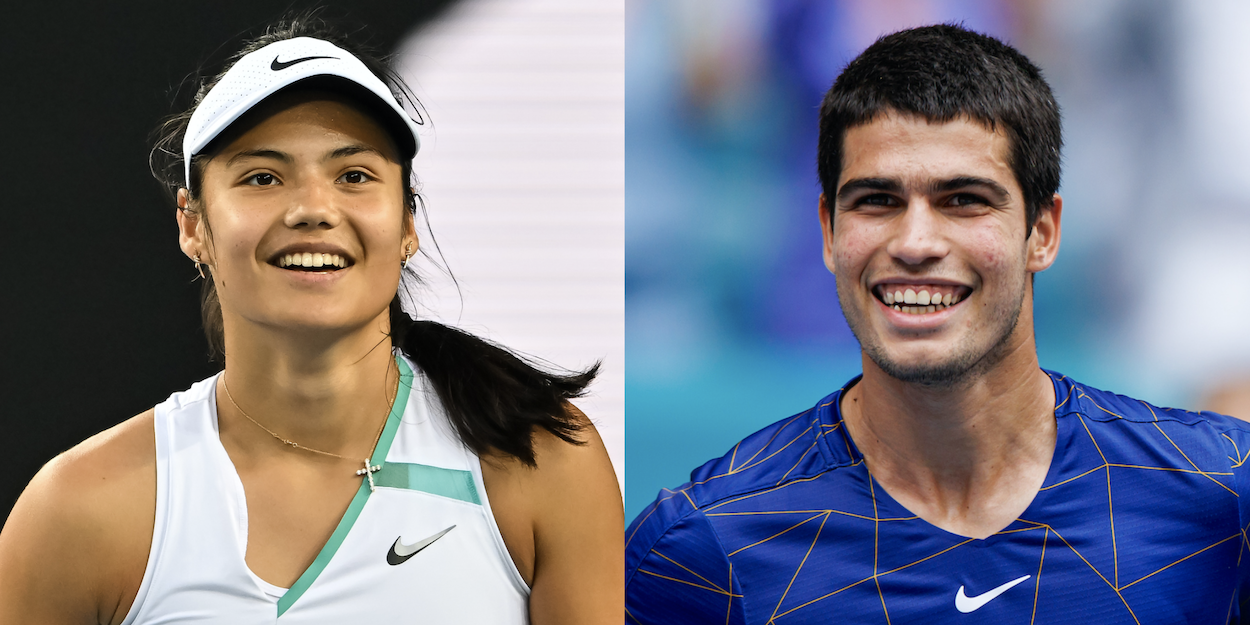 Tennishead's guide to Wimbledon 2022 – Top youngsters to watch in SW19
Wimbledon is about to get underway, and that means that arguably the most anticipated two weeks of the tennis calendar is almost upon us.
Tennishead will be providing full and extensive coverage of the tournament but, as we approach what promises to be a typically fascinating fortnight of tennis at SW19, let's take a look at some of the youngsters who will be worth watching this year.
Wimbledon men's singles
If we are being honest, while the dominance of the big three has provided an unprecedented era of incredible tennis, it has also stripped away a good degree of the unpredictability from the men's draws at majors.
This year, though, with a weakened draw, no Roger Federer, both of the top two players in the world missing, and serious questions remaining about Rafa Nadal's injured foot, it feels like there is a real opportunity for a youngster if they are good enough to take it.
Carlos Alcaraz
Carlos Alcaraz is arguably the story of the ATP season so far and considering what Rafael Nadal has achieved that is some going.
The reason for that is a very simple one: Carlos Alcaraz is the real deal, and that is something we have not seen since the emergence of the big three of Nadal, Novak Djokovic and Roger Federer.
We have seen quality young players before who you could see inheriting the mantle from the big three once they decide to walk away. Alcaraz is the first one we have seen who looks able to wrestle it from them when they are still here.
He proved that comprehensively at the Madrid Masters this year when he beat Nadal and Djokovic back-to-back in the quarter-finals and semi-finals, and then beat Alexander Zverev in the final for good measure.
In many ways, Alcaraz looks like some kind of hybrid of the best parts of all the top players. He is as quick and precise on the run as Roger Federer, and could rival the Swiss in the creativity department too. He also somehow marries the power and competitiveness of Nadal with the ruthless efficiency and baseline hitting of Djokovic.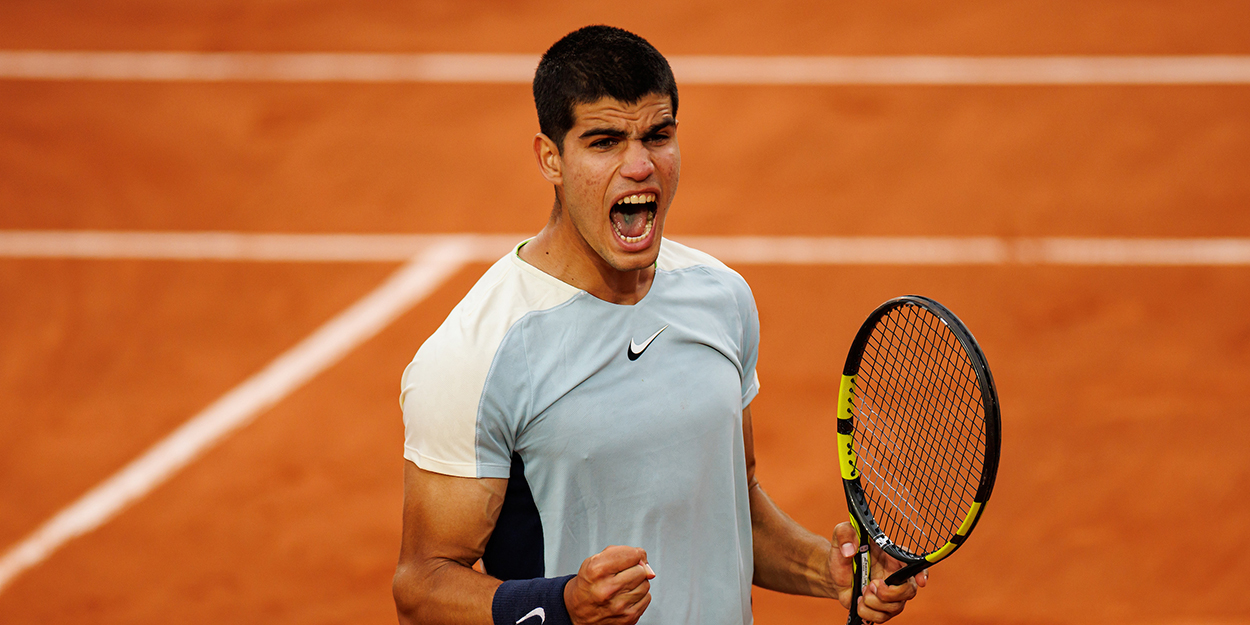 Of course, that is all good in theory, but he still has to prove it. While in 2022 he has already become the youngest ever champions in the history of Rio, Miami and Madrid, the furthest he has been at a Grand Slam is the French Open. That also happened this year, at the French Open.
He is certainly on the right trajectory, and he already has a ranking to reflect that, but it's the final step into the true elite that is the hardest to take, and that is the one Carlos Alcaraz is yet to accomplish.
Jannik Sinner
If there is another young player in the ATP who looks primed to make a Carlos Alcaraz-style breakthrough then it's Jannik Sinner. The problem is that we have been saying that for a while now.
Sinner is still only 20-years-old, and that is something that we tend to forget, just because he has been around the top 20 for a while now.
No one questions that Sinner has the potential to win majors in his career, but he faces some challenges for now. They include a knee-injury that forced him to withdraw in the middle of his fourth-round match against Andrey Rublev at Roland Garros this year.
Sinner is also adjusting to life with a new coach after splitting from Italian legend Ricardo Piatti this year, and in truth we are still waiting to see some kind of an impact from the man that replaced him, Simeone Vagnozzi.
The other thing we are waiting for Sinner to show is some development of his game around the net. The Italian is a fabulously clean hitter from the back of the court but his game lacks that variation, meaning matches can fall into patterns that become a little to easy for his opponent to read.
That net game is something that will be needed if he is to thrive at Wimbledon, and it's not all about his technique around the net, because that is solid enough. Oftentimes with Sinner it's about him overcoming an unwillingness to go to the net rather than an inability to succeed when he's there.
Holger Rune
Holger Rune is a player who has been talked up for some time, but he arrived with a bang at Roland Garros, where he reached the quarter-finals.
That perhaps shouldn't have surprised anyone, though. Rune is most at home on clay and he won the French Open boys' singles title in 2019. He was also a Challenger winner in 2019 when he won in Blois just a month after his 16th birthday.
The obvious challenge for Rune at Wimbledon will be the same that most youngster face: how can he adjust to grasscourt tennis. It's clear that the talent is there, but for a player so at home on clay the jump in in court-speed will be considerable.
Rune tried to get some experience on grass by playing at Halle this year, although he only lasted one match. He was up against a tried and tested schemer in Pablo Carreno Busta, though, so there may not be too much we can read into his 6-3, 7-6 defeat.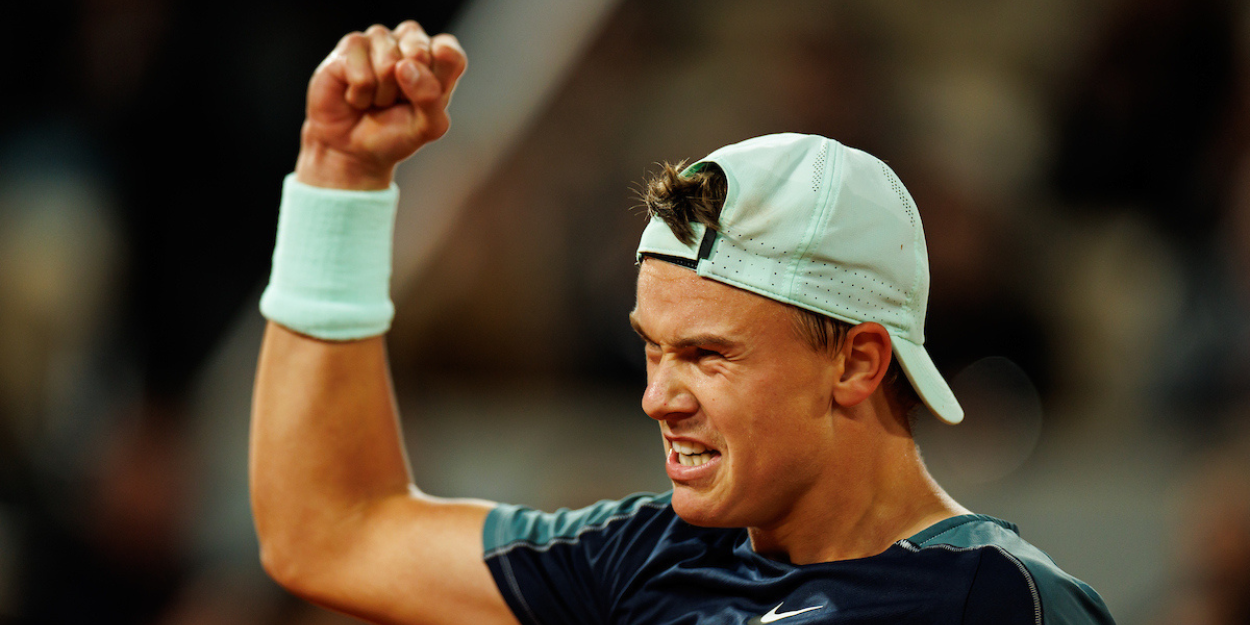 However, what you can generally guarantee with Rune is entertainment. He's a passionate young player and occasionally fails to keep that in-check on court, so win or lose he tends to provide something worth watching.
Jenson Brooksby
It's fair to say that, for all the best efforts of the likes of John Isner, Taylor Fritz, Reilly Opelka and Frances Tiafoe, American men's tennis has been in the doldrums for far too long now.
Perhaps things are just starting to change a little, though. Sebastian Korda is a young player with great promise and pedigree as the son for former Australian Open champions Petr, although he will miss Wimbledon with shin splints.
That leaves Jenson Brooksby to lead the charge of the young Americans, and that means it is in good hands.
The simple fact is that Brooksby is an unorthodox player with just a hint of genius in his groundstrokes. He is able to disguise them with a short back-lift, and when that is combined with genuine top-level footspeed, it can make for an exciting spectacle.
With regard Wimbledon specifically, though, there may be a real flaw in Brooksby's game: his serve.
He is a tall player at 6'4 but his serve is not the best. On grass, that could be a problem as he won't get the 'free' points that others do, meaning he will have to work that bit harder than many others.
Brooksby has been to the final of Newport in 2021, though, so he is certainly capable should the draw be kind.
Brendon Nakashima
The second young American to keep your eye on in the men's draw is Brendon Nakashima. He is not quite as eye-catching as Brooksby, although many believe he is a more complete player.
Nakashima is also coming into Wimbledon in a pretty good place too. He reached the third round of a Grand Slam for the first time at the 2022 French Open and it took a tuned-in Alexander Zverev to stop him going nay further. Even then, Zverev needed two tiebreaks to beat him.
He took that form to 's-Hertogenbosch earlier this month to test himself on grass and he impressed again, just as he did at the Surbiton Trophy this year too.
In Den Bosch he beat compatriots Tommy Paul and Sam Querrey before running into the consistently difficult Adrian Mannarino in the quarter-finals.
Nakashima hasn't quite his the headlines yet, but he goes about things in a quietly impressive way, He was nominated for the ATP Newcomer of the Year in 2021 after hitting a career high number 62 and beating Holger Rune in the Next Generation Finals.
Incidentally, he lost out to Jenson Brooksby in the voting.
Lorenzo Musetti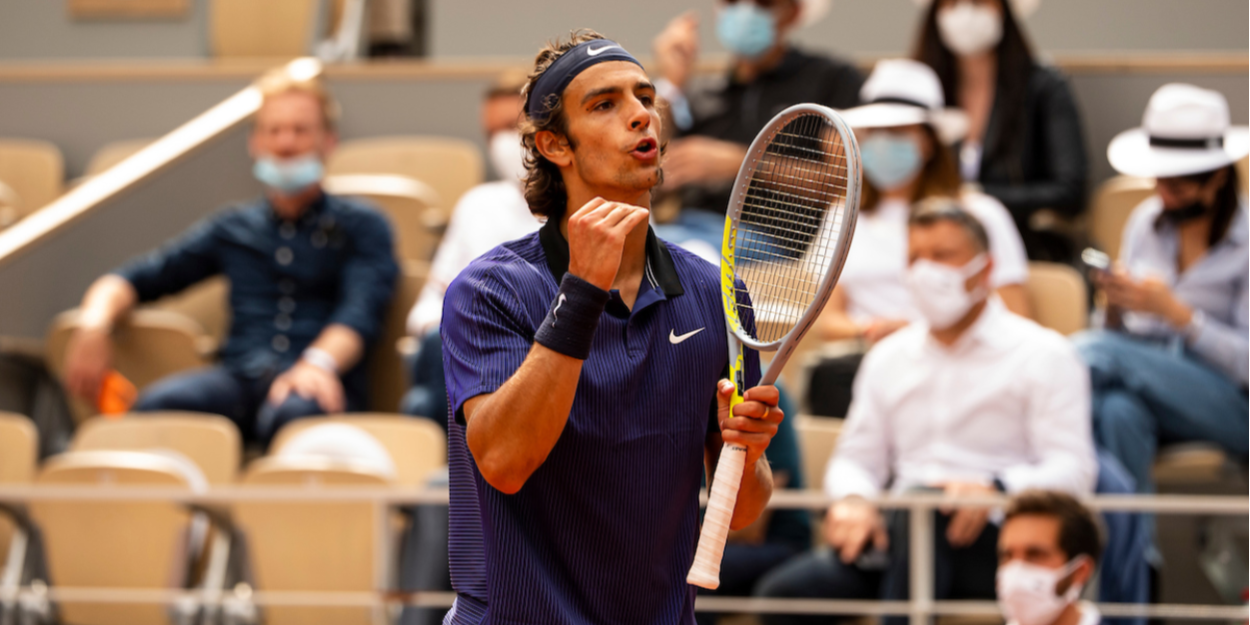 How do you sum up Lorenzo Musetti? He is a player of undoubted talent capable of creating a must-watch spectacle. At the moment, though, his mental flaws are crippling him.
However, the other thing that those flaws do is make him captivating viewing. Put simply, there is no shot that Musetti does not see as a potential winner. If a ball is bouncing on his side of the net, he is winding up an attempted winner.
That can make for truly spectacular viewing too, because there is some real variation in his game. Musetti has a one-handed backhand that he can drive down the line with the best of them, and he also has the touch to trust his drop-shot too.
What he can't trust at this stage of his career is his patience. If he was prepared to construct points and set up his winners rather than simply hitting his way through his matches, he would be up there with any young player in the world right now.
Instead, we are still waiting for Lorenzo Musetti to truly arrive on the ATP and convert his obvious talent into results. He loves the spotlight, though so perhaps Wimbledon can be the scene of a the genuine breakthrough we have all been expecting.
Wimbledon women's singles
Brilliant teenage women winning major titles is not an especially uncommon thing in tennis. Emma Raducanu and Iga Swiatek did it relatively recently, Monica Seles and Martina Hingis did it a lot back in the day.
The WTA rankings are dominated by more experienced players right now as we head into Wimbledon, but there are still some young women you'd fancy to make a big impression on the tournament.
Emma Raducanu
It's pretty clear that the Wimbledon spotlight is something that Emma Raducanu is just going to have to get used to in her career, and no one is going to take her age into account when it comes to carrying the hopes of the home crowd.
Raducanu has already had a taste of this before after she made her name at the Championships as an unknown 18-year-old last year. If it feels remarkable that she is still just a teenager, it only goes to show how much has happened to her in 12 months.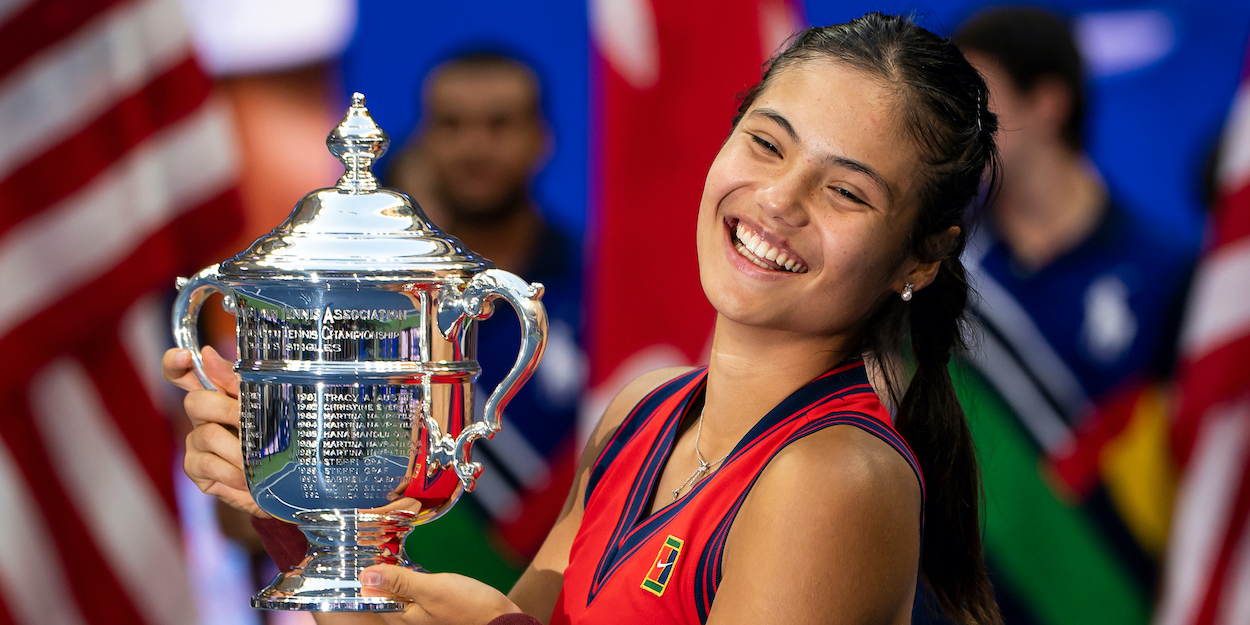 She is, of course, no longer a plucky unknown. That definitely helped her at the US Open last season. She became the first qualifier to ever win a major, but she was undoubtedly helped along the way by opposition players and coaches not having enough of an opportunity to familiarise themselves with her game.
That is a luxury that Raducanu no longer has. Her game has been scrutinise and her weaknesses are now targeted. There are not many of them, in truth, but it's proving to be a real challenge for her.
As was, last year, dealing with the expectation of the public from a mental standpoint. In the fourth round on Centre Court, it proved too much for her and she walked away mid-match.
This year she goes into Wimbledon the highest ranked teenager in the WTA. She won't be allowed to hide away on the outside courts, and there will be even more expectation than there was last year.
With all that said, pressure is a privilege and it is one she has earned with some brilliant tennis – and it's tennis she is still very capable of producing.
Coco Gauff
Coco Gauff is another teenager that will need absolutely no introduction to the Wimbledon crowd, and she looks in a better position than ever to make a genuinely deep run.
Gauff was just 15-years-old when she beat five-time champion Venus Williams at Wimbledon to announce herself to the world. It was a remarkable achievement.
She reached the fourth-round that year, and then backed that up by doing the same at SW19 two years later.
Because she started so early, Gauff arrives at Wimbledon this year with an incredible level of experience for such a young player. She reached not one but two finals at the French Open earlier this year – one in the singles and one in the doubles. She lost both, but she emerged stronger than before.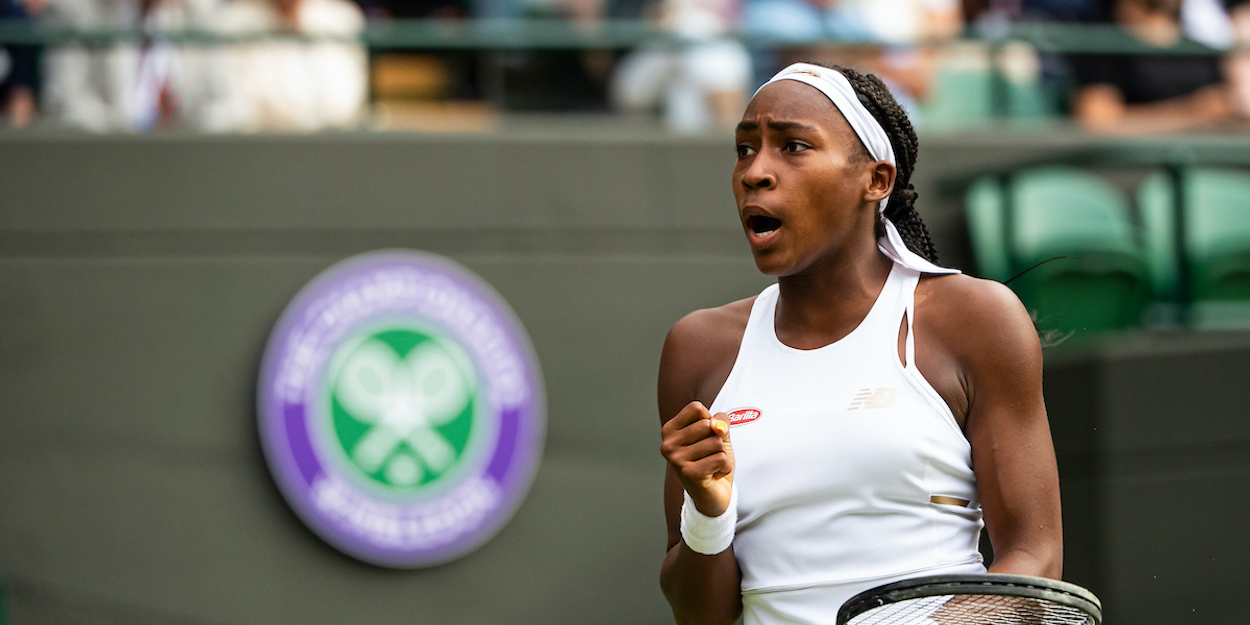 She also has a US Open doubles final under her belt, and she is on the brink of making her top-ten debut too.
Gauff is yet win a singles title this year, but it has become commonplace to see her going deep in tournaments and she has proven that he game plays out well in the grass courts at Wimbledon before.
Qinwen Zheng
Chinese teenager Qinwen Zhang will make her Wimbledon debut this year and that only adds to the layer of intrigue that surrounds the player.
Qinwen is certainly has a big game, although like most youngsters it struggles with consistency. She is a decorated youth player, having won five ITF junior titles, and she made a step up to the full ITF circuit, where she produced a perfect record of eight titles in eight finals.
She has an WTA Challenger title to her name this season too after beating compatriot Wang Xiyu in the final of Valencia.
This year has seen her turning a few heads and claiming some scalps on the WTA Tour.
She beat Simon Halep in the second round of the French Open and sent Sloane Stephens packing in Charleston too.
Grass is the big question-mark surrounding Qinwen as she prepares for her Wimbledon debut. None of the titles she has won at any level have come on grass, so she likely doesn't even know herself what to expect.
Generally, though, her game is big enough to command respect of her opponents and, more often than not, the attention of spectators.
Clara Tauson
You might not be all that familiar with Clara Tauson yet, and it's fine if you're not, but I'd expect her to land on everyone's radar before too long.
Tauson was the Australian Open junior champion in 2019, where she beat Leylah Fernandez no less in the final. She is also a decorated ITF Circuit champion and last year won her first WTA 125 title in Chicago too. The name of the player she defeated in the final to win that? Emma Raducanu. That was just weeks before the Brit was lifting the US Open trophy.
The Dane has also made her mark on the WTA Tour with a pair of WTA 250 titles in Lyon and Luxembourg.
Tauson, 19, is yet to win a title this season, but she impressed in beating the then world number seven Anett Kontaveit at the Australian Open.
Again, the question is whether she can do it on grass. With Wimbledon being cancelled in 2020 and the grass season shortened last year, it's been tough for young players to get their feet on the surface.
Still, Tauson's strong power game from the back of the court should cause problems on the quick courts and her good movement will be make her difficult to hit through. She is capable of overpowering opponents, but will the occasion overpower her? Time will tell, but she's one to keep your eye on.
🎾 Free >> Join our legendary newsletter
🎾 Join >> Receive $700/£600 of tennis gear from the Tennishead CLUB
🎾 Social >> Facebook, Twitter, Instagram & YouTube
🎾 Read >> World's best tennis magazine
🎾 Watch >> How to enjoy ATP/WTA/Slam tennis on TV
🎾 Shop >> Lowest price tennis gear from our trusted partner