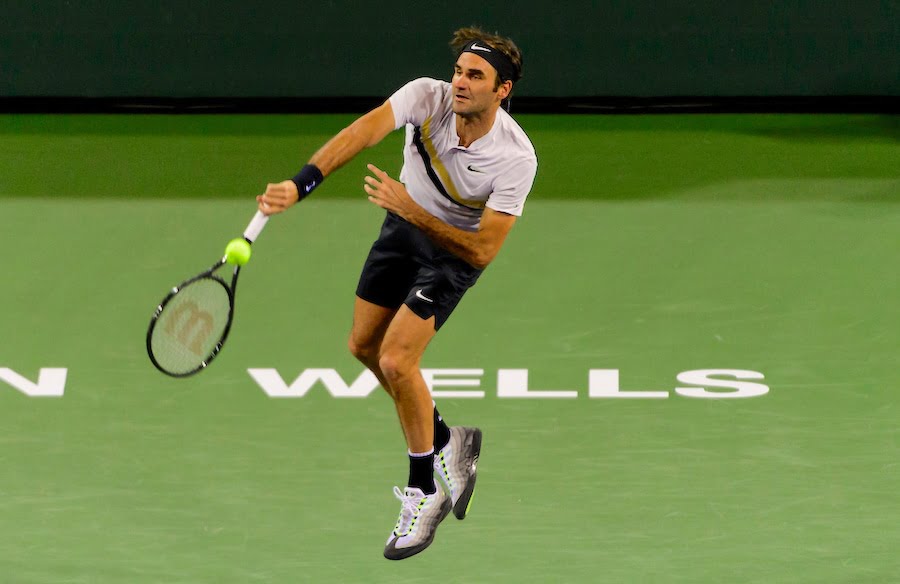 Tennishead insight: The simple but incredible tactic that makes Roger Federer so great
Analysis of Roger Federer's on court tactics offers insight that can benefit tennis players of all levels.
Serve +1 forehand 
What makes Roger Federer so tantalisingly great?
Depending on where you direct your focus, you could easily say his serve precision, graceful movement, or even his upgraded backhand return over the past couple of years.
But how about his Serve +1 forehand? His what?
Serve +1 is a specific serve tactic that combines the serve and the first groundstroke after the serve into… One.Devastating.Unit.
Hit a serve. Immediately follow it up with a forehand. Win the point. That's how it typically goes for the Swiss legend.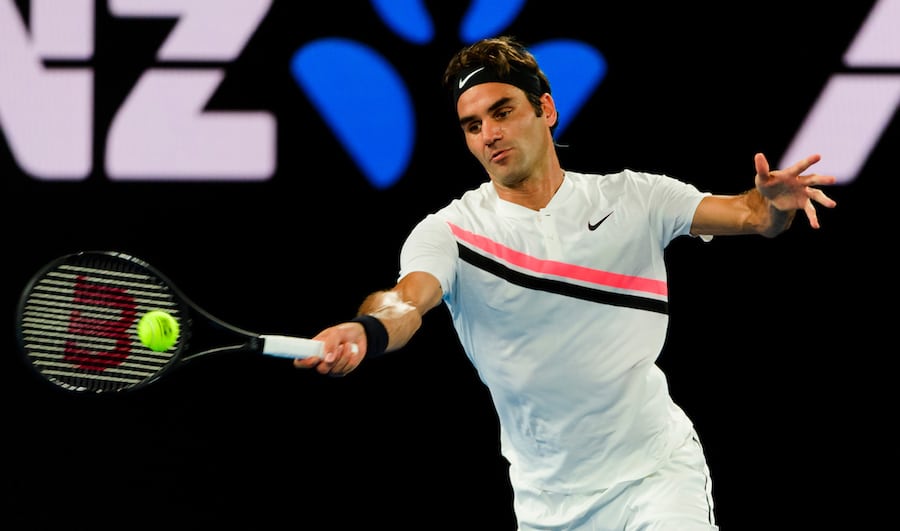 The following analysis of Federer's Serve +1 strategy comes from 28 matches he played at the Australian Open up to and including winning the title in 2017. A detailed breakdown shows just how dominant this lethal one-two combination really is.
The Top 10 players in the world average hitting a forehand as the first shot after their first serve 67% of the time. Federer's thirst for a forehand is greater than that, as he struck a first shot forehand 71% of the time.
Just stop and think about that for a moment. Everyone on the planet knows that Federer's forehand is better than his backhand. His opponents undoubtedly do. All of them are trying to immediately direct their return to his backhand – but north of seven times out of 10 Federer hits a forehand. Basically unstoppable.
How is that possible? The success factors for the Swiss include strategic serve placement, knowing natural return angles, a decade-plus of anticipation, and silky movement that makes it seem like he is already standing where the return is been directed to – before it's even hit.
The key to understanding this strategy is to understand the relationship between forehands and backhands. One's a sword. It's all about attacking. The other is a shield. Don't miss. Don't ever miss.
The forehand is simply a far more potent weapon than the backhand. At the 2018 Australian Open, there were 3761 forehand winners, and 1587 backhand winners hit in the men's draw. That's a very dominant 70% to 30% ratio in favor of forehands. At every level of the game, the forehand is the sword and dictates far more than the backhand from the back of the court.
Federer's analytics at the 2018 Australian Open were right in line with that. He hit 69% (86) forehand winners, and 31% (38) backhand winners.
In short, the more forehands the better, and the earlier in the point even better still, before opponents can extend the point to a neutral battleground. As you can clearly see, the Serve +1 forehand strategy is a supercharged tactic – that can absolutely be used by players at all levels of our sport – even you!
Federer is identical to the Top 10 average of hitting a forehand as the first shot after a second serve, doing it 56% of the time. With the slower second serve delivery, returners are able to find Federer's backhand a little bit more.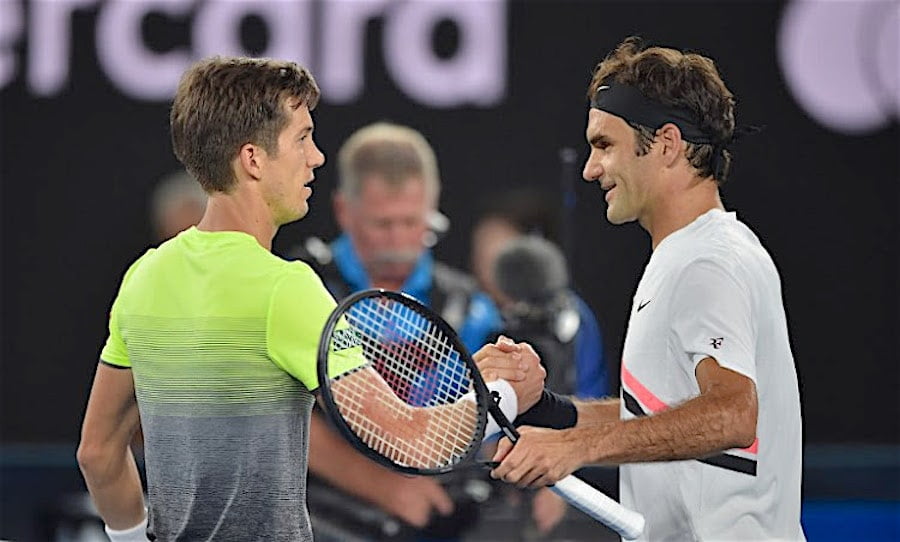 Analysis from Federer's Australian Open first round match
Federer Serve +1 Forehands
1st Serve: Serve +1 Forehands = 71%
2nd Serve: Serve +1 Forehands = 56%
Federer started his successful 2018 campaign at the Australian open with a solid 6-3, 6-4, 6-3 victory against Alijaz Bedene in an hour and 39 minutes. This match showed a perfect snapshot of the importance of Serve +1 forehands – for both players.
Federer v Bedene: 1st Serve – Serve +1 Forehands
Federer = 90%
Bedene = 100%
Federer was much more aggressive with his Serve +1 forehand court position than Bedene throughout the match. Bedene's average hit point for the first forehand following his first serve was one meter behind the baseline. Federer was 10cm inside the baseline. Federer instinctively knows to move up in the court whenever possible to remove precious tenths of seconds from his opponent's preparation for the next shot.
Overall, Federer won 96 points to 75 for the match. Finding more forehands behind second serves was a contributing factor.
Federer v Bedene: 2nd Serve – Serve +1 Forehands
Who else likes to dine on the Serve +1 forehand strategy? Well, none other than Federer's long-time nemesis, Rafael Nadal. Nadal had 20 matches analysed in his Australian Open data set, and he hit a forehand as the first shot after his first serve an impressive 78% of the time.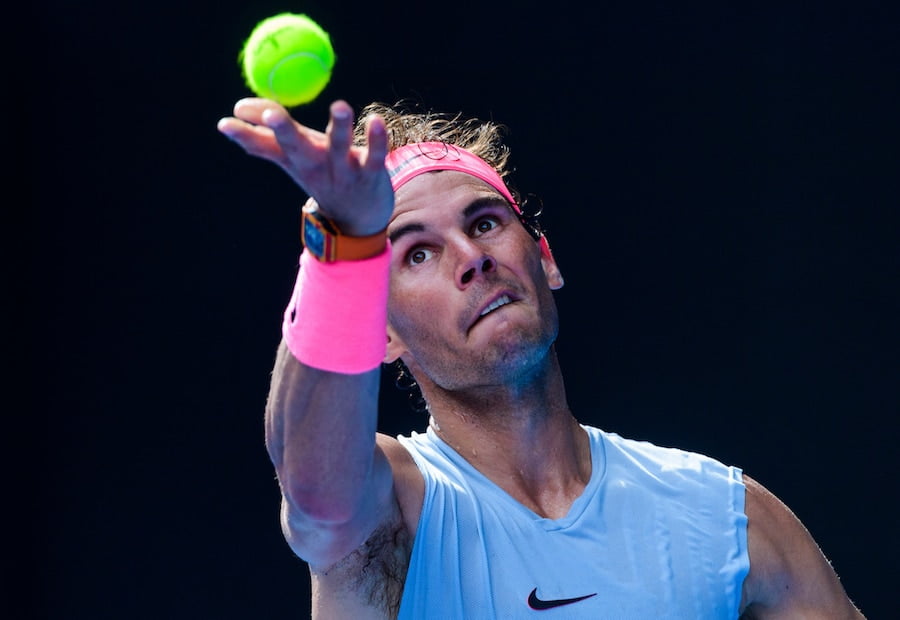 Making a first serve return against Nadal or Federer is often an accomplishment on its own. Then opponents have to deal with a powerful forehand on the very next shot. It's so hard to simply get back to neutral if these elite players get what they want to begin the point.
If Nadal misses his first serve, he still hits a first shot forehand after his second serve 67% of the time. At the 2018 Australian Open, Nadal hit 94 forehand winners and just 27 backhand winners before retiring against Marin Cilic in the 5th set of his quarterfinal match. He is all about the early forehand in the rally.
So I bet you are dying to ask… how do you counter this tactic and attempt to neutralise the massive effectiveness of the Serve +1 forehand? Glad you asked!
At Wimbledon In 2015, I joined Dustin Brown's coaching team, along with Scott Wittenberg and Malte Stropp. Dustin played a fantastic match on centre court to upset Nadal in four sets. The game plan called for going right into the lion's den and attacking Nadal's Serve +1 forehand – but in a very specific way.
In the deuce court especially, Nadal naturally falls to his right immediately after hitting his serve. He is hunting a Serve +1 forehand in the deuce court from a return directed at his backhand. So why hit it where he expects it?
Dustin perfectly executed the game plan, returning straight down the line to the ad court – away from where Rafa was moving. Dustin hit several return winners, and forced many more forehand errors from the Spaniard by flipping the normal return direction away from Rafa's backhand to his forehand.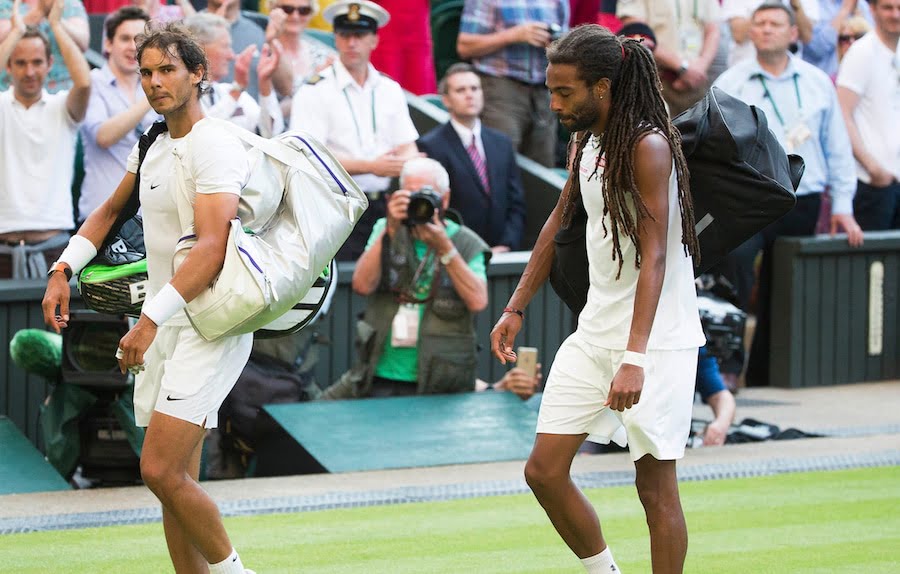 This specific tactic works great at the junior and adult recreational level as well. Any time you see somebody thirsty for forehands – go to their forehand first instead of their backhand. The problem with going to their backhand first is that opponents will typically be standing in the middle of the court, and will only require a couple of steps to turn a ball directed to their backhand into a lethal run-around forehand.
But if you go wide to the forehand first, then you have naturally opened up a much bigger hole to the backhand wing for the next shot. An ideal way to accomplish this early in the point is against a second serve.
Most times you will be on defense against a first serve, and will have to return middle or cross-court just to get the ball back in play. Not so against second serves. Step inside the baseline to take time away from the server, and immediately attack wide to the forehand, which opens up the backhand for the rest of the point. Works like a gem.
Next time you watch Federer, Nadal, or other elite players, look for this specific tactic in their game. Look for returns directed to their backhand, but the server running around it to upgrade to a forehand. Can you also win matches by incorporating this at the amateur level? Absolutely – if you plan for it first, and be willing to move early to turn a first shot backhand into a forehand.
To read more amazing articles you can explore Tennishead magazine here or you can subscribe for free to our email newsletter here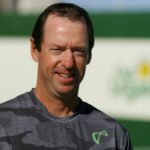 About the expert
Craig O'Shannessy is the strategy analyst for the ATP World tour, Wimbledon, the Australian Open and the New York Times.