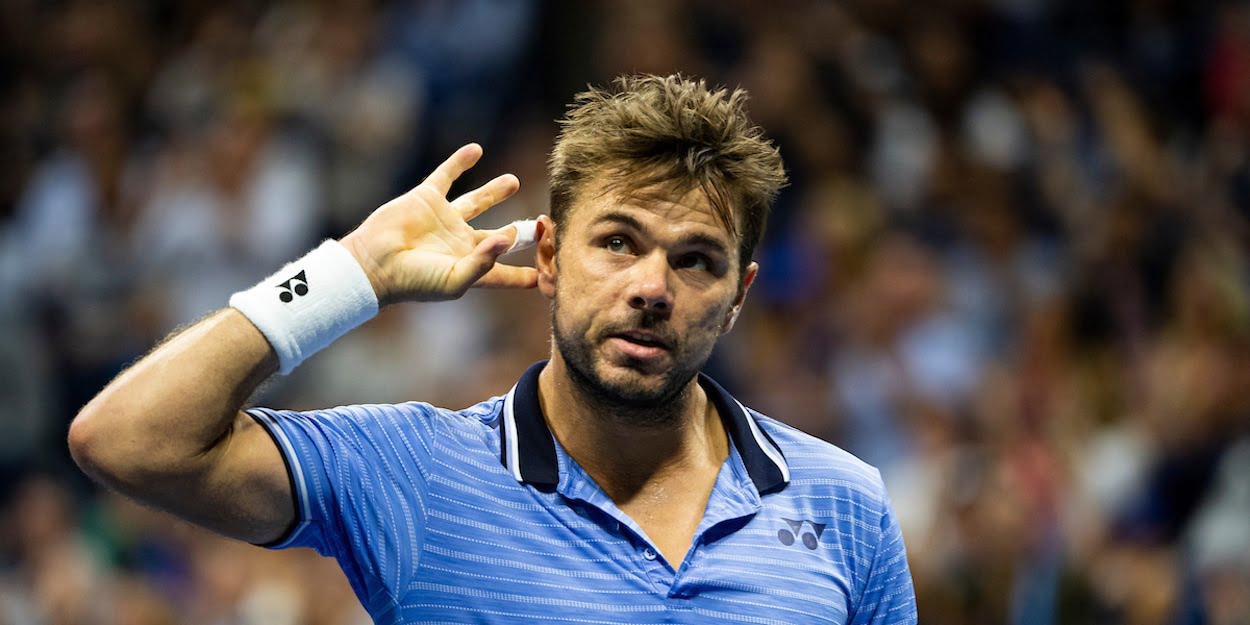 Tennis stars take to social media amid tour lockdown
Stan Wawrinka, Novak Djokovic and Simona Halep are amongst the tennis professionals who have used social media to share with fans how they are filling time with both the ATP and WTA tours on lockdown until at least June.
Wawrinka has been especially active online, sharing photos of himself cooking a lasagne complete with an apron emblazoned with the words, "Staney Le Magnifiqo,"  and then of himself sitting down to dinner with a glass of red opposite an oversized cuddly toy. This was accompanied by #IThinkImLoosingIt [sic] so fans can take some comfort from his seeming self-awareness. Similarly, #AmIGoingMad was later utilised for an impressively Photoshopped image showing Stan's daily routine within the confines of just his living room.
What the daily routine in quarantine looks like, who can relate ? 🤷🏻‍♂️🤦🏻‍♂️🎾🍹🎮🧩🥱🧸🖤🍿♟#AmIGoingMad #QuarantineLife #StayHome #StaySafe #StanTheMan pic.twitter.com/r8LfGsS4VE

— Stanislas Wawrinka (@stanwawrinka) March 23, 2020
Cooking has proven to be a popular activity, with Rafael Nadal also showing off his culinary prowess, sharing a photo of himself preparing dinner for his wife and seemingly channelling the spirit of Turkish chef/living meme, Salt Bae.
Hoy también toca cocinar para mi y para mi mujer…
Espero que todos estéis bien y en casa cuidándose. Fuerza y mucho ánimo #yomequedoencasa #iostoacasa #tuttoandràbene #jerestechezmoi #istayhome #TennisAtHome pic.twitter.com/jIORfzJoeZ

— Rafa Nadal (@RafaelNadal) March 24, 2020
The women's world number 2, Simona Halep, added her name to the list of those hoping to be given a call for the next series of Celebrity Masterchef by sharing photos of her attempts at making pancakes. Luckily she still has a a couple of months to work on her technique (and sweep the floor) before the tour resumes and she has to concentrate on defending her Wimbledon crown.
Pancake night in the Halep house 🤣

I'm getting better 😊 pic.twitter.com/QBn3AQF41e

— Simona Halep (@Simona_Halep) March 23, 2020
Halep also took part in the #stayathomechallenge. Originated by N33, a Dutch football media company, the challenge is to do as many keepy uppies as possible using, of course, a toilet roll. The Romanian put in a solid display but it pales in comparison to the efforts of Andy Murray's grandparents, as shared by his mother, Judy. The pair use tennis rackets rather than fancy footwork, but in doing so show from where the Murray brothers inherited their on-court talent.
When your 85 year old mother insists on doing her #stayathomechallenge with the last loo roll….. pic.twitter.com/xMerHuEKC4

— judy murray (@JudyMurray) March 24, 2020
As well as all of the fun and games, many players have also used their platforms to speak more seriously about the on-going global crisis. Roger Federer announced via a post shared on Instagram and Twitter that he and his wife Mirka would be donating one million Swiss Francs (£857,000) to "the most vulnerable families in Switzerland". He says that this donation is "just a start" and that he hopes it will encourage others to "join in supporting more families in need".
— Roger Federer (@rogerfederer) March 25, 2020
Men's world number 1, Novak Djokovic, has also taken a more sober approach and through the Novak Djokovic Foundation has shared a number of resources aimed towards helping children who are concerned about what they are hearing in the news and to keep them active and learning even though many schools around the world are now closed.
Meanwhile, Thiago Seyboth Wild, the 20 year old world number 114 from Brazil, who won his maiden title at this year's Chile Dove Men+Care Open, revealed on Wednesday that he has been in self-isolation after testing positive for COVID-19. In a video that he posted on Twitter he said that he has been self-isolating for the past week and that he has been taking care of himself and following the doctors' advice. He closes out the video message by encouraging people to, "stay at home and stay safe."
Stay safe pic.twitter.com/rshLHLOTqY

— Thiago Seyboth Wild (@thiagoswild) March 25, 2020
Finally, it would be remiss to have an article on social media activity without looking in on the art form's queen, Laura Robson. She gave Wawrinka a run for his money in the marble-losing race by posting a TikTok of herself partaking in an expertly choreographed dance to the Addam's Family theme tune, enhanced by some bewitchingly incongruous apparel.
So… how's everyone doing in lockdown? 😂 plot lost @KatieBoulter1 pic.twitter.com/ZqL6hnMxNE

— Laura Robson (@laurarobson5) March 24, 2020