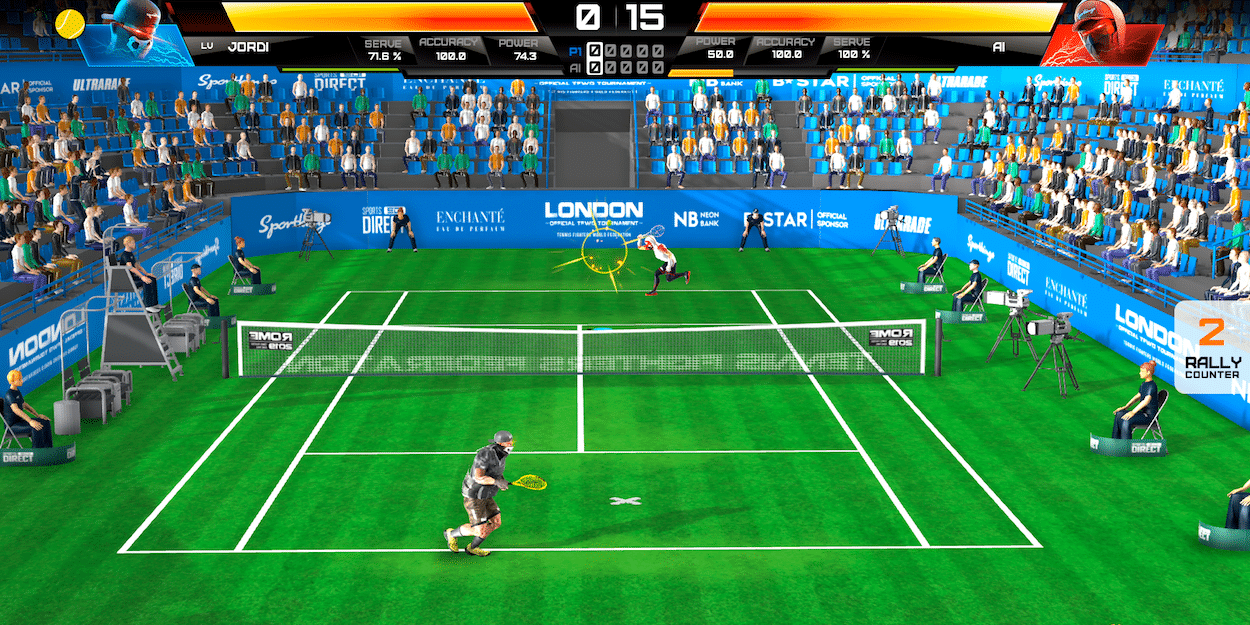 Tennis Fighters video game review
The worlds of tennis and computer gaming have never been closer with a new generation of players and fans who feel as comfortable on court as they do in front of a screen. Tennishead decided to take a close look at the latest release of a tennis video game, Tennis Fighters
Tennis and fighting aren't two words that you often see together (at least we hope so!), but when it comes to eSports they make perfect sense. Fans of legendary 'beat em up' games will immediately recognise how the main characteristics of a fighting game can perfectly segway into the technical and coordination aspects of a tennis video game. And that's what Tennis Fighters, developed by TDO Games (An independent Spanish games producer), has tried to do with this early access launch that is still being developed but available to play right now.
A recent history of tennis video game market
Recent tennis game releases like Tennis World Tour (Breakpoint Studios, 2018) or AO International Tennis (Big Ant Studios, 2018) have not faired as well as the classics like Virtua Tennis (199, SEGA), Top Spin (2003, 2k) and Mario Tennis (2000, Nintendo) which were hugely popular thanks to their ability to entertain groups of tennis fans. Also, the need to negotiate directly with individual tennis professional players over image rights will undoubtedly have put off many games developers that don't have the same issue when making football or basketball games.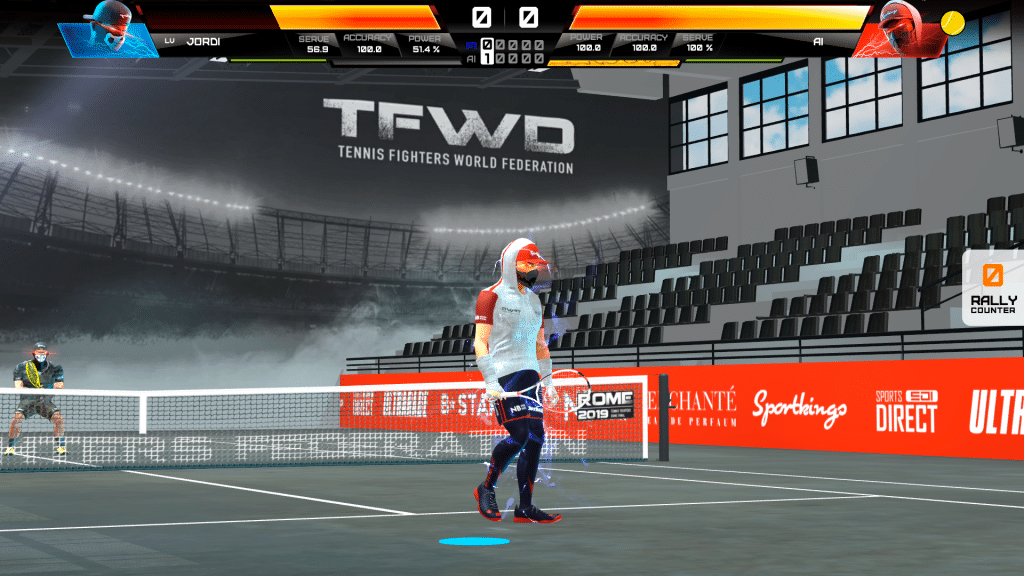 Tennis and fighting
Tennis Fighters is obviously targeted at dedicated tennis fans or players who also love an immersive gaming experience. The attention to detail in particular with the gameplay is immense and obviously the developer has some serious tennis knowledge in their team!.
Tennis Fighters also introduces health as a new element in the tennis video game genre for the first time ever (that we are aware of).
As a tennis player you understand that your success or failure on the court depends not just on your technique but also heavily on factors such as concentration and motivation. This game takes all these elements and merges them into a health score which increases or decreases during the match depending on your performance. It's possible to beat your opponent in Tennis Fighters by winning the match in a traditional fashion through the scoreline or by depleting their health to nothing.
Gameplay
As soon as you start playing this game you realise how technical the mechanics are of hitting the ball. Every shot initially requires a good position, but then, thanks to the intuitive control shot system, you can also choose the power, direction and curve of your shot. That's what really makes the gameplay so engaging, the wide variety of different factors that make your shot successful. Just like the real game of tennis.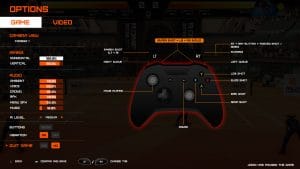 The developer has obviously placed huge emphasis on the behaviour of the ball, which is great to see. Few tennis games have really grabbed this characteristic as so important to the honesty of the game compared to the real thing. Tennis Fighters recreates, as closely as possible, the sensation of striking a tennis ball with the elements of power and spin effecting the flight of the ball and therefore the degree of difficult that your opponent has in trying to return your shots. What's really nice is the 'Check Ball' system, similar to Hawkeye, that allows game players to watch replays and check whether the ball landed in or out.
In the top of the screen we see the "Health" of each player, the scoreboard and the player characteristics. We then find two small bars of green and yellow. The green bar indicates the "running" energy of the player which will gradually reduce as your movement continues until you stop and rest to let the bar charge up again. The yellow bar is interesting as it increases as you win points through aggressive play until the bar is full, enabling you to engage your 'Super shots'. This "Super Shot" is a shot/serve with maximum power that's almost impossible to return. You only receive one 'super shot' before the power bar reduces to zero.
Please note that Tennis Fighters does require a controller as playing with a keyboard/mouse isn't supported.
Game Sound
This game has a "dynamic shot sound system" where, depending on the power of the shot, it provides a different sound. The developer has really taken time and effort to integrate a helpfully immersive sound aspect to the game. Crowd reactions and music also add to the feeling of being part of a live tournament thereby improving the experience of the gameplay.
Academy: Learn how to play
The 'Academy' mode in Tennis Fighters is really useful as it will take you time to understand the different controls and elements that go into a succesful shot and player. The 'Academy' includes several video tutorials and a variety of lessons helping you learn how to run, serve and play the basic strokes. We recommend spending time here so that you feel confident when stepping onto the match court in Tennis Fighters.
Game Modes: Play solo or with your friends, at home or online
Tennis fighters has modes for everyone. You can play solo against the "computer" (AI) to train your skills in the Training mode, or enter the World Tour mode to play all the players in the game and win the world trophy. If you like to play multiplayer, you can game locally against a friend, with 2 controllers at home. If you want to compete online and be the best player in the world, you can enter in the Online Multiplayer mode, where you will play against different players and will win or lose points that will alter your worldwide Tennis Fighters ranking.
Personalize your experience
The game lets you customise several aspects in order to give you a "tailor made" experience. For instance, you can choose the camera angle you want to play with. Each of the cameras has its own angle and perspective. You can play using a TV camera angle or choose the "court view" as if you were on the court. In terms of user experience, you can also modify the sensibility of the joystick to select the best option for the "aim" system. Finally you can choose the difficulty of the AI, the sounds settings and pad vibration.
Our conclusion
Simply have a go as this game deserves to be given a try! Once you've mastered the controls then you will really feel the effort, concentration and passion of a game of tennis.
Tennis Fighters is available to play on PC's and can be purchased via TennisFighters.com or Steam