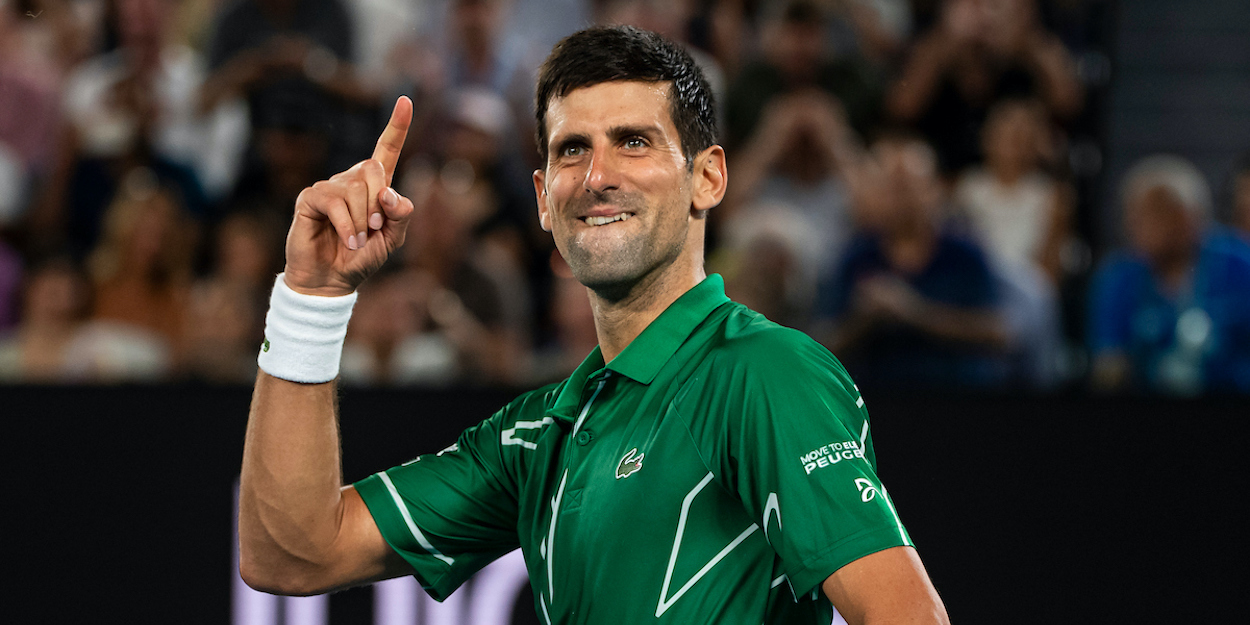 Stories and sub-plots ahead of Australian Open: Who is chasing history and how can they do it?
The Australian Open is about to get underway and, as ever, there is no shortage of stories and sub-plots to follow as the tournament progresses.
Here, we take a detailed look at what the 2021 Australian Open could mean in terms of the tennis history books.
Life after Roger Federer
Although Roger Federer will be back in action as early as march following double knee-surgery in 2020, it is of course inevitable that sooner rather than later tennis will have to learn to live without him.
He only played one tournament last year, but it was something of a unique year given the lengthy suspension of the ATP and WTA Tours and the cancelation of Wimbledon.
That one tournament he did play, though, was the Australian Open, and in terms of history that is significant, because this year will be the first time this century that an Australian Open is happening without the Swiss maestro.
In fact, no man has played more Australian Opens than Federer, who has made 21 straight appearances in Melbourne and last missed one all the way back in 1999.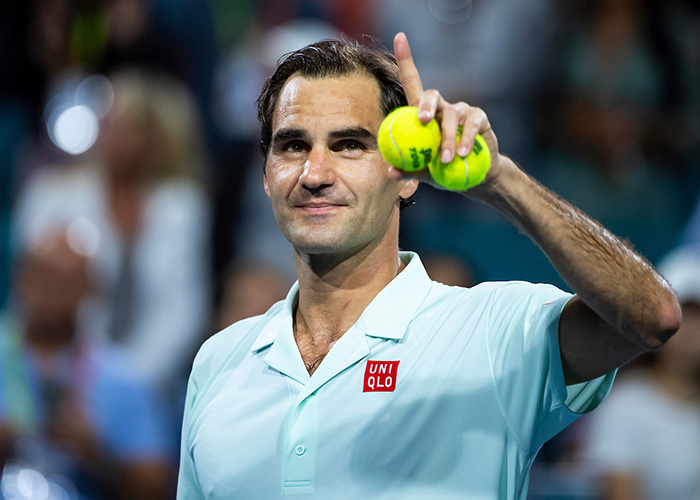 Feliciano closing in on Federer
Unsurprisingly, no man has appeared at more Grand Slams that Roger Federer. However, it's not as close as you might think and it's going to get even closer this month.
Spaniard Feliciano Lopez, who was born just a month after Federer, is hot on the Swiss star's heels. The Australian Open will be Lopez's 76th Grand Slam, just three behind Federer's current total of 79.
Of course, Lopez has enjoyed a mere fraction of the success of Federer and has never gone further than a quarter-final in any Grand Slam, and no further than the fourth round in any of his previous 18 attempts at the Australian Open.
Even more remarkably, The 2021 Australian Open will be Lopez's 75th consecutive Grand Slam. That is a record even Federer can't get anywhere near. The only active players who are anywhere near and adding to his total this month is Andrea Seppi, who is about to play his 62nd consecutive Major.
Novak Djokovic's arena
Novak Djokovic boasts a formidable record at the Australian Open and will understandably be a strong favourite to continue his dominance this month.
The Serbian star has already won eight Australian Open singles titles, more than any other man in history. However, his list of Aussie Open records does not stop there.
Djokovic successfully defended his title there for the fourth time last year, and that is a feat that is pretty much uniquely impressive. That makes Djokovic responsible for almost a quarter of all successful Australian Open title defences (14) in the Open Era.
Only Roger Federer, aside from Djokovic, has achieved multiple Australian Open title defences.
Successful Australian Open title defences
Ken Rosewall 1971-72
Guillermo Vilas 1978-79
Johan Kriek 1981-82
Mats Wilander 1983-84
Stefan Edberg 1985-87* (*not played in 1986)
Ivan Lendl 1989-90
Jim Courier 1992-93
Andre Agassi 2000-01
Roger Federer 2006-07
Novak Djokovic 2011-12-13 (2 successful defences)
Novak Djokovic 2015-16
Roger Federer 2017-18
Novak Djokovic 2019-20
It is worth noting that the Australian Open is historically one of the toughest Grand Slams titles to successful defend. Only the US Open (12) has been successfully defended fewer times, while Wimbledon and Roland Garros have been defended 19 times.
Djokovic can also become the first man in the Open Era to win three titles in his 30s – particularly impressive given his only 33.
Only seven men in total have won the Australian Open in his 30s, and they are:
Ken Rosewall (2)
Andre Agassi (2)
Roger Federer (2)
Novak Djokovic (2)
Rod Laver
John Newcombe
Petr Korda
Djokovic will have to wait some time to become the oldest man to win an Australian Open title though. Ken Rosewall was 37 years and 62 days old when he beat Mal Anderson to win the 1972 title, with Roger Federer (36 years 173 days) just a smidgen younger in 2018.
Incidentally, Djokovic and Rafael Nadal are the only men in Open Era history to win Grand Slams in three different decades.
Despite Djokovic's Melbourne dominance, it is worth nothing that he is only second on the list of most matches won at the Australian Open. He has 75, which is some way short of Roger Federer's 102.
Speaking of Djokovic and Nadal…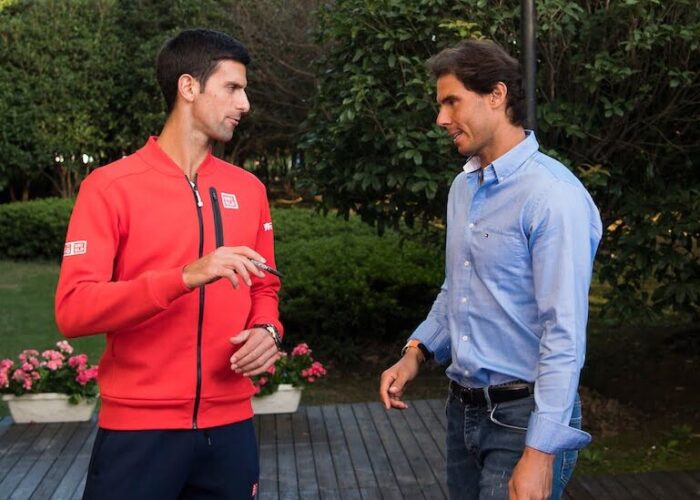 It is quite clearly going to be a recurring theme in men's tennis for the next couple of years but expect to see Novak Djokovic and Rafael Nadal directly battle for history in Australia.
At the French Open in October, Novak Djokovic had the chance to become the first man in history to win each Grand Slam multiple times. He failed, of course, losing to Rafael Nadal in the final.
In Melbourne, Nadal has a chance to claim that record for himself. Surprisingly given his stature, Nadal has just one Australian Open trophy in his vast collection at his Academy in Mallorca, and history awaits if he can add another this month.
All that will likely just motivate Djokovic more, given that if he can stop Nadal from winning a second Australian Open now, he will get another chance to claim the history for himself in May at Roland Garros.
That, though, is not the only history they will be vying for this month.
Currently, Nadal holds the record for most Grand Slam titles won in his 30s. The Spaniard has six – four French Opens and two US Opens. Djokovic has five (two Wimbledon, two Australian Open, and one US Open), so he has the chance draw himself level with his greatest foe.
Many, perhaps even Nadal himself, will consider Roger Federer to be the Spaniard's biggest foe, but that could change this month.
Should we see a Djokovic v Nadal final, it would become the most frequently contested Grand Slam final match-up in Open Era History.
The pair have faced each other in nine Major finals so far, the same amount as Federer v Nadal.
| | | |
| --- | --- | --- |
| Players | Grand Slam finals contested | Head-to-head |
| Novak Djokovic v Rafael Nadal | 9 | Nadal leads 5-4 |
| Roger Federer v Rafael Nadal | 9 | Nadal leads 6-3 |
| Novak Djokovic v Andy Murray | 7 | Djokovic leads 5-2 |
| Andre Agassi v Pete Sampras | 5 | Sampras leads 4-1 |
| Novak Djokovic v Roger Federer | 5 | Djokovic leads 4-1 |
| Ivan Lendl v Mats Wilander | 5 | Wilander leads 3-2 |
Tellingly, Djokovic v Nadal is already the most contested Tour-level final in the history of Open Era tennis, with 27 finals so far.
What about Dominic Thiem?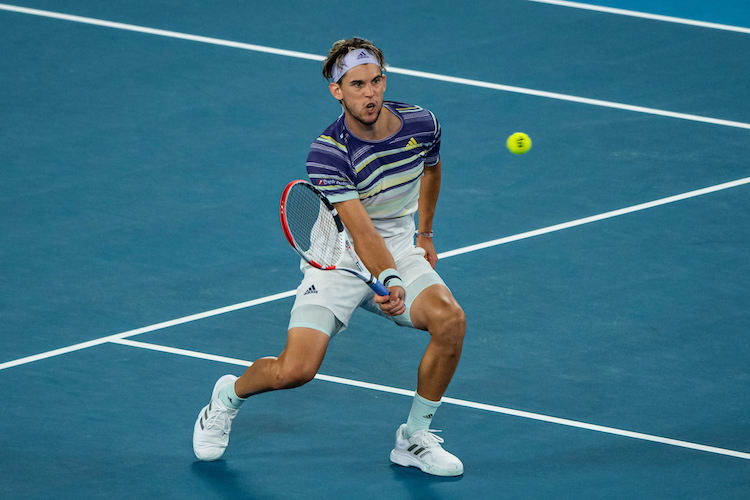 Thiem became something of a rarity in modern men's tennis last year – a new Grand Slam winner.
In his fourth career Grand Slam final, the Austrian finally got himself over the line to win the US Open at the expense of Alexander Zverev last September.
He failed to back that up by winning the French Open just a month later, but we can give him a pass on that. Firstly, the French Open is Rafael Nadal's playground, but there was also some lingering exhaustion in Thiem's legs from his supreme efforts in New York.
Perhaps most importantly, though, no man in Open Era history has ever won a second career Grand Slam on their next Grand Slam appearance.
However, winning a second Grand Slam title on your second Grand Slam appearance after winning your first… that has precedent.
Indeed, six men have done it before, most recently Andy Murray in 2012-13.
| | | |
| --- | --- | --- |
| Player | First Grand Slam title | Second Grand Slam title |
| Jane Kodes | 1970 French Open | 1971 French Open |
| Stan Smith | 1971 US Open | 1972 Wimbledon |
| Guillermo Vilas | 1977 French Open | 1977 US Open |
| Sergi Bruguera | 1993 French Open | 1994 French Open |
| Roger Federer | 2003 Wimbledon | 2004 Australian Open |
| Andy Murray | 2012 US Open | 2013 Wimbledon |
Winning a New York – Melbourne double is almost just as rare a feat. Winning back-to-back US Opens and Australian Opens has been done only 10 times before in the Open Era by five men. They are:
Ken Rosewall 1970-71
Pete Sampras 1993-94, 1996-97
Andre Agassi 1994-95, 1999,2000
Roger Federer 2005-06, 2007-07
Novak Djokovic 2011-12, 2015-16, 2018-19
How about a first-time winner?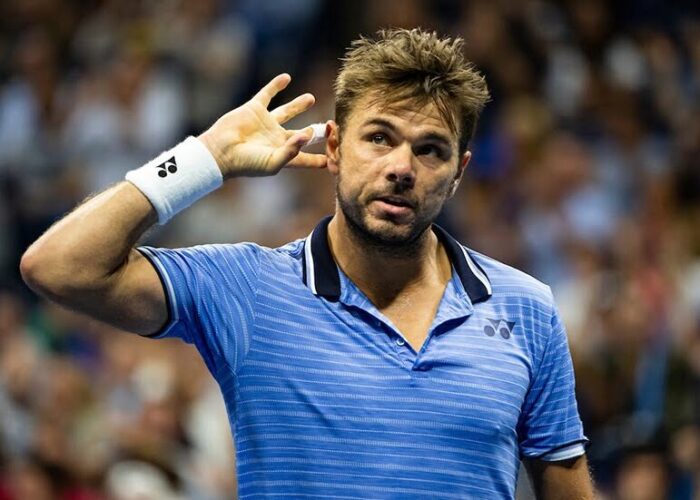 There are five previous Grand Slam champions in the main singles draw for the Australian Open – Novak Djokovic, Rafael Nadal, Dominic Thiem, Stan Wawrinka, and Marin Cilic.
However, there are plenty of names that you could realistically see mounting a genuine title tilt in Melbourne this year such as Alexander Zverev, Daniil Medvedev, Stefanos Tsitsipas, and Andrey Rublev.
What odds, then, on us seeing another first-time Grand Slam winner this month? Well, not all that great if history is to be believed.
The Australian Open has seen just 11 first time Grand Slam winners in the Open Era. That's more than Wimbledon (9) but significantly fewer than the US Open (14) and the French Open (21).
On the other hand, two of those 11 have come fairly recently, so perhaps the tide is turning a little. Djokovic won his first Major crown in Melbourne in 2008, and Stan Wawrinka claimed the first of his three in 2014.