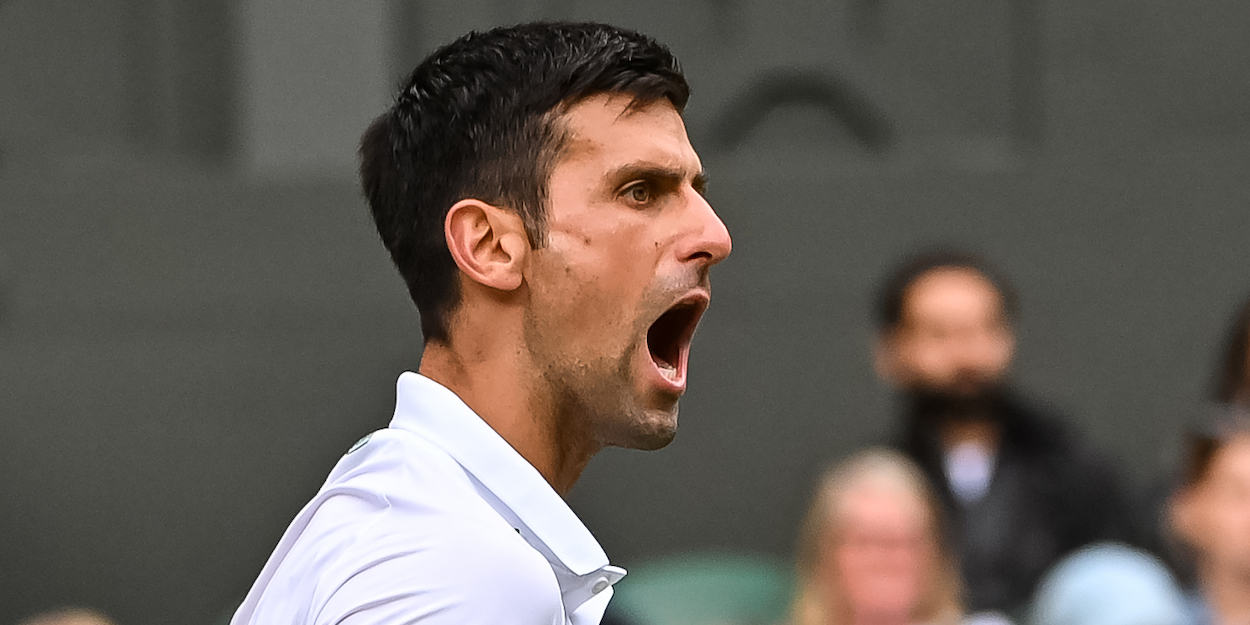 Six-Love: Noteworthy Wimbledon bagels
Djokovic powered through the first nine games to lead 6-0 3-0, and although Ward battled back to give the Serb a run for his money in the second and third sets, the world No.1 booked his place in the second round of Wimbledon with a 6-0 7-6(3) 6-4 victory. Djokovic has not lost a set in the first round of a major since the 2010 US Open.
Here are some other noteworthy 6-0 scorelines at Wimbledon over the years
The last champion (before Djokovic) to win his first set 6-0 at Wimbledon was Australian Roy Emerson in 1966, when he beat Henry Fauquier of Canada 6-0 6-1 6-2. Emerson, a champion at the All England Club in 1964 and 1965, eventually fell in the quarter-finals to the unseeded Owen Davidson, who in turn lost to eventual champion Manuel Santana in the last four.
The last bagel in a Wimbledon men's singles final was ten years ago, back in 2006, when three-time defending champion Roger Federer won the opening set 6-0 against first-time finalist Rafael Nadal – who had beaten him in the French Open final a month earlier. "Obviously the start was absolutely perfect," admitted Federer after the match. "I played fantastic and didn't miss any shots. Then it was over in a hurry." Nadal broke Federer early in the second set, and even took the third on a tiebreak, but could not stop the Swiss winning his fourth Wimbledon crown 6-0 7-6(5) 6-7(2) 6-3.
The last bagel in a Wimbledon women's singles final was in 2014, when Petra Kvitova beat Eugenie Bouchard 6-3 6-0, but Martina Navratilova's 6-0 6-3 victory over Andrea Jaeger in the 1983 final was arguably more memorable.  Navratilova stormed to victory in just 54 minutes, but Jaeger, who went on to become a nun, later claimed that she had deliberately thrown the match after disturbing Navratilova the night before after an argument with her father. "I went on court in complete peace knowing that giving the match away was the right thing to do," Jaeger told the Daily Mail in 2008. "During the match I missed balls on purpose. When I was getting whipped in the first set 6-0 I tried to look upset about it. I needed to make the second set closer and I did, but not close enough to worry Martina. I felt bad that I wasn't giving [the crowd] the best match…but I also felt that if they knew what had happened they would understand."
John Isner's 6-4 3-6 6-7(7) 7-6(3) 70-68 victory over Nicolas Mahut at the 2010 Championships will go down in Wimbledon folklore, but his second round match against Thiemo de Bakker was altogether less memorable. Mentally and physically exhausted following the 11 hours and five minute match which took three days to complete, Isner lost the first set 6-0 in just 17 minutes. "I have never been this exhausted before," said Isner, who struggled with a blister on his left foot. "Mentally and physically, I was obviously a bit drained. I was just low on fuel out there."
Yaroslava Shvedova also guaranteed her place in the Wimbledon history books in 2012 after she won a fabled 'Golden Set' against Sara Errani in the third round. The Kazakh wildcard became the first player to win every point in a set at a Grand Slam as she won the first 24 points to bagel the French Open runner-up. Shvedova, who went on to win the match 6-0 6-4, lost 6-1 2-6 7-5 in the next round to eventual champion Serena Williams.
While former world No.1 and six-time Grand Slam champion Stefan Edberg is a household name around the world, fellow Swede Stefan Eriksson can only boast an unfortunate claim to the tennis history books. Eriksson, who had reached a career high ranking of No.72 in March 1987, took on his more decorated compatriot in the first round at Wimbledon that year and was on the wrong end of a 6-0 6-0 6-0 scoreline – the only triple bagel in Wimbledon singles history. Edberg lost in the semi-final to Ivan Lendl but went on to win the title the following year.