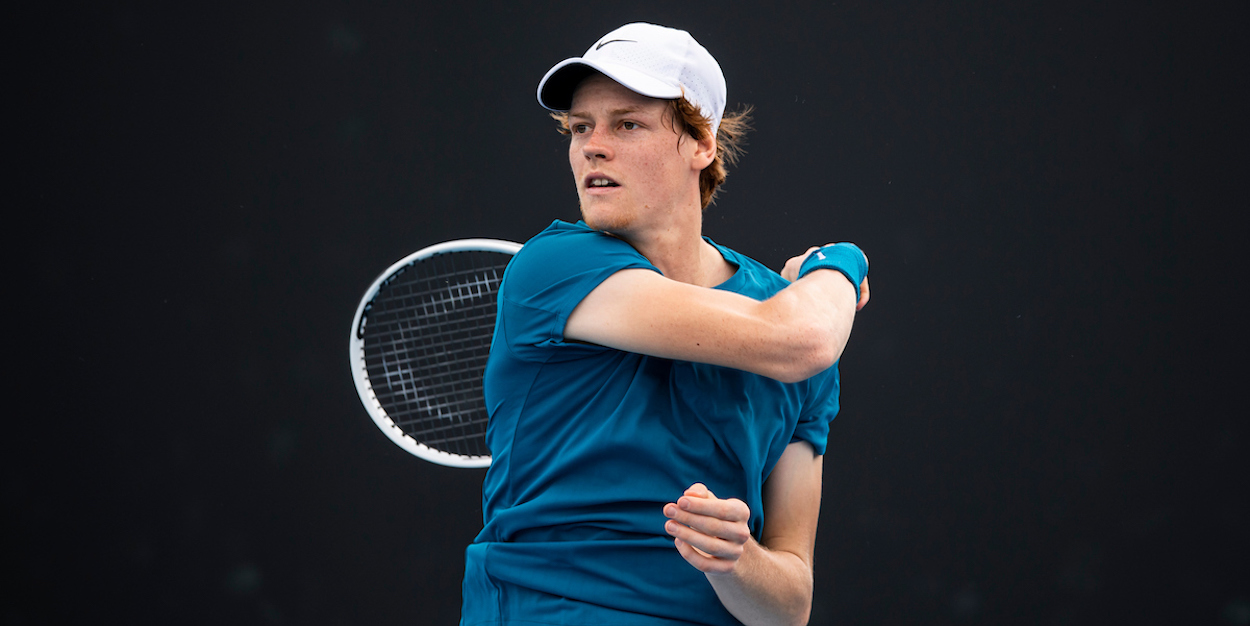 "Sinner might be able to cause an upset against Nadal" in Rome clash says expert but only if he makes 'tactical tweaks'
Jannik Sinner is on course for a great career and potentially to reach the top of the world rankings, but to do that he will need to regularly beat the World's best. Today in Rome he has a chance to score a huge win against Rafa Nadal, but only if he's learned from their last encounter according to Tennishead's statistical analyst
"Jannik Sinner and Rafael Nadal face off in a mouth-watering clash at the Italian Open. The supremely talented Italian has only faced the King of Clay once previously, last year at Roland Garros. Nadal won easily in straight sets. But Sinner has already improved a fair amount since that match. Nadal is also not in the best clay court form. If Sinner can make slight tactical tweaks to the strategy used in their Roland Garros encounter, he might be able to cause an upset.
"Nadal's greatest weapon is his heavy topspin forehand. He moves you around the court and the high bounce he achieves is difficult to deal with. It seems logical to try and keep the ball away from his forehand if you can. Sinner was not able to do this in their Roland Garros match. Nadal hit 66% of his groundstrokes as forehands and was able to wear the Italian down. What lead to this?
"Sinner hit a lot of balls through the middle of the court. 32% of his forehand groundstrokes and 47% of his backhands went down the middle. If you hit in the middle third of the court, Nadal will be able to hit most shots as forehands. He can quite easily run around backhands in this area within a couple of steps. Sinner needs to make it more difficult for him to do dictate with the forehand.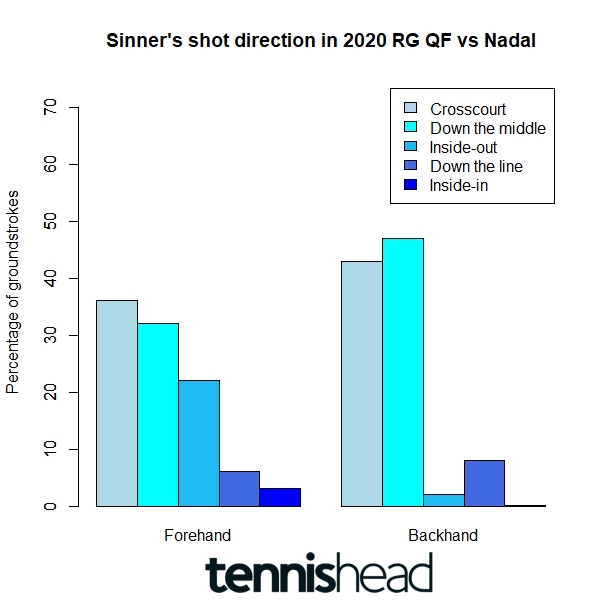 "He needs to hit more often into the backhand corner, making it difficult for Nadal to hit a forehand. This would mainly be via a forehand crosscourt or backhand down the line. In their previous meeting Sinner hit 36% of his forehands crosscourt. He also hit only 8% of his backhands down the line. But targeting the backhand is all well and good. What do you do when Nadal inevitably leans towards the backhand side, to try and hit run-around forehands?
"This is where the crosscourt backhand, down-the-line forehand and inside-out forehand come into play. Whenever Nadal does run around his backhand he leaves open space in the forehand corner. Sinner can then hit into this space with the above mentioned type of shots. He did employ these 3 types of shots to varying degrees in their Roland Garros clash. But hitting to Nadal's forehand side will be more effective if you get him into the backhand corner first, which Sinner did not do enough.
"If Sinner wishes to upset the apple cart in Rome, it might be wise to consider some of the above mentioned strategic tweaks. He could be more successful by targeting the backhand more often and looking to attack into the forehand side when he has Nadal out of position. This sounds easy in theory, but it remains to be seen whether Sinner can get the execution right."
The data used in this article was sourced from The Tennis Abstract Match Charting Project, which is based on the work of Jeff Sackmann. The project is licensed under a Creative Commons Attribution-NonCommercial-ShareAlike 4.0 International License. No changes were made to the original data.  
Luka Elliott has a B Com in Economics & Statistics from the University of Cape Town where his thesis was titled "Engineering Features for Tennis Match Outcome Prediction in a Statistical Learning Framework". He now writes for Tennishead focussing on how statistics effect the outcome of ATP matches