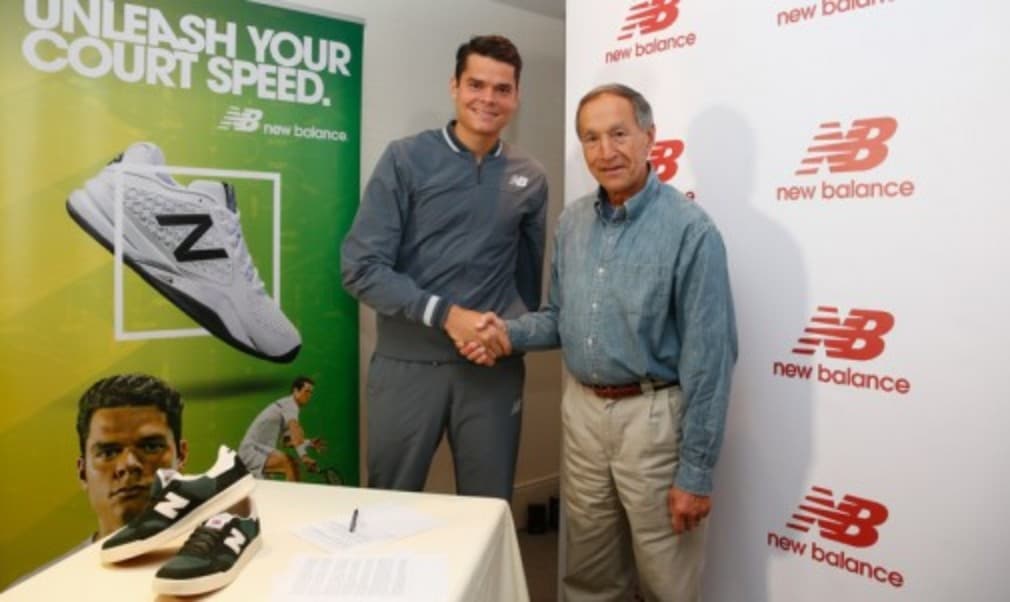 Shoes by Milos
Originally published on 18/06/15
On Thursday Canadian extended his relationship with New Balance, the brand that has kitted him out since 2013. The new deal was signed at Queen's Club in London. Jim Davis, Chairman of the Boston-based apparel and footwear company, said: "Milos is an extraordinary young man and athlete and we are thrilled that he will remain one of the vital members of Team New Balance for years to come."
Raonic, the world No.8, takes a keen interest in the manufacturing, marketing and even sales of the brand.
"I do know pretty much every aspect of what goes on and how things are made and the whole process," he said. "I have seen how they make shoes in the factory by hand there, what the whole process is – and I have actually been a part of some of the processes. I hope the person that got that shoe I made was happy!"
He added: "It was a lot of fun. Those kind of things when you realise what goes into them it makes the whole experience with that product different."
New Balance boasts that it is the only company to make or assemble four million pairs of shoes in the US. It also has a British-based factory in Flimby, Cumbria. Raonic signed to the brand early on in his career.
"New Balance was the first tennis shoe I wore," he said. "The thing I appreciate is they create loyalty and have a great following, simply though quality."
In his time with New Balance he has met retailers, tested products and been involved in market activations. "The development team have come with me on the road," he said. "I have been to the HQ and had extensive discussions on the products and everything else around it."
Raonic is currently playing in the Aegon Championships at The Queen's Club. He is making his comeback after withdrawing from the French Open in order to have surgery on his right foot as a result of an injury called Morton's neuroma. The Canadian defeated Britain's James Ward in the first round and Frenchman Richard Gasquet in the second. On Friday he faces another Frenchman, Gilles Simon, in the quarter-finals.
"I think this year is the first time I have won back-to-back matches leading into Wimbledon," he said. If his foot continues to improve, Raonic will be a real contender when Wimbledon starts on July 29. At the All England Club last year he progressed to the semi-finals before losing to Roger Federer.
"Wimbledon is an amazing environment," he said. "You cannot really replicate or find that at any event. There's a different kind of aura to it. You find the traditions, the prestige of Wimbledon really takes over and you really enjoy competing there."
When Raonic was growing up Pete Sampras was his idol. The Canadian has videotapes of many of the matches that Sampras played at Wimbledon.
"Wimbledon is quieter and more proper than other Grand Slams but I think me watching my idol do so well there brings back such great memories," he said. "A big part of me wants to do really well."
In the meantime, Raonic can rest happy in the knowledge that if his tennis career ever comes to an end other possibilities might open up.
"The day you stop playing tennis you start at zero and you have to find different things that drive you," he said. "To have this experience alongside the New Balance team really gives me a lot of insight."